The majority of vehicle owners are familiar with Goodyear tires due to the continuous popularity of the brand. That is why many tire enthusiasts and even normal drivers inevitably compare Goodyear with other manufacturers.
Uniroyal is one of the names that are being compared with the brand. But what make Uniroyal tires a good option for buyers?
Read here and examine every aspect of what Uniroyal vs Goodyear tires could offer to the public.
| | | |
| --- | --- | --- |
| Characteristics | Uniroyal | Goodyear |
| Year Started | 1892 | 1898 |
| Country of Origin | US | US |
| Parent Company | Michelin and Continental | Standalone |
| Price | Affordable | More expensive |
| Mileage Warranty | 50,000-75,000 miles | 30,000 – 85,000 miles |
About Uniroyal Tires
Home of the well-known Uniroyal Tiger Paw Touring A/S and Uniroyal Rainsport 5, Uniroyal was launched in 1892. Interestingly, this company was first called the U.S. Rubber Company, highlighting its focus on serving customers in North America.
Currently, Uniroyal produces affordable yet high-class tires for vehicles such as passenger cars, CUVs, minivans, pickups, and SUVs.
About Goodyear Tires
Founded as The Goodyear Tire & Rubber Company, Goodyear tires were first released way back in 1898 in Ohio, US.
Before this company offered us its outstanding automobile tires, Goodyear's first products were mainly bicycle tires, carriage tires, horseshoe pads, and rubber sundries.
As of now, Goodyear has been competing internationally against various excellent tire companies. The brand ranks among the top 10 brands in its industry alongside names like Michelin and Continental.
Read more: Goodyear vs Continental Tires
Comparing Uniroyal vs Goodyear Tires
1. Performance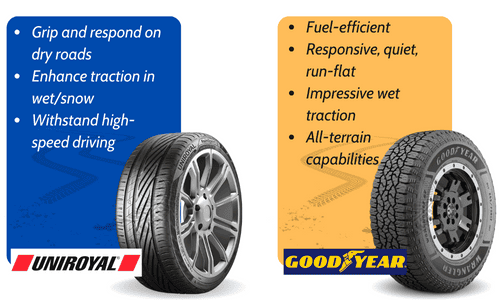 The strength of Uniroyal tires resides in their ability to grip and respond well to steering on dry roads.
Not just that, but Uniroyal tires also have enhanced traction and sensitive handling in both wet and snowy conditions. Plus, these tires can withstand high-speed driving without compromising safety.
However, drawbacks of Uniroyal tires are seen in their loud road noise levels and lack of fuel-efficiency technologies.
On the other hand, there's Goodyear, which comes with fuel-efficient, responsive, quiet, and run-flat tires. Most of its offerings have pretty impressive wet traction and are tough in different all-terrain and all-season conditions.
2. Warranty, Durability, and Lifespan
Uniroyal and Goodyear both offer decent mileage support.
For Uniroyal, the majority of its tires have a 50,000-mile warranty (the Uniroyal Tiger Paw Touring A/S comes with the most extensive coverage of up to 75,000 miles).
Meanwhile, Goodyear's warranty ranges from 30,000 – 85,000 miles.
Both brands make their products using tough compounds. But durability-wise, Goodyear is obviously the better option.
For example, when comparing the Uniroyal Tiger Paw vs Goodyear Assurance (or the Touring AS vs. WeatherReady), the tread-life mileage of the first tire is only 55,000 miles, while the latter lasts up to 70,000 miles.
3. Pricing and Value for Money
Uniroyal tires are generally cheaper than Goodyear, which comes with premium tires.
Uniroyal offers models that have a price range of $80 to $100. Meanwhile, Goodyear comes with products that cost around $80 to $150.
Therefore, Uniroyal is economical and suitable for those who are currently on a budget. But rest assured that despite Goodyear tires being pricy, their durability and features are worth the value.
4. Pros and Cons
Below are some highlights of the advantages and disadvantages of Uniroyal vs. Goodyear. This is a great summary of the features of both brands for you to easily choose which among these two better suits your driving needs.
Uniroyal
Comes at a budget-friendly cost
With diverse options
Has a surefooted grip and smooth handling on dry roads
Great steering response and traction in snow and wet environments
Can maintain fast-speed driving
Lacks of fuel efficiency technologies
Loud road noise levels
Shorter tread life and mileage warranty
Goodyear
Offers a pleasant and quiet ride quality
With diverse options
Comes with longer mileage warranties and tread life
Has fuel-efficient technology
Comes with Run On Flat™ Technology
Has responsive handling
Enhanced wet traction
All-terrain and all-season toughness
Notable Tires of Each Brand
Wanna know what the top three Uniroyal and Goodyear tires are? Listed below are the most popular models of each company that reflect its reputations.
Top 3 Uniroyal Tires
1. Uniroyal Tiger Paw Touring
Uniroyal's pride when it comes to dry, wet, and light snow on-road performance. This model has impressive comfort, cornering, and high-speed driving qualities.
2. Uniroyal Laredo Cross Country
This tire is excellent for light trucks and SUVs with its superior off-road traction, affordability, smooth rides, and responsive handling capabilities.
3. Uniroyal Tiger Paw GTZ
An ultra-high performance tire that comes at an affordable price, which can compete with other tires in terms of high-speed handling, wet-braking performance, and on-road stability.
Top 3 Goodyear Tires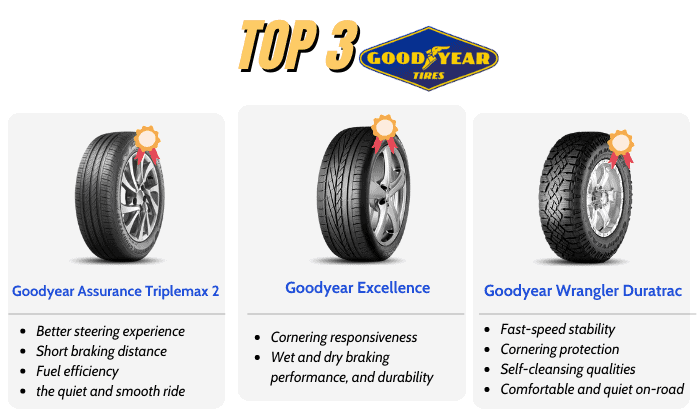 1. Goodyear Assurance Triplemax 2
This comes with innovative technologies to provide sedans, compact cars, and crossover SUV drivers a better steering experience, short braking distance, fuel efficiency, and the quiet and smooth ride that they deserve.
2. Goodyear Excellence
A top-quality Goodyear tire that specializes in cornering responsiveness, high road noise and vibration absorption, wet and dry braking performance, and durability.
3. Goodyear Wrangler Duratrac
Perfect for SUV and light truck drivers who are looking for fast-speed stability, off-road traction, cornering protection, self-cleansing qualities, and a comfortable and quiet on-road driving experience.
Which Tire is Better?
There is no doubt that products of Goodyear are obviously preferable over Uniroyal. But it does not automatically prove that Uniroyal is substandard.
Yes, it's true that Goodyear tires are more fuel-efficient, long-lasting, and quieter than Uniroyal tires. But Uniroyal products come at a cheaper price and provide us with remarkable performance that can also compete with other premium tire models out there.
Considerations for Tire Selection
Here is what you should consider looking at to select the tire you deserve.
1. Understand the type of tire that is suitable for your driving conditions.
Summer tires perform best in warm regions and deteriorate in areas below 45 degrees F. Meanwhile, winter tires work perfectly in places that experience freezing temperatures. Pick all-season designs if you mainly drive under 0 to 120℉.
2. What is the type of vehicle you are driving?
High-performance tires with good cornering at high-speeds are highly recommended for those who drive sports cars. Meanwhile, tough off-road tires are suitable for light trucks that traverse rocky and sandy areas.
3. Inspect the information on your tire's sidewall.
This contains your tire width, aspect ratio, radial, wheel diameter, load index, speed rating, and more. This valuable information is necessary for you to get the tire size that fits your vehicle.
Frequently Asked Questions
Are Uniroyal tires suitable for all-season driving?
Most popular Uniroyal tires (including the top three mentioned above) are all-season tires. They have decent comfort and all-weather grip along with superior handling and stability.
Is Uniroyal owned by Goodyear?
Initially, Uniroyal was created due to the merger of nine tire companies. As of now, the brand is owned by two of the top-leading tire companies globally, Michelin and Continental.
Read more: Michelin vs Uniroyal tires
Are Uniroyal Tiger Paw tires noisy?
Compared with other brands, Uniroyal tires only offer average road noise levels, since their compositions are heavier than other tires in the market.
Specifically, in the Uniroyal Tiger Paw lineup, the Uniroyal Tiger Paw Touring is the noisiest of them all. Some notable exceptions are the Uniroyal Tiger Paw DT and the Uniroyal Tiger Paw GTZ, which have little road noise.
Conclusion
This is where we end our comprehensive comparison of Uniroyal vs Goodyear. We hope this article provided enough insights for you to reassess your personal considerations in choosing the perfect tire for your vehicle.
You might also consider comparing the latest tire models of both brands, like the Uniroyal Paw Power A/S vs Goodyear Eagle F1 Asymmetric 6. It's a great way to learn more about the major differences in the production and prioritized features of these two tire brands.
Thank you for reading!