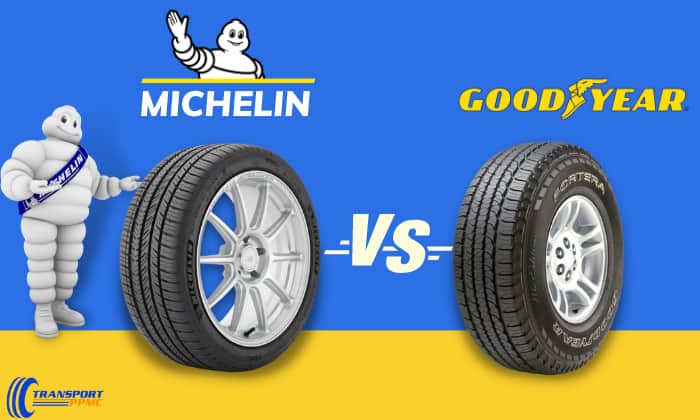 For years, people have been arguing about Goodyear vs Michelin tires on sites like Reddit. It's hard to weigh in on the arguments, knowing that the two companies deserve the number one spot.
Both are premium brands that use the latest technology to provide the best performance and durability, so if you're looking for a tire to invest in, you're on to a great start.
We recommend Michelin because of its long-standing reputation for innovation. However, groundbreaking technology doesn't automatically mean it's the correct answer.
Here, we'll discuss both companies and their pros and cons to see what is best for you!
Differences Between Goodyear and Michelin Tires
1. Overall
Goodyear and Michelin bring innovation and safety to their tires; however, they still have differences that every new car owner should consider, particularly in their production, technology, cost, and history.
2. Production
Michelin uses a blend of over 200 materials, which consist of natural and synthetic rubbers, while Goodyear only uses about 30 materials for their rubber blend.
Michelin also plans on renewing its production line to use 100% sustainable material by 2050. On the other hand, Goodyear aims to create a tire that's 100% sustainable by 2030.
3. Technology
Both companies use advanced technology to make their products durable and efficient. Not all tire models produced have every piece of technology each company has, but it is still essential to see what Michelin and Goodyear focus on and how they innovate.
Goodyear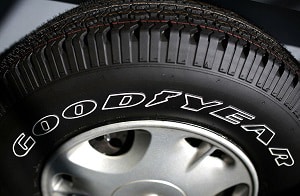 Below are some of the technology that makes up Goodyear good tires:
Block design to increase contact with the road during hard braking.
The tires are a little bit more resistant to puncture.
Reduces energy for the tire to roll.
More control on wet roads.
Reduces noises and vibrations while driving.
SmartTred Weather Reactive
Allows the tires to adapt to different weather conditions, whether dry or wet.
Reduces slipping on snow and muddy grounds.
Tires can still be used for up to 80km even when flat. This feature means you're less likely to be stuck on the road with a motionless vehicle.
Michelin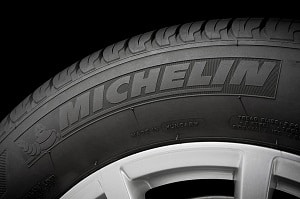 Next up are the different types of technology Michelin uses to bring high-quality tires to their consumers:
Enhances durability and stability
Lowers rolling resistance while also safeguarding tires against punctures.
Makes agricultural tires work with less pressure to protect the soil.
Tread designs that self regenerate.
RFID (Radio Frequency Identification)
Miniature chips are fitted onto the tires so retailers and customers can track their life cycle.
These tires cannot be punctured and have no air pressure to maintain.
Increases the tires' mileage.
4. Cost
Goodyear vs Michelin price is not too far apart because both are considered premium tires.
The average cost for both companies is $72 to $450 for Goodyear and $90 to $529 for Michelin, depending on the model and size.
However, when we compare Goodyear tires to Michelin in terms of warranty, Michelin is slightly more attractive.
In detail, the brand has up to an 80,000-miles tread life warranty while Goodyear only goes up to 65,000 miles.
5. History
Michelin History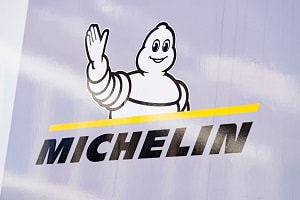 Michelin has been in the tire-making business for more than a century. They started when Andre and Edouard Michelin acquired a rubber factory specializing in farm equipment in 1889 in Clermont-Ferrand, France.
They started making a name for themselves in 1891 as innovators in the industry with the creation of a removable pneumatic tire.
Since then, they have invented the "pneurail," a tire meant for railroad tracks, and became the sole supplier for the NASA Space Shuttle Program in 2000.
They have produced about 3,500 technologically-advanced tire designs for different vehicles like motorcycles, trucks, and cars by investing heavily into their research and development department.
With over 118,000 employees and a $23 billion revenue for 2021, Michelin has risen to be one of the biggest tire companies worldwide, mainly because of their tire quality and impressive list of all-season products.
Goodyear History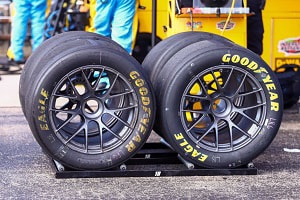 Goodyear also has an interesting story behind its success. In 1898, Frank Seiberling wanted to buy an abandoned strawboard factory in Akron, Ohio.
After borrowing $3,500 from his brother-in-law Lucius Miles, he founded the Goodyear Tire and Rubber Company, named after Charles Goodyear, inventor of the rubber vulcanization process.
In 1916, it became the world's largest tire company, six years after it first expanded internationally.
Goodyear created their most iconic corporate invention, the Goodyear Blimp, in 1917. Designed to be a unique form of advertising, it also brought the brand to remote parts of America, making Goodyear a household name in the industry.
Goodyear has risen to be a powerful competitor in the tire-making scene with their focus on durability and effectiveness on a wide range of vehicles. The company has generated $17.5 billions in revenue so far in 2022 and employs over 72,000 people.
6. Tire Categories
Michelin Tire Categories
Below are Michelin's tire categories. See if they have what you need.
Passenger Car
Luxury Performance Touring tires
Performance Sport
SUV Crossover
Light Truck
Electric Vehicle Compatible
Goodyear Tire Categories
The following are categories that Goodyear produces. Take a look and see if there are any tires comparable to Michelin.
Passenger
Performance
SUV / 4×4
Light Truck
Truck and Bus Radial
Truck and Bus Bias
Off the Road
Farm
Pros and Cons
It's safe to say that both companies work tirelessly to innovate and create different tires for different needs. Decide which brand suits your preferences better by looking at our Michelin vs Goodyear tires pros and cons list.
Michelin
Pros
Many tire types and categories are available
Fuel-Efficient and Environment-Friendly Technology
Excellent wet and dry control and traction
Warranties include flat-tire roadside assistance
Tires work splendidly in different seasons
Great for touring and everyday driving
Comfortable and quiet on roads.
Cons
It is expensive compared to other premium brands.
Tires could improve on off-road capabilities.
Goodyear
Pros
Reasonable price, considering it is a premium brand.
Well-known for its durability.
Fuel-efficient
Great for off-road driving
Tires can run while flat, buying time for repair.
Cons
Average rolling resistance
Low tread life warranty
Conclusion
There is no correct answer when we talk about Goodyear vs Michelin Tires. It all depends on what type of driver you are, whether you frequently go off-road or just enjoy casually cruising on highways.
Take the Goodyear Wrangler vs Michelin Defender, for example; the former is excellent for rough terrain, while the latter is excellent for touring highways, and both are for SUVs.
Both brands are great investments despite their price and could last you for years. After decades of innovation and experience, it is safe to say both companies are among the best in the industry.
Related Comparisons: