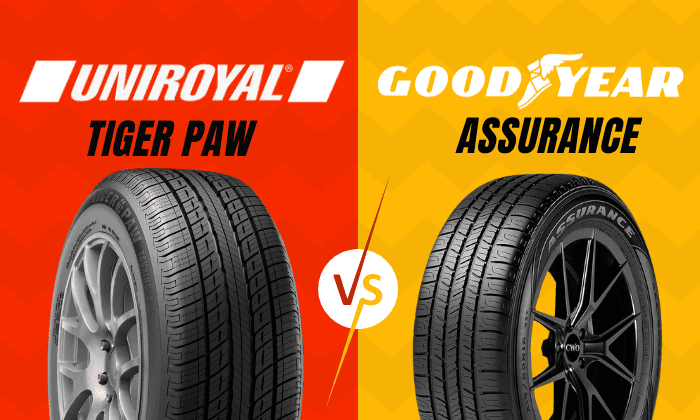 Comparing the Uniroyal Tiger Paw vs Goodyear Assurance All-Season can be tricky, since both have excellent features. The Tiger Paw Touring A/S is designed for an extended tread life while providing dependable performance. Meanwhile, the Assurance All-Season is all about reliable traction in various conditions.
Here is a comparison chart with data from consumer reports, retail stores, and our findings.
Specifications
Uniroyal Tiger Paw Touring A/S
Goodyear Assurance All-Season
Warranty Distance
65,000 miles (V-rated tires)

75,000 miles (H-rated tires)

65,000 Miles
Tire Category
All-Season
All-Season
Speed Ratings
V and H
H, V, T
Load Range
SL, XL
SL
UTQG
600 AA
600 AB
Dry Conditions
Above Average
Superior
Wet Conditions
Above Average
Above Average
Tread life
Equal
Comfort
Average
Superior
Below is a detailed comparison between Uniroyal vs Goodyear all-season tires to help you pick the right one for your driving requirements.
Uniroyal Tiger Paw A/S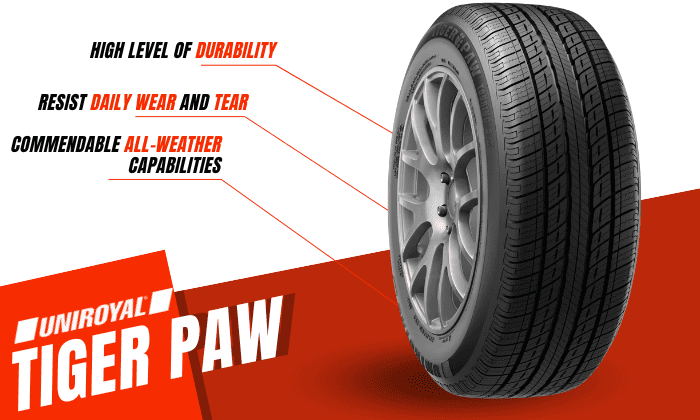 Known for their high level of durability, Tiger Paw tires from Uniroyal are built to resist daily wear and tear, promising long-lasting service
Furthermore, the Tiger Paw A/S exhibits commendable all-weather capabilities, with unique design features enabling satisfactory performance, whether in the scorching summer heat or during heavy downpours.
Goodyear Assurance All-Season
Similarly, the Goodyear Assurance All Season offers a unique blend of performance characteristics designed to enhance your driving experience year-round.
This model is acclaimed for its smooth ride, owing to its refined tread design and rubber compound.
Differences Between These Two Tires
1. Dry performance
The Uniroyal Tiger Paw performs well on dry pavement thanks to its continuous center rib. This feature ensures reliable contact with the road surface, enhancing the tire's stability and control during straight-line driving.
Similarly, the Goodyear Assurance All-Season shines with its stellar dry performance. It owes its superior traction and braking capabilities to the large, stable shoulder blocks and symmetric tread design, which lower the tire's stopping distance. Furthermore, the Assurance All-Season exhibits responsive and linear steering.
When comparing the dry performance of the two, the Goodyear Assurance All-Season outclasses the Uniroyal Tiger Paw. Its handling and acceleration traction put Goodyear's tire ahead of Uniroyal.
2. Wet performance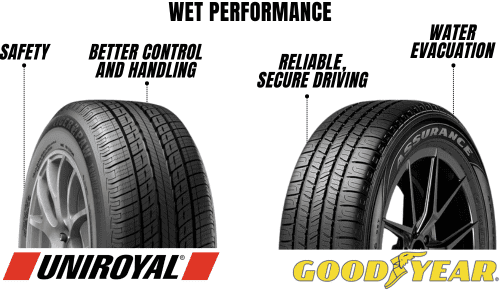 The Uniroyal Tiger Paw comes with features that cater to wet performance. Its symmetric tread and full-depth sipes are integral in displacing water under the tire's footprint, helping minimize hydroplaning risk.
This construction offers a degree of safety in wet conditions, with the grooves enabling better control and handling on damp roads.
The Goodyear Assurance All-Season, meanwhile, has wide tread grooves contributing to water evacuation, providing the driver with a reliable and secure driving experience during heavy rains.
It's a close call to declare a winner in the wet performance category, given both tires secure a commendable above-average score. Ultimately, user feedback leans towards the Tiger Paw A/S.
3. Tread life and durability
The Uniroyal Tiger Paw Touring A/S touts the brand's proprietary Tru-Last Technology, evenly distributing the stress and wear along the contact patch. This results in a more extended tread life compared to most all-season tires, though I would say it equals the Goodyear Assurance All-season in this regard.
Goodyear's tire features a robust internal structure with a polyester cord body and twin steel belts, which bolsters the tire's overall durability.
4. Comfort
The Uniroyal Tiger Paw's symmetric pattern keeps the ride stable and smooth for a comfortable driving experience. Yet, the tire does not have any feature that prevents any noise.
The Goodyear Assurance All-Season has the edge in the comfort department. It delivers an impressively quiet and seamless ride due to the specialized tread pattern, which is optimized to minimize noise. The rubber absorbs road irregularities effectively, resulting in less jarring from potholes and other road imperfections.
5. Cost
The average cost of Uniroyal Tiger Paw Touring AS tires is around $73.74 to $228.65 at dealerships. Meanwhile, the Goodyear Assurance All-Season has a price range of $109.00 to $187.04 within the same retailers.
Overall, Uniroyal tires have a lower starting cost than Goodyear's.
6. Pros and Cons
1. Uniroyal Tiger Paw
Here are the strengths and shortcomings of the Uniroyal Tiger Paw Touring A/S.
Pros
High-quality dry performance
Good traction on wet surfaces
Even tread wear and impressive durability
Cons
Less comfortable on the road
Can use some improvements at high speeds
2. Goodyear Assurance All-Season
Below are the advantages and disadvantages of the Goodyear Assurance All-Season.
Pros
Superior dry road handling and acceleration traction
Comfortable driving experience
Reliable grip during heavy rains
Which is Better?
After careful analysis, the Goodyear Assurance All-Season emerges as the better tire. The primary reason for this is its superior performance in several critical categories, such as dry traction and driving comfort.
As the runner-up, The Uniroyal Tiger Paw Touring A/S still has much going for it. Its Tru-Last Technology and extensive warranty ensure a long driving period, and it is also more affordable than the Goodyear tire if you have a tight budget.
Customer feedback, such as the Uniroyal Tiger Paw Review on Tire Rack, shows the brand's reliability.
FAQs
Does the Uniroyal Tiger Paw or Goodyear Assurance All-Season Have a Low Rolling Resistance?
Neither of these tires has a feature that reduces energy loss while driving. Low rolling resistance is an attribute that lowers fuel consumption.
Can You Drive an All-season Tire in Snow Conditions?
All-season tires, including the Tiger Paw A/S and Assurance All-Season, provide traction in light snow conditions. Note that you need winter tires for heavy or severe snow.
Conclusion
To summarize the Uniroyal Tiger Paw vs Goodyear Assurance All-Season comparison, the latter has a clear edge due to its performance in most weather conditions.
The Assurance tire offers a more comfortable, speedier driving experience than the Uniroyal. Yet, the Tiger Paw is still a solid option due to its tread life and commendable wet-weather traction.