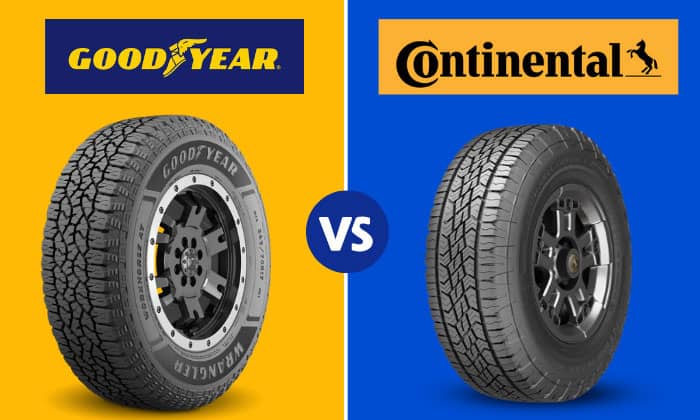 When considering Goodyear vs Continental tires, each offers unique strengths. Goodyear excels for its superior longevity and durability, known to withstand harsh conditions while providing consistent performance.
On the other hand, Continental tires are famed for their outstanding grip and handling in various road conditions, ensuring a smooth and safe ride every time.
Here is a quick comparison between the two tire brands:
Goodyear
Continental
History
Founded in 1898 in Ohio, USA. Named after Charles Goodyear, the developer of vulcanized rubber.
Founded in 1871 in Germany as a rubber manufacturer, transitioned to tire production in 1898.
Innovations
Use DuPont's Kevlar technology for puncture protection. The recent Assurance ComfortDrive tire range has ComfortFlex technology and AquaChannel grooves.

SealTech technology, which seals punctures automatically.

Developing the ProContact line with EcoPlus technology to enhance fuel efficiency and extend tread life by over 20%.

Contiseal technology to patch 80% of punctures.

Tire Quality
Tires undergo at least 50 different tests before market approval. Renowned for rigorous testing procedures.

All tires undergo visual inspections, x-rays, and tire uniformity checks before being sent to a warehouse.
Pricing
High-priced tires in exchange for standout features
Reasonably priced tires for reliable qualities.
Advantage
Offer innovative tires with cutting-edge technology for increased traction in specific conditions.
Tire lines are built for durability, fuel efficiency, and sustainability.
Below is a detailed comparison of Continental Tires vs Goodyear to give you a complete view of both brands.
What is the Goodyear Tire Brand?
Back in 1898, a man named Frank Seiberling founded what we now know as the Goodyear Tire & Rubber Company. He started this venture in Akron, Ohio, using money he'd borrowed from his brother-in-law. Seiberling honored Charles Goodyear, the man who invented the process of rubber vulcanization, by naming the company after him.
As time passed, Goodyear diversified its offerings, adding automobile tires to its product range. The company pioneered the industry by creating the first tubeless tire and detachable, straight-side tire.
Goodyear tires are made in many countries, such as India, Malaysia, and the United States.
What is the Continental Tire Brand?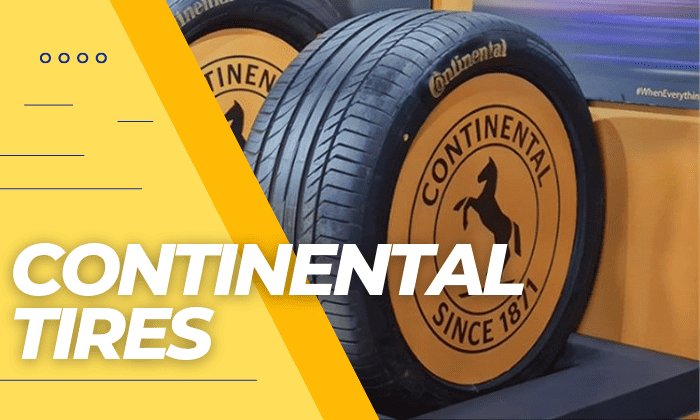 Continental, founded in Hanover, Germany, has significantly contributed to the tire and mobility industry for 150 years. Initially producing rubberized fabrics and solid tires for bicycles, the company evolved, pioneering automobile tires in the early 20th century.
Continental expanded its reach through strategic acquisitions and innovative offerings like the ContiEcoContact, the world's first sustainable tire launched in 1991. Today, Continental stands among the top suppliers in the global automotive industry.
Read more: Overview about Continental Surecontact RX.
Tires Ratings
1. Goodyear
Goodyear ranked as the 4th largest tire manufacturer in the world in 2021 according to that year's total revenue. The brand's net sales in 2021 were $17.5 billion, an increase of 42% compared to the previous year. They also saw a bump of 34% in tire unit volume in the same period.
2. Continental Tires
Continental was the 3rd largest tire manufacturer in 2021, a step higher than Goodyear in the same period. The company saw a boost in global tire sales of up to 16% in 2021 and a 2.5% increase in Continental retread tire volume from 2019 to 2021.
Differences Between Continetal Tires and Goodyear Tires
1. Performance
The performance of both brands comes from the type of technology they engineered for their tires.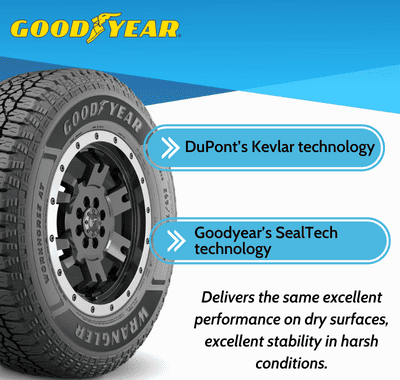 Goodyear's history of innovative technology is evident in its use of DuPont's Kevlar technology in many products. This technology offers increased resistance to punctures, especially when driving on challenging terrains.
Furthermore, Goodyear's SealTech technology is noteworthy. This technology automatically seals punctures of 5mm or smaller, allowing drivers to continue their journey without the immediate need for a tire change.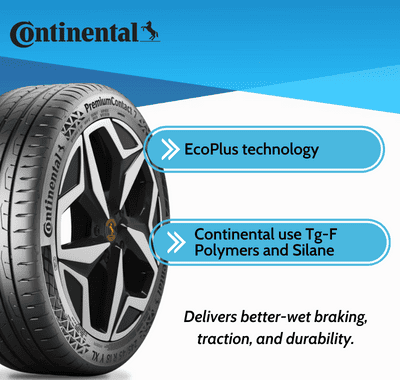 Continental's focus on technology is best demonstrated in its ProContact line of tires, which utilizes EcoPlus technology. This technology improves fuel efficiency and tread life, resulting in long-term savings for the vehicle owner.
The tires in this line are also designed to enhance road grip and reduce stopping distances, particularly on wet and slippery surfaces. This is mainly due to Continental's use of Tg-F Polymers and Silane, which help increase the efficiency and lifespan of their tires.
Overall, both brands will deliver quality performance, but we believe Continental is often the better choice for cars and performance vehicles. It delivers better wet braking, traction, and durability.
Goodyear tires, meanwhile, are preferable for drivers who own trucks and value top-level wet and dry handling. The brand delivers the same excellent performance on dry surfaces compared to Continental, but its wet traction slightly pales in comparison.
However, one area in which Goodyear impresses more is winter performance. The company makes thicker tire treads that allow for excellent stability in harsh conditions.
2. Warranty
Goodyear provides a Limited Tread Life Warranty covering many of its tires. The warranty length varies depending on the specific tire model. For instance, the Assurance MaxLife comes with an 85,000-mile tread life warranty. Meanwhile, the Eagle F1 Asymmetric All-Season tire has a 45,000-mile tread life warranty.
Also, Goodyear offers a 6-year warranty period from the date of manufacture. In the event of a defect, Goodyear will replace the tire on a prorated basis if the tires have been used for less than the stipulated tread life mileage.
Like Goodyear, Continental offers a Limited Tread Life Warranty. The specific tread life mileage will depend on the tire model. For example, the Continental TrueContact Tour offers an impressive 80,000-mile tread life warranty, while the ExtremeContact DWS06 has a 50,000-mile warranty.
Continental provides a limited warranty for a maximum of 12 months from the date of purchase. If a defect is found during this period, the tire will be replaced for free during the first 12 months or the first 2/32 inches of wear. After that, the tires will be replaced prorated.
3. Pros and Cons
What is the Continental Tire Brand?
Goodyear Tires
Continental Tires
Pros

Long reputable history in producing tires
Goodyear seal of quality
Wide range of tires for different road conditions

Ranked 3rd largest tire manufacturer in 2021
Focuses on sustainable tires
Reliable all-season tires

Cons

A more limited selection of tires
4. Costs
Goodyear tire price range from $130 to $231 in various retail stores. A Goodyear Wrangler Trailmark 245/65R17 goes for $139.00, while a Goodyear WRL Territory AT can reach up to $242.99.
Continental tires cost around $90 to $430 in popular auto shops. The best price on Continental tires is the Continental CrossContact LX20 for $188.23, given its superior handling and braking for both off-road and on-road conditions.
Popular Tires of Goodyear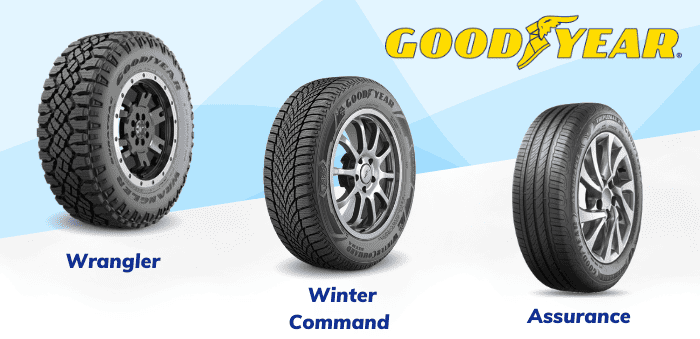 Wrangler – The Goodyear Wranglers are off-road tires that can provide dependable traction on pebble surfaces or rural areas. These are essential for pick-up trucks or vehicles going through unpaved roads.
Winter Command – These snow tires from Goodyear offer superior traction on heavy snow and icy roads. Very few tires can have the exact grip as Winter Command in snow conditions.
Assurance – The Goodyear Assurance line consists of entry-level products and various tires that focus on improving daily drives.
Popular Tires Of Continental
TerrainContact A/T – As the name suggests, this is Continental's all-terrain tire that provides excellent traction on dirt, gravel, and grass. The TractionPlus technology, unique to the Continental line, offers great stability and comfort.
Viking Contact 7 – The Viking Contact 7 uses Nordic Compound technology for incredible snow and ice traction. These snow tires from Continental ensure our vehicles stick to most frozen roads.
All-Season – Continental all season tire lines offer reliable traction and control in nearly any road condition. The tire can even provide grip on light snow roads.
What Should I Choose?
There are no wrong decisions, since both brands have a great product line. Their tire mileage warranty is equally good, so it becomes a matter of preferences regarding which one you choose. I'll go with Goodyear for winter driving and Continental for all-season performance.
Things to Consider Before Choosing One of Them
The purpose of your tire should be the basis of which brand to pick. The entry-level Continental line should fit the bill if you want a reliable tire that doesn't handle off-road rides much. However, if you need dependable performance for rough road conditions, Goodyear tires are much more suitable.
Frequently Asked Questions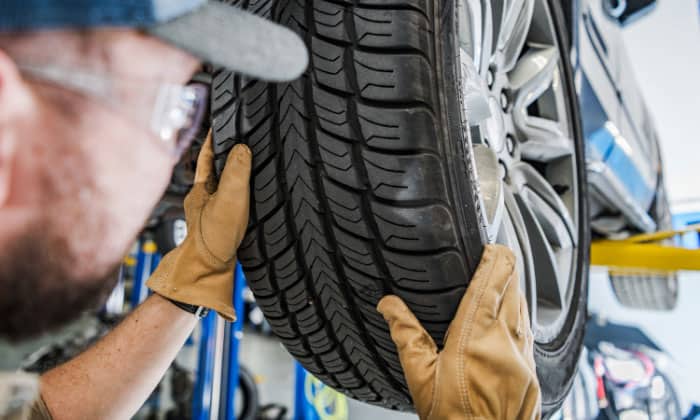 Are Continental Tires good tires for common road conditions?
The brand's all-season tires offer exceptional road performance in the most common weather conditions, making them great for urban drivers.
What makes Goodyear stand out from Continental Tires?
Several Goodyear lines have notable features, such as its Wrangler truck tires, which have a better grip on gravel or sand surfaces, and its MaxLife tire, which has an extensive tread life.
Are Continental Tires a renowned brand across the globe?
Continental Tires ranked 3rd among the world's largest tire makers in 2021. This rank indicates high global tire sales volumes and that many trust the brand.
Conclusion
In concluding the comparison between Goodyear vs Continental Tires, both brands are nearly identical in performance due to the various innovations they employ.
Continental Tires has the advantage of being affordable and using eco-friendly tech on their products. However, Goodyear stands out with its specialty tires for specific road conditions.