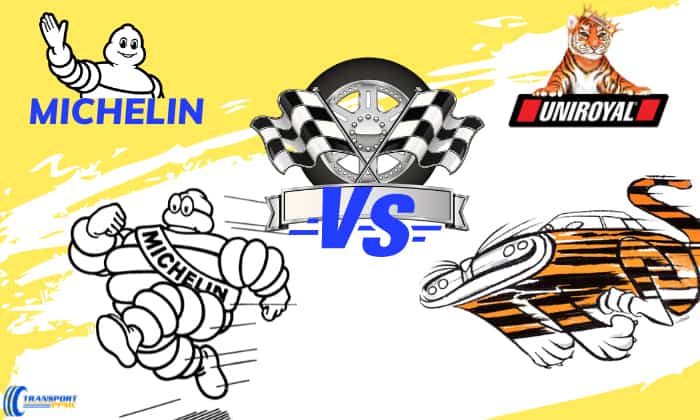 Uniroyal built its 130-year history of producing quality tires through various partnerships with other tire giants, including Continental AG, BFGoodrich, and now, Michelin.
But, which is better, Michelin vs Uniroyal Tires? Michelin is tough to beat because it is a premium brand that offers nine tire series to cater to specific driving needs at a higher cost. Meanwhile, Uniroyal is a second-tier brand that can provide good traction on wet and dry surfaces but with loud road noise.
Brief History of Uniroyal Tires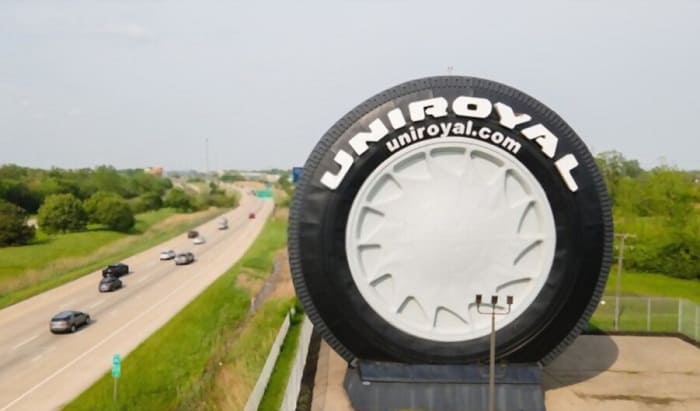 Uniroyal was known as the United States Rubber Company when it was founded in 1892 in Naugatuck, Connecticut. It was renamed Uniroyal in 1961.
In 1979, Continental AG acquired Uniroyal Europe. Since then, all Uniroyal tires produced outside North America, Colombia, and Peru belong to the German automotive company.
In 1986, Uniroyal partnered with BFGoodrich to displace Firestone, the second largest tire manufacturer at that time. The Uniroyal-Goodrich joint venture was bought by Michelin in 1990, a move that made Michelin the biggest tire company.
Who makes Uniroyal tires?
Michelin North America supervises the production of Uniroyal tires in its manufacturing plants in Alabama, Indiana, Ohio, Oklahoma, North Carolina and South Carolina.
Essentially, Uniroyal tires are made in the USA, although Michelin has tire factories in other countries.
Differences: Uniroyal vs Michelin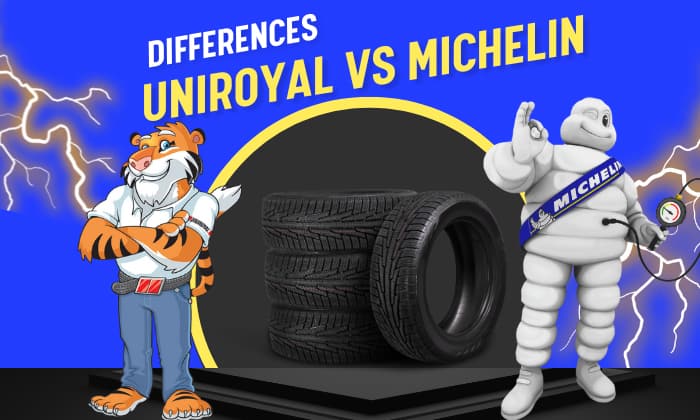 1. What is it?
In general, Uniroyal belongs to the second-tier tire category, so its portfolio is limited compared to Michelin. It has 13 tire models:
6 for cars and minivans
6 for SUVs, CUVs and pickup trucks
1 for commercial vehicles
They are divided into two distinct tire families:
The Tiger Paw series is composed of all season tires for cars, minivans, SUVs, and pickups.
The Laredo tires are designed for SUVs, CUVs and light trucks.
On the other hand, Michelin covers almost all of the available vehicle types. They have different lines that address the critical demands of most drivers like noise reduction and usability in winter.
You'll find 9 tire series from the French company:
X Ice (3)- winter, snow
Michelin Crossclimate (2)- all season
Michelin Defender ( 3) -all season
Michelin Energy (3)- fuel-efficient
Michelin Latitude Sport (6)
Michelin Primacy (7)- run-flat
Michelin Pilot (19)
Michelin Premier (2)- highway
Michelin LTX (3)- all-terrain
Related:
2. Withstanding weather conditions
Uniroyal tires deliver good control on dry roads through excellent grip and cornering even at a higher speed. However, its braking ability needs improvement on wet pavements.
For example, the Uniroyal Laredo Cross Country Tour has a B rating for traction, and while the brand has tires that receive an A rating (such as the the Tiger Paw Touring and AWP II), of its products with UTQGS scores, no model as an AA rating for traction like the Michelin Pilot Sport 4 or 4×4 Diamaris).
On the other hand, Michelin all-season tires have better weather resistance because they are capable of handling harsh situations on dry and wet roads with reasonable control at high speeds.
For example, Michelin Crossclimate 2 is a tire you can use in a variety of terrains with superior comfort and low noise level. If you maintain a steady speed, it can be driven in light snow without slipping.
For heavy snow, Michelin's X-ice is a great winter tire you can depend on.
3. Noise and distance
When choosing between Michelin and Uniroyal tires, motorists find Uniroyal practical under normal driving conditions.
The Tiger Paw tires offer good traction on dry and wet surfaces. They are good enough for daily driving in the city streets or highway. However, these tires are noisy and don't have as high of a mileage as those from Michelin.
In contrast, Michelin tires are not perfect but they perform better in long distances, even in extreme driving conditions. For instance, driving a Michelin Defender T + H can make one feel confident in tackling snow, gravel and dirt roads with an 80,000-mile warranty.
4. Price
Michelin tires are around $30 more expensive than Uniroyal tires. Fortunately, the French tire brand is one of the Costco tires that go on sale a few times a year.
Here's a quick comparison to give you an idea of Michelin vs Uniroyal tire price.
| | | | | |
| --- | --- | --- | --- | --- |
| Dealer | Laredo Cross Country Tour | Tiger Paw Touring A/S | Michelin Defender | Michelin CrossClimate 2 |
| Tirebuyer | $58.54-$227.48 | $110.44-191.42 | $92.80-230.99 | $147.99-311.99 |
| Discount Tire | $88-146 | $68-226 | $117-231 | $107-424 |
5. Sizes
Uniroyal tires are available in numerous sizes:
Tiger Paw All season – 14-20 inch diameters and 114 sizes
Laredo Cross Country Tour – 15- 20 inch diameters and 24 sizes
Laredo Cross Country – 15 to 16'' diameters and 4 sizes
On the other hand, Michelin offers 15-23 inch diameter options with 4-93 tire sizes each.
6. Tire design
Uniroyal tires are mainly manufactured to meet handling and wear expectations. They don't have high-end noise canceling features like Michelin.
On the other hand, both brands have tires that utilize a tread design with circumferential grooves and sipes to provide hydroplaning support and reliable wet traction. They differ in tread compound, to which Uniroyal's road noise can be attributed.
Michelin tires are equipped with specialized technologies for noise reduction, durability, and safety, namely:
Michelin Acoustic Technology
Michelin Self-seal Technology
Therefore, Michelin tires are quieter, safer and more comfortable on the road than most brands.
7. Warranty
Uniroyal and Michelin both offer a 6-year limited warranty. However, Michelin's mileage promise is more attractive because two of its prominent tires claimed the highest mileage of 85,000. They are Michelin Defender T+H and Michelin CrossClimate 2.
As for Uniroyal, the Tiger Paw line has the strongest mileage guarantee. If you compare the Uniroyal Tiger Paw vs Michelin Defender, the Tiger Paw H-speed tire can be driven up to 75,000 miles while the Defender tires with the longest warranty will receive brand support up to 80,000 miles.
Meanwhile, the Laredo tire family is warrantied up to 50,000 or 60,000 miles.
When it comes to additional benefits, Michelin offers a valuable warranty package called Michelin Promise Plan which includes:
3 year road assistance
60 day satisfaction guarantee.
Meanwhile, Uniroyal tires provide a 45 day satisfaction guarantee, 15 days shorter than Michelin.
8. Pros and cons
Pros of Uniroyal Tires vs Michelin
Based on the differences mentioned, there are some advantages that Uniroyal can offer:
More affordable products
Can accommodate smaller wheels than Michelin
Cons of Uniroyal Tires vs Michelin
Here are the advantages of Michelin wherein Uniroyal can work on in the future:
More tire options than Uniroyal
Noise reduction and unique tread compound for protection
Supports larger wheel sizes
Better overall in terms of handling
Frequently Asked Questions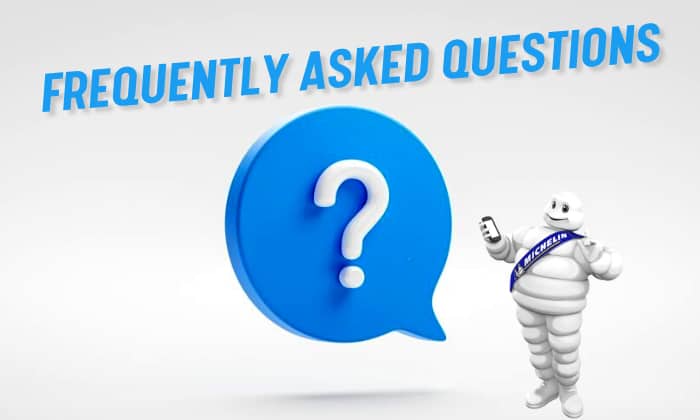 Are Uniroyal tires good?
They certainly are. Out of the 72 tire reviews for Uniroyal Tiger Paw, 89% of the respondents claimed that they would buy Uniroyal tires again because they appreciated the long-lasting tread life, good handling, and cornering stability on dry roads.
That said, Uniroyal tires rating showed the common weakness of all season tires – lower traction on deep snow and ice than winter tires.
Are Michelin and Uniroyal the same?
Michelin became the parent company of Uniroyal in 1990. Although Uniroyal shares the same standards and facilities with Michelin, the tires are not the same. Uniroyal tires serve the mid-range market with good quality products at a more affordable price.
Are Uniroyal tires made by Michelin?
Michelin acquired Uniroyal Goodrich in 1990 in a bid to become the world's largest tire manufacturer. Because of this merger, Uniroyal tires are made in Michelin manufacturing plants in the US.
Where are Uniroyal tires made?
Uniroyal tires are engineered in Alabama, Indiana, Ohio, Oklahoma, North Carolina and South Carolina. Most of its commercial truck tires are made in Spartanburg, South Carolina.
How long do Uniroyal tires last?
In general, the warranty should give you an estimate. Uniroyal tires are guaranteed for 50,000 – 75,000 miles. Uniroyal Laredo Cross Country series last up to 50,000 miles, while the all-season tire Uniroyal Tiger Paw is warrantied up to 75,000 miles.
Which is better, Uniroyal vs. Goodyear?
If you compare Uniroyal vs Goodyear, the second tier tire brand definitely will have more noticeable weaknesses than the premium brand.
However, if we compare the Uniroyal Tiger Paw vs Goodyear Assurance TripleTred, the latter might be a worse choice, given complaints about its excessive tread wear and loud road noise.
Which is better, Uniroyal vs. Mastercraft?
The keypoint in comparing Mastercraft tires vs Uniroyal is the affordable price. Mastercraft tires may be more expensive than Uniroyal tires by $30-40.
However, their treadlife services are close. Mastercraft tires are warrantied from 50,000-80,000 miles while Uniroyal tires have support for about 50,000-75,000 miles.
Both tires offer value in dry and wet performance, and are similarly challenged by snowy roads. However, Mastercraft has a dedicated winter tire that performs well in snow.
Conclusion
After comparing Michelin vs Uniroyal tires, it is safe to say that Michelin is an ideal brand in nearly all conditions while Uniroyal is a good choice for cars, minivans, SUVs and trucks.
When compared to either high or low-cost tire brands, Uniroyal's winning edge lies in its affordability, good dry handling, and durable treadwear that is similar to brands with the strongest warranty.
You might want to learn more about both companies, so don't hesitate to ask us some questions.