You probably heard of Big O Brand Tires reviews and wondered about its tire quality rankings or the truth behind its product complaints. So, let's review Big O Brand tires vs Michelin.
The brand competes with Michelin in the off-roading category because it is where Michelin has few tire choices. However, Michelin's LTX AT2 has better all-season performance, noise, comfort, and treadwear than Bigfoot tires.
Here are other factors in which Big O Tires cannot match Michelin.
| | | |
| --- | --- | --- |
| | Big O Brand Tires | Michelin |
| Manufacturing Expertise | Concentrates on off-roading and street touring tires | Winner (versatile with vast tire inventory) |
| Years in Industry | 60 | 133 |
| Warranties | 3 years limited warranty and nationwide repair warranty service | Winner (has reliable warranty packages and long-lasting mileage support) |
| Tire Quality | Some off-roading tires are subjected to tire recalls. | Each category has a top performing tire. |
What Are They?
1. Big O Brand Tires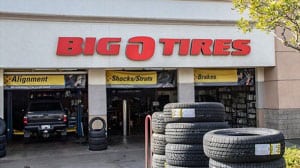 Big O Tires originated from a split with OK Tires. It began as a tire retailer and installer that provides related auto services in 1962. It started producing its own tires in 1974.
In 1996, it was acquired by TBC Corporation, an American marketer of automotive replacement tires.
In 2006, TBC Corporation was sold to Sumitomo Corporation of America.
Big O Tires was primarily created in response to the tough competition faced by independent tire dealers. Eventually, it evolved into a powerful tire chain with more than 450 franchisees across 25 states in the Western and Midwestern US.
Big O Tires also provides routine maintenance and replacement services such as:
Oil change, lube, and filters
Car battery installation, testing, and replacement
Brake repair
Suspension and steering services
Big O Tires' inventory includes tires for cars, light trucks, sports utility vehicles, and performance tires.
When you shop by brand, the company carries around 26 tire brands, including its own Big O brand, which consists of 6 tire lines.
Big Foot A/T II – all-terrain all-season touring tire with wide lateral grooves, staggered shoulder lugs, and a variable pitch pattern that is good for increased traction in offroading and winter conditions.
Big Foot AT NT – all-terrain all-season touring tire developed with an aggressive 5-rib tread pattern capable of handling adverse road conditions and providing traction in soft-surface conditions. It features a ramp-lock component and stone ejector.
Big Foot AS promises a longer wear life, all-season traction, and stable rides through an open center rib, uninterrupted raised shoulder ribs, corrugated depth siping, and groove walls.
Big Foot XT offers superb off-road control and traction through alternately shaped shoulder lugs
Legacy Tour Plus – all-season touring tire for passenger cars. Its asymmetric 5-rib tread pattern is composed of a silica-enhanced compound with full-depth sipes that promise to deliver noise reduction and increased grip in wet and light snow conditions.
Legacy AS Plus – street all-season touring tire that features four main grooves in an asymmetric pattern. It has 3D sipes and zigzag slits that reinforce wet braking and snow traction.
2. Michelin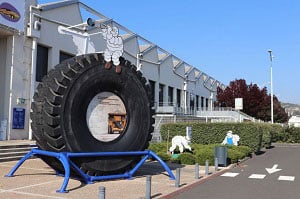 Michelin is a French tire maker founded in 1889. It started as a farm equipment business and transformed into a tire business when Charles Terront won the world's first long-distance cycle race using the removable pneumatic tire produced by the Michelin brothers.
The tire manufacturer has six subsidiaries: BF Goodrich, ViaMichelin, ATS Euromaster, TCI Tire Centers, Camso, Multistrada Arah Sarana, and Masternaut.
Michelin is currently producing a variety of tires for automobiles, airplanes, bicycles, motorcycles, farm vehicles, space shuttles, and other industry-related equipment. It is the second largest tire manufacturer in the world but is rated as the best tire brand in different categories by industry experts and consumers.
Here is a quick rundown of the profile differences between Big O tires and Michelin.
| | | |
| --- | --- | --- |
| | Big O Tires | Michelin |
| Nature | Tire dealer | Tire manufacturer |
| Type | Subsidiary of TBC Corporation | Parent Company |
| Year Founded | 1962 | 1889 |
| Founder | Harold V. James | Edouard Michelin & Andre Michelin |
| Headquarters | Palm Beach Gardens, Florida, US | Clermont-Ferrand, France |
| Accessibility | More than 450 locations in the US (across 25 states) | Has 117 production sites in 26 countries and commercial reach in 170 countries |
| Number of employees | 3,000 (2021) | 124,760 (2021) |
Other Comparison you may also like:
Differences: Michelin vs Big O Brand Tires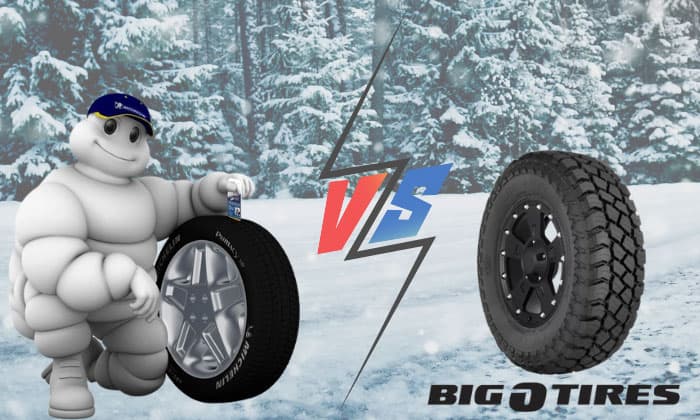 1. Tire Quality
Big O has two Legacy tire lines that can be compared to either Michelin tires sport or all-season touring models, while the other 4 Big O tire lines can be weighed up against Michelin's one and only offroading option, Michelin LTX AT/2.
Note that when it comes to tire rankings by brand, Michelin has an award-winning tire for every category such as
Michelin Crossclimate 2 – The best all-season tire
Michelin Pilot Sport 4S – The best performance tire
Latitude Tour – the best SUV tire
Michelin Defender LTX M/S – the best truck tire
X-Ice X i3– the best winter tire
Out of the 50 Michelin tires, the following are tire brands ranked as great for all-terrain and highway all-season.
Michelin LTX AT/2 – an all-terrain tire that delivers excellent all-season performance and durability through notched blocks and a MaxTouch construction. It was awarded the best off-road tire in 2023.
Michelin LTX M/S2 – a highway tire that provides vans, pickups, and SUVs a slick and relaxed ride with excellent performance in dry, wet, and snow conditions.
On the other hand, Big O Bigfoot AT tires offer comfortable and steady rides with good grip, braking, and towing ability. They are great at handling dirt roads and long-distance driving. However, the tires can be noisy, as expected of truck tires.
Big O Bigfoot A/S tires, meanwhile, are noiseless. They deliver a smooth ride with good traction and snow handling.
Specific models aside, Michelin generally has better heat resistance, traction, and treadwear than Big O tires if we look at UTQG ratings.
2. Tire Recalls
Unfortunately, in 2021, Bigfoot AT and Bigfoot AS tires that were manufactured by Cooper were recalled due to the risk of sidewall separation.
The American tire franchise has been plagued with tire recalls, even before switching to US tire suppliers in 1992. They used to get supplies from Kumho and Hankook of South Korea.
For instance, in 1993, the tire dealer suffered warranty costs of up to $4.6 million because of manufacturing defects. Such a case led to the termination of the supply contract with General Tire, a subsidiary of Continental AG, a German tire maker.
In terms of Big O tires complaints, the brand had recalls in 1994, 2006, and 2012.
Regarding this aspect, Michelin had its share of tire recalls, but most of them were due to missing information on the tire sidewalls.
In 2020, Michelin recalled 32 Michelin Crossclimate Plus tires due to missing sidewall markings (DOT and UTQG), but there were no accidents reported.
In 2018, 377 Michelin Crossclimate SUV tires lacked sidewall information for maximum load capacity, maximum pressure, and ply description.
In 2013, Michelin made a voluntary recall on LTX M/X tires due to their crash potential caused by possible tread separation.
3. Warranties
Big O Tires offers three types of warranty:
Tire warranty – covers 3 years' worth of full repair or replacement for Big O brand tires that suffer non-repairable puncture or defect in workmanship
Service warranty – about 1,000 locations and 35,000 participating facilities honor the brand's 12,000-mile Nationwide Limited Repair warranty
Roadside assistance – free service added when a customer purchases the Tire Protection package
Based on consumer reviews, Big O Tires have a good tread life, but there have been Big O tires warranty complaints for some stores that didn't honor their replacement policy.
Meanwhile, Michelin assures its tire buyers with the Michelin Promise Plan, which consists of:
Free replacement within 60 days from the date of purchase
3 years' worth of flat tire changing assistance
Manufacturer's limited and treadwear warranty
In general, Michelin's mileage coverage ranges from 20,000 – 80,000 miles, and usually, they have the strongest brand support in their class. The average lifespan of a Michelin tire is 5-10 years.
4. Cost
Michelin is more expensive than Big O tires. For instance, the Bigfoot AT II with a tire size of 265/65R17 is sold at $245.99. Michelin's LTX AT2 is around $46 higher. It can be bought for $292.64.
Pros and Cons
Big O Brand Tires
More choices in off-road tires
Offers comparable comfort and stable rides
Has attractive towing capability
Competitive warranty package
Noise
Numerous tire recalls
Michelin
Tire diversity
Century-long manufacturing expertise
Has an outstanding tire in every category
Few choices in off-road tires
Expensive
FAQs
Who manufactures Big O tires?
Big O Tires are now made in Japan by Toyo Tire Corporation. Prior to this announcement of TBC Corporation in 2022, Cooper Tire & Rubber Co. was its longtime supply partner.
Thus, some drivers still believe that Cooper is the one who makes Big O Brand Tire. Others say that Big O Tires are produced by Kelly Springfield tire company, a Goodyear subsidiary.
What tire is equal to Michelin?
Michelin is often compared to top brands like Bridgestone, Goodyear, Continental, Yokohama, Pirelli, BF Goodrich, General, and Hankook.
Conclusion
Without a doubt, Michelin knows by heart from design to distribution the kind of tire that fits a certain market, as shown in its vast tire inventory.
If we compare Big O Brand tires vs Michelin based on price point, Big O excels in selling affordable replacement tires and providing auto-related services. Michelin is the better tire producer.