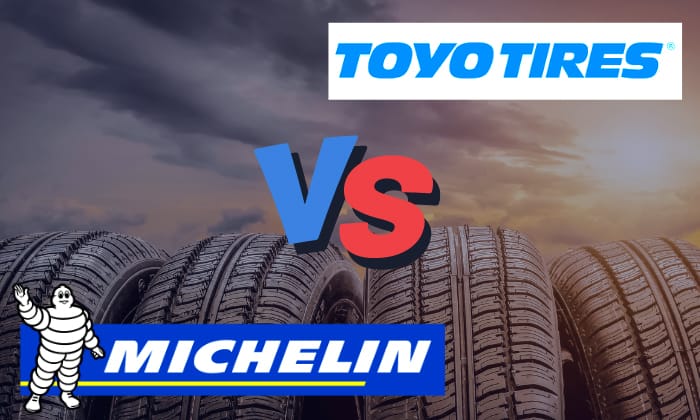 Buying new tires can be tricky. It can get confusing with so many brands around and the multiple reviews behind them. That's why we're here to compare Toyo vs Michelin tires. Similar to Bridgestone vs Michelin, east meets west once again.
Deciding what tire was better was challenging for us, as Toyo tires' performance is nothing to scoff at, despite being a mid-tier brand. Their more affordable price also gives Toyo an edge over the French premium brand, making it even harder to choose.
If you're also in a dilemma, maybe this guide will help you. But first, here's a quick Toyo tire comparison with Michelin to get you up to speed.
Origin
A leading French tire brand, founded in 1889
A Japanese tire company founded in 1945
Founder
André and Édouard Michelin
Toyo Boseki
Headquarters
Clermont-Ferrand, France
Itami, Japan
Products Manufactured
High-performance tires for cars, sport cars, SUVs, RVs, and light trucks.

Also make tires for other transportation, including motorbikes, bicycles, and airplanes.

Focusing mainly on vehicle tire products such as sedans, sports cars, light trucks, and SUVs. They're mostly focused on high-performance tires.
Parent
Stand-alone
Stand-alone
Tread life
45,000 – 85,000 miles
15,000 – 60,000 miles
Ride Quality (Noise Levels)
67.3
68.7 dB
Rolling Resistance
7.36
9.29
Fuel Efficiency
Excellent
Above-Average
Price
Expensive ($145-$875)
Slightly Cheape ($70-$642)
What Are They?
Before we get into the main differences between the two tire brands, our takes, and consumer reports, let's know these two brands better first.
1. Toyo Tires
Founded in 1945 in Japan by Toyo Boseki. Toyo tires are one of the best brands from the east. Since then, they have been providing high-performance tires that rival other industry titans like Michelin or Bridgestone.
Toyo is a favorite among off-road aficionados who adore the impressive traction in harsh terrain and weather. Toyo motorhome tires and truck tires provide a fantastic option for those who love the outdoors and need outstanding performance.
Toyo prides itself on its Nano Balance technology, which was developed with precision in mind, going as deep into the molecular level of the tire. As a result, the tires boast outstanding traction and negligible rolling resistance, thus improving fuel efficiency.
While adored by all-terrain drivers, Toyo tires don't offer much for everyday drivers. Toyo focused on providing high-performance tires, which isn't bad by any means, but average drivers may feel they don't need the extra features.
Toyo Tire Family
Open Country – The main off-road adventure tire with 11 products. Except the Open Country SXS, which is for side-by-side vehicles, all products in this line are suitable for SUVs, crossovers, and light trucks. Among the line, only the Toyo Open Country HT is specifically made for highways.
Proxes – Toyo's high-performance tire for sports cars. Depending on your needs, you can find suitable tires for driving on highways or racing. One notable example is the Toyo Proxes R46, which was specially built for the Mazda CX-5
Extensa – The Extensa line is Toyo's all-season tire family, either for touring or high-performance.
Celsius – From its name, Celsius are premium touring tires that can handle any weather temperature, making them Toyo's all-weather tire series.
Observe – The two tires from the Observe line are Toyo's studless and studdable winter tires.
M-Line – Toyo also makes off-road commercial tires, and the M-line is built for commercial light trucks driving on- and off-road.
H-Line – Similar to the M-Line, the H-Line is Toyo's H-Line is also built for the commercial industry. It specializes in providing all-season tires to commercial vans.
2. Michelin Tires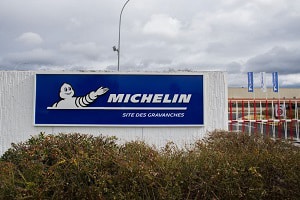 The global tire industry leader Michelin is a French company founded in 1889 by André and Édouard Michelin. The Michelin brothers focused on making bicycle and horse-drawn carriage tires for a while until they broke into the automotive market.
Since then, Michelin has been providing one of the best tires in the world. They equip vehicle owners with premium quality tires that consistently deliver excellent performance, durability, and extended warranty periods.
With its wide array of tires, there's always something for everyone when choosing Michelin. Moreover, they're also very focused on improving their tires by pouring hundreds of millions of dollars into research and development alone.
However, because of this, Michelin is also one of, if not the most expensive tire brand around, which can discourage drivers on a budget. However, premium tires demand a hefty price. And, with Michelin, you'll definitely get your money's worth.
Michelin Tire Family
Defender – The Michelin Defender is an all-season tire line, available in three variants depending on the driver's needs.
Primacy – Michelin's touring line, the Primacy, is built to provide excellent ride quality and fuel efficiency. They can either be all-season or summer tires.
Premier – The Premier line is also touring tires; it provides optimized braking, cold weather handling, and luxurious ride quality. Between the two touring lines, Premier has longer tread life and better overall performance.
Energy – The Energy line is specially built to improve energy use by implementing special rubber compounds to keep the tires cooler, thus enhancing fuel efficiency.
Pilot – Michelin's high-performance line, the Pilot series, offers many types of tires which focus on grip, handling, and control when moving at high speeds. The Pilot line is built for performance from highways and off-road to racing.
LTX – The Michelin LTX is the French brand's commercial or recreational all-terrain light truck line. When you need Michelin tires for pickup trucks crossing harsh terrain or for commercial use, the LTX is an excellent option.
CrossClimate – CrossClimate tires are designed to combat any weather. With a 3PMSF certification, even snow would pose no issues.
Latitude – The Latitude line focuses its development on tires for SUVs, crossovers, or light trucks. It has summer, winter, and all-season variants.
X-Ice – The X-Ice is Michelin's answer for extreme weather conditions, such as heavy snow. From traction to fuel efficiency, the X-Ice is a go-to winter tire.
Read more about the comparisons:
Differences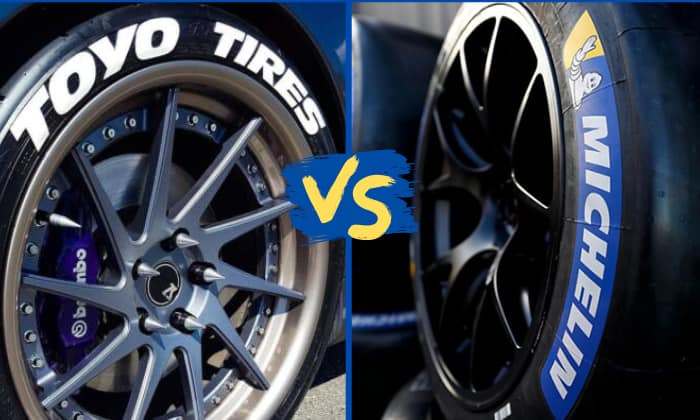 Now that we know what both tire brands can offer, let's compare Toyo tires vs Michelin. We based them on performance, ride quality, and price based on user reports from Reddit and our personal tests.
Performance
Both tire brands provide excellent performance, so let's compare them on dry and wet roads, off-road conditions, and handling.
For road circumstances, we tried the Toyo Extensa vs Michelin Defender comparison for all categories, as both are touring all-season tires.
After testing both tires, the Defender is significantly better at gripping dry surfaces and handling. However, the Extensa edges it out in regard to wet road conditions.
When it comes to off-road driving, let's compare different tires for this category. Now let's pit the Michelin LTX AT2 against the Toyo Open Country AT, which are both all-season, all-terrain, and off-road tires.
The test results showed that while the Toyo Open Country AT isn't a bad tire per se, the Michelin still wins in all categories, dry, wet, handling, wear, and comfort.
Ride Quality
For ride quality, we'll compare two touring tires – the Toyo Versado Noir vs Michelin Premier A/S.
The French brand also won this round, as we felt it had less noise and gave much more comfort than the Versado Noir. In addition, the Michelin Premier A/S excelled in all terrains, whereas the Versado Noir encountered some difficulties in heavy snow.
Price and Warranty
For the price between Michelin vs Toyo tires, it's a clear winner. Michelin tires are premium tires with premium prices, so Toyo wins this one by a landslide. To be specific, the French brand's tires will cost around $145-$875, as opposed to the Toyo's cheaper $70-$642 range.
For instance, when you compare the price of aToyo Eclipse vs Michelin Defender T + H, you'll see a noticeable disparity. Whereas the former costs roughly $70.84 to $171.66, the latter will set you back around $134 to $231, depending on the tire sizes.
However, Michelin has a much better policy when compared to a Toyo tire mileage warranty of only 45,000 miles. Michelin, however, gives drivers a warranty period of 80,000 miles.
Pros and Cons
Michelin
Premium quality
Durable
Excellent warranty
Great on-road experience
Extensive tire catalog
Toyo
More affordable
Great off-road experience
Good on-road experience
Decent ride quality
Warranty needs improvement
Frequently Asked Questions
Which is Better Toyo or Michelin?
It depends on what you're looking for. If you're an off-road enthusiast and want more affordable tires, go for Toyo. For a better on-road experience, Michelin is better.
Is a Toyo tire a good tire?
Toyo tires are an excellent option for a mid-range tire, especially for experiencing the great outdoors. But, they lack options for your average driver, which is among the Toyo tires complaints made by consumers.
How long will Toyo and Michelin tires last?
Toyo tires can last 15,000-60,000 miles but are much cheaper, while Michelin tires can go for 45,000-85,000.
In other words, you can expect Toyo tires to last around 3-4 years. As for the premium French tires, it'll take 5-10 years before a replacement is necessary.
Conclusion
Now that the Toyo vs Michelin tires debate has ended, the choice is up to you. Toyo is a great tire to choose for quality and affordable off-road tires. However, for everyday drivers, Michelin's premium on-road experience and durability are worth it, even with its steep price point.
Is there anything else you wish to know about these two tire brands? Don't hesitate to comment below if you still have unanswered questions.