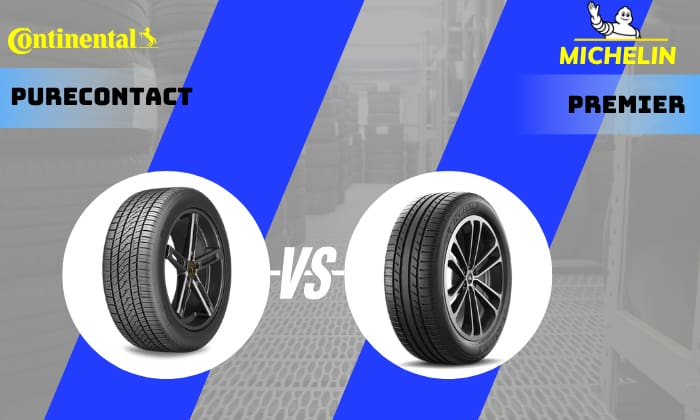 Choosing the best all season tires is complex because there are so many models from top tier brands, including Continental vs Michelin tires.
If you're comparing the Continental Purecontact vs Michelin Premier, Continental's PureContact has attractive specifications, especially long lasting tread life, but Michelin Premier has superior performance in dry, wet and snow conditions with exceptional noise reduction and comfort level.
| | | |
| --- | --- | --- |
| Factors | Continental Purecontact | Michelin Premier |
| Road Grip | Competitive | Winner |
| Tire handling | Competitive | Winner |
| Rolling Resistance | Competitive | Winner |
| Noise/Comfort level | Competitive | Winner |
| Warranty | Winner | Lower |
| Price | Cheaper | Expensive |
What Are They?
1. Continental PureContact
Continental's PureContact is an all-season touring tire designed for passenger cars. It was replaced by the Continental PureContact LS in 2018. The updated Purecontact was launched in the market together with the Continental Truecontact Tour.
Continental's PureContact had a UTQG rating of 700 A A. Consumers praised the tire's reliable dry traction, ride comfort and low road noise.
Its ability to perform well in wet weather and on slippery roads can be attributed to the vertical ridges integrated in the tire's circumferential grooves. They were incorporated into the sporty design to provide hydroplaning resistance and sufficient wet grip.
This tire has a visible tread wear indicator for dry, wet and snow (shown as D,W, and S). S wears out first because it has the softest compound. When it fades, the tire should not be used on snowy roads. This interesting feature is retained in the PureContact LS.
2. Michelin Premier
Michelin rolled out two tires under the Premier category.
Michelin Premier A/S – grand touring tire designed for coupes, sedans and minivans; released to replace the Michelin MXV4 of the Primacy line
Michelin Premier LTX – touring tire for crossovers, SUVs, light-duty vans, and pickup trucks
Related: Michelin Premier LTX vs Continental Crosscontact LX25.
Here are their signature characteristics:
Tread compound infused with a high content of silica and sunflower oil
Symmetric tread design with multiple sipes
EverGrip Technology composed of hidden grooves called Expanding Rain Grooves and Emerging Grooves
Twin steel belt internal construction fortified by a polyamide cord and polyester casing ply
Some Michelin Premier LTX tires have the "DT" branding on the sidewall, which indicates an upgraded compound for enhanced longevity.
Both Michelin Premier tires provide superb comfort, excellent wet and dry performance, and good handling in snow or winter.
Differences: Michelin Premier vs Continental Purecontact
1. Tire Specifications
Based on tire sizes, the PureContact and Michelin Premier A/S both fit smaller-wheeled vehicles, but PureContact has several advantages:
Higher UTQG rating of 700 A A vs 640 A A for the A/S and 620 A A for the LTX
Some sizes have deeper tread depths
Lower weight
Longer tread warranty of 70,000 miles vs 60,000 miles
| | | | |
| --- | --- | --- | --- |
| Factors | Continental PureContact | Michelin Premier A/S | Michelin Premier LTX |
| Tire size | 225/60R18 | 225/60R18 | 225/60R18 |
| UTQG rating | 700 AA | 640 AA | 620 A A |
| Tire weight | 23.9 lbs | 26 lbs. | 26 lbs. |
| Tread depth | 8.5/32'' | 8.5/32" | 8.5/32" |
| Max load | 1764 pounds | 1764 pounds | 1764 pounds |
| Max PSI | 44 psi | 44 psi | 44 psi |
| Warranty | 70,000 | 60,000 | 60,000 |
2. Road Grip
Based on traction ratings, both brands scored A, which signifies that they have excellent braking ability in wet conditions.
When it comes to handling temperature, both brands are A-rated tires that can control and dissipate heat under normal conditions.
However, consumer reviews showed that Michelin's Premier A/S has superior grip on dry and wet roads compared to Continental's PureContact. However, when comparing the Purecontact and LTX, the former has a slight edge.
3. Tire handling
Michelin's Premier A/S has outstanding cornering and steering capabilities compared to the PureContact.
It has the shortest stopping distances on dry and wet roads. Even under heavy rain or when exposed to oily surfaces, the Michelin tire is stable and precise.
In reality, the Continental tire has good dry and wet handling that is similar to Michelin's Premier LTX.
4. Rolling Resistance
Continental's PureContact has low rolling resistance, courtesy of its Eco-Plus technology and silica tread compound.
Michelin Premier tires are also fuel-efficient because they have lower rolling resistance. The tread compound contains huge amounts of sunflower oil and silica, which are responsible for keeping tires elastic in low temperatures.
Studies show that more and more tire manufacturers are using silica as a filler material instead of carbon because it can shrink the rolling resistance by 20%.
Tests have shown that the A/S and Purecontact are neck and neck regarding fuel consumption, and both models are better than the LTX.
5. Noise
The Continental PureContact has an undertread band and Comfort Ride technology that lessen vibrations in a bumpy ride, which results in having low road noise levels. Similarly, Michelin's Premier A/S has Comfort Control Technology that makes it quiet on the highway.
Between the two tire brands, the French tires have higher approval ratings from consumers when it comes to road noise and comfort level.
And if you want even less noise during drives, the Michelin Primacy Tour A/S is worth checking out.
6. Warranty
Michelin tires are known for their high mileage warranty, especially the Michelin Defender, the brand's flagship line. In comparison to it, Michelin Premier tires seem slightly less appealing for having 60,000 miles coverage.
This policy is weak against Continental PureContact's 70,000 miles.
7. Cost
If we take the 225/60R18 tire size as an example, the PureContact costs around $161, while the A/S can be bought at $219 and the LTX at $216. Therefore, the Continental tire is about $58 cheaper.
Pros and Cons
Continental PureContact
Has an attractive sporty design
Stronger warranty
Remarkable wet and snow performance
Cheaper
Michelin Premier
First-rate all-season performance on dry and wet surfaces
Top-notch wet handling
Quiet and superior comfort level
Fuel-efficient
FAQs
Are Continental PureContact tires good in snow?
Definitely. Thanks to its asymmetric tread pattern and soft compound, the tire lasts longer with dependable grip in snow. The little grooves in the tire hold the snow in the tread, and this provides high traction.
What is the difference between Continental PureContact and PureContact LS?
Continental's PureContact LS is the updated version of Continental's PureContact. It was released in 2018 and aimed at providing stronger wet traction, treadwear, fuel economy, and less noise than its predecessor.
How many miles should Michelin Premier tires last?
Michelin Premier tires last about 60,000 miles. However, based on Consumer Reports, Michelin's Premier A/S has a projected mileage of 80,000 miles while the LTX has an estimated tread life of 40,000 miles.
Conclusion
Michelin has the upper hand in the Continental PureContact vs Michelin Premier match up. The latter has an edge in performance, though Michelin offers a lower warranty than Continental.
Knowing that Continental PureContact does not lag behind in wet, dry and snow conditions is a good assurance that you can always have it as your backup.
Overall, Michelin's Premier A/S came out strong in providing all-season touring needs on the highway.