When it comes to tires, we all have different expectations. Premium brands are recommended for drivers who expect the best performance from their tires. Meanwhile, those who prioritize cost should choose the less expensive options.
That said, we should not expect these budget tires to be as good as premium tires in terms of quality. Comparing Ironman vs Michelin tires will heavily favor the latter as they are targeting high-end consumers.
Ironman, on the other hand, focuses on producing cheaper tires with dependable quality. Their products have high customer satisfaction, which means that they are serving their target market well.
What to Know About Ironman?
Ironman Tires is a subsidiary of Hercules Tire and Rubber Company, founded in 1952. Hercules has a partnership with Cooper Tire, allowing them to produce tires through the Cooper Tire facilities.
So, is it Hercules Ironman tires or Cooper Ironman tires? As the parent company of Ironman, the manufacturing and distribution of the Ironman products are made by Hercules.
Aside from manufacturing tires in Findlay, Ohio, Ironman is also producing tires in China. This is common among budget tire brands as it cuts down the overall costs in production.
That said, you shouldn't be concerned about Ironman tires made in China because they meet the same quality standards as those used in the United States. This fact is evident with their high customer satisfaction and good reputation in the industry.
What to Know About Michelin?
Michelin is a leading tire manufacturer globally, with its premium designs that aim to provide the best performance, comfort, and longevity to its consumers. It is also one of the oldest tire companies today, being founded in 1889.
In 1891, they patented the removable pneumatic tire, which made changing tires easier. This was the one used by Charles Terront to win the first long-distance cycle race.
Other notable inventions by Michelin include the run-flat tire in 1934, which allows the vehicles to run despite having punctures, and the radial tire in 1946, which resulted in improved handling and durability.
Today, Michelin is one of the biggest tire brands. Their products are made in 26 countries, including countries in Europe, Asia, and America. Their main factory and head office are in Clermont-Ferrand, France.
Differences Between Ironman and Michelin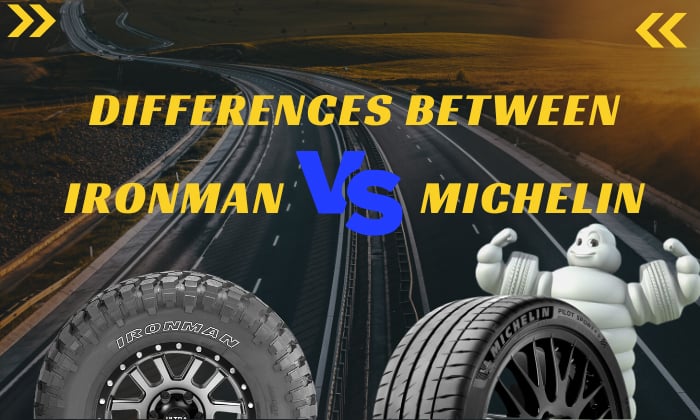 Are Ironman tires good or bad? To find out, I will compare Michelin and Ironman tires in terms of performance, durability, variety, warranty, and cost. I will also include customer reviews to highlight how they are perceived by their target market.
There is no question that budget tires lack performance features compared to premiums. If we look at Ironman tires vs Goodyear, Michelin, or Bridgestone, the products from Ironman will surely be outperformed.
That doesn't mean that Ironman tires are not good-quality though. Among their most popular tires is the Ironman iMove Gen2 AS. This is a high-performance all-season tire that has an asymmetric tread pattern, so you can expect good dry and wet traction.
The asymmetric tread pattern is also used in Michelin high-performance tires like the Pilot Sport 4S. Although the traction, braking, and comfort are way ahead for the Pilot Sport, iMove is still an excellent option for entry-level performance tires.
There is also a good range of tires from Ironman that could handle off-roading. This includes the Ironman Country A/T and Country M/T, which are both dependable on rough terrains.
Although Michelin doesn't have much variety in terms of all-terrain tires, their LTX AT 2 is an excellent tire to use. It could also give a better ride quality and more even treadwear than the off-road tires of Ironman.
In snow, Michelin is again the better choice. They have a wider range of tires with their X-Ice, Latitude, and Pilot tire lines. On the other hand, Ironman only has the Polar Trax tire line, which consists of good winter tires as well, considering the price.
Ironman tires are more durable compared to other low-cost tires. However, as we are comparing it against a premium brand like Michelin, we may find a huge disparity.
Ironman tires could handle rough road conditions as they have reinforced sidewalls. However, one of the common problems for budget tires is their treadlife.
Some people attribute this to the fact that Ironman tires are mostly made in China. But one significant factor contributing to their low treadlife is the absence of silica compound, which is used in premium tires.
It is evident in the UTQG treadwear score, where the scores of Ironman tires are just ranging from 400-480 compared to the range of 500-850 for Michelin tires.
One of the Michelin tires with the longest tread life is the Defender T+H, lasting up to 90,000 miles, according to Consumer Reports tests. It is far ahead against Ironman tires, which usually last for 40,000-50,000 miles.
Ironman has a decent range of tires, having 7 tire families that cover most categories, including performance, touring, winter, and light trucks. However, every line only has a few models. In total, they only offer 13 tire models.
Michelin, on the other hand, has more tire families with numerous models. The Pilot Sport product line, for example, already includes seven tire models: Sport A/S 4, Sport 4 S, Sport 4 SUV, Super Sport, Sport Cup 2, Sport Cup 2 Connect (240), and Sport A/S 3+.
Clearly, Michelin has the more extensive tire catalog. It's not surprising given that they are the much larger brand in this comparison.
One of the biggest disadvantages of buying tires from Ironman is that they don't offer a treadlife warranty. Instead, they offer a Limited Protection Policy that allows the buyer to have a replacement tire for the first five years after purchase if there are defects.
Unlike Ironman, Hercules Tires, which is their parent company, offers generous warranties. If we look at the mileage warranty of Hercules tires vs Michelin, Michelin is even slightly behind.
Michelin's mileage warranty ranges from 20,000 to 80,000 miles. Hercules, on the other hand, offers 40,000 to 105,000 miles. The advantage of Michelin is that their winter tires are also covered with treadlife warranties while those of Hercules are not.
In this category, Ironman has a big advantage as Michelin is among the most expensive brands in the market. As I have mentioned earlier, these two brands have different target audiences.
Related: Check out this article to know why Michelin tires are expensive here.
As Ironman is for budget-conscious customers, the price of their tires is much lower compared to Michelin. For example, you can buy an Ironman tire for as low as $50. On the other hand, Michelin tires cost around $90-$529.
Customer Reviews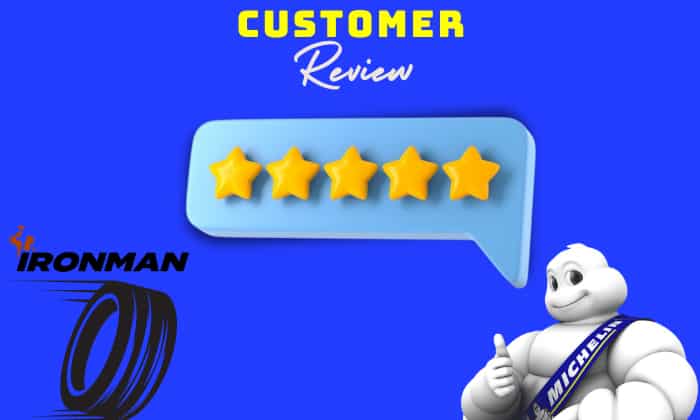 It would be useful to read some customer feedback on Ironman and Michelin products. This way, we can prepare ourselves and set appropriate expectations for the products we will purchase.
So, is the Ironman tire safe to use? Based on most reviews, Ironman tires have dependable dry and wet traction that provides a safe ride. Their tires also receive impressive ratings, which means that customers are satisfied with their products.
One review in Reddit said that Ironman gives the perfect quality for its price. The Redditor added that the All Country A/T is a bit noisier compared to other A/T tires, but the overall performance is good. It proves that Ironman tires provide great value to its consumers.
For Michelin, most customers are happy with the overall performance of their tires. The impressive treadwear and fuel economy are also noted by many, proving that their tires are worth the money
Among the most highly rated Michelin tires is the Pilot Sport 4S having an average of 4.5 out of 5 stars. One customer said that this tire is the best summer tire in the market as it greatly improved the ride quality of his vehicle.
Ironman Tires
Very affordable
Good quality tires for their price
Associated with two trusted brands, Cooper and Hercules
High customer satisfaction
No treadwear warranties offered
Limited tire varieties
Michelin Tires
Excellent overall quality
Extensive catalog of tires
Among the leading brands in the industry
Excellent tire warranties
Highly rated by consumers
Frequently Asked Questions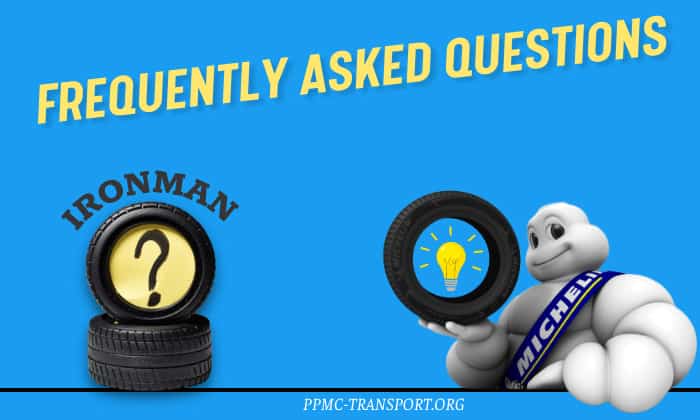 Where are Ironman tires made?
Most Ironman tires are made in China due to the lower labor costs, which allows the Ironman tires to keep their low price. However, just like their parent company Hercules, some Ironman tires are also made in the Cooper facilities in Ohio, USA.
Does Michelin make Ironman tires?
Michelin does not manufacture Ironman tires. Hercules Tires, Ironman's parent company, is the one in charge of the manufacture and distribution of Ironman tires.
Are Ironman tires a good brand?
As the price of tires is correlated to their quality, Ironman tires will not be as good as premium brands like Michelin.
However, the high customer satisfaction of Ironman tires proves that they can indeed provide great value. Therefore, it is a great option if you want a budget tire.
Are Cooper Tires better than Michelin?
Both the Cooper and Michelin Tires have excellent product designs. Cooper tires are slightly cheaper compared to Michelin. However, Michelin will never make you regret the money that you spent, as they provide exceptional quality and warranties.
Choosing between these two brands will come down to personal preference. You should note that there have been some complaints about the treadwear of Cooper tires. So if you are willing to spend more money, Michelin is a good option.
How are Ironman tires rated?
Ironman tires are highly rated by consumers. Out of 5 stars, their stars average about 3.5, with the lowest rating going to their limited tire choice. This proves that they are providing good-quality tires despite the lower costs.
Conclusion
Ironman and Michelin both provide exceptional value in their respective market segments. So, if you are still having a hard time choosing, just ask yourself what you prioritize more.
If you want good tires with a lower price tag, go for Ironman. If you are willing to spend more and want the best possible driving experience, a premium brand like Michelin is for you. I hope you find this comparison of Ironman vs Michelin tires useful.