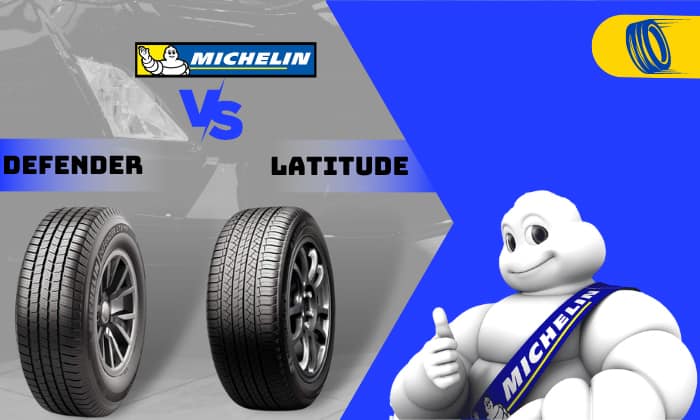 Michelin is one of the brands to look at if you want to buy well-performing tires for your SUVs, crossovers, and light trucks. In this comparison of Michelin Defender vs Latitude, I will highlight their pros and cons to help you decide which tire to buy.
The Latitude line gives a great advantage in terms of handling, braking, and traction as it is more performance-focused. On the other hand, the Defender tire puts durability and longevity in its top priorities. It is known as one of the longest-lasting tires on the market today.
| | | |
| --- | --- | --- |
| Specifications | Defender T+H | Latitude Tour HP |
| Brand | Michelin | Michelin |
| Tire Type | Touring All-season | Touring All-season |
| Usage | Highway | Highway |
| Country of Origin | USA & Mexico | Thailand |
| 3PMSF | No | No |
| Tested Size | 225/65R17 SL | 225/65R17 SL |
| Tread Depth | 10/32″ | 9.5/32″ |
| Section Width | 9″ | 9″ |
| Diameter | 28.5″ | 28.5″ |
| Rim Width Range | 6-8″ | 6-8″ |
| Max Inflation Pressure | 44 psi | 51 psi |
| Max Load | 1,874 lbs | 1,874 lbs |
| Tire Weight | 27 lbs | 28 lbs |
| Revs/Mile | 730 | 730 |
| Price | $184 | $223 |
Michelin Defender
The Defender T+H provides excellent year-round traction and comfort, making it ideal for touring and family vehicles. It is also infused with an improved all-season compound, making it more durable and has a longer life than its previous version.
The Defender tire line has a light truck design, namely the Michelin Defender LTX M/S, which is available for larger tire sizes and heavier load ranges than the Defender T+H. It's ideal for vans, sports vehicles, and shuttles that require heavy-duty tires.
Read more: The difference between Michelin defender T+H and LTX.
Michelin Latitude
The Michelin Latitude Tour HP is a high-speed touring tire that combines dependable all-season performance with great comfort. Integrated with Michelin FAZ Technology, this line can provide crisp steering.
This tire is available in T-, V-, and W-speed ratings. This means that if you are driving a high-performing vehicle, then this tire is great for you. With the V and W-speed ratings, you can safely reach 149 mph and 168 mph, respectively.
Differences Between Defender and Latitude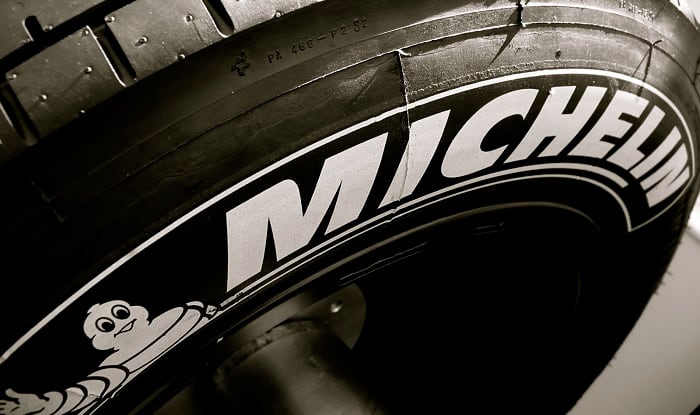 To continue with the comparison of Latitude vs Defender, let's take a look at several categories, including traction, noise level, and fuel economy.
The Defender and Latitude both have the Comfort Contact Technology, which allows better contact on the road, improving their dry traction. The Latitude tire, however, has a key feature for improving its steering, namely the Michelin FAZ Technology.
Between these two tires, we can see more performance-oriented features for the Latitude model, so it is not surprising to be better than the Defender.
Another Michelin touring all-season tire that offers luxury performance is the Primacy Tour A/S. Comparing Latitude vs Primacy, we will notice a similar goal of providing an outstanding balance between performance, comfort, and longevity.
Upon closer inspection, we can notice that both tires emphasize providing wet traction. The asymmetrical tread pattern of the Defender T+H, however, ensures better handling and cornering in wet conditions.
Although the Latitude Tour HP has a symmetric pattern, it has features for hydroplaning resistance, making it safer to use at higher speeds. This includes the circumferential grooves, 2D Active sipes, and the continuous center rib.
Another light truck tire that boasts a wet grip is the Premier LTX, with its tread compound containing silica and sunflower oil. If we compare Premier LTX vs Latitude, we will see a high level of traction for both tires putting them at the top in the class of light truck tires.
All-season tires provide excellent traction in dry and wet conditions. However, their tread compound stiffens in cold weather resulting in poor performance in snow.
Between the Defender T+H and Latitude Tour HP, the Defender tire has a bit of an advantage in snow driving. The independent tread blocks, 3D Active sipes, and deep tread of the tire give extra grip on slippery and snowy surfaces.
Michelin designed the Latitude tire with an emphasis on highway performance rather than ice and snow performance. You can even notice more dependable snow traction with the Latitude Tour vs Latitude Tour HP despite the former being an older design.
The Defender LTX M/S is another Defender tire that may be a better option for snow. Between the Latitude Tour vs Defender LTX M/S, we can see that both varieties may provide safe snow traction, but the latter will prevent snow buildup due to its deeper tread.
As the Defender and Latitude are both touring tires coming from the same brand, we can expect almost similar levels of noise and comfort. Michelin's Comfort Control Technology ensures that these tires provide a quiet and comfortable ride.
Another tire to look at in the segment of SUVs, crossovers, and light trucks is the Premier LTX. Like the Latitude Tour HP, it is a tire that is available in V-speed rating so it is also a sportier tire compared to the Defender.
At normal speed, the Michelin Defender vs Premier would produce almost the same quality of road noise. However, the Premier tire could absorb shock better at higher speeds, resulting in better ride quality.
Fuel Consumption and Rolling Resistance
Michelin Latitude features the Green X Technology, which ensures that the tire is energy efficient. The Michelin Total Performance, which is utilized in the Defender tire, promotes excelling in every performance category including fuel efficiency.
The Defender T+H is made of a tougher rubber that reduces rolling resistance and is infused with an advanced compound to improve traction. The Latitude Tour HP's Maxtouch Construction Technology, on the other hand, improves treadwear and fuel efficiency.
We can say it is a tie in this category as both tires are made to be fuel efficient and have a long tread life.
Michelin Defender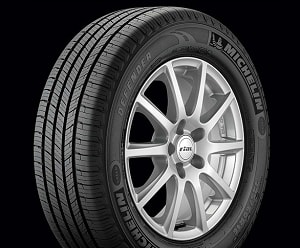 Excellent year-round traction
More durable tread design
Low rolling resistance
80,000 mileage warranty
Not suitable for deep snow
Michelin Latitude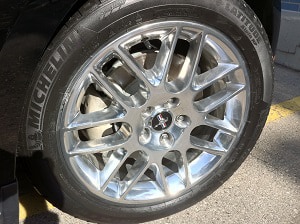 Top-notch dry and wet traction
Higher speed ratings
Low rolling resistance
Quiet and comfortable
Overall snow traction could be improved
Both Defender and Latitude provide great value for their price. For the price comparison, I checked the rate of TireRack for every available size of this tire.
Defender T+H: $138-$231
Latitude Tour HP: $223-$474
You can also try purchasing club-exclusive tires which could cost you less while having the same features as the original tire.
For example, consider purchasing the Costco exclusive with the same features as the Michelin Defender LTX M/S, the Michelin X LT A S vs Latitude Tour HP.
Frequently Asked Questions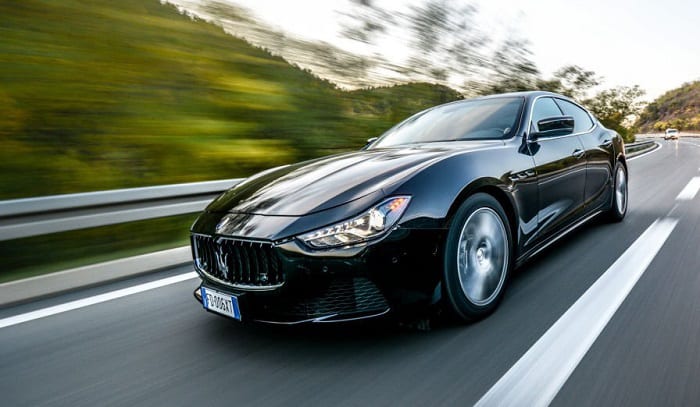 What replaced the Michelin Latitude?
Is the Michelin Latitude Tour discontinued? Yes, and it was replaced by the Latitude Tour HP. The Latitude Tour HP features an enhanced internal structure with its Filament At Zero degrees (FAZ) Technology.
Are Michelin Defenders good tires?
Defender tires are good tires as they provide excellent performance without trading off durability and tread life. For instance, the Defender T+H has a UTQG rating of 820 A B, showing a great balance of long tread life and excellent traction.
Did Michelin stop making Defender tires?
The Defender tire was discontinued by Michelin in 2017 to be replaced by the Defender T+H, an improved version of the original Defender tire with a new tread compound for longer wear and a higher speed rating.
Conclusion
Are you still sitting on the fence regarding what tire to buy between the Michelin Defender vs Latitude? Let me help you out.
If you prefer getting a more durable, longer tread life and a better light snow traction tire, go with the Defender. One example is the Michelin Defender 2, which is estimated to get 94,400 miles. If you want a sportier tire with excellent grip and comfort, then choose the Latitude.
I hope you can get the most suitable tire for your vehicle.