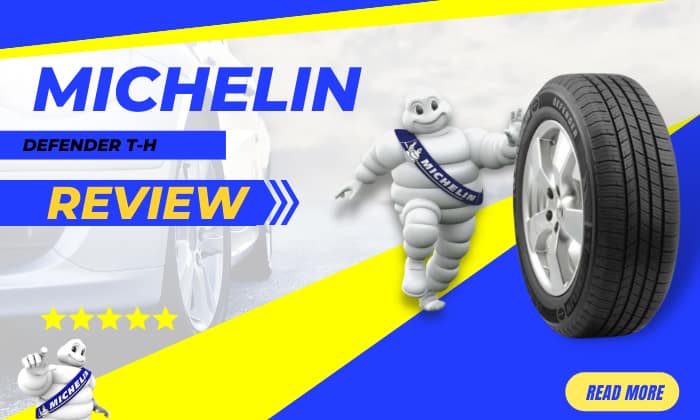 If you're looking for premium quality tires, Michelin is the way to go. They provide excellent value for money by ensuring a safe and comfortable ride with their products. Among the most popular Michelin tires, today is the Defender T+H.
Overall, it's a comfortable and quiet tire suitable for all weathers with decent treadlife. The only department where it needs improvement is its performance on heavy snow.
Without further ado, let's get started with the Michelin Defender T+H review, which will examine the tire's different features, as well as its performance, comfort, and road noise.

An Overview of the Michelin Defender T+H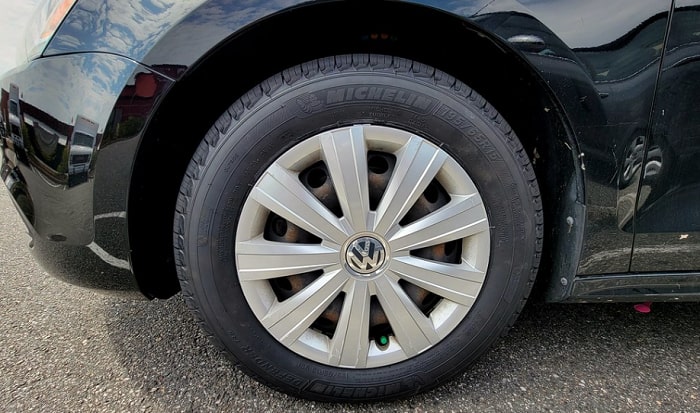 Excellent dry and wet performance
Comfortable and quiet tire
Impressive longevity
Highly rated by consumers
Winter performance can be improved
Expensive
The Defender T+H is an all-season touring tire for passenger cars, SUVs, and crossover vehicles. It is from the Defender tire line, which is a family of designs known for providing excellent traction, high levels of comfort, and a long treadlife.
The release date of the original Defender tire was in 2012 but it underwent an upgrade 5 years later with an advanced tread compound and H-speed rating. Since then, the Defender line has been recognized as one of the most long-lasting tires on the market.
Features
The goal of Michelin to produce a comfortable and long-lasting tire would not be possible without the use of advanced technologies. The Michelin Defender T+H consists of the following:
Comfort Control Technology – A computer-optimized design that absorbs any bumps on the road and minimizes noise, ensuring a smooth and quiet ride.
Maxtouch Construction – Makes sure the tire's contact forces on the road are equally distributed for an even wear and improved longevity.
Evertread Compound – For added durability, this advanced compound is used which makes the tire hold its own on tougher road conditions.
Intellisipe Technology – Allows a safer ride by improving the tire's dry and wet traction through its biting edges. It is complemented by rain grooves which effectively prevent hydroplaning.
Aside from these technologies, one of the Defender T+ H most noticeable features is the tread design which is different from the other tires in the line.
If we are going to look at Michelin Defender T+H vs Defender tires from other brands, the Defender T+H is the only one that comes with an asymmetrical tread pattern. This provides an improved handling and better grip on wet surfaces.
This tire's great longevity and traction levels are also supported by data. It has a Uniform Tire Quality Grading (UTQG) of 820 A B, proving that this tire will last for a lot of miles.
However, the 820 treadwear score is not the highest among the Defender tires. If we compare Defender 2 vs Defender T+H, the former will come out better with its treadwear score of 840 B B.
Test Drive
In this part, I will highlight the results of the TireRack test for Michelin Defender T+H. Their test drive is also available on YouTube so you can check it out.
The test drive was made on a 6-mile loop of an expressway, state highway, and country roads to ascertain the tire's performance on different terrains and speed levels. The test track course also helps determine the tire's quality after various twists, turns, and braking.
In the batch of Michelin tires tested, the Defender T+H is the only tire that is not performance-focused. It is evident in the results of the dry and wet traction, braking, and handling where the Defender tire placed last among the four tires.
However, the test showed that the tire can indeed absorb bumps on the road, thus providing it as the most touring-oriented among other Michelin tires. It ranked 2nd on road quality, behind Crossclimate 2, and 3rd on road noise, ahead of Pilot Sport A/S 4.
On the objective metrics, the Defender T+H has been impressive. It scored closely with the Crossclimate 2, a grand touring tire, in terms of dry and wet slalom time, and stopping distance. It even beat the Crossclimate tire in lap time on the dry test track.
In the winter conditions, the Defender T+H ranked 3rd while the Crossclimate tire led in every category. This is expected because if we look at the Defender and Pilot Sport tires in the test vs Crossclimate 2, the latter is the only one with a 3PMSF marking.
Overall, the testers recognized the Michelin Defender T+H as an excellent tire with dependable year-round performance. Although it is not very impressive in snow, it is still an excellent choice for drivers who prioritize comfort and longevity.
Dry Performance
Michelin tires are expected to have excellent dry traction, cornering, and braking so it is no surprise that the Defender T+H was highly rated in this category.
By looking at the review and rating of this tire in TireRack, it seems like most customers have been satisfied with its dry performance.
In the tire performance ratings, it got its highest scores on dry traction, cornering stability, and steering response.
Based on this feedback, the tread design appears to be effective in terms of dry performance. The rigid tread blocks contribute to the tire's impressive grip and cornering on dry roads.
Wet Performance
The Defender T+H did not disappoint in terms of wet performance. There are various reasons that explain this tire's excellent performance on wet roads.
This tire features an asymmetrical tread pattern, Intellisipe Technology, and a high silica content to improve grip and control in wet conditions. There is also added safety with circumferential grooves that effectively evacuate water and prevent skids.
Most consumers experienced improved wet performance based on their reviews. The wet traction and hydroplaning resistance of this tire are also rated at excellent levels in TireRack.
Snow Performance
Performance on heavy snow is where the Defender T+H is lacking. It is one of the most common all-season tire problems so it is not much surprising.
The issue with heavy snow is due to the tread rubber of an all-season tire, which stiffens in extremely low temperatures, reducing its ability to provide enough traction. The tread depth is also not deep enough to prevent snow buildup.
However, as it has excellent wet traction, it can handle light snow. This makes it an ideal tire to use if your area does not experience harsh winter conditions.
Noise and Comfort
As stated above, the Michelin Defender T+H was made with Comfort Control Technology. This allows the tire to manage small and large impacts on the road very well while having discreet road noise.
Most reviews on Reddit, retail sites and forums are commending the tire's comfort level and quietness. Many of them were happy replacing their old tires with the Defender T+H, and you will rarely see any complaints.
According to TireRack's tire performance ratings, this tire received an excellent ride quality and noise rating from the surveyed consumers. That said, this tire delivers on its promise of providing users with a comfortable and quiet ride.
Treadwear
Along with comfort and noise quality, longevity is also a priority for standard touring all-season tires. And with the Maxtouch Construction, the Michelin Defender T+H tire is having an extended tread life due to its even wearing.
Based on the test made by Consumer Reports, this tire can last up to 90,000 miles of tread life. This makes it one of the longest-lasting tires on the market.
Cost
Michelin tires are on the pricey side among the available tires in the market. With this, you can expect that the Michelin Defender T+H is a bit more expensive compared to its competitors.
For example, a Defender T H 215 55r17 costs about $179, while a Yokohama Avid Ascend LX with the same size only costs about $169. The difference is around $40 for a set of tires.
The price range of Defender T+H is usually around $138 – $231 which varies depending on the store that you visit.
Warranty
The Defender T+H not only has excellent quality, but also a long treadwear warranty. Its warranty covers 80,000 miles, ensuring that you will get the best out of your tires.
However, if your Michelin Defender T&H tires are different sizes in the front and back, the rear tires will only get half the mileage.
This tire is also covered by a 60-day satisfaction guarantee, which allows you to get a replacement tire if you are dissatisfied with your purchase.
In addition, Michelin also offers 3 years of Roadside Assistance 24/7 in both the U.S. and Canada. This includes a free-of-charge towing service to the nearest Michelin retailer.
Frequently Asked Questions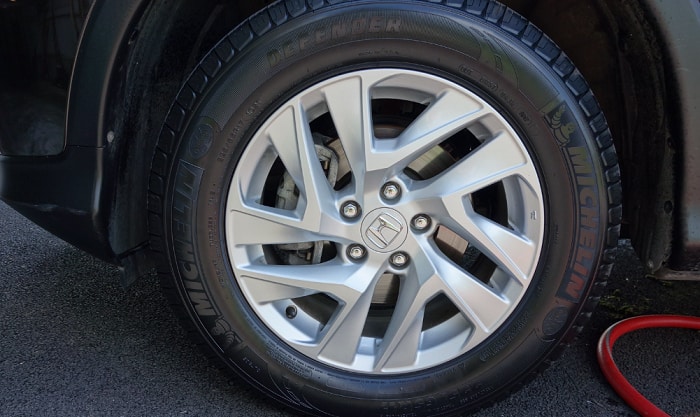 What does T/H mean on Michelin tires?
The T or H markings on Michelin tires indicate their speed rating. In total, there are 31 tire speed ratings represented by letters. The letter T and H indicate that the tire can withstand a speed of up to 118 mph and 130 mph respectively.
Are Michelin Defender tires worth the money?
The Michelin Defender tires are known for providing dependable dry and wet traction, comfortable and quiet driving, and very high mileage. They are among the most well-rounded tires in the market.
The Defender tires are definitely worth the money as they have a lot of upsides. Furthermore, Michelin offers excellent warranties, so you can never go wrong with their products.
How is the Michelin Defender T & H in snow?
The Defender T+H are still dependable in light snow. However, because this tire is not marked with 3PMSF, you must drive with caution. On moderate to deep snow, you should avoid using this tire as it won't be able to provide the needed traction.
How many miles do Michelin Defender tires last?
All Michelin Defender tires have high treadwear mileage.
Defender 2 – Has an estimated tread life of 94,400 miles.
Defender T+H – Can last up to 90,000 miles.
Defender LTX M/S – Projected to reach 85,000 miles.
Related: If you want to make the most suitable choice, I've gather some related comparisons you can learn more:
Conclusion
Michelin tires never disappoint. Like the Defender T+H, which has proven to be an excellent all-around tire. It may be more expensive than other brands, but the overall quality and impressive longevity makes it worth the price
Choosing an excellent tire for your vehicle is critical to having safer and more comfortable trips. I hope that this Michelin Defender T+H review has helped you to understand the benefits of owning this tire.