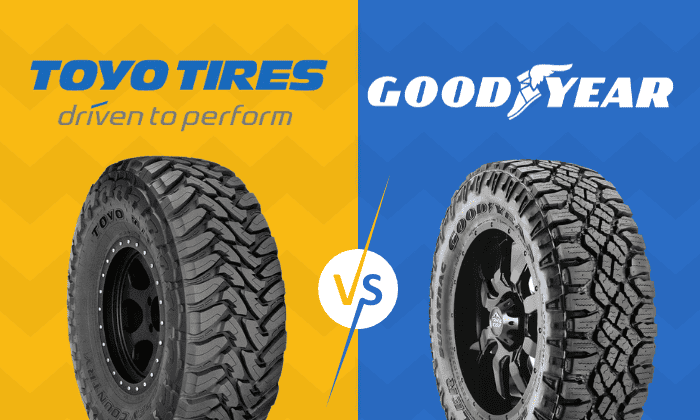 Choosing the right tire is no easy task. Aside from considering the price, you also want to make sure you'll get a set of rubbers that provide a premium experience. And Toyo and Goodyear definitely check all the boxes when it comes to tires.
So, it's East against West once again in our Toyo Tires vs Goodyear comparison. We'll pit these brands against each other and see who comes out on top. From performance to price, we won't leave any stone unturned.
Let's get into it!
| | | |
| --- | --- | --- |
| | Toyo | Goodyear |
| Origin | A Japanese tire company founded in 1945 | America's leading tire company founded in 1898. Also owns Dunlop and Kelly Tires. |
| Founder | Toyo Boseki | Frank and Charles Sieberling |
| Headquarters | Itami, Japan | Akron, Ohio |
| Products Manufactured | Mainly tire products for sedans, sports cars, light trucks, and SUVs. Toyo's mostly focused on high-performance tires. | Offers a wide array of tires, from passenger to high-performance tires and SUVs. |
| Parent | Stand-alone | Stand-alone |
Overview of Toyo Tires and Goodyear
1. About Toyo Tires
Established in 1945 in Japan by Toyo Boseki, Toyo Tires have earned a reputation as one of the premier brands in Asia. Over the years, they have consistently delivered high-performance tires that have seen action on the race track and offroad.
While they offer a wide variety of tires, the Toyo Tire brand is mostly known as a consistent contender in the off-roading world due to their Elongated High Strength technology, meticulously developed to minimize wear and tear.
The Nano Balance design provides tires with exceptional traction and minimal rolling resistance, leading to enhanced fuel efficiency. However, this ultimately resulted in alienating some regular drivers, as Toyo tires heavily focus on high-performance features.
Moreover, although Toyo Tires are situated in Japan, their Toyo RV Tires division is actually situated in the U.S.
Now, let's talk about Goodyear.
2. About Goodyear
Founded in 1898 in Akron, Ohio, Goodyear initially specialized in bicycle and horse-carriage tires, later expanding its products to include various rubber-based items. However, things weren't so great at the beginning.
During World War I, financial hardships emerged, resulting in a reorganization and the loss of control by the Seiberling brothers. But after a series of ownership changes and business deals, Goodyear eventually got back on their feet.
Today, it stands as one of the world's largest tire manufacturers while taking the number one spot in the US. And this was all made possible due to Goodyear's impressive product line, with the likes of the Goodyear Eagle, Wrangler, and many more.
Differences
Although both brands are impressive, there's a lot that can be said regarding their differences. And while a Toyo vs Goodyear tires comparison can be tricky considering both brands' track records, let's find out how their products do when pitted against each other.
1. Wet Performance
For wet performance, all-season tires are definitely king. As such, we'll be comparing Goodyear's Assurance Weatherready and the Toyo Celsius. And right off the bat, the Goodyear Assurance Weatherready comes out on top in all aspects.
And that's all thanks to the Goodyear Weatherready's superb traction grooves and biting edges. And although the Toyo Celsius isn't bad by all means, Goodyear's all-season tire is simply superior when handling wet roads.
2. Dry Performance
When it comes to dry performance, summer tires are your best bet in a tire comparison. So, we've decided to pit the Goodyear Eagle F1 Supercar 3 against the Toyo Proxes R1R. And it goes without saying, but both tires are excellent on dry roads.
In fact, the difference in steering response from both models is unnoticeable. However, the Eagle F1 Supercar 3 edges out the Toyo Proxes R1R in cornering. Meanwhile, the Toyo Proxes R1R takes the cake in dry traction. So, we'll give this one a tie.
3. Winter Performance
Although some all-season tires from both brands have 3PMSF capabilities, we'll go with a classic face-off of winter tires. As such, we've chosen the Goodyear UltraGrip Ice 2 and the Toyo OBSERVE GSi-6 for our contenders.
When it came to ice braking, handling, and traction, the Goodyear UltraGrip Ice 2 lives up to its name and wins against the Toyo GSI-6. However, when it came to snow, both tires were practically even, except for handling, wherein the Toyo GSI-6 came out on top.
4. Off-Road Performance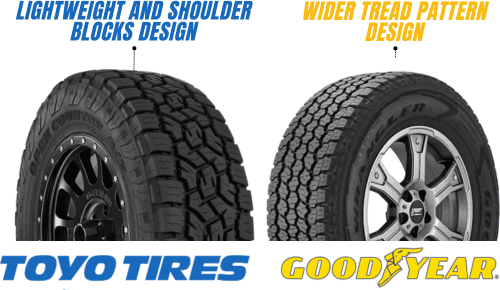 Although Toyo is best known for their off-road tires, we can't easily dismiss Goodyear's off-road catalog. So, we've decided that it's a Goodyear Duratrac vs Toyo AT3 competition. And surprisingly, the Goodyear Duratrac is our winner.
That's because the Toyo AT3 struggles with mud traction and self-cleaning, whereas the Goodyear Duratrac excels in evacuating mud. However, both tires face durability issues with their 2-ply sidewalls on rocky terrain.
In sand, the Goodyear performs okay with its wider tread pattern design, while the Toyo remains better due to its lightweight design and moderately-aggressive shoulder blocks.
5. Durability
If we go by treadwear ratings, Goodyear's best-performing tire is the Assurance Maxlife with a UTQG score of 820, while Toyo maxes out at 800 in longevity ratings with the Ultra Z900.
At the end of the day, it depends on which model you choose, since both brands have tires that wear quicker than these two options.
6. Price
When it comes to price, we'll be comparing the everyday commuter tires from both brands. And for that, we've selected the Goodyear All-Season and the Toyo Extensa A/S 2. And as expected, Goodyear had the more expensive tire.
By comparing 185/65R14-sized tires, we found that the Goodyear All-Season was priced at about $91.99 per tire while the Toyo Extensa A/S 2 was cheaper at $80.43.
7. Pros and cons
Toyo
Cheaper
Great dry performance
Great snow handling
Good sand traction
Worse wet performance
Worse overall winter performance
Goodyear
Better wet performance
Better overall winter performance
Great dry performance
Better mud performance
More expensive
Worse snow handling
Which is Better? Why?
In this Goodyear vs Toyo Tires brand comparison, it's evidently clear that Goodyear, being the more premium brand, offers better performance throughout most categories. However, considering they're the more expensive option, some drivers might get turned off by the higher price points.
That said, the tires quality from both brands, although unequal, might not be the only factor to consider when comparing both. As such, it still falls upon you, the driver, and your budget and what you're looking for in a tire.
If you need something more affordable yet reliable, Toyo Tires is an excellent choice. However, if you want the best performance out there, and price isn't an issue, Goodyear tires are definitely more your alley.
Notable Tires from Each Brand
Toyo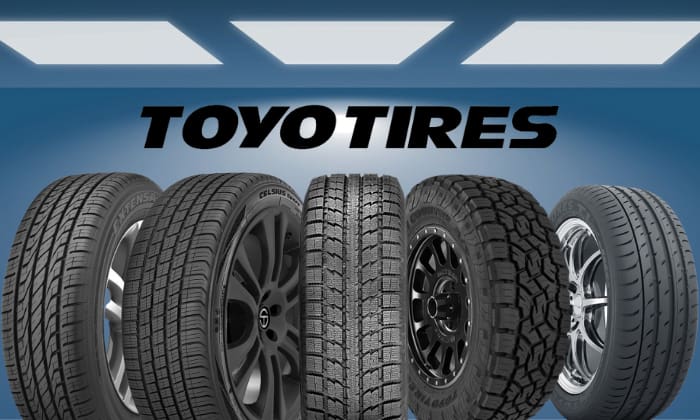 Extensa – Toyo's all-season touring tire for everyday commuters
Celsius – An all-weather line from Toyo with a 3PMSF rating
Observe – Toyo's family of winter tires
Open Country – One of Toyo's most successful tire families, mainly made up of off-road tires.
Proxes – Toyo's main summer tire and racing catalog
Goodyear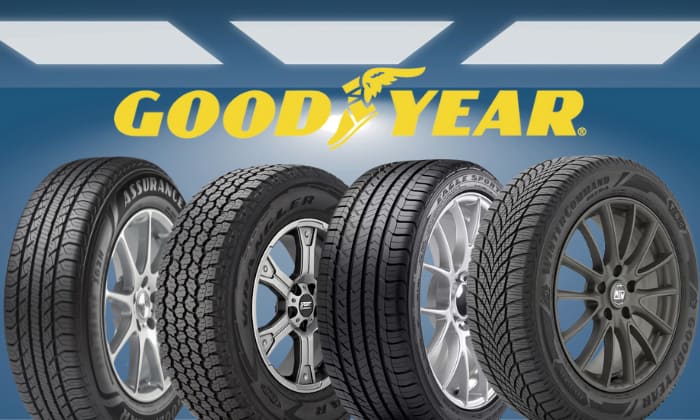 FAQs
Is there a Goodyear Wrangler AT3?
No. The AT3 is an off-road tire variant from Toyo Tires, while the Goodyear Wrangler is Goodyear's family of off-road offerings. However, one can easily make the same mistake of mixing the two, since both are superb all-terrain options.
Is Toyo a good brand?
Yes. Toyo Tires are one of the best tire manufacturers in Asia. And while they're still not on par with the Eastern titan Bridgestone, their tires are reliable, offer excellent performance, and are more affordable.
Conclusion
In this Toyo Tires vs Goodyear brand comparison, the choice may seem obvious at first, favoring Goodyear. However, when considering other factors like value for money, Toyo tires are the better choice.
That said, I hope we've cleared some points on who has the better tires. If you prefer affordability, Toyo products are the way to go. But if you simply want better in terms of performance, then Goodyear is definitely more attractive.