When choosing between Goodyear Assurance MaxLife vs WeatherReady, which tire suits your driving requirements and budget? MaxLife tires have the most extended service life out of most Goodyear offerings, while its WeatherReady counterpart offers superior traction on demanding roads.
Here is a quick comparison between the two tires:
| | | |
| --- | --- | --- |
| Specifications | Goodyear Assurance MaxLife | Goodyear Assurance WeatherReady |
| Brand | Goodyear | Goodyear |
| Category | All-season | All-season |
| Size | 255/60R19 | 255/60R19 |
| Load Index | 108 | 109 |
| Max Load | 2205 pounds | 2271 pounds |
| Speed Rating | H | H |
| UTQG Rating | 820 A B | 700 A A |
| Tire Weight | 36 pounds | 37 pounds |
This article will provide detailed comparisons between WeatherReady and MaxLife tires to help you find the right choice for your vehicle.
What is Goodyear Assurance Maxlife?
The Assurance MaxLife is an all-season touring tire that has a prolonged life thanks to its TredLife technology. TredLife tires have a unique compound and depth design to achieve optimized resistance against uneven wearing. These are suitable as SUV tires or sedan tires for casual drives.
What is Goodyear Weatherready?
The WeatherReady is an all season tire utilizing Goodyear's Weather Reactive Technology and Evolving Traction Grooves with Treadlock Technology. These techs have transitioning deep and wide grooves and a soybean oil compound to provide superior wet traction on slippery roads.
Read more: Michelin crossclimate 2 vs Goodyear assurance weatherready: What should I choose?
Differences
1. Performance
The WeatherReady and Assurance MaxLife have nearly the same performance in dry conditions, with their traction on dry roads nearly the same.
However, the WeatherReady sets the bar high in wet conditions thanks to its Treadlock Technology. The Maxlife doesn't seem to be as effective at expelling water.
Goodyear's Assurance MaxLife is a good choice in snow due to its traction across light and heavy snow. But for frozen roads, the WeatherReady can cling to icy surfaces better than the MaxLife.
2. Warranty
The mileage warranty of an Assurance MaxLife tire is much more extended than the WeatherReady, with a coverage of up to 6 years/ 85,000 miles. The WeatherReady has up to 60,000 miles of warranty coverage only.
However, both tires are covered by Goodyear's 30-day pledge, which allows buyers to return their newly-bought products within 30 days from purchase. Drivers won't have to worry about being dissatisfied with their tires as they can exchange them for new ones.
3. Tread Life
The Assurance MaxLife has the longer tread life of the two tires due to its notched intermediate ribs and semi-closed shoulders. It also has two steel belts supported with a nylon wrap for better durability.
The Assurance WeatherReady has two steel belts and a polyamide reinforcement with a single-ply polyester casing for longevity on the road. However, it does not have the same design as the MaxLife, which can remain usable for up to 90,000 miles. The WeatherReady's warranty is a pretty accurate gauge of its lifespan.
4. Pros and Cons
Below are the reasons to buy or skip a MaxLife tire.
Assurance MaxLife
85,000 mileage warranty
Does what it's meant to do (providing all-season performance)
Optimized steering response and high-speed stability
Unappealing noise and comfort level
Not reliable in ice conditions
Here are the advantages and disadvantages of WeatherReady.
Assurance WeatherReady
Excellent wet and dry performance
Dependable ice road grip
Above-average steering response
Low tread mileage warranty
5. Cost
Prices for the Assurance MaxLife start at $114, which is comparable to other mid-range tires at most auto shops. Moreover, it offers incredible stability and grip on dry roads. MaxLife tires also have a longer tread life that lets us drive longer without buying another set.
Costs for the Assurance WeatherReady range from $140.00.99 to $275.99. Despite having a higher price than the MaxLife, the WeatherReady provides a better grip on wet and icy roads. It also has a durable interior construction for a longer service life.
Which is Better?
Both Assurance lines have the positive qualities you can expect from Goodyear, such as superior dry road traction, steering response, and durability. WeatherReady and MaxLife prices are well justified for their features.
However, MaxLife is the clear winner when picking tires with the better tread life between the two. Its more extended mileage warranty ensures that drivers will not have to replace this Assurance tire soon.
Meanwhile, the WeatherReady offers better traction on wet and snowy surfaces than its sibling. When it comes to noise problems between WeatherReady vs Max Life, the former produces less noise for a quieter ride.
Tips to Choose the Right Tire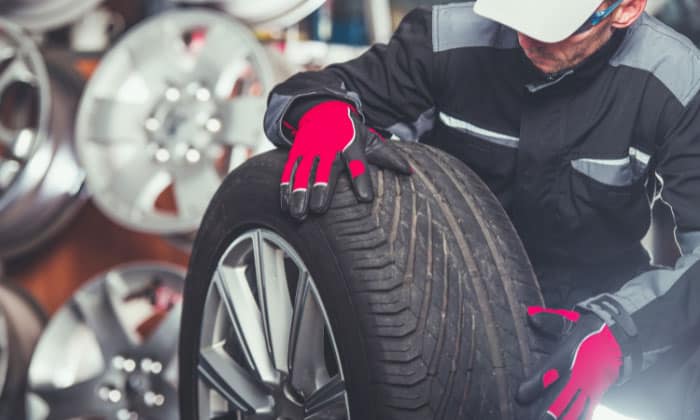 There are two factors to consider when choosing the right tire for your vehicle:
1. Budget
Your wallet should always be a significant consideration when you compare Goodyear tires. The Assurance MaxLife is one of the most affordable options the brand has to offer. Its long-lasting tread life also means you do not have to buy another set of tires shortly.
2. Road conditions
Those going through rough roads require SUV, Sedan, or truck tires that offer reliable traction. WeatherReady is the better choice out of the two when it comes to demanding road conditions. It pays to check out consumer reports to see which of the two Assurance tires is suitable for where you are driving.
Frequently Asked Questions
Are Goodyear Assurance MaxLife tires suitable for winter driving?
MaxLife is an all-season tire that can offer dependable grip in snow conditions. However, it does not do well on extremely frozen roads.
Are Goodyear Weatherready Tires Quiet?
WeatherReady tires are designed to provide a smooth and quiet drive. The Goodyear tires' advantage is they being stable on most roads to prevent noise.
How does the Goodyear Assurance WeatherReady compare with BF Goodrich Advantage tires?
BF Goodrich Advantage is designed for better tractions on wet roads. However, the problem with these tires is their winter performance. Goodyear's WeatherReady is much more dependable on snow or icy roads.
Conclusion
In choosing between Goodyear Assurance MaxLife vs WeatherReady, you can go for the former that lets you drive long distances without worrying about buying a new set soon. Otherwise, the Assurance WeatherReady is reliable when you need reliable tires in harsh weather conditions.