Winter can be absolutely unforgiving for drivers. Aside from the cold, ice-laden and snow-filled roads are quite dangerous to tread on. As such, you'll need a set of proper winter tires to keep you safe.
So, today, we'll compare two winter tires from industry leaders, Goodyear and Bridgestone: the Goodyear Wintercommand vs Blizzak showdown. It's East vs. West once again in this battle for winter supremacy.
In this tire comparison, we'll pit the Goodyear Wintercommand Ultra and the Bridgestone Blizzak WS90, the latest iterations from the respective product lines. There's a lot to unpack here, so let's get started!
Goodyear Wintercommand vs Bridgestone Blizzak: An Overview
But first, let's see how these tires compare on the surface.
| | | |
| --- | --- | --- |
| Tire | Goodyear Wintercommand Ultra | Bridgestone Blizzak WS90 |
| Tire Type | Studless Ice and Snow | Studless Ice and Snow |
| Tested Size | 205/50R17 | 205/50R17 |
| 3PMSF | Yes | Yes |
| Tread Depth | 11/32″ | 11/32″ |
| Max Load | 1,433 lbs | 1,433 lbs |
| Tire Weight | 21 lbs | 24 lbs |
| Section Width | 8.4″ | 8.4″ |
| Rim Range | 5.5-7.5″ | 5.5-7.5″ |
| Revs/Mile | 832 | 829 |
| Price | $174.99 | $166.57 |
About the Tires
1. Goodyear Wintercommand Ultra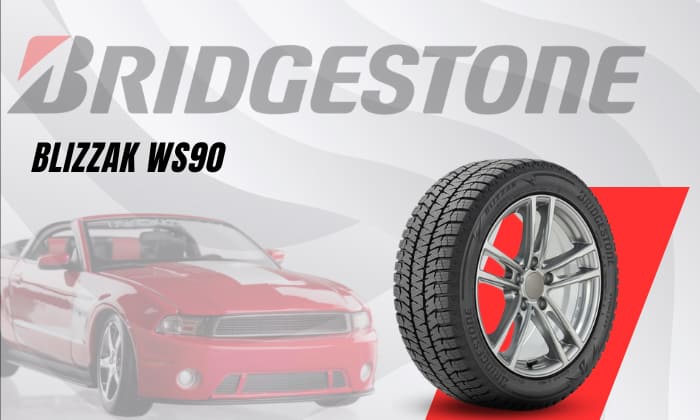 True to its name, Goodyear Wintercommand tires absolutely dominate harsh winter conditions. As a product of Goodyear, the tires inherit many proprietary technologies.
For starters, the tire comes equipped with a Cryo-Adaptive compound. It gives the flexibility to adjust to sub-zero temperatures. Besides, Active Block Cuts and Adaptive SipeGrip Technology offer tremendous grip on inclement weather surfaces.
On top of that, V-Tred Technology and hydro-dynamic give it excellent aquaplaning resistance by efficiently and effectively ejecting water and snow. Couple this with ActiveGrip Technology, and you've got a superb combination of maneuverability and traction.
Affordable alternatives from the brand are the Goodyear Ultra Grip Ice WRT and the Goodyear Ultra Grip Winter. Both offer great value for their prices.
2. Bridgestone Blizzak WS90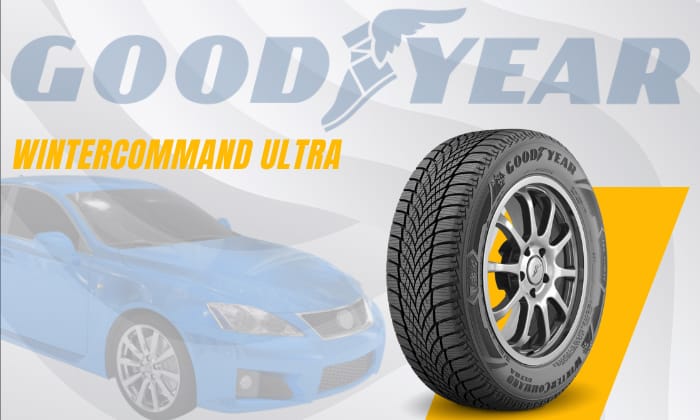 The Bridgestone Blizzak WS90 is Bridgestone's latest iteration of the successful WS series, which gained traction more than a decade ago with the release of the Bridgestone Blizzak WS70 and the WS80 a few years after.
And like its counterpart above, the Blizzak WS90 is undoubtedly one of the best winter tires. And you know Bridgestone didn't pull any punches with this tire, as it, too, has its fair share of powerful proprietary technologies.
First up, it drastically improved its braking distance from the WS80 by as much as 15% by adding more block edges. Meanwhile, a Multi-Cell compound significantly enhanced its traction capabilities through bite particles that remove water molecules between the ice and the tire.
Moreover, a Silica compound was added to the tire to improve maneuverability and traction, while Edge Performance Technology ensures that the tire consistently performs at optimal levels.
Differences Between Goodyear Wintercommand and Blizzak Tires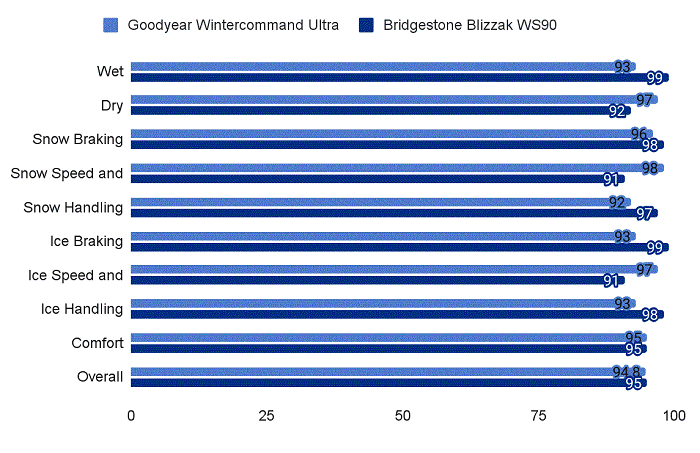 When comparing Bridgestone vs. Goodyear tires, you can't easily put the finger on who's the better tire since both brands are one of the best premium tire brands out there.
However, after testing both tires, we've found that both had their own specialties.
1. Wet Performance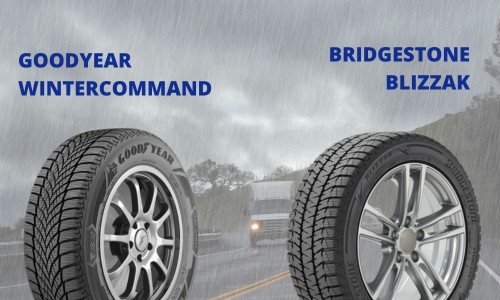 Although both tires had wet performance capabilities, the Blizzak WS90's Multi-Cell technology and added block edges gave it substantially better-wet braking capabilities.
This allowed the WS90 to brake significantly shorter than the Goodyear Wintercommand Ultra.
2. Dry Performance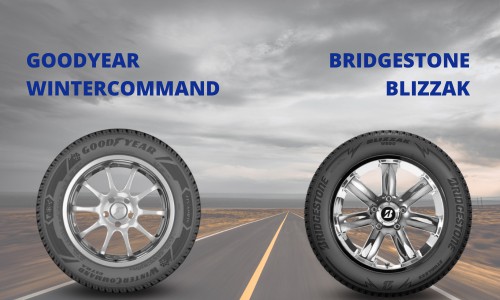 Dry performance isn't exactly the best criterion for winter tires since it's rarely dry in winter. Nevertheless, we found that the results were the opposite with wet performance tests. The Goodyear Wintercommand Ultra fared better on this one in terms of braking.
3. Snow and Ice Performance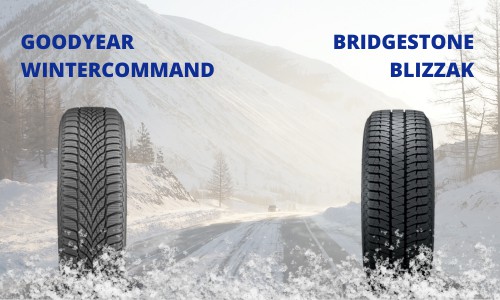 It goes without saying, but the snow and ice category matters most in this tire performance comparison. And, believe it or not, we gave it a tie on this one. That's because both tires performed extremely well in certain areas of one another.
For instance, the Goodyear Wintercommand Ultra was better at winter acceleration and speed, while the Bridgestone Blizzak WS90 took the cake regarding braking and maneuverability. So, it is up to you what you're looking for in a winter tire.
4. Comfort
While it's rarely comfortable when driving through snow, both tires showed considerable noise and vibration suppression capabilities. However, the WS90 fared marginally better on average, albeit very slightly, to the point of unnoticeable.
5. Price and Value for Money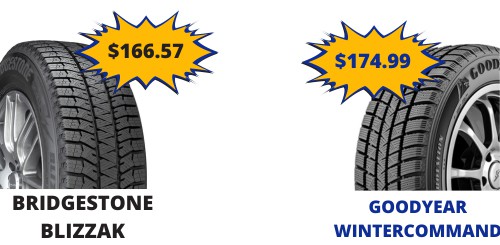 Price plays a big factor when choosing tires since even just an $8 difference per tire can turn into $36 since you're buying four. And after looking at tire listings for a 205/50R17 sized tire, we found that the Wintercomamnd Ultra was more expensive at $174.99 per tire, while the Blizzak was cheaper at $166.57.
As for value, we can't really decide since both tires are fairly equal in terms of performance. Thus, it falls upon you, the driver, on what you really value more in a winter tire, braking, or speed.
6. Pros and Cons
Goodyear Wintercommand Ultra
Better dry performance
Better winter speed and acceleration
Comfortable
Worse wet performance
Worse winter braking and handling
Expensive
Bridgestone Blizzak WS90
Better wet performance
Better winter braking and handling
Cheaper
Comfortable
Worse dry performance
Worse winter speed and acceleration
Which is Better and Why?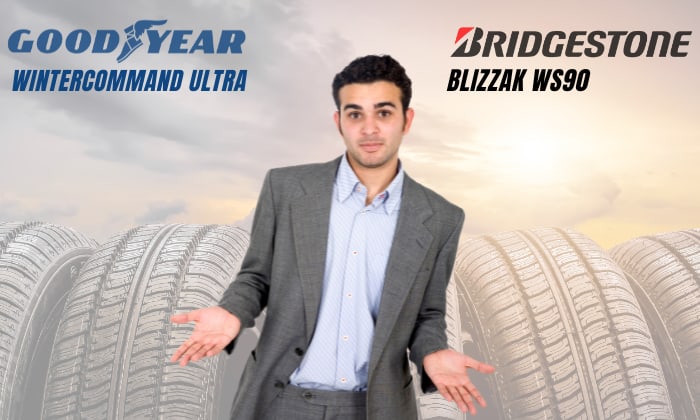 Both are equally excellent tires, and we can't really say if one is better than the other. The Goodyear Wintercommand Ultra has much better speed and acceleration, while the Bridgestone Blizzak WS90 took the prize for braking and handling.
However, there's a considerable price difference between the two, so if you're looking for the cheaper option, the Blizzak WS90 is an excellent choice. Meanwhile, if you want to put a premium on speed, then the Goodyear Wintercomannd is a must-have.
Conclusion
We've reached the end of our Goodyear Wintercommand vs Blizzak comparison.
Overall, it's definitely safe to say that it's a tie on this tires comparison. And we weren't surprised even by a little. Both tires come from excellent tire brands that have proven time and time again that their tires are among the best in the world.
Ultimately, it entirely depends on you on what you're looking for in a winter tire. Nevertheless, you won't be disappointed with either one since you'll be treated with the full capabilities of a premium winter tire.
---
Other tire reviews about Goodyear you may also like: