All-season tires are one of the best options in the market, mainly due to their reliability and balanced features. However, some all-season tires definitely take a hit when it comes to performance in favor of versatility.
Well, this tire from Continental would surely surprise you with its excellent capability as an all-season tire. So, join us in this Continental Surecontact RX review, and see if it is the tire for you!
But first, let's have a look at the stats of the product with this quick comparison table.
| | |
| --- | --- |
| Tire | Continental Surecontact RX |
| Brand | Continental |
| Tire Type | Ultra-high performance all-season |
| 3PMSF | None |
| Tread Design | Asymmetrical |
| Sidewall | Blackwall |
| Tested Size | 225/40ZR18 |
| Speed Rating | Y |
| UTQG | 560 AA A |
| Tread Depth | 10/32″ |
| Section Width | 9.1″ |
| Max Inflation Pressure | 51 psi |
| Revs/Mile | 828 |
| Tire Weight | 23.3 lbs |
| Price | $129.11 |
Continental Surecontact RX
The Continental Surecontact RX is Continental's iteration of an ultra-high performance all-season tire, similar to the popular Pilot Sport All Season 4 when you compare it vs Michelin.
Specifically built for luxury sedans, sports cars, and SUVs/Crossovers, Continental promises uncompromised performance with this tire when it comes to any weather conditions—even light snow.
And this is, of course, thanks to Continental's excellent technology. For starters, the Continental Surecontact RX has an asymmetric tread pattern for optimized traction with the brand's SPORTPLUS+ technology, effectively enhancing longevity.
It also comes with 4 circumferential grooves and large shoulder blocks to provide all the maneuverability you'll need regardless of the weather.
To top things off, it's also infused with a silica-enhanced all-season tread compound and snow-gripping sipes for crisp and confident traction, whether you're on wet or snowy roads.
For its price, a Continental Surecontact RX 225/40ZR18 size is gonna set you back around $129.11 on Tire Rack. Meanwhile, a 225/45ZR19 size costs $152.5 while a 235/45R18 is about 30 dollars more expensive.
Performance
1. Wet Performance
Right off the bat, the tire has superb wet performance. Braking was very sure-footed, so maneuverability felt smooth and crisp, while the 4 circumferential grooves were excellent at evacuating excess water to mitigate hydroplaning.
2. Dry Performance
Similar to wet performance, the Continental Surecontact RX was excellent on dry roads as well. Cornering felt tight and responsive, while braking and grip were short and relatively swift, which can be fairly compared to summer tires, the kings of dry performance.
3. Snow Performance
Although the tire's wet and dry performance was outstanding across all boards, the same could not be said when it came to snow. Don't get me wrong, the snow-gripping sipes absolutely did their job—even on moderate snow.
But try as it may, the tire's grip struggled when it came to heavier snow and ice while handling also felt muddy as the weather worsened.
That being said, when talking about all-season snow performance in a Continental Surecontact RX vs Extremecontact DWS 06, we suggest you get the latter if you want more optimized winter performance.
4. Comfort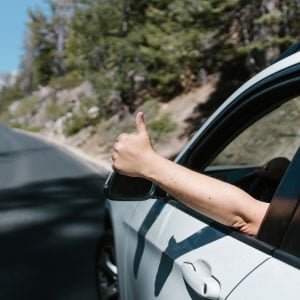 High-performance tires aren't exactly known for their noise suppression, but the Continental Surecontact RX definitely begs to differ, as it was very quiet. With howls and hums kept at a minimum, expect a peaceful ride with this one.
The same could be said for comfort as well, since the vibrations from potholes and bumps were compressed from entering the cabin, so driving felt silky smooth. Honestly, the tire can match up against Continental's grand touring tire in terms of comfort in a SureContact RX vs Procontact comparison.
5. Price and Warranty
Regarding the price, a Continental Surecontact RX 225/40ZR18 size is gonna set you back at around $129.11 on Tire Rack, while tire sizes with a larger aspect ratio, like a 215/45R17, costs a bit more at $136.51.
Meanwhile, all sizes are backed with a 50,000-mileage warranty, which is not bad for an ultra-high-performance tire.
Pros and Cons
Excellent wet and dry performance
Quiet and comfortable
Decent price and warranty
Heavy snow performance needs more improvement.
How Long Does the Continental Surecontact Rx Last?
The tires have a 50,000-mileage warranty, which is a good indicator of the tire's longevity. Although at first glance, this number might not be that high, we have to remember that this is an ultra-high-performance tire, and 50,000 is fairly impressive.
FAQs
Does the Continental Surecontact RX run flat?
Unfortunately, the Continental Surecontact isn't built to run flat. However, there are various ways to extend your tire's longevity, and that's keeping up with maintenance like routine rotations and inflating with the correct tire pressure.
Is the Continental Surecontact RX good on snow?
Well, yes and no. If you're talking about light to light-medium snow, you won't have any issues with the SureContact RX, as it's able to maintain stability, especially at low to moderate speeds.
However, the tire isn't 3PMSF-certified, so it'll definitely struggle when it comes to heavier snow and ice. If severe snow is prevalent in your area, we suggest getting a pair of proper winter tires instead, like the Continental Viking 7.
Conclusion
We hope that this Continental Surecontact RX review has piqued your interest, especially if you're on the lookout for new all-season tires. That said, the Continental Surecontact RX is an excellent choice, from performance to riding comfort and price.
However, do keep in mind that it's not snow-certified, so if you're in areas with a lot of heavy slush, go for other variants instead.
Read more: