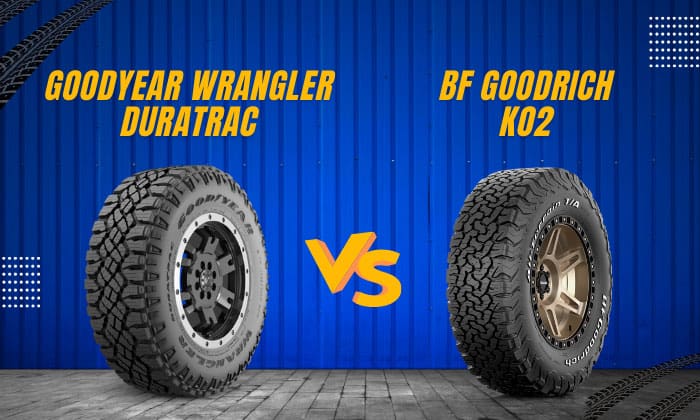 Off-road tires withstand constant punishment from harsh terrain. As such, you'll need only the best to get an edge over the competition. So, we tried some of the best off-road tires in America, and arguably worldwide, in this Goodyear Wrangler Duratrac vs BFG KO2 comparison.
Which American tire will prevail? Who will be crowned king of the hill in this off-road matchup? We've got the answers and more. Read on to find out!
| | | |
| --- | --- | --- |
| Tire | | |
| Tire Type | On-/Off-Road Commercial Traction | On-/Off-Road All-Terrain |
| Tested Size | 285/65R18 | 285/65R18 |
| UTQG | N/A | N/A |
| 3PMSF | Yes | Yes |
| Tread Depth | 18/32" | 15/32" |
| Max Load | 3,640 pounds | 3,640 pounds |
| Rim width | 8.5" | 8.5" |
| Max Inflation Pressure | 80 psi | 80 psi |
| Warranty Distance | 50,000 miles | 50,000 miles |
| Price | $385.99 | $356.99 |
About Goodyear Wrangler Duratrac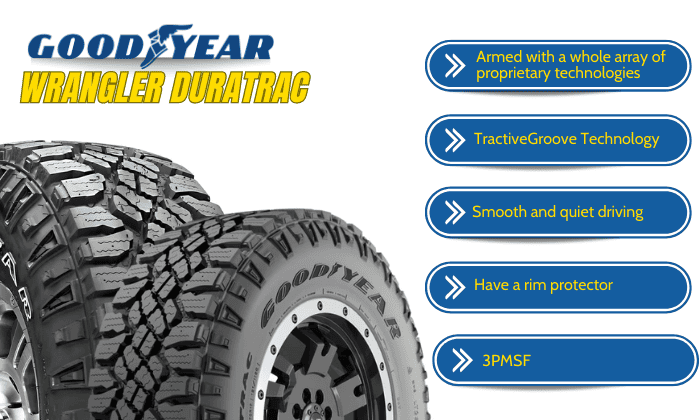 If you're looking for an off-road tire that offers lots of versatility, the Wrangler Duratrac is Goodyear's definitive answer. Armed with a whole array of proprietary technologies, this tire is a force to be reckoned with on or off-road.
For starters, it comes equipped with TractiveGroove Technology for traversing deep mud and snow while self-cleaning shoulder blocks effectively expel debris that the tires collect when driving.
Moreover, the Goodyear Wrangler Duratrac provides very smooth and quiet driving, even as an off-road tire. It also has a rim protector to safeguard your wheels from either rocks or pavement. And if that's not enough, it's even 3PMSF-certified for winter adventures.
About BF Goodrich KO2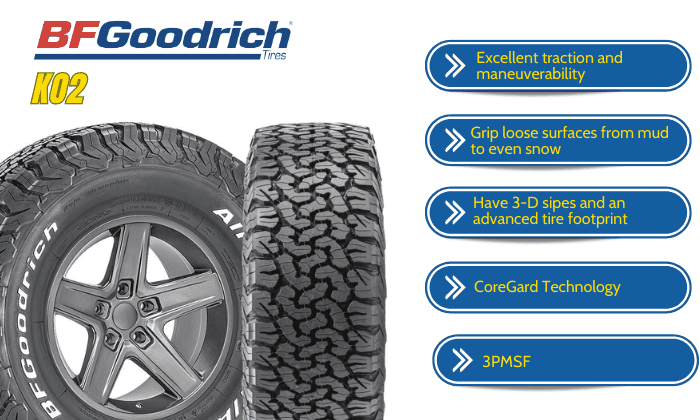 If you're comparing BF Goodrich vs Duratrac, then the BF Goodrich All-Terrain KO2 is the perfect answer. Adept on and off-road, these tires offer excellent traction and maneuverability due to their Interlocking Tread Elements.
Meanwhile, a serrated shoulder design allows it to grip loose surfaces from mud to even snow. It also has 3-D sipes and an advanced tire footprint to provide even contact with the surface and reduce wear and tear from extreme forces.
For protection, the BF Goodrich KO2 also comes equipped with CoreGard Technology to protect it from bumps and bruises. And like the Goodyear Wrangler Duratrac, it's also 3PMSF-certified for battling inclement winter conditions.
Now, let's compare both tires against one another.
Differences Between the Two Tires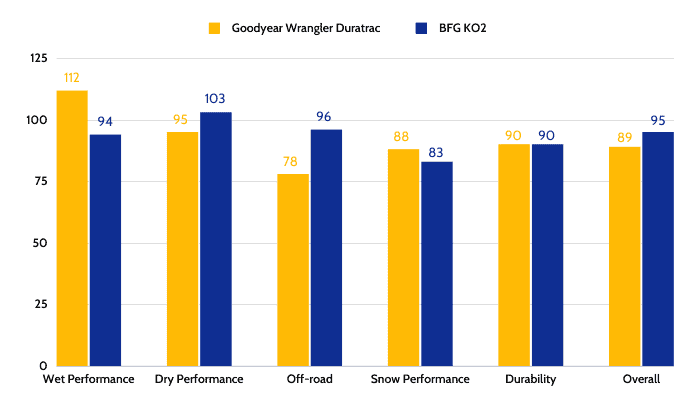 When it comes to comparing premium tires like Goodyear vs BF Goodrich, you'll understand the challenge in doing so due to how superb these tires perform. However, through some meticulous testing, we saw some slight differences.
1. Wet Performance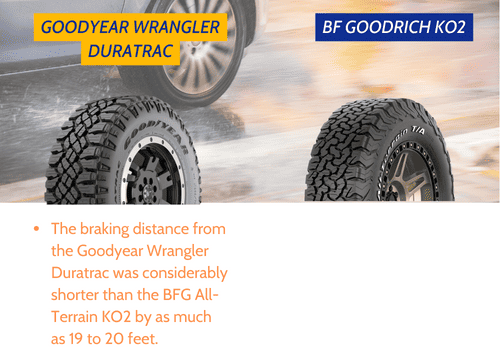 Since both tires are considered all-terrain, we expected that they would be tied when it comes to wet performance. However, after our test, we were wrong, as the Goodyear Wrangler Duratrac blew its competition away.
The braking distance from the Goodyear Wrangler Duratrac was considerably shorter than the BFG All-Terrain KO2 by as much as 19 to 20 feet. Moreover, as our test car's velocity grew higher, the gap between the two only grew more significant as well.
2. Dry Performance
Since both tires are all-terrain tires, they also have the ability to perform quite decently on highways as well. But as for which is the better tire, it was hard to decide, since both offered something different.
Although the Goodyear Wrangler Duratrac was still better when it came to braking distance, the BFG All-terrain KO2 won when it came to maneuverability, especially when it came to turning and cornering.
3. Snow Performance
Although both tires have the coveted 3PMSF rating, there was a considerable difference when it came to individual snow performance. And right off the bat, the Goodyear Wrangler Duratrac had a superior grip due to its shoulder block and unique tread design.
While the BFG All-terrain KO2 wasn't too bad, the sheer traction difference when comparing the Goodyear Wrangler Duratrac vs KO2 was more than enough to put the Duratrac ahead.
However, it's worth noting that the Goodyear Wrangler Duratrac 285/75R18 129Q, 275/65R18 113Q, and LT275/70R18 125R sizes don't have a 3PMSF certification.
4. Off-road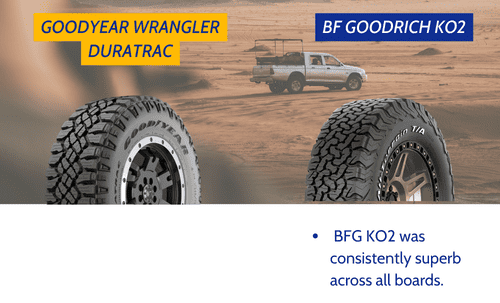 We've saved the best for last in this Goodyear Duratrac vs BFG KO2 performance comparison, and the results were surprisingly one-sided. The BFG All-terrain KO2 took the prize on this one.
Whether it was traction or comfort, the Goodyear Wrangler Duratrac fell short in off-road driving, while the BFG KO2 was consistently superb across all boards.
5. Durability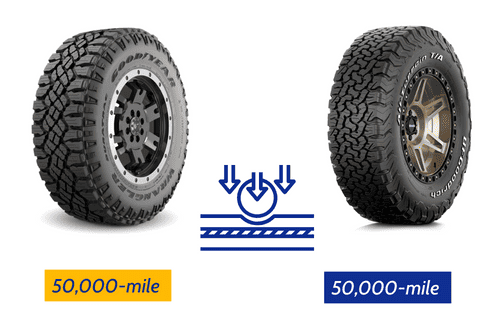 We all know that off-road tires can withstand punishment quite well, but which would last longer? Well, it's actually a tie on this one. Both tires have a 50,000-mile warranty under their belt, so it's safe to assume that these tires are as durable as each other.
6. Pricing and value for money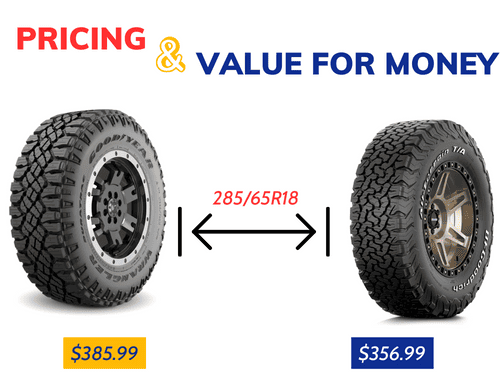 When it comes to BF Goodrich vs Goodyear, both are premium brands, so expect premium prices as well. Moreover, tire prices can also be tricky to compare, since there are lots of different sizes.
So, to make a more uniform assessment when comparing KO2 vs Duratrac, we used a 285/65R18 size as a reference point. The Goodyear Wrangler Duratrac was priced at $385.99, while the BF Goodrich KO2 comes at $356.99.
8. Pros and Cons
Goodyear Wrangler Duratrac
Excellent wet and snow performance
Better braking on dry surfaces
Decent warranty and treadwear
Off-road performance needs improvement.
More expensive
BF Goodrich KO2
Excellent off-road performance
Better handling on dry surfaces
Decent warranty and treadwear
Snow performance needs improvement.
Which Tire is Better?
So, when it comes down to it, which takes the cake in this Goodyear Duratrac vs KO2 comparison? Well, it entirely depends on your driving needs. As mentioned above, both tires have something unique to offer to the table.
The Goodyear Wrangler Duratrac had much better performance on wet and snowy roads and dry braking, while the BFG KO2 was more adept at off-road and dry handling. And although the Goodyear Duratrac has more features, it's also more expensive.
---
Other comparisons are made for you:
Considerations When Buying Tires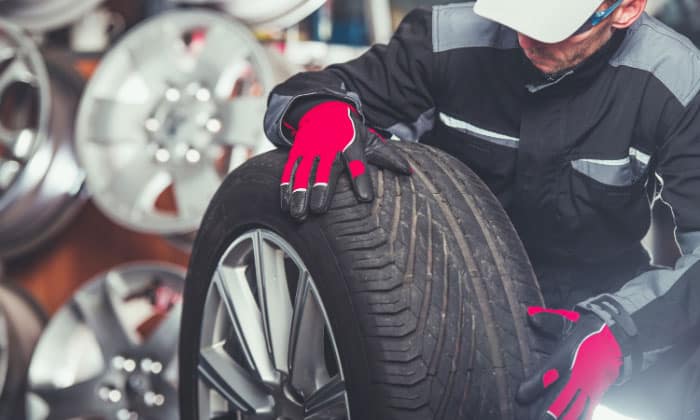 When buying tires, don't simply look for tires with the best features. Instead, find options with features that are best for you. For instance, let's put our BF Goodrich vs Duratrac comparison into perspective.
If you're living in an area where there's lots of snow, then the Goodyear Wrangler Duratrac is the winner in this Duratrac vs KO2 snow comparison. However, if you're living on a farm or other areas where you're constantly off-road, then the BFG All-Terrain KO2 is the far better alternative.
Conclusion
I hope we've shed some light on which the better tire is in this Goodyear Wrangler Duratrac vs BFG KO2 comparison. Looking back, it's definitely clear that both tires deserve their premium reputation, since they are tied overall.
So, if you're looking for your next set of all-terrain tires, both models surely won't disappoint. Just remember to choose the option that's best for you and your driving needs, and you can't go wrong with either the Goodyear Wrangler Duratrac or the BFGoodrich KO2.