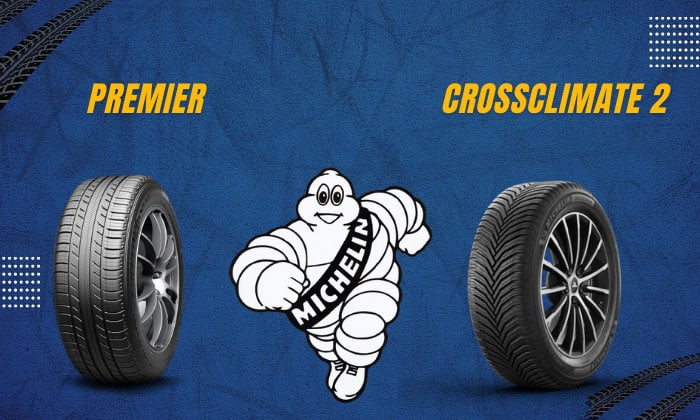 From everyday drivers to serious racing enthusiasts, everyone is definitely familiar with Michelin's superb tire catalog. Their dedication to providing some of the most technologically advanced tires has allowed them to ascend into being the biggest tire brand worldwide.
So today, we'll compare two of Michelin's more popular tires in the touring all-season category in this Michelin Premier vs CrossClimate 2 comparison.
We'll compare the SUV variants from the two lines, the Michelin Premier LTX and the Michelin CrossClimate 2 SUV.
But before we get down to brass tacks, let's see how these tires compare on the surface.

| | | |
| --- | --- | --- |
| Tire | | |
| Brand | Michelin | Michelin |
| Tire Type | Grand Touring All-season | Grand Touring All-season |
| 3PMSF | None | Yes |
| Tested Size | 255/45R20 | 255/45R20 |
| UTQG | 620 A A | 560 B A |
| Tread Depth | 8.5/32″ | 9.5/32″ |
| Section Width | 10″ | 10″ |
| Rim Range | 8-9.5″ | 8-9.5″ |
| Max Inflation Pressure | 44 psi | 50 psi |
| Max Load | 1,819 lbs | 2,039 lbs |
| Tire Weight | 29 lbs | 30 lbs |
| Price | $300.99 | $317.66 |
What Are They?
1. Michelin Premier LTX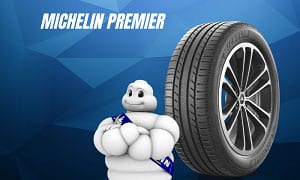 From the name itself, the Premier LTX, along with the Premier A/S, comes from Michelin's premium family of all-season touring tires, the Premier. The line places emphasis on luxurious driving, focusing heavily on silky smooth ride quality and noise mitigation.
The Premier LTX is the Premier line's SUV/Crossover and light truck tire. And as expected from Michelin, it comes equipped with proprietary technology that allows it to perform at a very high level.
For starters, it features Michelin's EverGrip technology, a specialized rubber compound that contributes to its superb wet performance, even outperforming other leading brands in terms of braking distances.
The EverGrip technology also adds additional longevity to the tire by incorporating expanding rain grooves as the tire wears out. Not only that, but as the grooves expand from around the tire, more grooves emerge from the shoulders for some extra bite.
Couple that with sunflower oil and high amounts of silica that's integrated with the tire's compound, and you've got a perfect recipe for maneuvering cold and wet environments with relative ease.
Other comparisons:
2. Michelin CrossClimate 2 SUV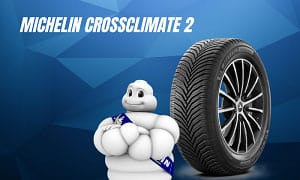 The CrossClimate 2 SUV comes from Michelin's CrossClimate line along with the CrossClimate 2, its passenger vehicle variant, and the CrossClimate Plus, the CrossClimate 2's predecessor.
With a more recent release date than the Premier series, the CrossClimate 2 family is Michelin's newer grand touring all-season line. Arguably one of the most specialized all-season tires among its peers, the design can traverse through heavy snow with its coveted 3PMSF rating.
This means Crossclimate2 tires are ready for winter weather, so you won't have to replace them to go through light snow for casual driving. And they do this through Michelin's host of superb proprietary tech, of course.
The tire comes equipped with a thermal-adaptive compound and 3D Sipe Lock, which allows it to adjust to any temperature, literally "crossing climates." From scorching summer roads to frigid winter ones, the Michelin CrossClimate 2 SUV can handle them with no issues.
Moreover, it also has a directional V-tread pattern, which significantly enhances the tire's traction on all types of surfaces. These treads also serve as efficient water ejectors for mitigating aquaplaning when driving on wet roads.
Additionally, it also has V-shaped chamfers, which improve the CrossClimate 2 SUV's contact patch with the road when it's under heavy loads, further enhancing the tire's already superior grip.
As for noise, the Michelin CrossClimate 2 was built with PIANO Noise Reduction, which completely tunes out road noise from the influx of air that's entering the tire's grooves.
Differences

1. Wet performance
As expected from premium all-season tires, you won't have any issues when it comes to wet performance as both tires are excellent at barrelling through wet roads. However, the Michelin CrossClimate 2 is definitely better.
The V-treads were highly effective in resisting aquaplaning. Meanwhile, the V-shaped chamfers provided some extra traction, especially when carrying heavy cargo, which is also helped by the fact that the CrossClimate 2 SUV has a higher max load threshold than the Premier LTX.
2. Dry performance
Similar to wet performance, dry performance was also quite one-sided in favor of the CrossClimate 2 SUV. The grip provided by its thermal-adaptive compound and 3D sipe lock gave it superb traction.
At the same time, the V-shaped chamfers also improved the tire's contact patch, so driving on dry roads felt tight and responsive.
3. Snow performance
Right off the bat, the CrossClimate 2 is definitely better on snow; it even has a certified 3PMSF rating to boot. While the Premier LTX was relatively decent on light snow, it started to struggle when the snow became heavier and less compacted.
As for the CrossClimate 2 SUV, driving through the snow was a breeze. The grooveless patterns were giving it the grip it needed, while the V-treads were excellent at evacuating slush.
Please take a look at this comparison to know the difference between Michelin CrossClimate 2 vs CrossClimate SUV .
4. Treadwear
Treadwear can be very subjective as it can depend on how you maintain your tires and how you use them. That said, although the UTQG rating from the Premier LTX was higher at 620, it was still outperformed by the CrossClimate 2 SUV's modest 560.
The CrossClimate 2's thermal adaptive did wonders for the tire's durability as it was able to adjust to any temperature. Coupled with a higher tread depth, the tire took a much longer time to wear out.
5. Price and Availability
Although the CrossClimate 2 SUV performed better, it's also more expensive. A 255/45R20 sized CrossClimate 2 SUV can cost $317.66 per tire, while the Premier LTX is cheaper at $300.99.
However, the flagship CrossClimate 2 tires Costco sells can be cheaper, depending on your location. When it comes to availability, the Premier LTX is also easier to find, since the CrossClimate 2 SUV is only available in Europe.
Pros and Cons
Michelin Premier LTX
Decent wet and dry performance
Cheaper
Easier to find
Snow performance needs improvement
Not as durable
Michelin CrossClimate 2 SUV
Excellent dry, wet, and snow performance
More durable
3PMSF rating
FAQs
Is Michelin CrossClimate2 as good as winter tyres?
While the Crossclimate 2 has good snow performance, it won't perform as well as a true winter tire in cold weather. I would give the Crossclimate 2 an 8 compared to a 10 for winter tires.
How long do Michelin CrossClimate2 tires last?
They will last for approximately 60,000 miles, so about five years or longer, which is well within the expected lifespan for car tires.
Conclusion
And that's it for our Michelin Premier vs CrossClimate 2 SUV variant comparison. While the two tires were excellent, it's clear that the CrossClimate 2 SUV was better. However, its price and availability can possibly turn drivers off.
Although the Premier LTX was easier to find and much cheaper, it still has a bit of catching up to do in terms of performance. However, if you need a daily driver that's reliable and premium, it's still a viable tire for your SUV/Crossover.