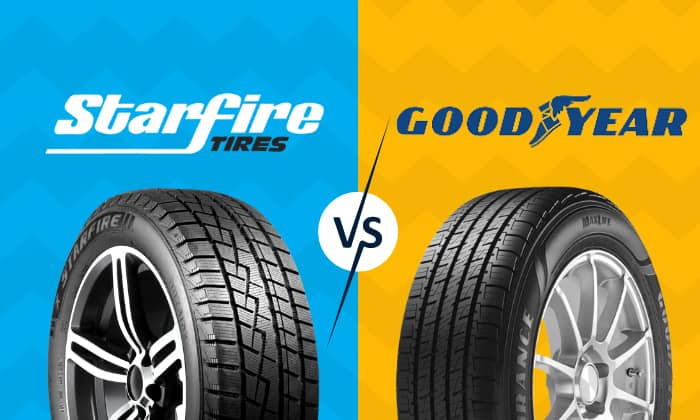 As vehicle owners, we want the perfect tires that will guarantee optimal performance when used in our automobiles. So it's natural for us to seek an ideal brand that is capable of catering to our specific needs.
Today, let's have a comprehensive comparison between Starfire vs Goodyear tires. Both tire labels are known to provide high-quality products on their own. But which one is more reliable?
Let's learn more first about their distinct performance, price, warranty, most famous models, and pros and cons. Then let's see later what tire brand manages to beat its competitors.
| | | |
| --- | --- | --- |
| Characteristics | Starfire | Goodyear |
| Year Started | 1994 | 1898 |
| Country of Origin | US | US |
| Parent Company | Cooper Tire & Rubber Company | Standalone |
| Price | Cheaper | More expensive |
| Mileage Warranty | 40,000 – 50,000 miles | 30,000 – 85,000 miles |
About Starfire Tires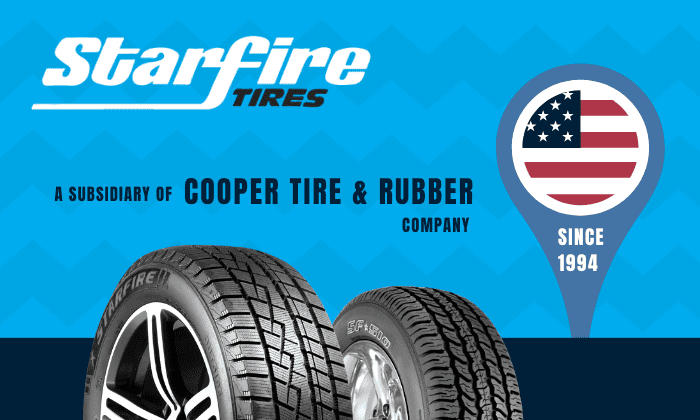 A subsidiary of Cooper Tire & Rubber Company, Starfire was first introduced to the public in 1994 in the United States. To this very date, Cooper Tire still remains the one who makes Starfire tires, aside from its product lines like Coopertires and Mastercraft.
Although Cooper switched from American to Asian production in 2008, the company has recently shifted most of its production back to the US. This made the Starfire brand to be in demand as one of the affordable American tires.
Starfire's dedication to research and enhancement allows them to deliver us a competitive tire that comes with a budget-friendly cost. Currently, Starfire has three main factories found in the United States, Mexico, and China.
Positive Starfire tires reviews all over the internet just prove that this tire brand is also a good option to consider when you are planning to buy a quality yet budget-friendly tire.
About Goodyear Tires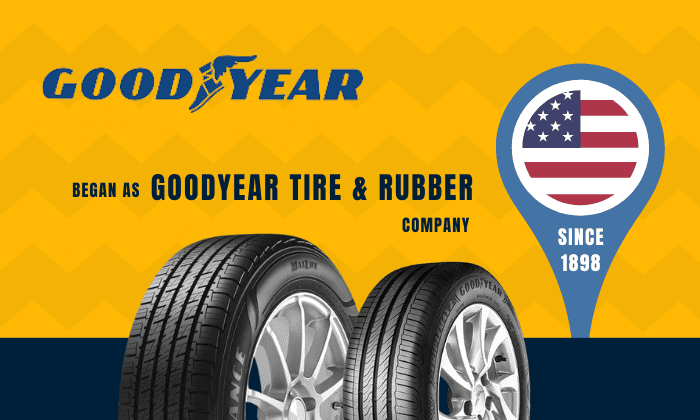 Established in 1898, the business began as The Goodyear Tire & Rubber Company to give honor to Charles Goodyear (inventor of vulcanized rubber). Frank A. Seiberling, its founder, bought an abandoned strawboard factory to make it the first ever manufacturing plant of this tire company, located in Ohio, US.
The company's initial products include horseshoe pads, bicycle tires, carriage tires, and rubber sundries. And just one year after its launch, Goodyear started to add automotive tires to its products.
Automotive tires are the products that made them popular around the world, making them part of several top-leading tire companies as of now. For instance, their invention of the tubeless tire in 1903 and the new synthetic rubber compound in 1937 have drastically improved tire durability, stability, and performance.
Comparing Starfire vs Goodyear Tires
Performance
Starfire comes with tires from all-season to winter, mud-terrain, and all-terrain. On the other hand, Goodyear primarily produces tires for all-season, winter, and ultra-performance.
In terms of cornering and braking, Starfire is the winner, given how it has a better grip from the distinct tread pattern and softer compound. That said, its riding experience pales in comparison to Goodyear, whose tires feel considerably smoother and quieter.
Things take a different turn if you inspect traction and roll resistance. In these instances, Goodyear takes the lead with its premium-grade materials. Whether it's on dry or wet roads, this premium brand ensures excellent traction.
While Starfire has tires for winter driving, the options are rather limited, with the RSW-5.0 SNOW as the most suitable candidate. However, its ice traction leaves much to be desired. In contrast, Goodyear offers several choices, with most boasting exceptional ice traction and hydroplaning resistance.
As Starfire tires are originally manufactured for daily use, so tread life longevity is not part of their feature. Durability is where Goodyear tires excel, for they have a better wear-resistance
Price

For the price category, it's quite obvious that Goodyear's tire prices are more expensive in comparison to Starfire's. This is due to the former's advanced technological features, along with its high-quality materials.
To be more specific, Starfire tires usually range from $50 to $100. On the other, Goodyear has tire prices of between $80 to $150. So if you're currently on a budget, the Starfire brand is a good option for you.
Note: Price differs depending on what tire model and size you're about to purchase. So check out Starfire and Goodyear tire shop websites for a more specific tire cost.
Warranty
Generally speaking, Starfire has a shorter mileage warranty than Goodyear. The majority of the former's tires are under a 50,000-mile warranty, except for the Starfire WR—which has a mileage warranty of 40,000 miles.
As for Goodyear, all of its products enjoy a mileage warranty of at least 40,000 miles. The sole exception is the Fierce Instinct™ ZR, which is only covered for 30,000 miles. The brand's tires mileage caps at 85,000 miles, as seen in the Assurance MaxLife.
Pros and Cons
Let's examine the advantages and disadvantages of Starfire and Goodyear tires so you can choose wisely which tire brand satisfies your likings more.
Starfire
Pros
Comes at a budget-friendly cost
Offers pleasant ride quality
Better grip capabilities
Has better braking power and cornering performance
Cons
Shorter tread life and mileage warranty
Limited options for winter tires
Goodyear
Pros
Offers pleasant ride quality
Wide variety of lineups and tire models to select from
Comes at longer warranty mileage and tread life
Has a better wear-resistance
Better traction and roll resistance
Cons
Comes at expensive pricing
Popular Tires of Each Brand
Here are the top three tire models under the Starfire and Goodyear brand that will give you an overview about these companies' edge over their competitors.
Top 3 Starfire Tires
Starfire Solarus
Solarus is one of the Starfire all-season tires that are perfect for daily drives. It allows superb traction and controllability on dry and wet roads while providing a pleasant ride with low noise levels.
Starfire WR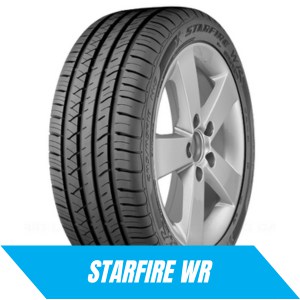 WR is another of Starfire's affordable all-season tires produced for passenger car and minivan drivers. It has excellent cross-rotation, high-speed controllability, traction, braking power, ride comfort, and low noise levels.
Starfire SF-510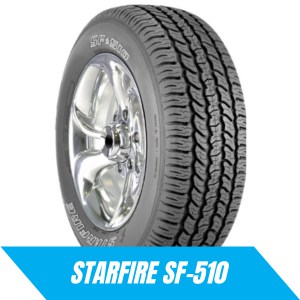 This is also an all-season but designed for light trucks. SF-510 has a decent all-terrain performance that features great on-road handling and traction, even on snowy roads.
Top 3 Goodyear Tires
Goodyear Assurance Triplemax 2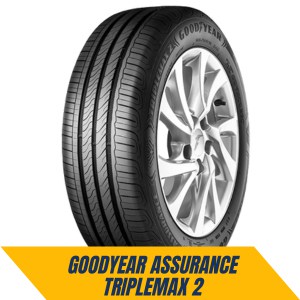 This innovative touring tire model is engineered with HydroTred technology to ensure the utmost braking power in wet conditions. It also has an asymmetric tread pattern that aids in enhancing the steering capabilities of the SUVs and passenger cars without compromising the ride-comfort quality and safety.
Goodyear Excellence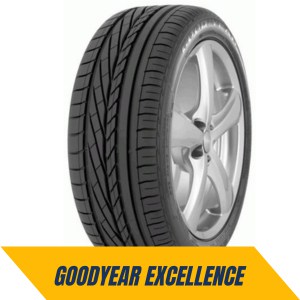 Goodyear's top-picked model that features exceptional traction, sensitive steering, superb braking performance on wet roads, and refined ride with low noise levels.
Goodyear Wrangler Duratrac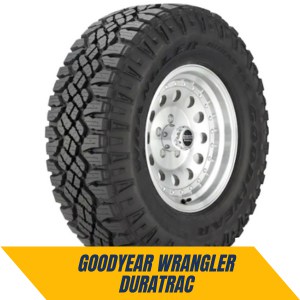 Goodyear's pride in providing stability, pleasant ride quality, and tough traction on off-road environments such as on dirt, deep mud, gravel, and snow. It is manufactured with a protective wheel rim for the driving needs of 4×4 vehicle drivers.
Which is Better?
Goodyear has been in the tire industry for 125 years, with a current fifth ranking regarding best tire brands, garnering 4.3 out of 5 ratings. But this does not automatically mean that Goodyear tires are generally better than Starfire tires.
In fact, as Cooper Tire is the Starfire tires manufacturer, this product line manages to provide us pleasant rides, decent grip, cornering, and braking power. This is pretty impressive for a cheap tire.
But durability-wise, Goodyear is the better option. Plus, it has better traction, roll resistance, and a wider range of options.
At the end of the day, it's up to you to decide which brand is better for your driving needs and priorities.
Tips for Choosing a Suitable Tire for Your Car
No matter how great a tire model is, you can never maximize its capabilities if it's a mismatch to the current type of vehicle you own.
So take a look at these tips you need to take into consideration for you to get the suitable tire for your car.
Consider what kind of weather you drive in. For instance, if you live in a region with no or light snow, an all-season tire will suffice. In contrast, for areas with heavy snow, specialized winter tires are a must.
If speed is of utmost importance to you, don't forget to check the tire's speed rating, which indicates how fast the tire can go. As a rule of thumb, a rating of R up to Z means the tire can reach at least 100 mph.
Make sure you choose the tire with the correct size compared to your car. A too-small or too-big tire can decrease its performance. It's best to use the recommended tire size in your car's manual.
Frequently Asked Questions
Are Starfire Tires Any Good?
For its affordable price, Starfire tires are an okay and reliable brand that produces tires with decent performance. As a sub-brand of Cooper, Starfire tires guarantee great traction, braking power, cornering, and a comfortable ride.
This brand is also perfect for those owners of second-hand vehicles.
How Long Does a Starfire Tire Last?
Starfire's top three tires are Starfire Solarus, Starfire WR, and Starfire SF-510. Both Starfire Solarus and SF-510 have a tread life of up to 40,000 miles, while Starfire WR has a 50,000-mile lifespan.
Therefore, Cooper Starfire tires last long for around 50,000-55,000 miles.
Conclusion
And that's about it for our comparison between Starfire vs Goodyear tires. We hope this post has been a great help for you to differentiate the features of these two tire brands.
Whether you choose Starfire or Goodyear, the good news is that you can never go wrong with these two reliable tire manufacturers. So we hope that you'll get the tire that is perfectly suitable for your driving needs as soon as possible.