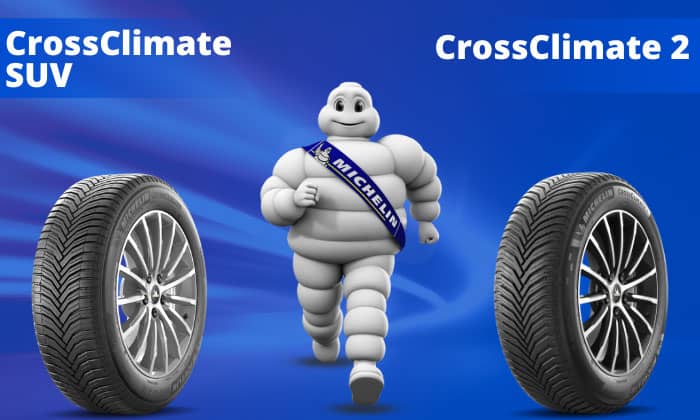 When traversing through the country, you'll need reliable tires that can perform exceptionally well in any weather and temperature. And, of course, Michelin has got you covered with its CrossClimate series.
Depending on your vehicle, choosing the right tire might be a little tricky, since the models on the Michelin CrossClimate line are pretty varied. So, let's narrow it down to the Michelin CrossClimate SUV vs CrossClimate 2. Which one is better?
For us, the CrossClimate 2 slightly edges out the CrossClimate SUV. But make no mistake, the CrossClimate SUV is an excellent tire. If you're wondering how we made this tough choice, read on.
Tire Line
Brand
Michelin
Michelin
Country of Origin
France
France
Tire Type
Crossover/SUV Touring All-Season
Grand Touring All-Season
Compatible vehicles

Luxury performance
Passenger cars
SUV/Crossover
Electric vehicles

Tire Sizes Available
23
89
Tire Diameter Range
16 to 20
16 to 22
Tread Depth Range
9/32"
10/32"
Weight Range
23-34.8 lbs
21-36 lbs
Max Load Range
1565 – 2601 lbs
1356-2601 lbs
3PMSF
Yes
Yes
Mud performance
Yes
Yes
Warranty

50,000 Miles (H- & V-Speed Rated)
40,000 Miles (W- & Y-Speed Rated)

60,000 miles
Price
$152.35 to $319.03
(£126.54 to £263.86)
$110.26 to $350.92
(£91.19 to £290.23)
What Are They?
For years, Michelin has impressed the world with their technologically advanced tires—and the brand has done it again – this time, through the CrossClimate product line, which contains great all-season tires in itself but with the bonus of being able to handle heavy snow.
Let's look at both tires and see what they offer to the table.
1. Michelin CrossClimate SUV
The Michelin CrossClimate SUV is an all-season touring tire for crossovers and SUVs. With a 3PMSF rating on its belt due to its 3D self-locking sipes, the CrossClimate SUV allows your vehicle to traverse through heavy snow without needing dedicated winter tires.
At the same time, a unique grip-maximizing compound and bevel-edged tread blocks ensure stability on wet surfaces for a safer ride all throughout.
Moreover, the very stiff tread design significantly extends the tire's life. Coupled with Michelin's proprietary EverGrip technology, which possesses an optimized sculpture design and dense silica, you'll enjoy shorter braking distances and water clearance.
While the Michelin CrossClimate SUV is a fantastic tire, sadly, it's only available in the UK. So, getting your hands on this model would be tough if you're from the US. And since the CrossClimate SUV is a dedicated SUV tire, passenger cars and electric vehicles aren't compatible with it.
Now let's look at its competitor, the Michelin CrossClimate 2.
2. Michelin CrossClimate 2
The CrossClimate 2 is the successor of another excellent tire, the Michelin CrossClimate+, further improving its performance with newer technologies. This means that it's a tire that's more than familiar with all sorts of weather conditions.
It offers improved snow traction, increased mileage, and improved performance in both dry and wet conditions. It also makes less noise as an added bonus.
Moreover, compared to the CrossClimate Plus, it also has a better mileage warranty of 60,000 miles, which eclipses the Plus' 40,000 to 50,000-mile guarantee.
Similar to the CrossClimate SUV, the CrossClimate 2 also has a 3PMSF rating, so snow and ice shouldn't be a concern. In fact, it's so reliable in snow that even when the tire gets worn out, it still works marginally better than competitor brands in gripping the road.
The central section of the tread promotes longitudinal dry grip by balancing the forces applied to the tire. Moreover, V Ramp chamfers allow for improved handling so that drivers can stop their car quickly, even in rainy weather.
In terms of comfort, the Michelin CrossClimate 2 also boasts a noise reduction feature thanks to its PIANO Noise Reduction Tuning technology.
Now onto the differences.
Differences Between Michelin Crossclimate 2 Vs Crossclimate SUV
When it comes to differences, our opinions alone aren't enough to make an effective comparison. So, we also considered user experience from sites like Reddit and other consumer reports.
1. Dry Performance
Braking with both tires yielded fantastic results. Because of their softer compounds, these tires were specialized for wet and snow driving.
Overall, I didn't seem to have any problems with CrossClimate 2.
Handling was also great, but the CrossClimate SUV lagged behind slightly in cornering.
2. Wet Performance
For wet performance, we focused mainly on traction and aquaplaning resistance—and both the CrossClimate 2 and SUV were superb. You won't notice the difference, as both tires did exceptionally well. So it's safe to say it's a tie on this one.
3. Snow Performance
Both tires lived up to their 3PMSF ratings as they performed excellently on snow. From light and deep snow to ice traction, there were no issues. That said, I think the Crossclimate 2 did slightly better on ice.
4. Comfort
Since these tires are touring tires, comfort was our main concern. And we weren't disappointed. The ride quality was smooth throughout, and the noise was barely noticeable, so expect a velvety ride all throughout.
5. Warranty
For warranty, the CrossClimate SUV has two options depending on your vehicle's speed rating.
50,000 Miles (H- & V-Speed Rated)
40,000 Miles (W- & Y-Speed Rated)
In comparison, the CrossClimate trumps both warranties with a 60,000-mile support for all types of vehicles.
6. Price
Price is very subjective when comparing tires, since different sizes come with different costs. So, we'll give out a range for all tire sizes.
The CrossClimate SUV costs around £126.54 to £263.86 ($152.35 to $319.03), while the CrossClimate 2 retails for £91.19 to £290.23 ($110.26 to $350.92).
The disparity in price means the CrossClimate 2 is more affordable. Regardless, as premium tires go, they both have very steep price points.
Pros and Cons
Michelin CrossClimate 2
3PMSF rating
Excellent dry and wet performance
Comfortable
Extensive tire compatibility
More tire sizes available
Better warranty
Michelin CrossClimate SUV
3PMSF rating
Excellent dry and wet performance
Comfortable
Lower mileage warranty
Worse cornering
Expensive
Only limited to SUVs and 4x4s
Frequently Asked Questions
Are Michelin CrossClimate 2 tires good for SUVs?
Yes. The Crossclimate 2 is made for SUVs and is excellent if you want a well-rounded option for driving on dry and wet surfaces.
Is the Michelin CrossClimate 2 noisy?
No. It runs pretty quietly on highways and city roads. Customer feedback is generally positive, with an excellent score on average regarding noise.
Did Michelin discontinue the Defender?
No, the Defender line from Michelin is still alive and kicking. In fact, it features one of Michelin's latest innovations, the Defender2.
Read more related comparisons:
Is there a CrossClimate 2 SUV?
Yes. But similar to the CrossClimate SUV, it's also only available in Europe. It has improved wet and snow traction and features Michelin's MaxTouch technology.
How do I improve fuel efficiency with my tires?
One of the best ways to improve your fuel economy is to properly inflate your tires. Touring tires are also excellent in conserving gas, especially those with low rolling resistance.
Conclusions
We've reached the end of our Michelin CrossClimate SUV vs CrossClimate 2 comparison. Through rigorous testing and research, we found that these tires performed similarly, except when it came to cornering.
However, the main differences between these two products were tire sizes, compatibility, and prices. The CrossClimate 2 had a much wider tire selection when compared to the CrossClimate SUV, as it can also fit passenger vehicles.
Moreover, the CrossClimate SUV is only available in Europe, so finding it in the US can be challenging. While both tires are excellent all-season touring options, we'll still go with the CrossClimate 2.
Until next time!