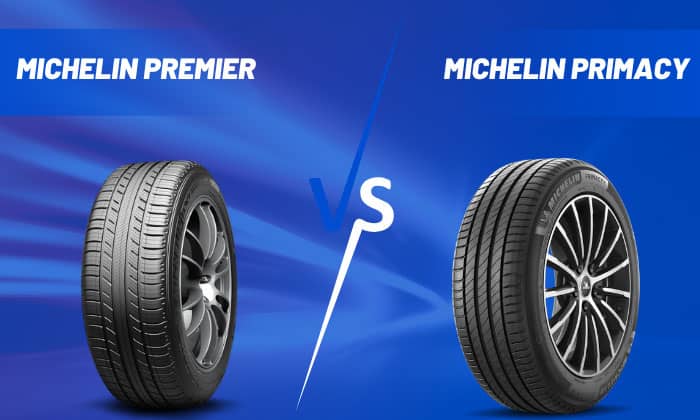 Michelin is one of, if not the best, tire company out there. So, how do two of their premium touring tires fare against each other? Let's find out in this comprehensive comparison of the Michelin Premier vs Primacy.
Right off the bat, we'll just say that it's a tie on this one. Both lines are excellent and offer beneficial features for different types of drivers. So, let's dive in deeper and see which line suits you best.
But first, here's a quick comparison table to get you started on some details.
Brand
Michelin
Michelin
Country of Origin
France
France
Tire Types
All-season touring
All-season, Summer, and Cross Country touring
Tire Variants

Primacy Tour A/S
Primacy All Season
Primacy LTX
Primacy XC
Primacy MXM4
Primacy 3
Primacy HP

Tire Compatibility

Luxury Performance
Passenger Car
Light Truck and SUV Crossover
EV Compatible

Luxury Performance
Passenger Car
EV Compatible
Light Truck and SUV Crossover

Warranty
Up to 60,000 miles for both tires

5,000 miles for Primacy 3
45,000 miles for Primacy HP
55,000 miles for others

Price
$208.56

(225/60R18 Premier A/S)

$226.99

(225/60R18 Primacy Tour A/S)
Michelin Primacy and Premier: What Are They?
With Michelin's proprietary EverGrip technology, both Premier variants have expanding rain grooves in the tire's perimeter and emerging grooves in their shoulders. These specialized grooves widen when the tires wear out, providing increased grip in icy and rainy conditions.
Moreover, EverGrip technology gives these tires tremendously short braking distances, allowing you to almost stop at will. It also provides excellent handling as well, which lets you take turns and corners relatively easily.
1. Michelin Premier
Premier is one of Michelin's luxury touring tires next to the Primacy. The Premier line features two all-season tires, the Premier A/S for passenger vehicles looking for luxury performance, and the Premier LTX for light trucks, SUVs, and crossovers.
Michelin Premier is an excellent line designed for all sorts of road conditions, including light snow. With all-season tires, it performs incredibly well in any weather, even if it's half-worn.
For passenger cars needing luxury performance, the Premier A/S comes fitted with Comfort Control technology, which mitigates road noise to minimal levels and provides excellent ride quality throughout. So, expect a quiet and comfortable ride when driving long distances.
The Premier A/S is the successor to the Primacy MXV4. Michelin made various improvements to the tire and placed more emphasis on wet braking distances, as well as equipping it with Michelin's EverGrip Technology, which we mentioned above.
Meanwhile, Michelin's Premier LTX is exclusively built for light trucks and SUV Crossovers. It has the same proprietary technologies found in the Premier A/S, aside from the ComfortControl. However, Michelin boasts that its wet-stopping power is unrivaled by other competitors.
The Premier is a tested and proven product from Michelin and would definitely not disappoint. Now, let's take the Michelin Primacy for a spin. Shall we?
2. Michelin Primacy
For starters, Primacy is Michelin's other grand touring line. But, unlike the Premier, it has 7 products to choose from, with 5 all-season tires capable of traversing mud and snow and 2 summer tires for driving in hot weather.
They can also be classified under luxury performance and SUV Crossover tires, with one single variant exclusively for light trucks. So, depending on your vehicle, be sure to purchase the correct variants to ensure maximum performance and safety.
Primacy tires come with reliable construction to ensure no tires problems when turning or cornering on dry or wet surfaces.
Primacy's more popular variant, the Primacy Tour A/S, is one of the best all-season touring tires. Primacy A/S tires are meant to excel when it comes to luxury performance. So, expect superb ride quality with its ComfortControl and PIANO noise reduction technologies.
It's also worth noting that the Primacy Tour A/S can be fitted to SUV Crossovers and electric vehicles as well, so it has exceptional vehicle compatibility.
Overall, the Primacy line has excellent variants. From driving on highways to traversing the great outdoors, there's a Primacy tire for every type of adventure.
Its light truck variant, the Primacy LTX, comes equipped with ComfortControl technology, which can effectively mitigate road noise while giving users a smooth and comfortable ride as well.
If you fancy a more "off the beaten path" approach, the Primacy XC is the tire to get. The tire's appearance alone gives your truck or SUV a more rugged aesthetic. But looks aren't everything, as it also comes with ComfortControl technology, so noise and bumps would not be an issue.
If you need some quick info on Primacy variants:
Luxury Performance
Primacy MXM4 – Primacy's most popular tire built for passenger vehicles.
Primacy HP – A luxury touring summer tire from the Primacy line. Has zero-pressure technology.
Primacy 3 – One of Primacy's luxury summer touring tires. It has zero-pressure technology, so you can run flat for an extra 50 miles.
Light truck and SUV Crossover
Primacy LTX – The Primacy line's all-season light truck variant.
Primacy XC – For off-road and all-terrain purposes.
Luxury Performance and SUV Crossover
Primacy Tour A/S – Primacy's most luxurious touring tire, a favorite of car makers.
Primacy All-season – The latest all-season tire from the Primacy line, can fit passenger cars, SUVs, and crossovers.
Now that we have an idea of what these tires can do, let's discuss their differences.
Michelin Primacy vs Premier: Differences
When talking about differences, we'll be looking at various categories, mainly wet and dry performance, snow, comfort, warranty, and price. We'll be basing our reviews on personal tests and forums like Reddit.
Performance
Since there are many variants, we'll be more specific and compare the Primacy MXM4 vs Premier A/S, both of which are all-season touring tires made for passenger cars.
On dry roads, both tires performed reliably well on all fronts and had fairly even road feedback. The MXM4 slightly lags behind when it comes to traction and cornering. However, the disparity was barely noticeable.
When it was time to test it on wet surfaces, the Premier A/S was the better tire. Although both tires performed wonderfully, the differences were now a little more apparent, especially regarding traction and hydroplaning resistance.
While both models are all-season tires, they're not replacements for a proper winter tire. But the Premier A/S was the clear winner on this one since it had much better traction and handled icy surfaces fairly better than the MXM4.
Comfort
For comfort, we'll try pitting the Primacy Tour A/S vs Premier A/S against each other, since both tires are relatively similar and have ComfortControl technology.
Of course, as premium tires, both were excellent at what they do, so it was very tough to find the better choice. In fact, they're so good that bumps and potholes were barely noticeable.
However, after multiple tests, we eventually concluded that the Primacy Tour A/S ever so slightly edges out the Premier A/S on this one.
Warranty
Michelin is known for its extensive warranties. However, the Premier was the clear winner on this one.
After reviewing all the warranty details of each variant from both tire families, most tires from the Primacy line have a mileage guarantee of 55,000 miles, except for the Primacy 3 at 35,000 miles and the Primacy HP at 45,000.
Ultimately, the Premier line had better mileage warranties, as both variants had 60,000 miles listed under them.
Price
As always, prices can be really hard to compare, since both lines have multiple tires under their belt. So, for consistency, we weighed the cost of each tire based on a 225/60R18 size for the Premier A/S and a Primacy Tour A/S.
We found out that the Premier A/S costs a little cheaper at $208.56, while the Primacy Tour A/S costs $226.99. But, at over $200 a pop, both models are still quite expensive.
Here are the approximate prices for other models if you're curious:
Premier LTX – $210.81
Primacy All-season – $190.74
Primacy LTX – $235.96
Primacy XC – $297.14
Primacy MXM4 – $200 – $260
Primacy 3 – $291
Primacy HP – $261
Pros And Cons
Michelin Premier
Excellent on dry and wet surfaces
Extensive tread-life warranty
Acceptable winter performance
Excellent ride quality
Slightly cheaper but still expensive
Fewer variants (only 2)
Michelin Primacy
Excellent dry and wet performance
Excellent ride quality and noise reduction
Wide range of variants
Relatively more expensive
Shorter tread-life warranty
Frequently Asked Questions (FAQ)
Is Michelin Primacy discontinued?
No. However, one Primacy variant, the Primacy MXV4, was eventually replaced with the Premier A/S.
If you're wondering which tire is better in a Primacy MXV4 vs Premier A/S comparison, the Premier A/S is the better option. It improved on the MXV4 by being equipped with newer technologies like EverGrip, which gave it more traction.
Oddly enough, the review site consumerreports.org says that the Premier A/S discontinued production or has limited stocks, but it's still listed and available on Michelin's website.
Are Michelin Primacy tires good?
Primacy tires are some of the best on the market. They give superb traction on all surfaces while never dismissing comfort. Primacy tires also provide a wide array of options, from all-season, summer, to cross country.
Premier LTX vs Primacy MXV4, which is better?
While both tires are premium touring tires with ComfortControl technology, the main difference between the two tires is the LTX was exclusively made for light trucks. At the same time, the Primacy MXV4 is much suited for luxury performance on passenger cars. Hence, it's hard to compare the two because of their usage.
Primacy LTX vs Primacy Tour A/S, which is better?
Well, the choice hinges on your vehicle. The Primacy LTX was designed solely for light trucks, while the Primacy Tour A/S can be fitted on both passenger vehicles and SUV Crossovers.
What is the difference between Michelin Defender and Primacy?
It all depends on what you prefer. When comparing the Defender vs Primacy, the Primacy is slightly better regarding comfort and off-road driving, while the Defender has better durability.
Read the detailed comparison here!
Primacy Tour A/S vs Defender T+H – Which One To Choose?
The A/S is suitable for a wider range of cars, including electrical vehicles. It's also a performance tire, unlike the T+H. While both models are somewhat even on dry and wet surfaces, the Primacy Tour does better in comfort and snow traction.
Conclusion
As we've seen, both tires are remarkable. It's hard to name a clear winner in this Michelin Premier vs Primacy debate, since each line is unique. So, choosing the best one depends entirely on you and what kind of experience you're looking for.
If you prefer more tire choices and comfort, then choose the Primacy. At the same time, if you want better performance and mileage warranty, then go for the Premier.