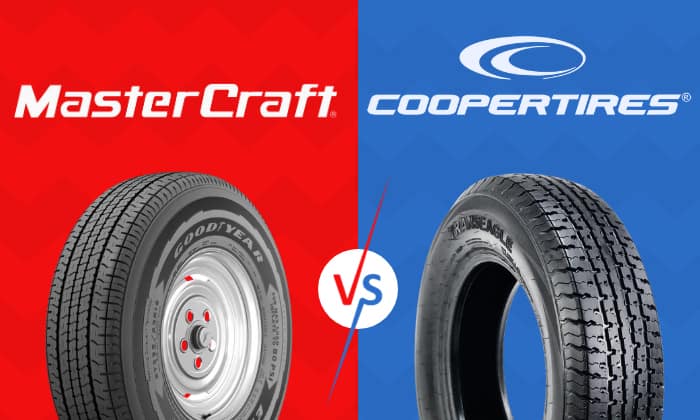 In comparing Mastercraft vs. Cooper Tires, the two brands aim for the same markets with slightly different price points. Mastercraft is known for its budget-oriented models. Meanwhile, Cooper justifies the prices of their tires with quality performance and durability.
To see how the two brands stack up against each other at a glance, keep reading our article comparing Cooper vs. Mastercraft to see which brand meets your driving requirements and budget.
Mastercraft
Cooper Tires
Performance
Mastercraft is slightly better on dry roads, but both are (generally) equal on wet terrains.

Cooper is superior on rough roads.

Tire Variety
Cooper has more tires.
Comfort
Mastercraft is slightly better.
Tread Life
Nearly Identical to Each Other
Overview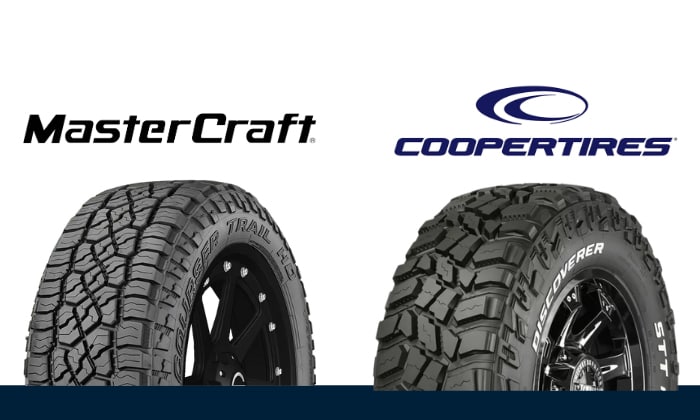 1. Mastercraft
Mastercraft is a tire brand owned by Goodyear Tire and Rubber company, which also owns Cooper. Mastercraft has been around since 1909, and their market is mostly passenger car and light truck owners, with manufacturing facilities in Ohio, Arizona, and Mississippi.
2. Cooper Tires
The brand started as M & M Manufacturing Company in 1914 and later became Cooper Corporation in 1919, a year which marked the start of its tire production. Cooper Tires is one of the two major tire companies in the US and is ranked among the 20th largest tire manufacturers.
Differences Between Mastercraft vs Cooper Tires
1. Performance
You can determine the performance difference between the two brands by comparing their tire lines.
Let's start with the Mastercraft LSR Grand Touring vs. Cooper CS5 Ultra Touring, both all-season models.
The Mastercraft LSR Grand Touring and Cooper CS5 Ultra Touring perform admirably on dry roads. Both tires have reliable traction on dry pavements. The all-season tires also have good traction on wet surfaces, though with a long braking distance.
It should be noted that Mastercraft's tires have a different tread pattern from Cooper's. Both have nearly the same performance, with Mastercraft being slightly more stable at high speeds on dry roads, while Cooper's tire becomes a bit twitchy under the same condition.
What about the two brand's all-terrain tires? Here is a look at the Mastercraft Courser AXT vs. Cooper Discoverer AT3.
The Courser AXT features solid and durable ribs that give the tire a firm grip on loose surfaces without getting punctured by sharp objects. The Discoverer AT3 also has heavy-duty shoulders for better off-road traction.
On dry roads, Mastercraft performs better, while Cooper takes the lead on wet terrains. Off-road, Cooper is superior, as Mastercraft's tire is not very impressive on mud.
2. Tire Variety
Mastercraft has a limited tire variety of only 15 different products. On the other hand, Cooper Tires has 23 tires available on its website.
3. Comfort
Looking back at two of the brand's different all-season and off-road tires can also give you a grasp on the comfort and noise generation of both Mastercraft and Cooper tires. We went with the LSR Grand Touring and CS5 Ultra Touring.
For a stable drive, the two all-season tires rely on their tread pattern and signature technology (Stability Control Siping for the LSR Grand Touring and Stabiledge for the CS5 Ultra Touring).
While focusing on stability contributes to comfort, both Mastercraft and Cooper tires cannot absorb vibrations on the road. This is why most tires reviews show both models have above-average, but not excellent comfort levels.
However, I would say Mastercraft does better in this category, since it's less noisy.
4. Tread Life & Durability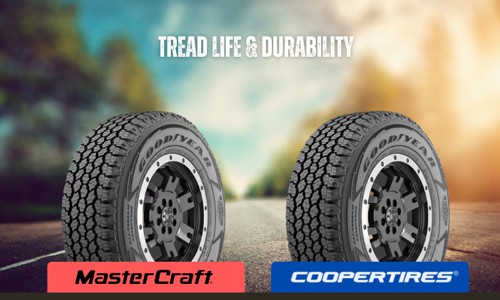 An objective measure of each brand's tread life and durability is their tire's mileage warranty and average UTQG.
Cooper and Mastercraft both have 780 as their highest tread life score, and most of their products average at around 500 to 640 in durability ratings.
Neither brand provides free replacements based on mileage, but Cooper has the higher maximum tread protection than Mastercraft (80,000 miles vs. 70,000 miles).
5. Cost
The only category where you can see a significant difference is the average cost of the tires.
Mastercraft tires for passenger cars have an average price of $65 to $190 at tire dealerships. Cooper tires can cost you around $100 to $200.
Leaving aside other differences between the two brands, Mastercraft wins this category for its tires price.
Pros & Cons:
Mastercraft Tire:
Pros
Dependable dry and low noise performance
Good durability
Low prices on quality tires
Good warranty about 40,000 – 80,000 miles
Cooper Tires
Pros
Offers more tire models for passenger, light trucks, SUVs, and pick-up trucks
Superior tire performance on wet and off-road terrains
Extensive warranty coverage
Excellent treadwear for more than 7,200 miles
Which Tire Brand is Better?
Performance and comfort-wise, Mastercraft and Cooper tires are neck-and-neck, since neither completely surpasses the other. Even their UTQG ratings are similar.
The significant difference between the two brands is their prices and tire line. Mastercraft has the edge, since the price impacts most customers more than a more extensive product range.
Related:
Conclusion
To conclude the comparison between Mastercraft vs. Cooper Tires, the former is attractive due to its prices, solid dry performance, and low noise, but the latter is better in wet weather and on rough terrains.
Chances are you can find a tire to suit your needs from either brand.