Mastercraft tires have been in the market since 1909, but the success and longevity of this tire brand can be attributed to Cooper Tire & Rubber Company since 1930.
When Goodyear Tire & Rubber Company completed the acquisition of Cooper Tire in June 2021, many were curious to know more about Mastercraft tires.
Today, who makes Mastercraft tires? Mastercraft tires are designed and manufactured by Cooper Tire & Rubber Company. The subsidiary remains headquartered in Findlay, Ohio, with around 10,000 employees in 15 countries.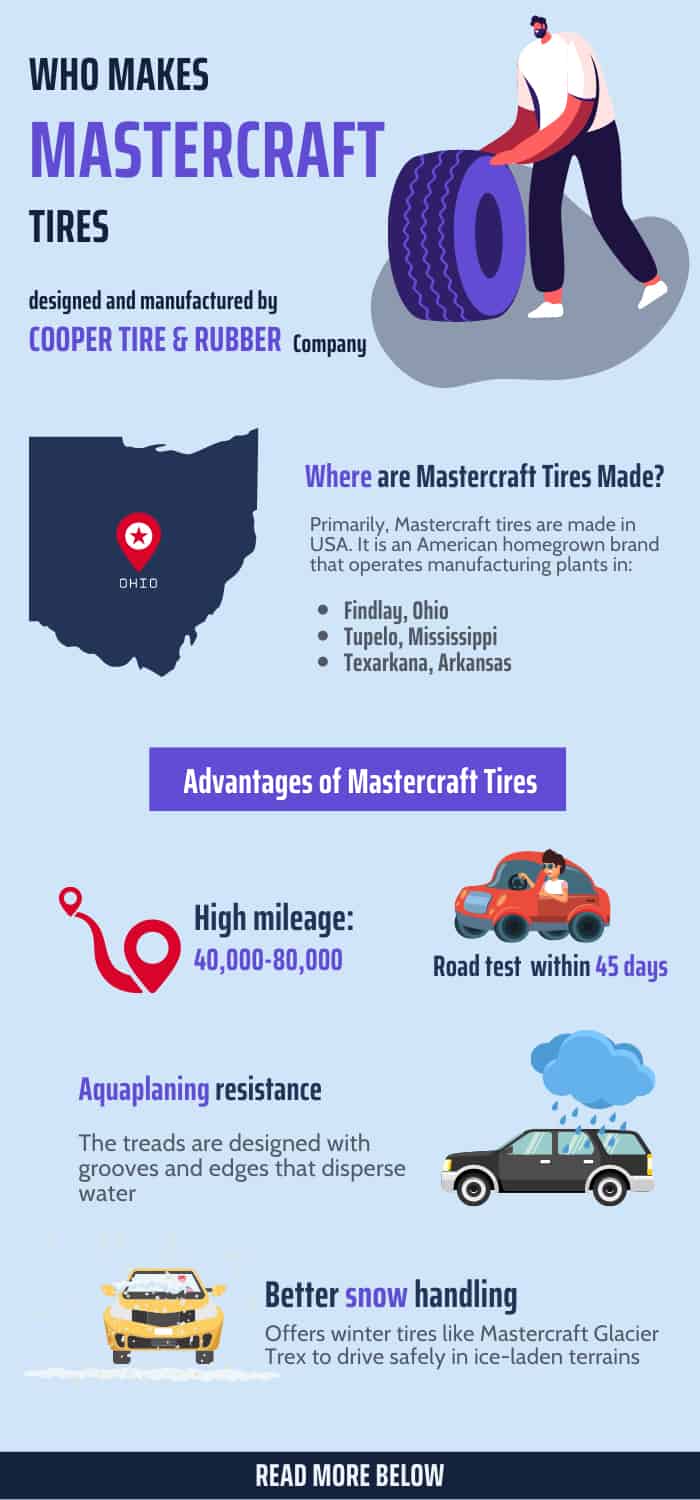 Brief History of Mastercraft Tires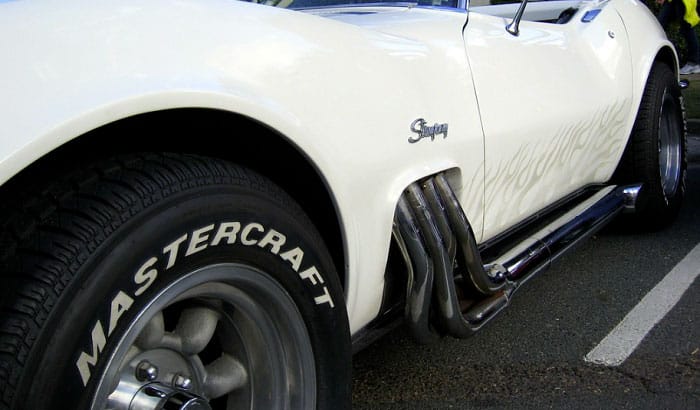 Falls Rubber Co. launched the Mastercraft brand in 1909. It was the company who manufactures tires and tubes for Ford Model A and other small motor vehicles. The factory was located in Cuyahoga Falls, Ohio.
In 1930, the tire company that makes Mastercraft tires merged with Giant Tire & Rubber Co. and Cooper Corporation to form the holding company Master Tire & Rubber Co.
Master Tire was renamed after its best-selling brand in 1946. Thus, it was rechristened as Cooper Tire & Rubber Company. Since then, Mastercraft tires are made by Cooper and sold as its premier tire brand for passenger cars, sports utility vehicles, light trucks and commercial trucks.
In 1995, it dropped the name "Falls" from its logo.
Even though Cooper Tire became part of the American tire giant Goodyear in 2021, the Cooper company makes Mastercraft tires until today. The deal gives Cooper Tire access to Goodyear's 2,500 retail locations worldwide and this expands the reach of Mastercraft tires.
Goodyear's headquarters in Akron, Ohio is 132 miles away from Cooper Tire's main office in Findlay, Ohio.
Where are Mastercraft Tires Made?
Primarily, Mastercraft tires are made in USA. It is an American homegrown brand that operates manufacturing plants in:
Findlay, Ohio
Tupelo, Mississippi
Texarkana, Arkansas
Tires for passenger cars and light trucks are made in Ohio and Arkansas plants while the Mississipi plant produces passenger tires only. These three tire plants have a production capacity of 97,000 units each day.
Since Cooper Tire is the fifth largest tire manufacturer in North America, it owns about 60 different facilities for design, manufacturing, sales and distribution around the globe.
Needless to say, Mastercraft cooper tires are also made in these facilities along with other Cooper brands such as Avon, Dean, Mickey Thompson, Roadmaster and Starfire.
Other well-known Mastercraft manufacturing facilities are in:
Melksham, UK
El Salto, Mexico
Krusevac, Serbia
Kunshan and Qingdao City in China
Advantages of Mastercraft Tires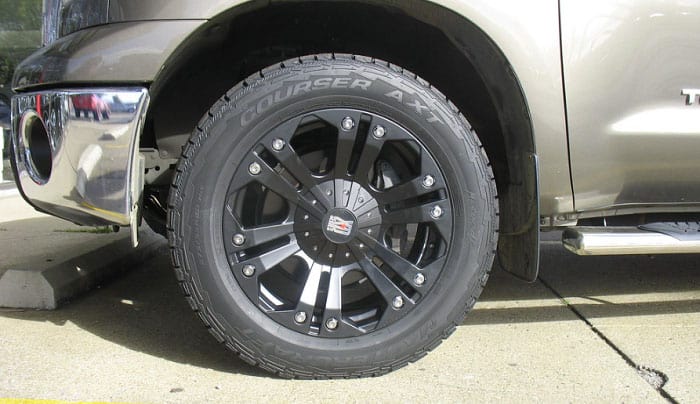 1. Quality
Mastercraft tires promise superior wet and dry performance, tread wear warranty with 45 day test drive for new tires, quiet ride and off-road mobility.
When compared to Michelin tires, the following features make Mastercraft tires an attractive tire replacement alternative:
High mileage – tires range from 40,000-80,000 mileage
Tread wear warranty – free tire replacement within 45 days of road test
Long tread life – tires are made of special tread compound that adapts to high temperatures and prevents wear and tear
Aquaplaning resistance – the treads are designed with grooves and edges that disperse water
Better snow handling – offers winter tires like Mastercraft Glacier Trex to drive safely in ice-laden terrains
2. Design Choices
Mastercraft offers a quality lineup of tire designs for specific needs such as season and terrain types.
Light Truck Tires
For light truck tires, popular designs include:
Highway All-Season Courser HTR – offers a quiet ride in any weather condition and driving surface.
Courser A/T2 – recommended for construction sites, hunting trips and 4-wheeling because of its excellent traction off-road.
Passenger Car Tires
For passenger cars, the Mastercraft Strategy series provide comfort through its 5-rib tread design that supports noise reduction and sufficient handling in wet and dry surfaces all year round.
The Touring LSR is an all-season fuel-efficient tire designed for a wide range of passenger vehicles. The tire is composed of 4 or 5 ribs according to the tire's speed ratings. Its symmetrical tread pattern and lightweight construction allows reduced rolling resistance making it consume less fuel.
Unique to this model is the utilization of 3-D generated sipes. The tire was built with SCS or Stability Control Siping Technology. This feature enables high performance or luxury sedans to drive safely in snow covered terrains or enjoy firm traction and stable handling in wet and dry pavements.
SUVs
The 5-rib tread design and zig zag tread pattern of Mastercraft Courser AXT aim at providing firm grip while driving on sand, mud and other soft terrains. This off-road traction feature is meant for pickups, sports utility vehicles and 4 x4s.
3. Price
Mastercraft tires cost around $70 to $ 120. Its variants are $20-$ 40 cheaper than other prominent tire brands in the market. In short, Mastercraft scores high on affordability without compromising quality.
FAQs
Are Mastercraft tires any good?
Mastercraft tires are engineered to perform decently on both wet and dry roads. This Cooper-backed brand is less expensive than other top quality tire brands but offers reliable hydroplaning resistance, safe handling and braking on dry surfaces, and long treadlife.
How many miles do Mastercraft tires last?
Mastercraft tires differ in tire models but in general, they offer 40,000-80,000 miles.
Are Mastercraft tires better than cooper tires?
Since both tire brands are made by cooper, both boast a century-old experience in meeting the needs of a wide consumer base. They are made with the same technology so they both offer high value in ride quality and longevity but they differ in price. Some Mastercraft tires are less expensive than Cooper tires.
Is Mastercraft and Cooper the same tire?
Mastercraft and Cooper are different tire brands. Cooper Tire is a famous American tire company founded in 1919. It has its own lineup of high-performance tires even before it purchased Mastercraft from Falls Rubber Company in 1930.
Conclusion
Goodyear Tire is the leading tire manufacturer in the US. Hence, the news about Cooper Tire's acquisition by Goodyear makes it reasonable to question who makes Mastercraft tires.
Most are curious about the location of its manufacturing facilities due to the authenticity of the quality of the tires. Interestingly, Mastercraft is an American brand that survived several mergers and renaming of Cooper Tire.
Mastercraft may not be a top of mind brand but its century-long experience of providing quality all-season tires for different terrain types and driving conditions make it a great option for a cheaper but excellent tire replacement.