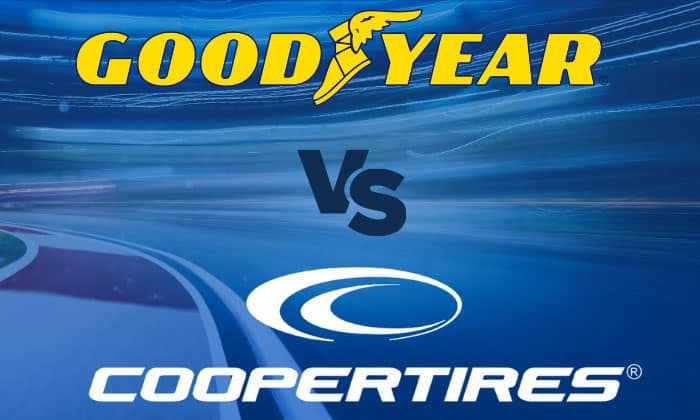 Cooper vs. Goodyear tires, which ones provide the most value or are suitable for your vehicles? This article closely examines both major tire brands to help make an informed buying decision.
Here is a quick Goodyear and Cooper tire comparison of both brand's popular products to give you an idea of how their strengths:
| | | |
| --- | --- | --- |
| Specifications | CS5 Ultra Touring | Goodyear Assurance MaxLife |
| Brand | Cooper | Goodyear |
| Category | Grand touring all-season | Standard touring all-season |
| Wet Performance | 8.3 | 8.8 |
| Dry Performance | 8.2 | 9.0 |
| Comfort Performance | 7.8 | 9.1 |
| Winter Performance | 6.5 | 9.1 |
| Sizes | 195/65 R15 91 H SL | 195/65 R15 91 H SL |
| Uniform Tire Quality Grade | 640A A | 820 A B |
| Max. Load | 91 (1356lbs) | 91 (1356lbs) |
| Max. Speed | H (130 mph) | H (130 mph) |
| Max Inflation Pressure | 44/20 | 51/20 |
| Rim Width Range | 5.5-7″" | 5.5-7″" |
| Rim Width Measurement | 11/32″ " | 11/32″ " |
| Overall Diameter | 24.98 | 24.98 |
| Tire Weight | 20 | 20 |
Interested in a complete comparison between Goodyear vs. Cooper tires to know which is more compatible with your car? Keep on reading.
About Cooper Tires?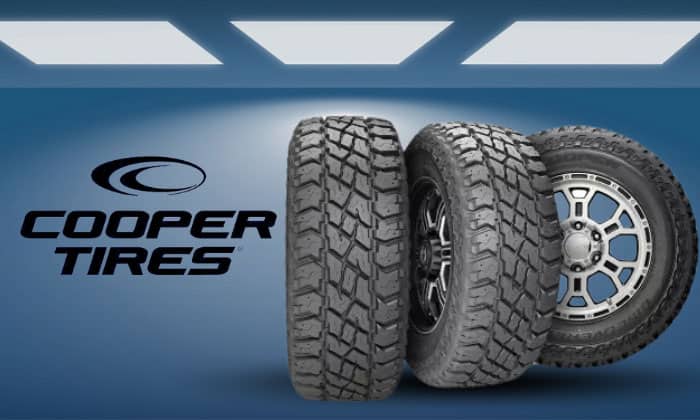 Cooper was established in 1914 by John F. Schaefer and Claude E. Hart as a manufacturer of tire patches and repair kits. In 1917, the duo purchased Giant Tire & Rubber Company to start making their own tires under the Cooper Tire & Rubber Company.
Cooper's flagship models, such as the Cooper Evolution Tour H/T and Cooper Discoverer AT3 4S, are graded "A" for a traction score. They provide more control to vehicles on wet roads to keep the driver and passengers safe.
Cooper Tire & Rubber Company was acquired by Goodyear Tire & Rubber Company in 2021. The acquisition completed on June 7, 2021, subject to regulatory approvals and other customary closing conditions. The combined company is now one of the world's largest tire manufacturers, with a presence in North America, Europe, and Asia.
While people believe this will change the name of Cooper's models, like the Goodyear discoverer tires line, the parent company ensures both brands operate independently.
Related Comparison: Michelin vs Cooper tires.
About Goodyear Tires?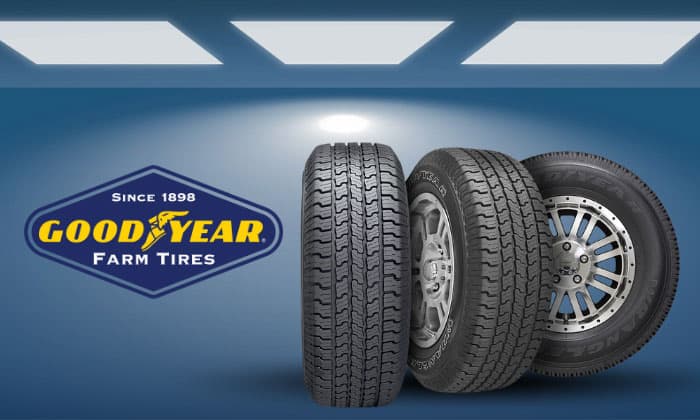 Frank and Charles Seiberling founded the Goodyear Tire & Rubber Company in 1898. The name was a homage to Charles Goodyear, the discoverer of rubber vulcanization.
The brand is all about producing high-ride performance tires for vehicles to operate on almost any road conditions. Goodyear tires are also known to last for a long time due to their durability. The company also constantly applies new technology to their products to stay ahead of the competition.
Related Comparison: Michelin vs Goodyear tires
Differences
Here are the key differences between the products made by Cooper and Goodyear.
1. Tire Variety
Goodyear has been making tires for construction equipment, farming machines, commercial trucks, and passenger vehicles, basically anything with wheels outside passenger vehicles. One example is the Goodyear Wrangler series for CUVs and light trucks.
Cooper, on the other hand, focuses mainly on cars, pickup trucks, SUVs, and minivans. Their Cooper Discover line covers nearly any passenger cars for all-season and winter periods.
2. Warranty Coverage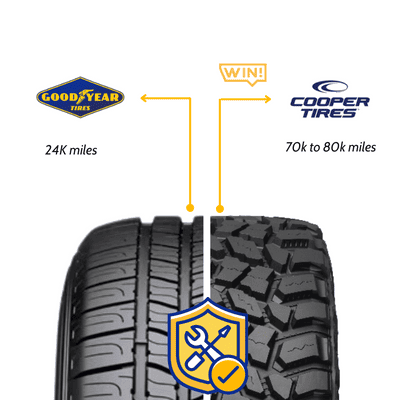 Cooper has the edge in warranty coverage over Goodyear despite how much the tires cost for the latter. The average warranty coverage for most Cooper tires averages around 70k to 80k miles, while Goodyear tires only cover an average of 24K miles.
3. Steering Response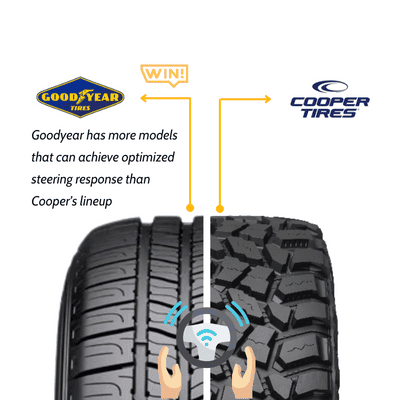 Steering response is the tire's sensitivity to turns and corners of the wheel. Cooper and Goodyear have tires that quickly respond to the wheel's turn. However, Goodyear has more models that can achieve optimized steering response than Cooper's lineup.
4. Pros and Cons
To quickly compare each brand, here are the pros and cons of Cooper and Goodyear tires.
Cooper
Affordable prices for reliable tires
Dependable traction and durability for safety
More extended warranty coverage of up to 80K miles
Limited tire selection for passenger cars, SUVs, and trucks.
Slightly lower tire performance than Goodyear.
Goodyear
Goodyear tires have better ride quality than most Cooper tires
Makes truck tires, tractor tires, and industrial machine tires
Reliable tire durability
Goodyear tires are more expensive than Coopers
Short warranty coverage
5. Costs
Cooper tires are more affordable than most Goodyear tires. The Cooper Trendsetter SE averages around $75 to $85 per wheel, while other Cooper tire series can range from $65 to $475.
Goodyear tires cost more than Coopers due to the former's brand's performance, drive quality, and service life. Goodyear Assurance All-Season tires' average price is $92-$217, while their Goodyear Eagle Exhilarate costs around $160-$376.
Popular Tires of Each Brand
1. Cooper
Based on TireBuyer tire ratings, Cooper's popular models are the following:

Cooper Evolution Tour: One of Cooper's all-season tires that delivers driving comfort and superior tread longevity.
Cooper CS5 Ultra Touring: This all-season tire uses a silica compound tread for better traction on dry and wet surfaces.
Cooper Endeavor Grand Touring: The Endeavor tires are developed for reliable traction on dry and wet roads with high tread wear.
2. Goodyear
These are the popular Goodyear tires based on Forbes:

Goodyear Assurance ComfortDrive: An all-season touring tire that achieves a quiet and comfortable ride while providing superior traction.
Goodyear Eagle Sport All-Season: This all-season tire allows superior grips while turning corners.
Goodyear WinderCommand Ultra: A studless winter tire with superior grip on dangerous ice roads.
Which is Better? Goodyear or Cooper?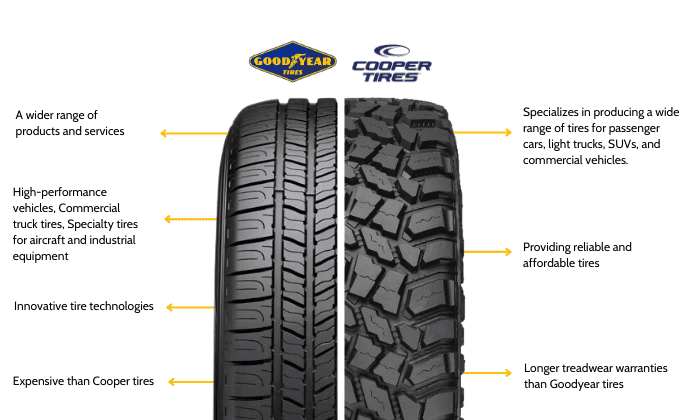 Both Goodyear and Cooper are reputable tire manufacturers with a long company history of producing high-quality tires. Which one is better depends on your specific needs and preferences.
Goodyear is a larger company with a wider range of products and services, including premium tires for high-performance vehicles, commercial truck tires, and specialty tires for aircraft and industrial equipment.
They are known for their innovative tire technologies and their strong presence in motorsports. Goodyear tires also tend to be more expensive than Cooper tires.
Cooper, on the other hand, specializes in producing a wide range of tires for passenger cars, light trucks, SUVs, and commercial vehicles.
They are known for their focus on providing reliable and affordable tires that offer good value for money. Cooper tires also tend to have longer treadwear warranties than Goodyear tires.
Ultimately, the best tire for you will depend on your specific needs, such as the type of vehicle you drive, the driving conditions you encounter, and your budget.
Choose the Right Brand for You
Can't decide whether to choose Goodyear or Cooper for your vehicle? Here are some points of consideration that can help you make a definitive choice.
Your needs & preferences: Consider the type of driving you do most frequently, such as city driving, highway driving, or off-road driving. Next, consider the weather conditions of where you typically drive, whether it has snow or rain.
Both Goodyear and Cooper offer tires that are designed for different driving conditions, so choose a brand that offers tires that meet your specific needs.
Your budget: How much are you willing to spend on new tires? Goodyear tires tend to be more expensive than Cooper tires, so if budget is a concern, Cooper may be a better option.
Tire warranty: Longer treadwear warranties squeeze the most out of your investment. Cooper tires often have longer treadwear warranties than Goodyear tires, so if you want a tire that lasts longer, Cooper may be the better choice.
Consult with a tire specialist: If you're still unsure which brand is better for you, consult with a tire specialist or a reputable tire dealer. They can provide expert advice and recommend specific models based on your specific driving needs and budget.
Frequently Asked Questions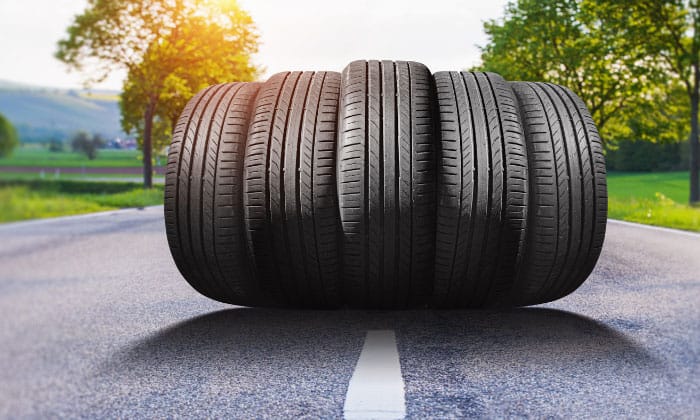 Are Cooper tires good tires for the average driver?
Cooper tires deliver on drive quality and affordability. The brand also offers more extended warranty coverage on most of its tires than Goodyear.
Does Goodyear own Cooper Tires?
The Goodyear Tire & Rubber Company bought Cooper Tires in June 2021. This move aims to provide more choices to both the brands' customers.
Is Goodyear a good tire brand?
Goodyear tires excel in ride performance, traction, durability, and service life. The company also offers tires for non-passenger vehicles such as tractors and farming equipment.
Conclusion
Both brands are on par regarding overall tire quality, durability, and performance between Cooper vs. Goodyear tires.
Cooper tires are ideal for regular drivers looking for an affordable replacement for their tires. Goodyear's target customers are professional drivers or industrial machine manufacturers who make a wide range of tires with optimized performance.