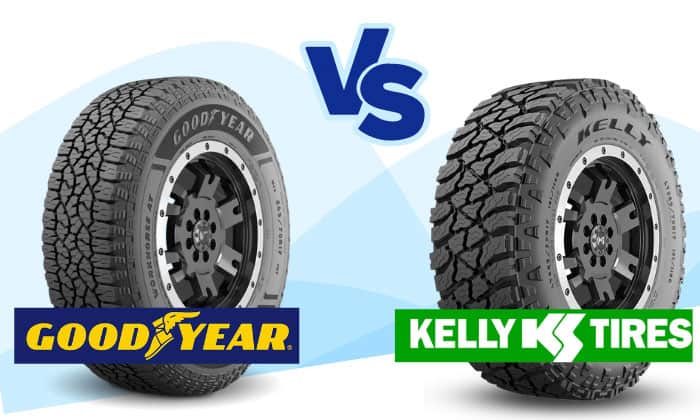 When choosing the perfect tire brand for your vehicle, one of the factors you might consider is the length of the brand's service in the tire sector. This makes sense because most of the products from old tire brands out there are already proven and tested, meaning, their tires can never go wrong.
This leads us to the Kelly vs Goodyear tires comparison. Both of these companies are among the longest-running tire businesses in the industry, but which between these two is the better option?
Find the answer here in full detail, including their differences in terms of performance, price, warranty, and pros and cons.
Here is a brief Goodyear tire comparison to Kelly.
| | | |
| --- | --- | --- |
| Characteristics | Kelly | Goodyear |
| Year Started | 1894 | 1898 |
| Country of Origin | US | US |
| Number of Tire Lineup | 4 | 10 |
| Price | Cheaper | More expensive |
| Mileage Warranty | 45,000 to 80,000 miles | Up to 80,000 miles |
About the Companies
1. Kelly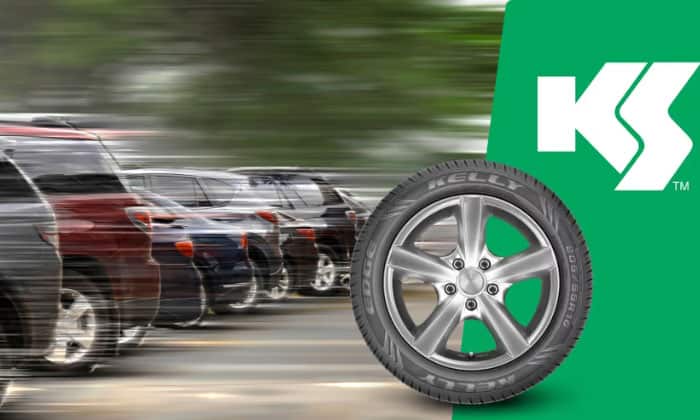 Kelly tires were originally known as Kelly Springfield tires; its name was based on the company's first appearance in Springfield, Ohio way back in 1894. This company was built by Edwin Kelly and Arthur Grant.
Goodyear is the entity who makes Kelly tires currently, given that the latter is now a sub-brand of Goodyear after the company bought Kelly Tires in 1935. Kelly tires' early impressive production of carriage and automobile wheels is the reason behind Goodyear's decision to acquire it.
If you're wondering where are Kelly tires manufactured, the USA is still its production country.
2. Goodyear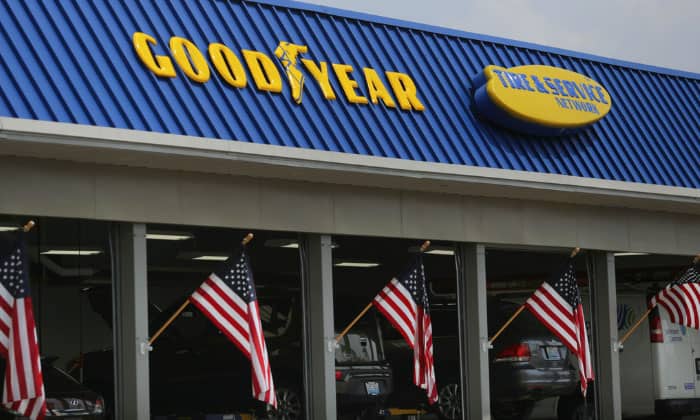 Goodyear's current success in the tire industry all started in 1898, when Frank A. Seiberling took a risk and invested in the brand's first manufacturing site (located in Akron, Ohio, US). The company's name is a tribute to the man who invented vulcanized rubber —Charles Goodyear.
Goodyear's earliest products were primarily bicycle tires, carriage tires, horseshoe pads, and rubber sundries. But after just one year, Goodyear started manufacturing automobile tires, which is definitely a good idea, since this venture opened doors to more opportunities and popularity.
From being the first company to ever offer tubeless tires in 1903 to producing the first airplane tires in 1909, many good things happened at Goodyear as the years followed, including geographical expansion of production plants outside of the US.
As of now, Goodyear provides us with a wide selection of tires of various sizes for different vehicles. Goodyear tires ratings allow it to achieve fifth place in the international tire brand rankings.
Related: How long do Goodyear tires last?
Comparing Goodyear vs Kelly Tires
Are Kelly tires good quality? What about Goodyear tires? Read here for a more detailed comparison of the two.
1. Performance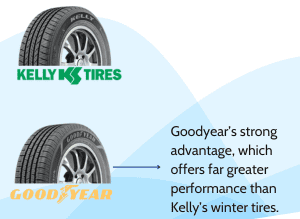 In terms of traction capabilities, Kelly pretty much equals Goodyear on dry roads. Yet, Goodyear manages to have the edge in another area, which is wet road performance. Both also offer outstanding tires that can withstand off-road conditions.
However, Goodyear's strong advantage over Kelly is its winter tires' performance, which offers far greater performance than Kelly's winter tires.
2. Price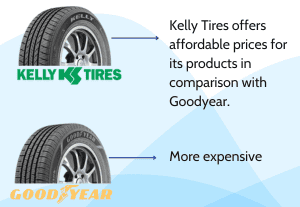 Practically speaking, comparing the price list of different tire brands will help you decide which one is preferable to the other.
By default, brands that come with cheap tires prices are more appealing. However, this is not the same case for everyone, since some will argue that tires with a premium price are better because they guarantee superior performance.
In the price category, Kelly tires offers affordable prices for its products in comparison with Goodyear.
3. Warranty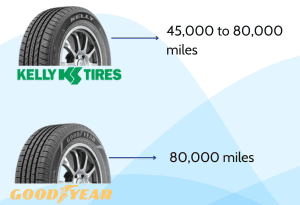 Kelly tires, in general, offer a tread warranty length of 45,000 to 80,000 miles. You can expect that the majority of offerings under this brand will last for around 40,000 miles.
Meanwhile, Goodyear's standard warranty mileage is up to 80,000 miles. Yet, it has a tread life span of 50,000 miles in estimation.
Pros and Cons
Every tire brand has its own set of positive and negative sides. In this section, let's have a preview of the advantages and disadvantages of Kelly and Goodyear tires.
Kelly
Comes at a budget-friendly cost
Decent grip and traction in dry conditions
Offers reliable off-road tires
Reasonable warranty longevity
Decent tread lifespan
Offers good performance but not that great on wet and snowy roads
Goodyear
Decent grip and traction in wet conditions
Offers reliable off-road tires
Offers top-performing winter tires
Plenty of tire lineups and tire models to choose from
Reasonable warranty longevity
Decent tread lifespan
Popular Tires of Each Brand
Top 3 Kelly Tires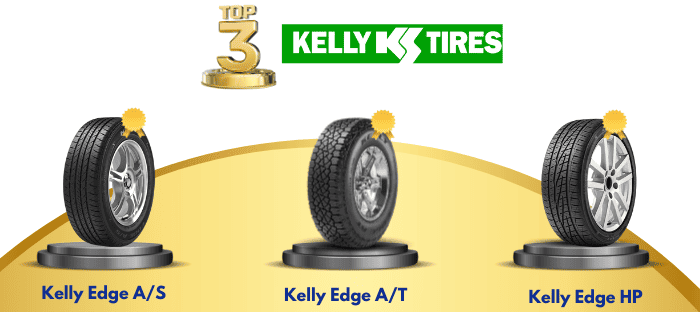 Budget-friendly all-season touring tire for drivers of compact SUVs, coupes, crossovers, and sedans who want good traction in both dry and wet highway conditions.
This long-lasting tire is developed for light trucks that prioritize traction and off-road performance. It comes at a budget-friendly price.
Another high-performing tire produced primarily for SUVs, coupes, and sedans to offer a pleasant driving experience, stable rides, great cornering, and decent grip along with sensitive steering on both dry and wet road conditions.
Top 3 Goodyear Tires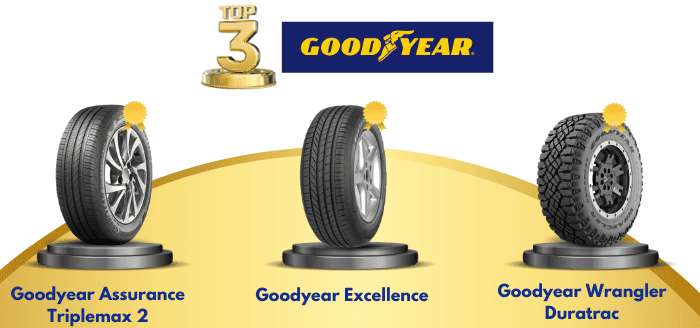 Goodyear Assurance Triplemax 2
Engineered to suit the driving needs of SUVs and passenger cars in the summer season with low noise and precise steering.
Goodyear's tire model that guarantees safe braking in wet and dry conditions with luxury performance.
Goodyear Wrangler Duratrac
Provides constant grip and flexibility even when driving off-road, manufactured for longevity.
Which is Better?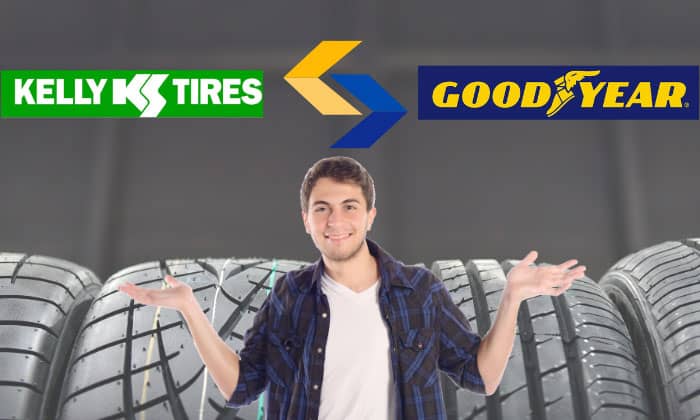 Deciding which one is better between Kelly vs Goodyear tires is subjective, meaning it differs according to one's personal priorities and driving needs.
For people who are currently on a budget and still want a high-quality tire with applaudable grip and traction when used on dry roads and off-road, Kelly tires may be a better pick compared to Goodyear.
But for those who are a fan of tires with excellent grip and traction output in wet conditions, plus top-performing features for winter and off-road use, Goodyear is preferable to Kelly tires.
At the end of the day, your tire, your decision.
Tips for Choosing a Suitable Tire for Your Car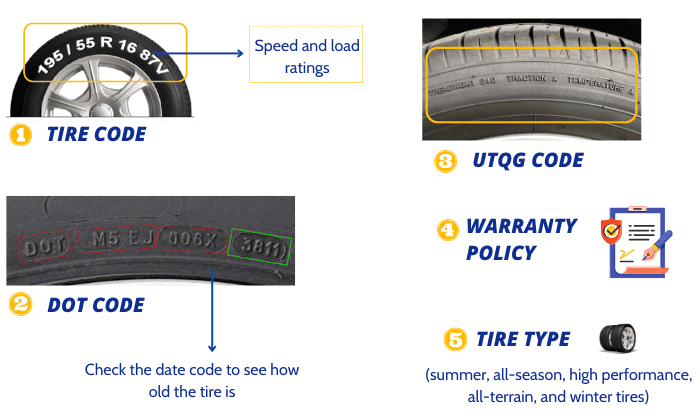 Before purchasing a tire model for your vehicle, you need to consider the following factors.
Tire code – Ensure the tire size matches your vehicle's requirement, including its speed and load ratings.
DOT code – Check the date code to see how old the tire is. It's best to get a tire no older than eighteen months.
UTQG code – The treadwear should be a bigger number, while the traction and temperature ratings should be A or AA for optimal performance.
Warranty policy – Manufacturers often offer a mileage warranty, a return and replacement policy for tread wear and defects, plus roadside or repair service in rarer cases.
Tire type – The common choices are summer, all-season, high performance, all-terrain, and winter tires. Consider your driving situation and what roads or weather you often come across.
Frequently Asked Questions
What is the lifespan of Kelly Tires?
Kelly tires can last for 40,000 miles and longer. Their longevity depends on the tire model you've purchased, your driving habits, and the quality of maintenance you apply to your wheels.
Can I mix Kelly and Goodyear tires on my car?
By default, just like it's not a good choice to mix tires with different sizes, tread designs, and interior structures, it's never advisable to mix different tire brands on your car, as this can negatively impact the handling and stability performance of your vehicle.
It's best and safe to replace all tires with identical ones to avoid problems in the future. But if your current model is unavailable, your last resort is to replace your tire with an almost similar one (but this is still not recommended).
Conclusion
That's the end of this Kelly vs Goodyear tires comparison chart and information. I hope this post provides enough information for you to fully compare these brands with one another.
One thing is for sure: Whatever tire you buy under any of these two companies will not lead you to disappointment.
Start now by reflecting on your specific driving needs, so you will be able to decide from which brand you will be purchasing your tires in no time.
It's my pleasure to help you through this article. Have a nice day!
---
Read next: