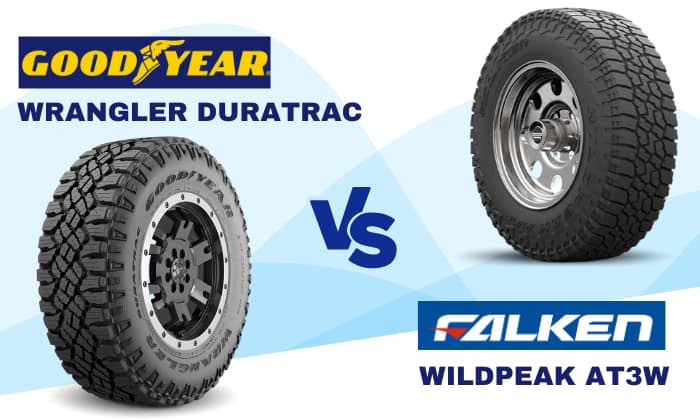 Are you looking for a tire model that is good for off-road use with outstanding winter performance to fit your SUV or truck? Then you might consider picking between Falken Wildpeak AT3W vs Goodyear Wrangler Duratrac, since both come with rugged tread designs to withstand winter and off-road elements.
Finish reading the entire article for more in-depth information about the performance, warranty, cost, pros and cons, and the differences between these Falken vs Goodyear tires.
Below are some attributes of the Duratrac vs Wildpeak to help you understand the technical sides of these two models.
| | | |
| --- | --- | --- |
| Attributes | Wildpeak AT3W | Wrangler Duratrac |
| Tire Brand | Falken | Goodyear |
| Tire Type | All-terrain | All-terrain |
| Width (in.) | 8.5 to 12.8 | 8.6 to 13.6 |
| Diameter (in.) | 27.7 to 36.5 | 28.9 to 36.5 |
| Measured Rim (in.) | 6 to 10 | 6 to 11 |
| Rim Range (in.) | 5.5 to 12 | 5.5 to 12 |
| Tread Depth (in.) | 12/32 to 20/32 | 14/32 to 18/32 |
| Highest Load Range | F | F |
| Max Load (lbs) | 1709 to 4080/3750 | 1985 to 4080/3750 |
| Max Inflation Pressure (PSI) | 35 to 83 | 35 to 80 |
| Weight (lbs) | 31.1 to 82.5 | 35 to 68 |
| Revs Per Mile | 569 to 764 | 572 to 724 |
About Falken Wildpeak AT3W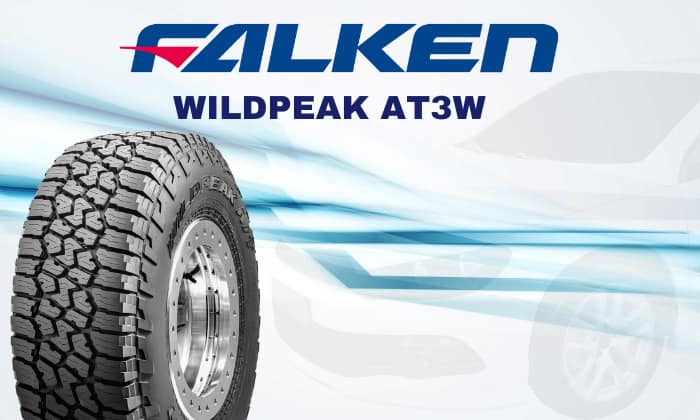 Falken's Wildpeak AT3W is made for vehicles like light trucks and SUVs and offers a decent on and off-road driving experience.
Its aggressive tread blocks allow for superb traction and handling when used in different weather and seasons.
The Falken Wildpeak AT3W is also certified with the Three-Peak Mountain Snowflake symbol, so this tire does not bring problems when driven in snowy road conditions.
It is perfect for those looking for a long-lasting option that can be used almost everywhere, as it can withstand even the harshest off-road elements, including gravel, sand, and rocks.
About Goodyear Wrangler Duratrac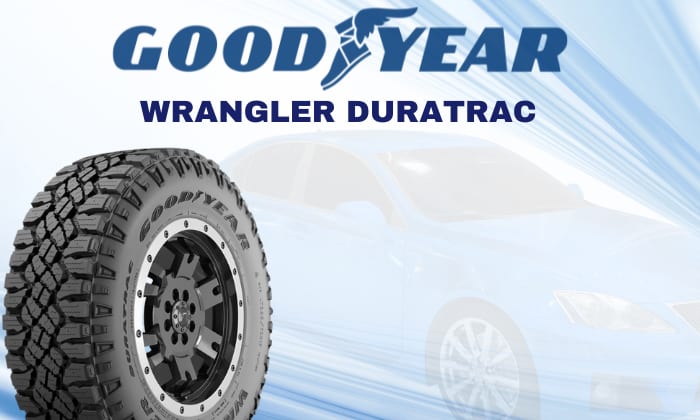 Under the Goodyear Wrangler lineup, Goodyear's Wrangler Duratrac is the brand's answer for SUV or light truck drivers who value exceptional all-season on and off-road performance.
This tire model is engineered with TractionGroove technology for impressive grip capabilities on different road conditions. This feature comes with a tough tread block pattern, which is perfect for towing purposes.
In addition, it has self-cleansing technology and is certified with the 3PMSF label, meaning that its winter performance is almost like a winter tire.
Differences
1. Performance
To compare the overall performance of the Falken Wildpeak AT3W vs Goodyear Duratrac, let's examine these two tire models in different driving conditions.
And to make it simpler, we'll label the Falken Wildpeak AT3W as Tire #1 and Goodyear Wrangler Duratrac as Tire #2. Let's get started!
In the dry category, there is only a slight difference in their performance, but it still matters. Both tires have great dry braking power, but tire #1 has a faster response than tire #2.
Moreover, tire #1 also outperformed tire #2 in slalom driving and lane changing. The Falken Wildpeak AT3W features better overall performance in dry conditions.
In the wet category, these tires also perform similarly well. Yet, tire #1 once again beats tire #2 as its wet braking distance is lower.
Moreover, the Falken Wildpeak AT3W features better aquaplaning resistance technology and wet-traction performance than the Goodyear Wrangler Duratrac due to its circumferential grooves and rectilinear siping.
Since both tires are 3PMS-rated, we can expect them to be above-average in winter conditions. In our opinion, both have excellent snow traction and braking powe But drivers should not expect them to handle deep, packed snow.
Being all-terrain tires, both of these options feature innovative technology to withstand off-road elements. However, Tire #2 showcases better traction capabilities on sand and mud terrains.
Both offer quality performance on rocky roads with their thick sidewalls.
Next on the list is their ride quality. Between the Duratrac of Goodyear vs Falken Wildpeak, the Duratrac has higher noise levels.
Tire #1, which is the Wildpeak, is proven to be more comfortable and quieter with noise and vibration reduction features.
Lastly, when comparing the durability of the two, Falken wins once more against Goodyear's Duratrac. Its silica tread compound comes out on top, giving the tire a UTQG treadwear score of up to 660, while its counterpart maxes out at 500.
2. Warranty
Goodyear is known to have longer warranted mileage with their products. But surprisingly, between the Falken Wildpeak AT3W vs Duratrac by Goodyear, the first mentioned tire wins this category.
With a warranty of 55,000 miles, the Wildpeak AT3W comes with better support than the Duratac, which has 50,000 miles in warranty.
3. Pricing
For the price category, we will be using three different tire sizes in order to compare the cost variation of the Goodyear Duratrac vs Falken Wildpeak AT3W.
Starting with size 265/75r16, you can have four Duratrac tires with this size for a price of $253.99, while the cost is $218.00 for the Wildpeak AT3W.
Meanwhile, four tires with the size of 265/70r17 cost $284.99 for the Duratrac and $273.00 for Wildpeak AT3W.
Another tire size is the 265/60r18, for which you can have the complete set in Goodyear Wrangler Duratrac for $281.99 and $269.00 for Falken Wildpeak AT3W.
These prices only indicate that Falken's Wildpeak AT3W is more pocket-friendly than Goodyear's Wrangler Duratrac.
4. Pros and Cons
Falken Wildpeak AT3W5
Comes at a more affordable price
Has a longer warranty mileage
Three-Peak Mountain Snowflake-rated
Impressive dry traction
Better dry and wet braking power
Better slalom and lane-changing performance
Excellent traction and braking power in snow
Good on rock terrains
More comfortable and quieter
More long-lasting
Not as impressive on mud and sand
Goodyear Wrangler Duratrac
Three-Peak Mountain Snowflake-rated
Impressive dry traction
Great traction and braking power in snow
Better in sandy conditions
Better in mud traction
Comes at a steeper price
Has shorter warranty mileage
Which Tire is Better?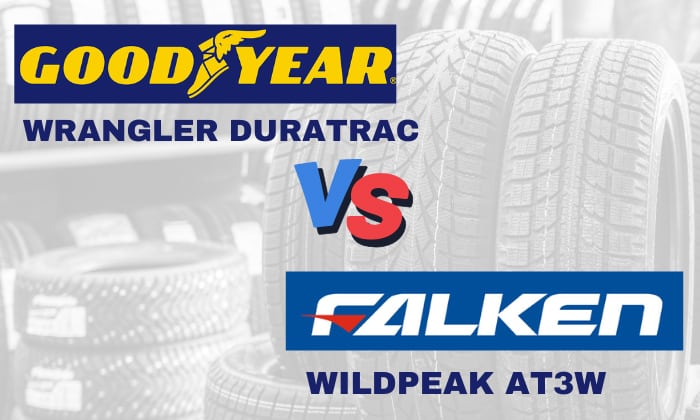 In summary, Falken Wildpeak AT3W and Goodyear Wrangler Duratrac both offer impressive performance with only slight differences. As a consumer, it is wise to understand what advantages each tire has compared to its opponent.
With Wildpeak, its strengths are durability, ride quality, braking power, slalom and lane changing, aquaplaning resistance, and traction on wet roads.
But this advantage does not mean that Duratrac does not possess those properties too. This is only an indication that Wildpeak is somehow better in those areas compared to Duratrac.
These numerous qualities might automatically tell you that Wildpeak is definitely better, but keep in mind that Duratrac is superior in terms of sand and mud traction.
Conclusion
Thank you for reaching the end of this article. We hope this post is able to provide enough insights about the Falken Wildpeak AT3W vs Goodyear Wrangler Duratrac.
This is a short comparison between two top-performing tires from two brilliant tire brands. You might like to compare more Falken tires vs Goodyear tires in the future.
We hope that at this very moment, you have already made your decision on what tire you are planning to purchase. Good luck!
Other tire reviews for off-road you can read: