As a vehicle owner, you should be careful in choosing the right tire for your car. Tires can improve or deteriorate the performance of your automobile, so consider purchasing from reliable brands that already proved themselves in the tire sector for decades.
This leads us to the Goodyear vs Hankook tires comparison. If you're picking between these brands, let's quickly learn about them in different aspects, including their history, performance, price, warranty, and lineups.
Comparison Table
Below are some highlighted differences between Hankook vs Goodyear tires.
| | | |
| --- | --- | --- |
| Characteristics | Goodyear | Hankook |
| Year Started | 1898 | 1941 |
| Country of Origin | US | South Korea |
| Number of Tire Lineup | 10 | 6 |
| Price | More expensive | Cheaper |
| Treadlife | 50,000 miles | 50,000 miles |
| Current Ranking | 5th place | 11th place |
About the Companies
1. Goodyear
Goodyear has been making tires in the business since 1898 and continues to do so now. It was developed by Charles Goodyear, and its first production plant was located in Akron, Ohio, US.
Bicycle tires were one of Goodyear's earliest offerings, since its founder created vulcanized rubber. This great invention caught Henry Ford's attention, the owner of Ford. After learning about Goodyear, he believed that this small tire manufacturer would be a suitable OEM for his automobile business.
This discovery allowed Goodyear to offer a variety of tires for vehicles of various sorts and sizes, making its name more popular around the globe. Goodyear is now ranked fifth in the world among tire brands and is going strong.
2. Hankook
Hankook has an interesting history of rebranding its name. Initially, 1941 was the year when Hankook started in the tire industry, and its first name was Chosun Daiya Industrial. The brand later on changed its name once again to Diaya Korea Co., Ltd. in 1953.
In 1962, this small company's products got their first recognition outside of their origin country, specifically in Pakistan. This remarkable year was followed by more business expansion, to the point that the company's net exports reached over 10 million USD in just 12 years.
From its first appearance as Chosun, it took 41 years before Hankook finally decided to rename itself as the tire brand we all know today. This was followed by years when Hankook managed to build multiple manufacturing plants and was entrusted to supply tires to different automobile brands.
Currently, Hankook is placed 11th in worldwide tire brand rankings.
Comparing Goodyear and Hankook Tires
Are Hankook tires good or bad? Does Goodyear have a better warranty policy? Read here to know more about these two tire brands.
1. Performance
Goodyear rarely disappoints drivers with the qualities of its premium tires, so expect its tires to be worth a purchase.
There are circumstances where Hankook tires have better performance than Goodyear tires, depending on what models we are going to compare. Ventus tires, for instance, may be quieter on the road than the Goodyear Eagle F1.
Still, the majority of Goodyear tires perform better than Hankook.
2. Price
Goodyear tire comparison to Hankook is a little bit predictive. Knowing that Goodyear is the more popular choice, we can expect that its tires cost higher than Hankook's.
To be more specific, Goodyear tires start at $61, while you can have a Hankook tire for as little as $53.
The tire cost of both brands vary depending on the model and the size you're going to purchase. But overall, Hankook is the cheaper one; its tires are better if you're on a budget.
3. Warranty
These two tire companies both have excellent warranties. Goodyear and Hankook both have a warranty length of up to 6 years, which cover any purchased tire with unexpected faults in materials and workmanship.
The only difference is their mileage guarantee. For Goodyear, it's up to 80,000 miles while for Hankook, it's up to 100,000 miles, which is obviously much longer than Goodyear's offer.
The two brands also share a Road Hazard warranty for up to 12 months after the date of purchase or when the product deteriorates to 2/32″ of treadwear.
Similarly, both Goodyear and Hankook tires have a standard tread lifespan of 50,000 miles.
4. Pros and Cons
In this portion, let's examine both Goodyer and Hankook tires when it comes to their advantages and disadvantages. This overview will help you decide which one is ideal for your driving needs and priorities.
Goodyear
Excellent warranty longevity
Delivers better performance
Extensive tire lineups and tire models to choose from
Usually comes at an expensive price
Hankook
Comes at a cheaper price
Longer mileage warranty
Excellent warranty longevity
Competitors have better tire performance.
5. Popular Tires of Each Brand
Both brands have different tire models, such as the Goodyear Reliant for Goodyear and Hankook New Englander 4S for Hankook.
Curious to know what top 4 models under each brand continuously receive positive reviews? Check out the best Hankook vs Goodyear tires based on consumer reports and garnered tire ratings.
Top 4 Goodyear Tires

Goodyear Assurance Triplemax 2
Goodyear's summer touring model that provides smooth rides and quick braking for SUV and passenger car drivers.
Puts emphasis on offering exceptional safety with high traction and temperature ratings.
Goodyear Wrangler Duratrac
4×4 vehicle drivers will enjoy responsive steering and low noise with this option.
Goodyear Assurance Maxlife
This tire comes with a long tread life span and provides excellent wet and dry traction. It is also very good in snow for an all-season option.
Top 3 Hankook Tires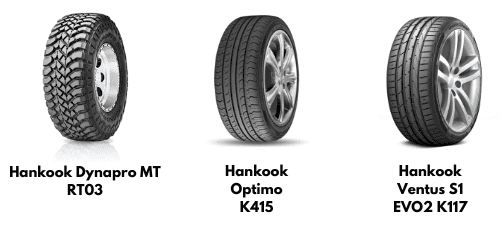 Produced mainly to provide excellent traction and pulling power on mud and gravel.
If you're into a pleasant driving experience, this tire model is among the best Hankook all season tires due to its low noise level.
Hankook Ventus S1 EVO2 K117
For drivers who value speed and performance above all, the Ventus S1 can offer just that.
Which is Better?
Answering this question is subjective, since the term "better" depends on your preferred characteristics of a tire.
Is Hankook a good tire brand? The answer is a resounding yes.
In fact, if you like cheap tires that still perform well with a longer mileage warranty, Hankook tires are worth considering.
But if you like tires that offer premium performance and are okay with spending additional money, go ahead and select from a wide variety of Goodyear tires.
Tips for Choosing a Suitable Tire for Your Car
The following are the things you need to consider when buying a new tire for your car:
1. Tire size, speed limit, and load rating
Cars often have factory tire sizes that drivers should stick to. Choosing different tire dimensions may affect your safety and comfort.
2. Tread life
See the expected mileage of the tire as well as any warranty the manufacturer offers for defects and repair.
3. Preferred tire features
These include attributes like run-flat technology and fuel conservation.
4. Suitable type of tire in specific driving conditions or seasons
For example, tires like the Hankook Kinergy ST and Goodyear Assurance Comfortdrive are designed to provide all-season traction without compromising their tread life span, making them suitable for wet and dry conditions.
Meanwhile, off-road drivers will be better off with an option like the Hankook Dynapro HP2 or Goodyear Wrangler All-terrain.
Frequently Asked Questions
How often should I replace my Goodyear or Hankook tires?
Goodyear suggests that tires made by its manufacturers must be changed after six years from the date when it was produced. On the other hand, Hankook suggests that ten years should be the maximum usage extent for its products.
It's advisable to always regularly check your tire condition and replace it right away when any damage is detected.
Are Goodyear and Hankook tires suitable for all types of vehicles?
Both Goodyear and Hankook offer tires that are fit for passenger cars, light trucks, and SUVs. However, you must bear in mind that tire size, vehicle type, speed limit, and load rating will affect whether your car can use a certain model.
How do I maintain the performance and longevity of my tires?
No matter what tire model or tire brand your vehicle has, do these simple acts to prevent deterioration and prolong the lifespan of your tires.
Regularly check the air pressure.
Rotate and balance tires every 5,000 miles.
Punctures more than 1/4 in. and treads worn below than 1/16 in. are above repair.
Replace tires with 2/32 in. of tread depth.
Conclusion
I hope this post provides you with a useful comparison of Goodyear vs Hankook tires. For many, Goodyear is the sure winner. For others, Hankook is their ideal pick. It's your turn to finally decide which among these two you like more.
At the end of the day, it's going to be all about your preference. Take your time to analyze both of these tire brands until you're ready to purchase a perfect option for your vehicle.
Read more: Michelin vs Hankook vs Goodyear: which is better?