When choosing the best tires, the companies that would always come to mind are arguably Michelin and Goodyear—both major players in the tire industry.
Both companies excel at making the best tires on the market, so let's compare their grand touring all-season contenders, the Goodyear Assurance Comfortdrive vs Michelin CrossClimate 2.
For us, the French tire showed absolute domination over its American counterpart. The Michelin CrossClimate 2 is superior in performance, especially in the snow.
However, depending on your area, the Goodyear Assurance Comfortdrive can be as good, if not better. Find out more below.
But first, let's look at these tires on a surface level and see how they compare.
Tire Line
Brand
Goodyear
Michelin
Tire Type
Grand Touring All-Season
Grand Touring All-Season
Compatible vehicles

Passenger cars
Minivans
SUV/Crossover

Luxury performance
Passenger cars
SUV/Crossover
Electric vehicles

Tire Sizes Available
44
89
Tire Diameter Range
16 to 20"
16 to 22"
Tread Depth
11/32"
10/32"
Width Range
8.2 – 10.4"
8.2-11.4"
Diameter Range
24.7 to 31"
24.9 to 32.1"
Max Load Range
1201-2271 lbs
1356-2601 lbs
3PMSF
No
Yes
Warranty
60,000 miles
60,000 miles
Price
Starts at $146.99/tire
Starts at $171.96/tire
What Are They?
1. Goodyear Assurance Comfortdrive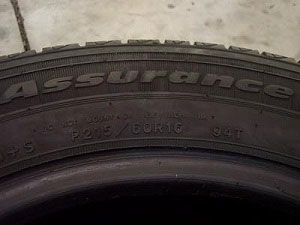 The Assurance Comfortdrive comes from the Goodyear all season tire catalog. It's a grand touring all-season tire, so it excels in handling and is proficient in all weather conditions, especially on wet surfaces and light snow.
It is equipped with precision symmetric AquaChannel grooves, allowing it to expel water efficiently—giving you the confidence you need when driving on wet roads.
Moreover, the addition of Evolving Traction Grooves with TredLock Technology and soybean oil compound substantially improves traction, whether on asphalt, gravel, or stone.
As a touring tire, ride quality is a must-have, and the Goodyear Assurance Comfortdrive has you covered with ComfortFlex Technology. This allows the tire to provide silky-smooth driving, absorbing impacts from bumps and potholes.
The Comfortdrive also comes with a 60,000-mileage warranty. This number is not exceptional for a tire, especially if compared to the Goodyear Assurance MaxLife with its massive 85,000 miles coverage. However, it's certainly above-average.
While the Goodyear Assurance Comfortdrive is an excellent choice, it doesn't come without its fair share of caveats. Arguably, its most glaring issue is that it doesn't have a 3PMSF rating, unlike its other cousin, the Goodyear Assurance WeatherReady, rated for heavy snow.
This can be problematic, especially if you frequently traverse through ice. It also means you need to have spare winter tires ready.
Nevertheless, if you want a reliable touring tire that provides comfort to a tee, then the Goodyear Assurance Comfortdrive is fantastic.
Now, let's check out its French counterpart.
2. Michelin CrossClimate 2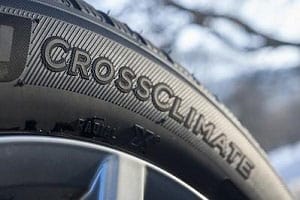 Michelin CrossClimate 2 is the successor of the CrossClimate Plus, and is one of Michelin's most recent tire innovations along with the Michelin Defender 2.
Right off the bat, the thing that sets the CrossClimate 2 apart from the competition is its 3PMSF rating, which gives it the ability to handle heavy snow and ice, essentially making it a nice alternative to winter tires.
This 3PMSF rating also sets it apart from other touring all-season models from Michelin itself, like the Michelin Primacy Tour A/S.
Aside from snow, it also performs tremendously well on dry and wet roads. It lives up to its name as an all-season tire with a thermal adaptive compound that responds to rapid temperature and weather changes.
Aquaplaning resistance is handled well by the CrossClimate 2, thanks to its V-shape grooves, which effectively eject water in a cinch. Meanwhile, V-ramp tread blocks provide excellent ground cover, allowing users to stop vehicles swiftly.
As for comfort, Michelin made efforts to mitigate road noise, fitting the tire with its PIANO noise reduction technology, making long drives relatively peaceful and comfortable.
Now, on to the differences.
Compare Goodyear tires to Michelin – Assurance Comfortdrive vs Crossclimate2
When comparing Goodyear tires to Michelin, the differences are often very few, as both are tier-1 brands. However, in this section, the disparity between these two tires can be apparent—especially regarding snow performance.
Results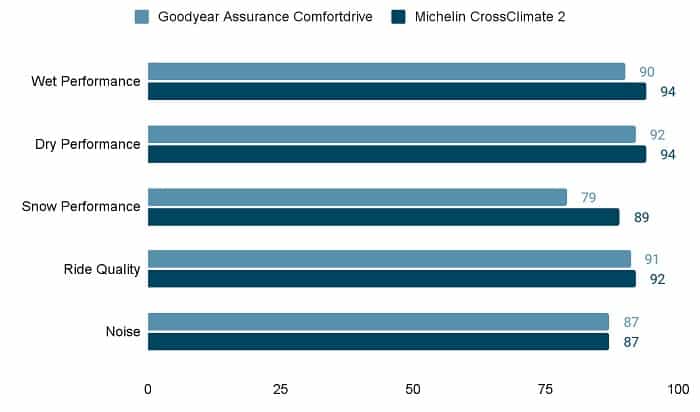 1. Wet Performance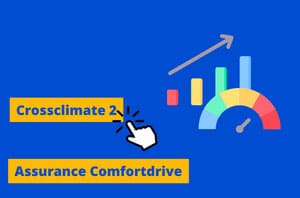 As expected from premium all-season tires, the wet performance from both models was exceptional. However, the aquaplaning resistance was more evident with the Michelin CrossClimate 2.
Don't get me wrong. The Goodyear Assurance Comfortdrive was definitely not a bad tire. In fact, its wet traction was tight on highways at moderate speeds, but then again, the Michelin CrossClimate 2 still edges it out by a hair.
2. Dry Performance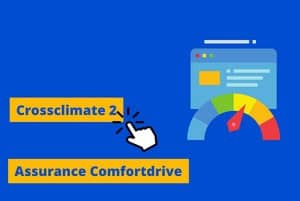 Similar to our wet performance test, both tires handled dry roads amazingly. Cornering, traction, and steering response were superb, and we didn't feel much of a difference. But some users from Reddit felt that the CrossClimate 2 was slightly better in braking.
3. Snow Performance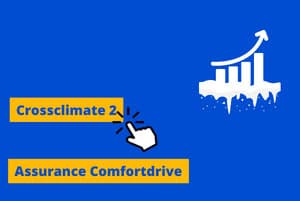 There was a major contrast when it came to snow. While the Assurance Comfordrive's performance on light snow was respectable, it struggled with heavier weather conditions due to its lack of a 3PMSF rating.
4. Comfort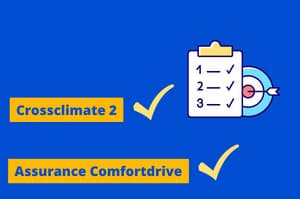 For comfort, we combined ride quality and noise reduction. And it was clear that there was virtually no difference between both tires.
The ComfortFlex from the Goodyear Assurance did a magnificent job suppressing bumps, while Michelin CrossClimate 2's PIANO technology made it very quiet.
5. Price and Warranty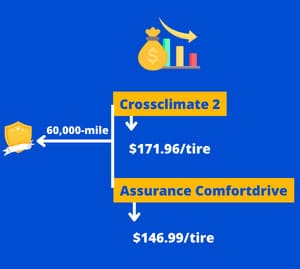 Price can fluctuate for tires, as it heavily depends on sizes. But if you want ballpark numbers, the Michelin CrossClimate 2 starts at $171.96/tire, while the Goodyear Assurance ComfortDrive begins at $146.99/tire.
For warranty, both tires have a 60,000-mile treadwear policy.
Pros and Cons
Goodyear Assurance Comfortdrive
Excellent wet and dry performance
Very comfortable
Cheaper than the Michelin CrossClimate 2
Michelin CrossClimate 2
Excellent performance in any weather
3PMSF rating
Very quiet
Frequently Asked Questions (FAQs)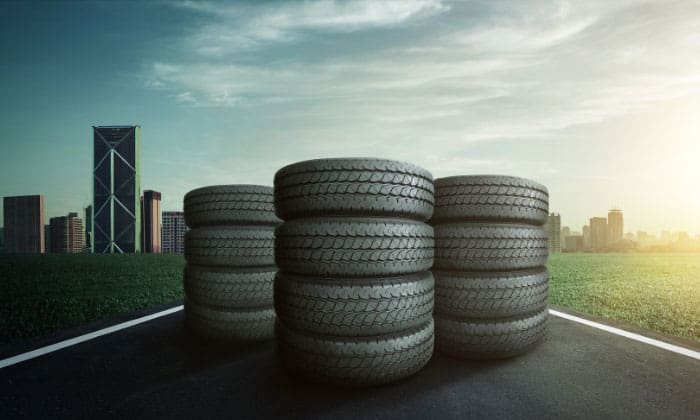 Are Goodyear Assurance ComfortDrive good in snow?
It depends. Light snow should not be a problem, but its lack of a 3PMSF rating definitely makes it struggle when it comes to harsher weather.
What is the difference between Goodyear Weatherready vs Michelin CrossClimate 2?
Both tires have a 3PMSF rating, so expect excellent performance come winter. The CrossClimate 2 is better for snowy and dry roads, while the WeatherReady is better on ice and rain.
Is the Pirelli Cinturato P7 a good tire?
Yes. The Cinturato is a reasonably decent and reliable tire. Pirelli dubs it a "green tire" due to its low rolling resistance, which enhances fuel efficiency and reduces CO2 emissions. It's also cheaper than most premium performance tires, starting at $115.97/tire.
Conclusion
I hope we've shed some light on this Goodyear Assurance Comfortdrive vs Michelin CrossClimate 2 comparison. The CrossClimate 2 takes the cake mainly due to its ability to handle heavy snow.
That said, the Goodyear Assurance Comfortdrive is also an excellent tire. It's also much cheaper than the CrossClimate 2, so if you're in an area where it doesn't snow, the ComfortDrive is the much better choice.
Related: