If you're wondering how long do Goodyear tires last, you've come to the right place. Join us as we discuss how durable these tires are and if they're worth the investment. And right off the bat, Goodyear tires last depending on which tire and how you use them. Moreover, you also need to consider other factors like usage and maintenance.
In any case, a Goodtire year should not be in service for more than 6 years. Within this timespan, they should be able to cover at least 45,000 to 65,000 miles. For more information, read on to find out more!
How to Know How Long Tires Last?
Before we get into the different types of Goodyear tires, we should first learn how to get an idea as to how long are tires good for. Firstly, you should check a tire's UTQG rating, specifically the tire's tread wear value (the numbered value on a UTQG rating).
UTQG is a system made by the Department of Transportation that's used to compare tires. It rates tires based on how many years they can last and their traction. For instance, a UTQG of 300 AB means that a tire lasts thrice as long as the government's minimum standard of 100.
Next, you should also look at the tire's warranty. Brands give out a manufacturer warranty to give drivers an idea as to how many miles their tires would last. Usually counted by distance, the higher the tire's warranty, the longer it endures.
Other warranty types also don't rely on mileage at all. For instance, some check tire damage in a given lifespan. If you have this type of warranty, cracking or punctures are the things a manufacturer looks out for.
Lastly, look for tire reviews and consumer reports. If you don't want to rely on theory alone to gauge tire lifespan, you can always check for reviews on forums and sites on their experience with a certain tire.
Different Types of Goodyear Tires?
As mentioned above, there are many types of Goodyear Tires, all of which have a varied life expectancy and mileage rating.
As such, we've listed some of the most popular Goodyear tires and their user reviews so you'll have an idea of how soon you'll buy new tires and how often in the future.
1. Goodyear Eagle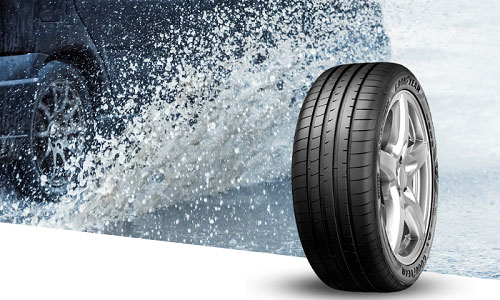 Goodyear Eagle tires are Goodyear's contribution to high-performance tires. They're premium tires that can easily handle wet and dry roads with tremendous grip and maneuverability. But most importantly, they're fast.
Here's a low-down on the tire lifespan of the most popular Goodyear Eagle tires.
Eagle Sport All-Season
UTQG – 560 A/A
Mileage Warranty – 50,000 miles
User review – Durable tire with great traction, long tread life, and excellent responsiveness.
Eagle F1 Asymmetric All-Season
UTQG – 500 A/A
Mileage Warranty – 45,000 miles
User review— Excellent handling and comfort, but wet traction and tread life can use some improvements.
2. Goodyear Wrangler
Wrangler tires are Goodyear's family of tires for light trucks. It's a very varied catalog with tires great for highways to off-road tires. They're usually all-terrain and all-season tires.
Some are even 3PMSF-rated, which means they can handle severe snow like the Goodyear Duratrac.
Here is the average life of tires in some variants of the Wrangler family.
Wrangler Fortitude HT
UTQG – 680/A/B
Mileage Warranty – 65,000 miles
User review – Superior traction and tread life, although the price is a little high.
Wrangler Duratrac
UTQG – 500/B/B
Mileage Warranty – 50,000 miles
User review – Excellent price and can last up to 65,000 miles.
3. Goodyear Assurance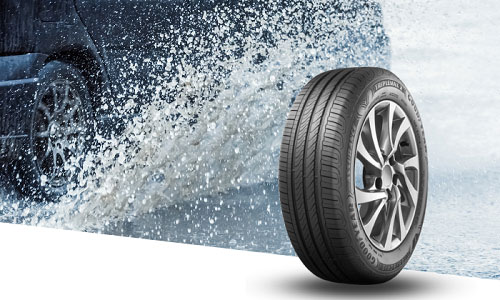 The Assurance line is a family of passenger tires by Goodyear which focus on comfort and fuel efficiency. They're all-season touring tires which gives them a lot of versatility across all sorts of weather conditions.
Goodyear's longest lasting tires are usually found on the Assurance line, like the Goodyear Assurance MaxLife, which boasts an 85,000-mile warranty.
Here's a summary of some of Assurance's tire age limits.
Assurance ComfortDrive
UTQG – 700/A/A
Mileage Warranty – 60,000 miles
User-review – Affordable tire with lasting control and responsiveness.
List item
List item
List item
Assurance All-Season
UTQG – 680/A/B
Mileage Warranty – 65,000 miles
User-review – Offers quiet ride with excellent handling around round corners.
4. Other Tires
The Goodyear Endurance is a special tire; it doesn't adhere to UTQG standards and doesn't have a fixed mileage warranty. Instead, the brand offers a 6-year warranty on the tire, indicating its long lifespan.
The Goodyear Reliant tires are Walmart-exclusives specifically made to provide a more budget-friendly version of the Goodyear Assurance. It's a reliable tire with a UTQG of 600 AA and a mileage warranty of 65,000.
How Do I Know When It's Time to Replace My Goodyear Tires?
When tread wear bars can be seen, it's time for new tires. You can see a mark on the sidewall to locate them.
Use your hands to feel around the tire's casing. If there are any bulges or cracks, you should replace the tire at once.
Measure tread depth with a gauge to make sure it meets the legal minimum of 2-3 mm.
When the tire loses its air at a too-quick pace, it's time to take it to the shop. In the best-case scenario, it may be a fixable puncture. However, be prepared that replacement is necessary.
Should your tires have been in service for over 6 years, consider replacing them entirely, regardless of whether they've reached their mileage.With that said, your tire may still be in good condition after this benchmark. It's simply that this is the brand's recommendation to ensure optimal driving.
Find the date code on the tire's sidewalls to learn its date of manufacture. If it's over 10 years old, replace it.
Factors Affecting Tire Longevity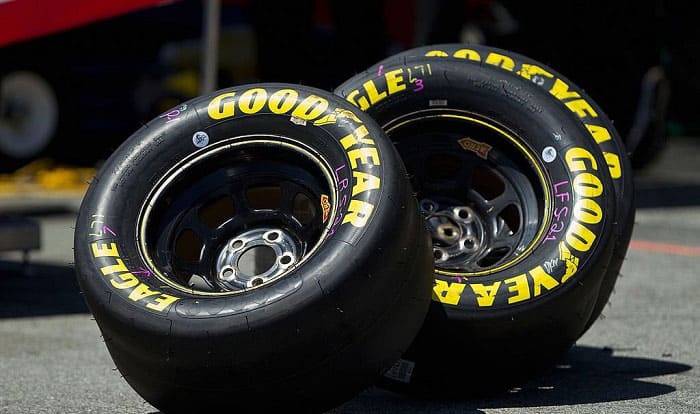 Proper match and installation – You should install the same types of tires to maintain balance and performance.
Tire pressure – Both under-inflating and over-inflating are detrimental to the life of a tire.
Loading capacity – Each tire has its own loading capacity, and a higher loading capacity usually signifies a lower life span.
Wheel alignment – Wheel alignment can be affected by various factors like reckless driving or damage to the suspension, which impacts the car's balance.
Car speed – Exceeding the speed limit specified for the tire can decrease a tire's lifespan.
Tire temperature – Heat is caused by friction when the tire moves. This can wear and even puncture the rubber material, leading to damaged tires.
Road conditions – Bumpy roads will wear out your tire faster than a smooth and even road.
Driving habits – Driving habits like sharp steering and high-speed driving on bad roads can wear out the tire faster.
Rotation – Failing to rotate the tire every 5000 to 7000 miles will result in uneven wear. This will lead to poor traction, an increased likelihood of punctures, and lower lifespan.
Old tires – All tires have a date code, and tires manufactured long ago might have natural wear and tear due to their old tire lifetime.
The Goodyear tire date code is found on the sidewall. It's composed of 4 numbers, the first two indicate the week it was made, while the last two indicate the year.
Tips for Maximizing Tire Lifespan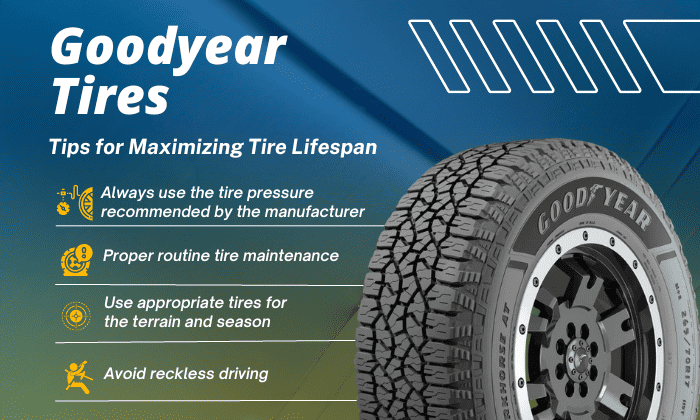 Always use the tire pressure recommended by the manufacturer.
Always do proper routine tire maintenance like rotations, alignments, and balancing.
Use proper tires for the terrain and season. For instance, touring tires are not meant for rough terrains, so driving these tires on such roads can result in reduced traction and increased wear.
Avoid reckless driving.
Goodyear Tires vs. Other Brands
Goodyear is a premium tire brand among trusted, popular brands like Michelin or Bridgestone. As such, it's very hard to compare these tires since they all have something to offer.
However, if you're to draw a rough estimate, Bridgestone and Michelin tires can last around 40,000 to 80,000 miles—quite longer than most Goodyear's products. Similarly, tires from the premium Continental brand should persist for 40,000 to 80,000 miles.
Pirelli, another premium tire brand in the US, offers wheels that can cover at least 40,000 to 60,000 miles.
Conclusion
Now that you've got an idea of how long do Goodyear tires last and how to maintain them, you'll be driving your new set of Goodyear tires with utmost confidence and safety.
Remember that the type of tires matters, and how you care for them can make or break your personal experience as to how durable these tires can get. And don't forget to follow our simple tips to save time and money.