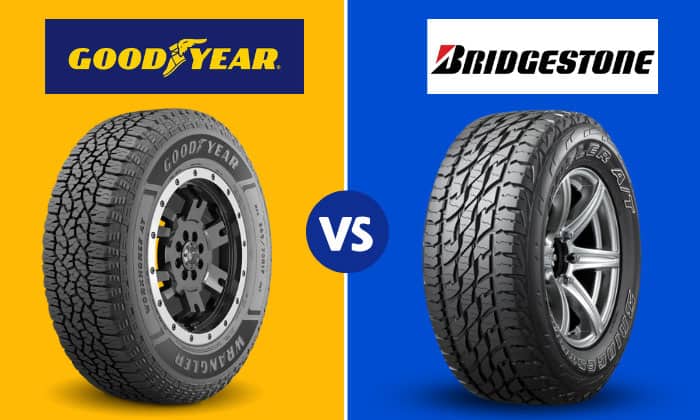 There's no doubt that premium tires are worth it. However, deciding which is better for your driving needs can often be hard. And one of the most difficult brands to choose from is Goodyear and Bridgestone—mainly because they're too good.
So, we've done some digging ourselves and created this Goodyear vs Bridgestone Tires comparison to help you out. Let's dive deep and explore these legendary brands' history, differences, and the best tires in their catalogs.
Can American muscle beat this Japanese giant? It's East vs. West once again! Let's find out.
Goodyear
Bridgestone
Country of Origin
The United States
Japan
Short description
America's leading tire company, founded in 1898. Also owns Dunlop and Kelly tires.
Japanese tire company, founded in 1931. Considered the world's second-largest tire company
Tires Manufactured

Trucks
Trailer
Crossover/SUV
Passenger Cars

Passenger
Aircraft
Motorcycle
Off-road
Commercial

Parent
Stand-alone
Stand-alone
Tier and Price Range

Premium (Tier 1)
Expensive

Premium (Tier 1)
Expensive
History
1. Goodyear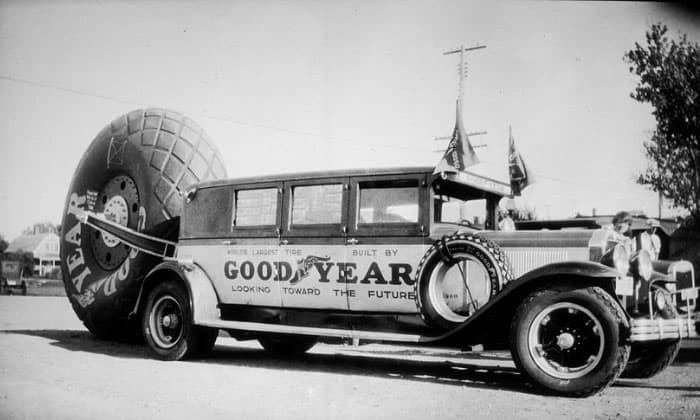 Goodyear is an Ohio-based rubber company established in 1898, which initially focused on producing items like bicycle and carriage tires and other rubber goods. In 1899, their venture into automobile tires began.
Despite facing financial challenges in 1920, the company managed to recover and actively supported the United States military during the second world war. And in 1956, Goodyear expanded its operations to the racing industry and achieved notable success.
Over the years, Goodyear introduced innovations such as all-season and high-performance tires, along with technologies like Seal Tech and Sound Comfort.
Through a strategic alliance with Sumitomo Rubbers worth 1 billion dollars, Goodyear emerged as the world's largest tire company by the end of the 20th century. It was also during this time that the brand expanded its business to Asia.
Today, Goodyear continues to be a prominent tire manufacturer celebrated for their renowned models like the Goodyear Wrangler, Eagle, and Assurance.
2. Bridgestone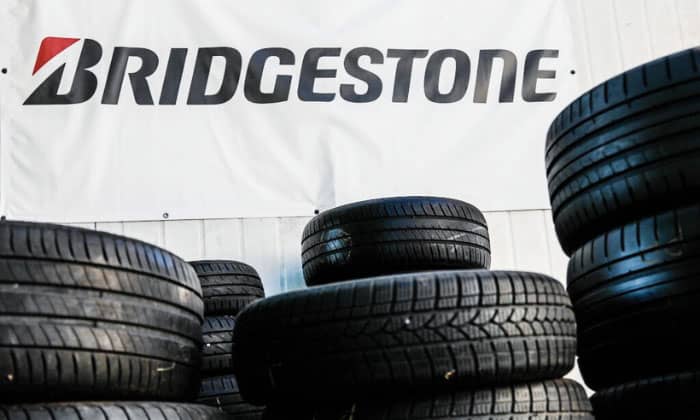 The first Bridgestone was made on April 9th, 1930—one year before the brand's official founding. It was not until March 1st, 1931, that Shojiro Ishibashi founded the company and named it The Bridgestone Tire Co., Ltd.
Although Ishibashi's previous profession was as a rubber-soled tabi merchant, he recognized the potential of manufacturing tires. Thanks to his large wealth and intensive research, he quickly rose to fame within the tire industry.
Today, Bridgestone stands as one of the world's largest tire companies, making state-of-the-art tires, such as the Bridgestone Weatherpeak, Ecopia, and Dueler. Shojiro Ishibashi, was even inducted into the Automotive Hall of Fame in 2006.
Read more: Bridgestone vs Michelin tires: Which is better?
Differences
Making a Goodyear vs Bridgestone tire comparison is hard—mainly because both brands offer premium products with varied priorities.
However, we'll do our best and pick the best product line in each category according to tire ratings, tire's quality, and price.
1. Dry performance
When it comes to dry performance, summer tires are undoubtedly the best choice. So, we compared the Goodyear Eagle F1 Asymmetric 6 versus the Bridgestone Potenza Sport. And right off the bat, both tires were superb, from dry braking to handling.
However, depending on your driving needs, each tire one-ups the other in different aspects, albeit marginally. If you need slightly better dry handling, go for the Potenza Sport, but if traction and braking are more your fancy, the Goodyear Eagle F1 Asymmetric 6 is better.
2. Wet Performance
For wet performance, grand all-season touring tires are king. So, we've decided to go with the popular Turanza Quiettrack from Bridgestone Tires' all season touring tire and the Goodyear Assurance Comfortdrive. And as expected, the difference was relatively negligible.
However, when it came to hydroplaning resistance, the Goodyear Assurance Comfortdrive's AquaChannel Grooves and large, lateral notches were better at expelling water than the Turanza Quiettrack's rounded contact patch.
3. Winter Performance
For this category, we've decided to go with the Goodyear WinterCommand Ultra and the Bridgestone Blizzak WS90. Both these winter tires were able to get the job done and were amazing on snow and ice.
However, these two product lines were specialized on different fronts. For instance, if you want to go fast on snow and ice, Goodyear's WinterCommand Ultra accelerates much faster.
Meanwhile, if you're more concerned with safety, the Bridgestone Blizzak's braking and handling on winter roads was tight and more confidence-inducing.
Additionally, the brands also offer all-season tires with winter capabilities, like the Goodyear Weatherready and the Bridgestone Weatherpeak. In this case, the latter was better on snow and ice, despite both featuring a 3PMSF rating.
4. Comfort
For some people, performance isn't everything. Sometimes, comfort can make or break a car owner's driving experience. And what better way to compare a tire's comfort abilities than with touring tires?
So, we'll be going to the popular touring tires from both brands, the Goodyear Assurance Comfortdrive and the Bridgestone Turanza Quiettrack. And true to their names, you're sure to have a silky smooth driving experience on either of the products.
However, when it came to suppressing noise, the Bridgestone Turanza Quiettrack's combination of QuietTrack Technology and optimized pitch sequencing gave it an edge over the Goodyear Assurance Comfortdrive.
5. Cost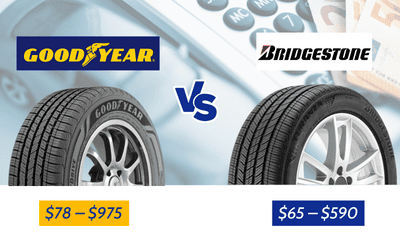 Since these brands offer premium tires, expect premium tire prices. To be specific, Goodyear tires range from $78 – $975, while Bridgestone can set you back at around $65 – $590.
Pros and Cons
Goodyear
Better dry handling and wet braking
Better acceleration in snow and ice
Comfortable
Bridgestone
Better winter handling and braking
Better traction and dry braking
Comfortable
Slightly worse wet performance
Popular Tires for Each Brand
Goodyear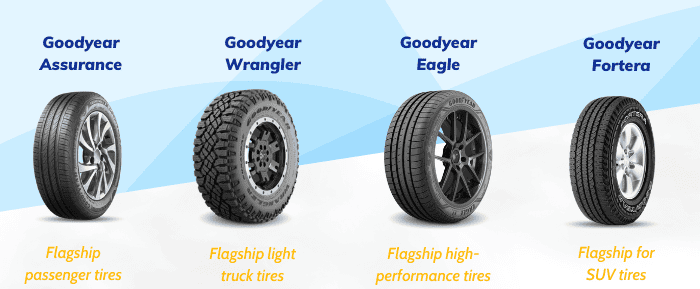 Goodyear Assurance – Flagship passenger tires
Goodyear Wrangler – Flagship light truck tires
Goodyear Eagle – Flagship high-performance tires
Goodyear Fortera – Flagship for SUV tires
Bridgestone
Bridgestone Potenza – Flagship high-performance/summer tires
Bridgestone Dueler – Flagship light truck tires
Bridgestone Ecopia – Fuel efficient tires
Bridgestone Turanza – Flagship touring tire
Bridgestone Alenza – Luxury all-season tires
Which is Better?
Judging from our performance tests, there's no clear winner when it comes to this Bridgestone vs Goodyear tire comparison. However, you can make a more informed choice based on your driving needs, as these tire brands specialize in different categories.
What Should I Choose?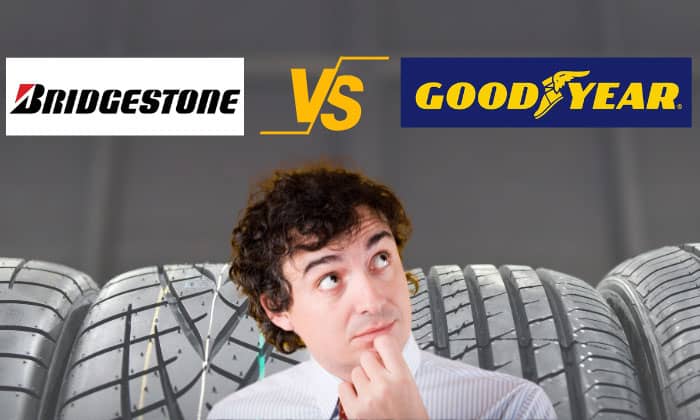 If you want superior wet performance or faster speed, Goodyear's product lines would be a better choice. That said, go for Bridgestone if you prefer better dry and winter handling.
It's also worth noting that Goodyear tires are more expensive than Bridgestone, so consider this factor if you're on a budget. Also, if you're picky about where your tires are made, Goodyear tires are from America, while Bridgestone tires are from Japan.
However, Goodyear and Bridgestone also have tires made where manufacturing costs are cheaper, such as in China.
FAQs
How often should I rotate my Goodyear or Bridgestone tires?
Tire rotations typically depend on how you drive your vehicle and how frequently you use them. But if you want more specifics, Goodyear recommends tire rotations every six months or 9,700 miles, while Bridgestone advises doing so every 5,000 miles.
Can I mix Goodyear and Bridgestone tires on my vehicle?
Technically yes. But, it's strongly recommended that you don't mix tire brands and products with different tread patterns, as it might compromise the safety and performance of your vehicle. If you're really keen on doing so, it's best to consult a tire specialist first.
Is Goodyear a good tire brand?
Yes. Goodyear has been making tires for over a hundred years now and is one of the best out there. In fact, they're renowned for their extensive range of durable and high-quality tires, earning them a strong reputation in the industry.
Conclusion
I hope we've shed some insightful knowledge on this Goodyear vs Bridgestone Tires comparison. And it's clear that no brand is inherently better than the other, as each has something that makes them stand out.
Albeit their relative price difference, both tires offer premium quality products that surely won't disappoint, whatever the situation. So, which one would you choose? Comment below and let us know!