Midrange and budget tire brands are starting to get more attention from consumers. Companies like Hankook Tires, Kumho Tires, and Hercules Tires bring a lot to the table including dependable performance and good warranty for lower costs than premium.
In this Hercules Tires vs Michelin comparison, we will determine which brand has better offers. The former aims to provide quality tires at an affordable price. In contrast, the latter wants to make the finest tires and present a complete package to their customers.
Category
Performance
High customer ratings
Top-level traction and handling
Durability
Competitive treadwear ratings
Top-level tread life
Variety
Michelin offers a wider range of tires
Warranty
Up to 85,000 miles
Up to 80,000 miles
What to Know About Hercules Tires?
Before discussing their products, let us first know some company history of Hercules Tires. It was in 1952 when Hercules Tires and Rubber Company was founded. In 1960, they formed a partnership with Cooper Tires, which manufactures tires for their company.
Since then, the company has consistently demonstrated a desire for innovation, which has led to increased popularity. Many customers think Hercules Tires is a good brand to buy because their products are less expensive than most high-quality brands and have long mileage warranties.
What to Know About Michelin?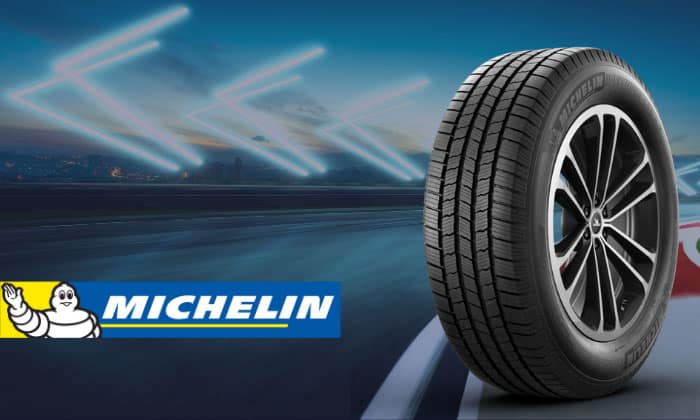 Michelin is one of the giants today in the tire industry. Based on the 2021 revenues of tire companies, Michelin surpasses long-time leader Bridgestone to become the largest tire manufacturer for the year.
Upon being founded in 1989, the Michelin Group invented multiple notable tire designs. Michelin began by making bicycle tires, and in 1891, they invented the first detachable tire. After a couple of years, they also made tires for automobiles which greatly contributed to the car industry.
Differences Between Hercules Tires and Michelin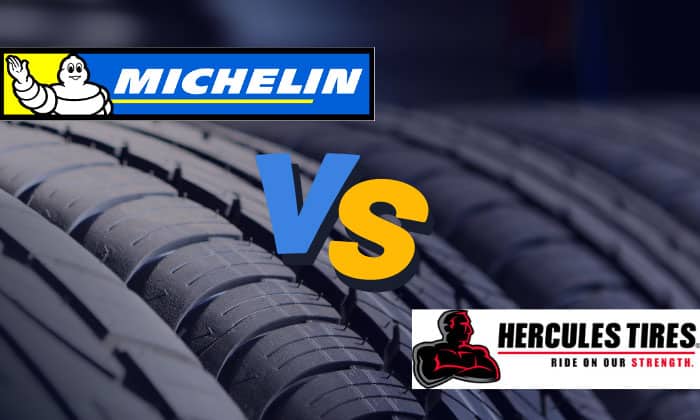 To have a better idea of how these two brands differ, let us make a comparison based on different categories such as performance, durability, variety, warranty, and cost.
1. Performance
Michelin has several tires that give emphasis to performance.
If you want sportier handling and extreme grip, you can try the Pilot Sport 4S which is currently ranked 1 in Tire Rack's customer tire ratings.
They also have tires that are perfect for practical driving like the Defender T+H and Crossclimate 2. These are popular all-season tires that give high traction levels while ensuring quietness and ride comfort.
On the other hand, the tire performance of Hercules Tires is also good.
Although Hercule tires are not on the same level as Michelin, you are still getting more for your money. Hercules Tires ratings are also high which means that they are achieving great customer satisfaction.
For instance, the Terra Trac HPT, aka Hercules HPT tire has a 4.8 stars rating on the Hercules website. It received its highest scores in dry traction, hydroplaning resistance, comfort, quietness, and steering response.
A brand like Michelin is hard to beat in terms of performance. This part of the Hercules vs Michelin tires comparison revealed numerous benefits of using the latter's designs and innovations. This makes it an excellent choice if you are not much worried about the costs.
2. Durability
If you ever used any of the products of these two brands, you will notice that they give priority to durability.
Despite being a budget brand, Hercules Tires provides its customers with long-lasting products.
The treadwear ratings of Hercules Tires are above the market average of 300 to 500. Some of their tires even reach up to a grade of 800 which competes with the bigger brands.
For example, the Roadtour 855 SPE with a T-speed rating has a UTQG rating of 780 A A, which is just slightly lower than the treadwear rating of Defender LTX M/S with 800 A A in the same speed rating.
Michelin also has a couple of long-lasting tires.
Consumer Reports testing revealed that the Defender T+H could last up to 90,000 miles. Another Defender tire, namely the Defender 2, also has an impressive estimated tread life of 94,400 miles according to Michelin.
You could also look for other suitable alternatives from other manufacturers. Aside from Hercules, you could try Toyo Tires, which are well-known for their tough off-road tires.
3. Variety
Michelin has a wide set of tire families which caters to different vehicle types and usages. Hercules also has a good range of tires but is far from the number of designs that Michelin has.
For performance tires, Michelin offers the Pilot Sport. Touring and highway tires include Premier, Primacy, Crossclimate, and Defender. LTX tires for light trucks. Winter tires include Alpin and X-Ice. This just goes to show that Michelin covers almost every tire category and that you have a lot of options.
For Hercules Tires, they have the Roadtour, Avalanche, Terra Trac, Raptis, and H/P. These tire families also cover different tire categories such as performance, passenger, SUV/CUV, light trucks, and winter.
4. Warranty
Hercules is one of those brands which gives long mileage warranties. This is one of the reasons why most of their customers are satisfied with their services and products.
When comparing Hercules to Michelin, the former has a slight advantage because their tires come with warranties of up to 85,000 miles, whereas the latter only offers warranties of up to 80,000 miles.
Aside from Michelin, Hercules' warranty offers also compete with those of other larger brands. When comparing Hercules Tires vs Cooper, you will notice that Hercules has a better warranty because Cooper Tires are only guaranteed for 50,000 to 80,000 miles.
5. Cost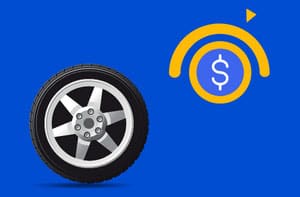 In terms of cost, Hercules Tires manufactures more affordable products than Michelin. However, both brands offer excellent value to their respective target markets. Here are the tire prices for some of their popular designs.
Hercules Tires
Terra Trac A/T II: starts at about $120
H/P 4000: $138-$223
Avalanche RT: $87-$173
Power ST2: $83-$188
Michelin Tires
Pilot Sport 4S: $238-$632
Crossclimate 2: $172-$343
Defender T+H: $145-$212
Defender LTX M/S: $155-$316
These prices may still vary depending on the tire shop you visit.
Hercules Tires
Long tread life warranties
Very affordable price
Good customer ratings
Durable
Overall performance is not on par with premium brands
Michelin Tires
One of the top brands in the industry
Wide selection of tires
High level of performance
Highly durable
Frequently Asked Questions
Which is better: Goodyear Tires vs Michelin Tires?
Goodyear and Michelin are two premium brands that produce the best tires in the market. It is hard to distinguish which is better between the two as their designs and technologies have their advantages over the other.
Michelin has some of the highest-rated performance tires with their Pilot Sport tire line. On the other hand, Goodyear has better options when it comes to off-roading with its all-terrain and mud-terrain designs.
Which is better: General Tire vs Michelin?
General Tire is another brand that provides excellent value to its customers through its affordable designs. Although Michelin is still superior in terms of performance and tread life, its products remain viable options in the market, particularly for those looking to save some money.
Is Hercules Tire owned by Cooper?
Hercules Tires is not owned by Cooper. However, Cooper Tires is the one that produces Hercules products as part of their partnership which began in 1960.
Who is Hercules Tire owned by?
Hercules Tires is owned by American Tire Distributors, Inc, which is a major supplier of tires in North America.
Conclusion
I hope that this Hercules Tires vs Michelin review has helped you in buying your next tires. Without a doubt, these two brands could meet our driving needs in different areas such as performance and durability.
Michelin is an excellent brand to consider if you are willing to spend more money and want high-performing tires that will last a long time. If you want cheaper but dependable tires, then go with the Hercules Tires. They are guaranteed with mileages that are above market average so you won't be disappointed.
Explore the comprehensive comparisons between tire brands, click the following articles to learn more: