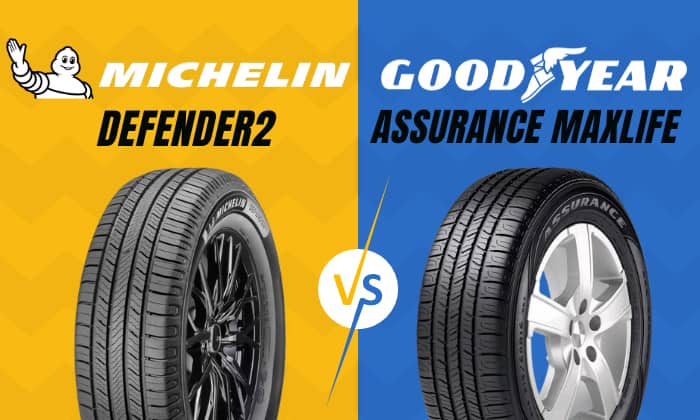 Goodyear Assurance vs Michelin Defender tires gets a lot of attention nowadays as these are two top-quality all-season touring tire lines from two excellent brands.
For this guide, we are going to explore the major differences between the Assurance Maxlife and Defender2, two well-rounded designs from these tire lines.
Comparing Goodyear Assurance Maxlife vs Michelin Defender2, the Assurance Maxlife provides more dependable traction on wet surfaces, while the Defender2 has a dominant lead when it comes to tread life.
| | | |
| --- | --- | --- |
| Specifications | Assurance Maxlife | Defender2 |
| Brand | Goodyear | Michelin |
| Tire Type | All-season Touring | All-season Touring |
| Usage | Highway | Highway |
| 3PMSFR | No | No |
| Tested Size | 215/55R17 | 215/55R17 |
| Tread Depth | 11/32″ | 10.5/32″ |
| Section Width | 8.9″ | 8.9″ |
| Diameter | 26.3 | 26.4″ |
| Rim Range | 6-7.5″ | 6-7.5″ |
| Max Inflation Pressure | 51 psi | 51 psi |
| Max Load | 1,477 lbs | 1,477 lbs |
| Tire Weight | 23 lbs | 25 lbs |
| Revs/Mile | 795 | 791 |
| Price | $184 | $199 |
Overview of Goodyear Assurance Maxlife and Michelin Defender2
1. Goodyear Assurance Maxlife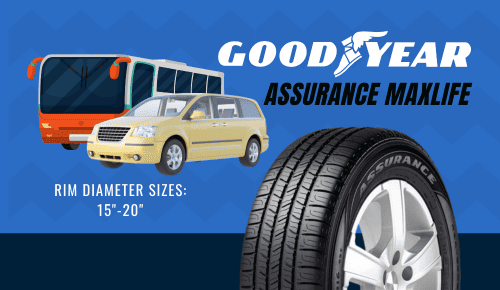 The Assurance Maxlife is a popular tire model for passenger cars and minivans. Finding a size that will fit your vehicle is not going to be a problem as it is available in 15″-20″ rim diameter sizes.
This tire was designed by Goodyear to be dependable in a variety of weather conditions. They made it possible by combining multiple sipes, circumferential grooves, and an all-season compound that improves overall grip.
2. Michelin Defender2
The Defender2 is an M+S-rated all-season tire made for passenger cars and SUVs. It features a symmetric tread design and an all-season compound that can get you through different weather conditions.
The internal structure promotes the tire's durability while keeping a good level of ride comfort. It also has two steel belts reinforced with a polyamide cap ply, which improves its stability.
Differences Between Assurance Maxlife and Defender2
1. Dry
Both of the tires from Goodyear and Michelin are made with high-quality materials and technology, so you can expect excellent dry-surface handling and braking.
The braking performance of the Assurance Maxlife and Defender2 is very close, with the latter getting a slight edge. However, their stopping distances from going 50 mph are equal, with both reaching 92.40 feet.
In terms of dry handling, the Assurance Maxlife gives a steady and weighty feeling, while the Defender2 provides a light but accurate response.
Overall, both the Assurance Maxlife and Defender2 are excellent when it comes to dry performance. I'll give these tires a tie in this category because their results are nearly identical. The Defender2 has a slight advantage in braking, while the Assurance Maxlife has a slight edge in handling.
2. Wet
Accidents are more likely to happen on wet roads than dry, so it is important to get tires that will keep you safe when it is raining hard. So let's see how the Assurance Maxlife and Defender2 perform in this area.
Looking at the ratings of these two tires in wet performance, I could already say that both offer dependable wet traction and hydroplaning resistance.
However, upon closer inspection, Assurance Maxlife outperformed Defender2, albeit marginally. Objective test results showed that the Goodyear tire had better wet handling and wet braking, making it a better option for rainy seasons.
3. Snow
Snow performance isn't the best feature of all-season touring tires. But as we are talking about Goodyear tires vs Michelin here, we can expect these to provide a good level of grip on snow-covered roads.
The Assurance Maxlife got decent results in terms of traction and cornering. As long as you don't travel in heavy snow, this tire can still be satisfying and safe to drive in the winter seasons.Test results also showed that the stopping distance and lap time on snow both favored the Goodyear tire.
For the Defender2, the results didn't turn out to be as good as the Assurance Maxlife. Although the traction isn't that bad, moving around corners is hard to manage.
If you're looking for better snow performance, you should pick those tires with a 3PMSF mark. One example is the Assurance WeatherReady which is a highly-rated all-season grand touring tire from Goodyear.
4. Tread life
No driver would want their tires to wear out fast and have a short tread life. Well, that's not going to be a problem for the Michelin Defender2 and Goodyear Assurance Maxlife, as these two are among the most durable tires in the market.
Compared to its predecessor – Michelin Defender T+H, the Defender2 offers an improved tread life. It has a UTQG rating of 840 BB, which is 20 points higher in tread score than the Defender T+H.
With a UTQG rating of 820 AB, the Goodyear Assurance Maxlife also has a long tread life.
Although the Goodyear tire's treadwear score is slightly lower than the Defender2, it comes with a longer warranty, with 85,000 miles, as opposed to the Defender2's 80,000 miles.
However, real-life tests showed that the Defender2 is much more durable than the Assurance Maxlife. Whereas the latter's performance worsened after 51,900 miles, the former could last up to 94,400 miles.
With everything taken into consideration, I'd say that the Michelin tire is the winner when it comes to tread life.
5. Pros and cons
Goodyear Assurance Maxlife
Outstanding overall wet performance
Excellent braking and handling
Long tread life and treadwear warranty
Poor performance on packed snow
Michelin Defender2
Impressive durability
High level dry and wet traction
Well-controlled and comfortable ride
Snow traction could be improved
Related Comparisons:
Frequently Asked Questions
Are Goodyear Assurance tires good?
The Goodyear Assurance tire line is composed of well-rounded tires that provide excellent value for money. Aside from the Assurance Maxlife, other tires worth noticing are the Goodyear Assurance All-season, Comfortred, Fuel Max, and TripleTred.
Which is less expensive: Assurance Maxlife or Defender2?
The Michelin Defender2 is slightly more expensive than the Goodyear Assurance Maxlife. For instance, a 205/55R16 tire costs $166 on the Defender2, but only $149 on the Assurance Maxlife of the same size.
Conclusion
In this Goodyear Assurance Maxlife vs Michelin Defender2 comparison, we have seen 2 excellent designs offering long tread life and dependable all-season performance.
It will be difficult to choose between these two, but you should go with the tire that best meets your driving needs. If you prefer better overall wet performance, choose the Assurance Maxlife. If you prefer longer tread life, then the Defender2 is for you