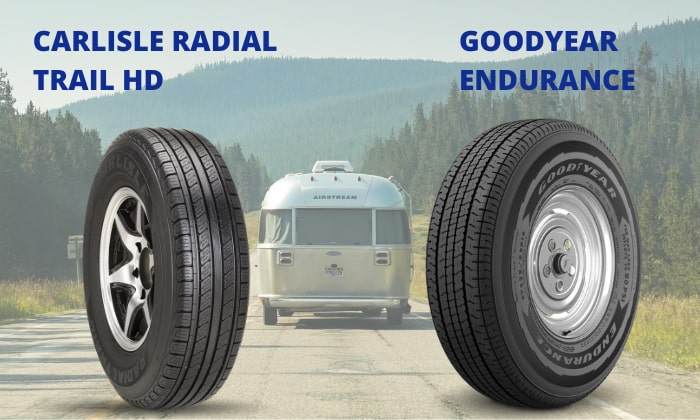 The Carlisle Radial Trail HD vs Goodyear Endurance comparison is about finding the best tires for motorhomes, trailers, or RVs. The Radial Trail's main feature is its extended tire life due to the internal construction and compounds used.
Meanwhile, the Endurance offers a better ride experience with its tread design.
Here is a quick comparison chart to show you the difference between the Goodyear Endurance vs Carlisle Radial Trail HD.
| | | |
| --- | --- | --- |
| Factors | Carlisle Radial Trail HD | Goodyear Endurance |
| Size Range | 13″ to 16″ | 14″ to 16″ |
| Speed Rating | 75 to 81 mph | Up to 87 mph |
| Max Load Weight | Up to 3960 lbs | Up to 4080 lbs |
| On-road performance | Above Average | Superior |
| Off-Road performance | Average | Average |
| Durability | Above Average | Superior |
| Wet Traction | Good | Good |
| Comfort | Above Average | Superior |
About Carlisle Radial Trail HD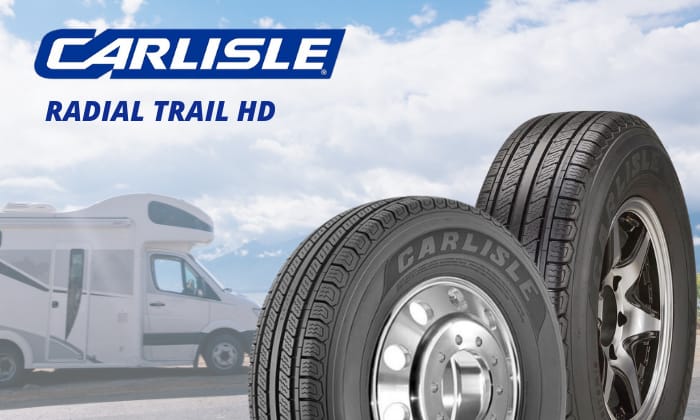 The Carlisle Radial Trail is a top-tier trailer tire known for its exceptional performance in various vehicles, including toy, boat, horse/livestock, and utility trailers. Its unique feature is the heat-resistant tread compound that prevents premature wearing.
About Goodyear Endurance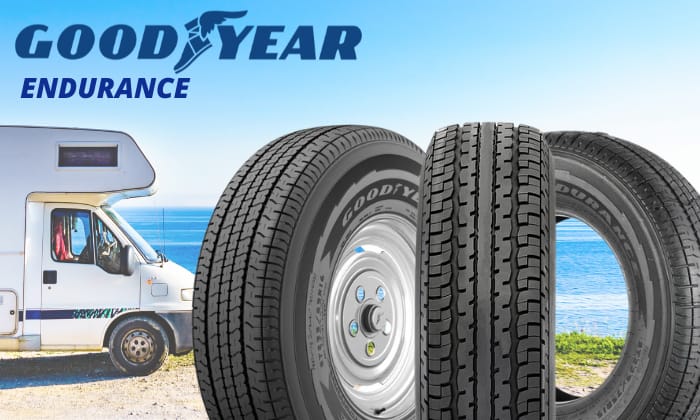 Launched in 2017, the Goodyear Endurance is designed with durability and made for various vehicles like trailers, toy haulers, and campers. As you would expect, Goodyear trailer tires like this one carry many innovative features, such as Durawall Kevlar technology.
Related: Where are Goodyear endurance tires made?
Differences Between Carlisle Radial Trail HD and Goodyear Endurance
1. On-Road Performance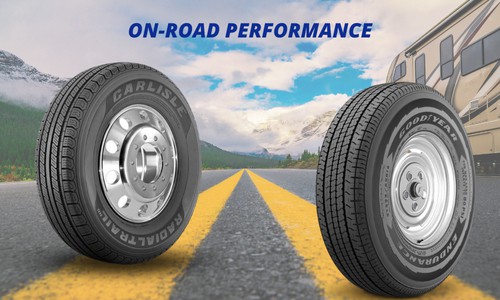 The Carlisle Radial Trail trailer tire offers commendable on-road performance, thanks to its interconnected tread blocks and multiple plies. These features also contribute to its even tread wear and improved load-carrying capacity. With its speed rating, the Carlisle tire can safely achieve smooth highway rides while ensuring stability.
The Goodyear Endurance utilizes a symmetric tread design to achieve consistent road contact for superior traction. In addition, this tire's three-way interlocking system improves steering stability and reduces braking time, offering control when towing.
The Endurance is the clear winner in on-road performance. While both tires can achieve impressive traction, the Endurance's speed and load ratings allow drivers to travel faster while carrying more belongings on trips.
2. Off-Road Performance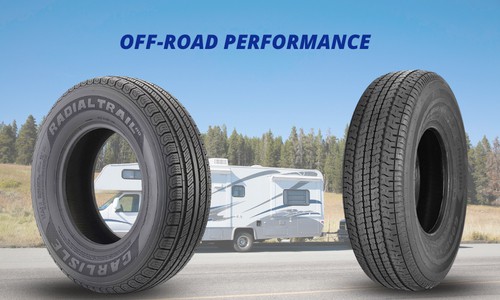 Regarding off-road performance, the Carlisle Radial Trail doesn't particularly stand out. Its design and features are primarily aimed at highway and paved road use.
Similarly, the Goodyear Endurance tire isn't explicitly engineered for harsh terrains. Its symmetric tread design will not be beneficial on mud or gravel.
There is no comparison between the two when it comes to off-road traction. You can still drive on flat dirt without issues, but both Carlisle and Goodyear tires should not handle mud or sand surfaces.
3. Durability
The extensive lifespan of the Carlisle Radial Trail tire is one of its standout features. The Radial Trail has a unique heat and wear-resistant rubber tread compound with even treadwear.
In addition, its high-tensile steel belts increase impact resistance. These features help to prevent tire damage in challenging conditions or under heavy loads.
The Goodyear Endurance tire is designed for durability, making it a reliable choice for towing heavy cargo. Its key feature is the Kevlar Durawall technology that makes the tire highly resistant to wearing and tearing. Moreover, Endurance's tread pattern achieves an even weight distribution to prevent further deterioration.
While the Radial Trail's ability to endure heat contributes to its extensive lifespan, the Endurance is the better choice if we're talking about durability. The Kevlar material protects the tires from debris, rocks, and other elements that wear the tire.
4. Wet Traction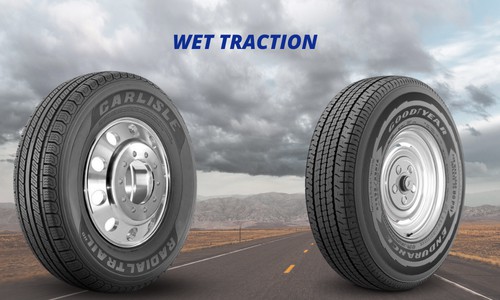 There are no features in the Carlisle Radial Trail HD tires that specifically give them better traction on wet surfaces. The interconnected tread block does help provide grip on wet roads, though.
On the other hand, the Goodyear Endurance Tires come with HydroGrip technology. This tech involves a special polymer compound that prevents slipping while braking, helping you control your vehicle when it rains.
When it comes to wet traction, both models will make good tires for RV.
5. Comfort
One benefit of the Carlisle Radial Trail HD's variable pitch pattern is its vibration reduction. The tread design allows for some level of road comfort.
Meanwhile, Goodyear's Endurance has a polyester cord to ensure bump-free driving. According to tire reviews, the Goodyear Endurance produces less noise than Carlisle tires.
6. Cost and Value for Money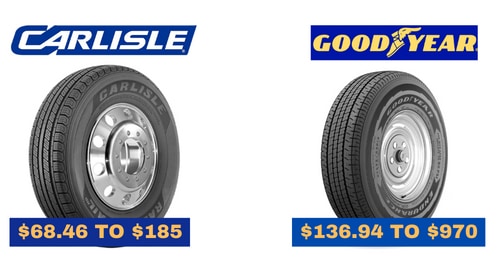 The Carlisle Radial Trail HD tire prices range from $68.46 to $185 in various retail stores. Meanwhile, tire dealerships offer the Goodyear Endurance at around $136.94 to $970. Goodyear has a higher price because of the numerous features it offers.
7. Pros and Cons
Here are the advantages and disadvantages of the Radial Trail HD.
Carlisle Radial Trail HD
Heat-resistant compound for a longer lifespan
Good speed rating for highways
Cost-effective tires
Not built for off-road conditions
Lacking in advanced features
These are the pros and cons of the Endurance.
Goodyear Endurance
Superior durability and comfort
High-speed rating
Higher max load capacity
More expensive than Carlisle tires
No off-road features
Which is Better?
The Goodyear Endurance trailer tire comes ahead of the Carlisle due to its numerous features. It uses advanced Kevlar technology, offering higher protection than standard steel belts. The symmetric tread pattern and Hydro Grip technology confer superior traction and control, particularly in wet conditions.
On the other hand, the Carlisle Radial Trail tire shouldn't be dismissed outright. The interconnected tread blocks and multiple plies result in a material that can handle heavy loads, and the additional heat and weathering protection is helpful. The Radial Trail HD is a solid choice for an affordable, durable trailer tire.
Frequently Asked Questions
Are Carlisle Trailer tires good?
The Radial Trail is a reliable RV or trailer tire due to its heat and wear-resistant tread compound. It can also handle heavy loads thanks to its multiple plies.
Can I use the Carlisle Radial Trail HD or Goodyear Endurance for off-road conditions?
It is not advisable to drive across extreme off-road areas with either the Carlisle Radial Trail or the Goodyear Endurance. Neither tire has features that give you a reliable grip on sand or gravel.
Is there warranty coverage for Goodyear Endurance?
The Endurance is covered by Goodyear's Highway Auto and Light Truck Tire Replacement Limited Warranty. If the tire generates noise or uncomfortable vibrations, you can replace it with a new one.
Conclusion
In comparing the Carlisle Radial Trail HD vs Goodyear Endurance, the Endurance comes out on top due to its superior durability and noise levels.
The DuraWall technology in the Endurance results in a more robust, reliable tire for longer-term usage. Nevertheless, the Carlisle Radial Trail HD remains a desirable option for its high heat resistance and durability, making it a solid choice as a cost-effective RV tire.