As a person who drives to work daily, it is important to have tires that could provide great comfort and traction for a more relaxing and safer ride. Since both grand and standard touring tires can provide these qualities, choosing between them might be a little confusing.
Generally, grand touring tires are made for consumers who want excellent traction with an ideal level of noise and comfort at high speeds. This is the edge of the General Altimax RT43 vs Michelin Defender. However, a standard touring tire like the Defender T+H has a more durable rubber and a longer tread life.
Category
Dry traction
Better at high speeds
Has an edge in everything except for high-speed handling
Wet traction
Equal
Snow traction
Braking is slightly better
Competitive. Can run in light snow
Noise
Equal
Fuel Consumption & Rolling Resistance
Michelin wins
Price
Lower
More expensive
What to Know About the General Altimax RT43
The Altimax RT43 is an all-season grand touring design from General Tire. It has a UTQG rating of 700 A A, showing its long tread life, excellent traction, and its capability to withstand high temperatures.
It is also equipped with noise reduction and impact absorption features to boost ride quality. Its Twin Cushion Silica Tread Compound and symmetric tread pattern contribute to providing smoother and quieter travel.
What to Know About the Michelin Defender
Michelin Defender is one of the most popular tire families when it comes to passenger, crossover, or light truck tires; while not as sporty as a grand touring tire, it still provides a good balance of all-season traction and longevity, making it ideal for daily driving and long journeys.
Defender tires have impressive UTQG ratings, with the Defender T+H scoring 820 A B and the Defender2 840 B B. These treadwear scores are among the highest in the market, so you can be confident that you will get a long mileage with Defender tires.
How Do the Altimax and Defender Differ?
This General Tire vs Michelin comparison will undoubtedly be close. Even though Michelin is an industry heavyweight, General Tire stands out with its consistent high-quality designs and low prices.
Now, let's take a look at the head-to-head matchup of the Defender and Altimax RT43 considering traction, noise level, and fuel efficiency. Note that we won't focus on the Defender LTX as much, since it is not a touring tire.
The Altimax RT43 competes with the bigger brands when it comes to traction. On dry roads, you can expect it to provide an accurate steering response and short stops when braking.
On the other hand, Defender tires also deliver excellent results when it comes to dry performance. And it can be seen in the reviews that consumers give regarding this line.
Based on the tire performance ratings on TireRack, the dry traction of the Defender T+H is 9.3, while the Altimax got a score of 9.0. The Defender2 doesn't have enough reviews to form a rating yet, but test results showed it had nice handling and low noise.
That said, I will give the General Tire a slight edge in this category. It has a better performance, especially at high speeds, allowing sharper cornering compared to the tires from Michelin.
Both Michelin and General Tire have developed technologies to boost their tires' performance on wet surfaces. The Altimax has the General's Anti-Slip Sipe Design while the Defender uses Michelin's Intellisipe Technology.
That said, you can depend on either of these models when it is rainy. There is also not much difference in the ratings given by customers as all three (Altimax, T+H, and Defender2) got excellent feedback in terms of wet traction and hydroplaning resistance.
The Michelin Defender's design for light trucks also offers the same level of wet traction as the Defender T+H. Looking at Michelin Defender LTX vs T+H, the former is more rigid and capable of heavy-duty work while not sacrificing its grip.
Snow is not the area in which these tires excel. I'm not saying that they are totally bad in snow as they can still provide sufficient traction, especially in light snow. However, as these are all-season tires, they are not designed for use in low temperatures for a long period.
It is hard to distinguish which is better in this category, but I'll choose the Altimax RT43 here. It seems the model provides a bit better braking and less snow buildup than the Defender tires.
If you are considering other options, you can take a look at the Michelin Crossclimate 2, which is a 3PMSF tire that will perform better in freezing weather than the Altimax and Defender tires.
The General tire has a couple of features to fulfill its promise of a quiet and comfortable ride. The Twin Cushion Silica Tread Compound helps in absorbing road vibrations, while its independent tread blocks allow noise suppression.
Just like the Altimax RT43, Defender tires are also designed to be quiet and comfortable. For instance, the Defender T+H features independent tread blocks and Michelin Comfort Control Technology, which help in noise reduction and ride quality.
Meanwhile, the Defender2 has an interconnected tread design and flexible rotations to minimize unpleasant sounds while driving.
Based on reviews coming from retail sites and Reddit, most consumers were satisfied with the quietness of these tires. Hence, I will give them a tie for this category.
Fuel Consumption and Rolling Resistance
Fuel economy has always been a priority for Michelin. This is why they have the Green X Technology, which reduces rolling resistance without sacrificing other areas like tread life and grip.
This technology was used for the previous version of the Defender. The newer Defender T+H now has a different mark compared to the Michelin Defender Green X, namely the Michelin Total Performance, which signifies tires that excel in every area such as traction, fuel efficiency, and longevity.
The product from General tire also shows notable results when it comes to fuel efficiency. Based on a Tire Rack test, the Altimax came out to be the most efficient compared to touring tires from Firestone, Hankook, and Sumitomo.
Results may vary, but the Altimax can run for 32 miles per gallon, while the Defender can reach 40 or 50 miles per the same gas amount.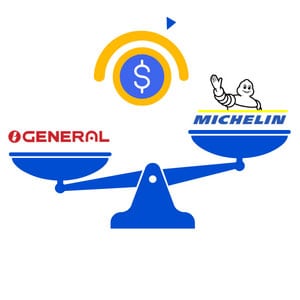 Michelin tires are usually more expensive than other brands. In contrast, General Tire products are in the middle of the price spectrum. They are not as high as Michelin but are successful at meeting the needs of regular consumers.
The price of the Defender tires usually ranges from $137 to $467 while it is $101 to $228 for the Altimax RT43. These prices may vary depending on the shop that you visit.
General Altimax RT43
Dependable year-round traction
Highly rated by consumers
Quiet and comfortable
Less expensive
Better braking
Tread life could be improved
Michelin Defender
High level of comfort and minimal road noise
Excellent steering responsiveness
Has a long tread life
Low rolling resistance
High fuel efficiency
Not very good in heavy snow
Frequently Asked Questions
Are General Altimax RT43 tires good in snow?
In light to moderate snow, the General Altimax RT43 can provide adequate traction. However, if it snows frequently in your area, this model is not the best option. You should have a winter tire to ensure your safety while traveling.
How long do General Altimax RT43 tires last?
According to Consumer Reports testing, the General Altimax RT43 can last up to 80,000 miles. General Tire provides an impressive treadwear warranty of 75,000 miles for the T-speed and 65,000 for the H-speed and V-speed rated tires.
Who makes the General Altimax tire?
Are General Altimax tires made by Continental? Continental AG bought the tire division of General Tire Inc. in 1987. Therefore, it is Continental Tire that produces the General Altimax.
Which is better: General Tire vs Goodyear?
General Tire and Goodyear are both excellent tire brands. Their primary distinction is in their manufacturing priorities, with General Tire aiming to provide high-performance tires at a low cost. Goodyear, however, focuses on producing top-performing models, albeit at a higher cost.
Conclusion
In this General Altimax RT43 vs Michelin Defender, we discussed their main differences and identified the benefits of using them. If you want excellent performance features without breaking the bank, choose the Altimax RT43. If you want well-balanced tires that would last long, go with the Defender.
There are other less expensive touring tires available that you might consider. For instance, you can try the General Reliatrek, which is highly rated on the General Tire website. You can also look at other brands' designs like the Cooper Adventurer H/T, which offers great durability and performance for SUVs and crossovers.