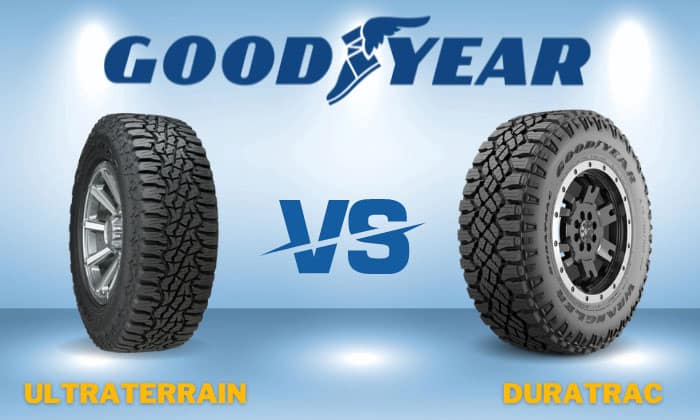 Goodyear never fails to deliver high-quality tires to its consumers; no wonder why it still stands neck-to-neck with other premium brands in the industry. Plus, Goodyear has several tire lineups with different models, thus satisfying drives with different needs.
This variety in driving needs results in an inevitable comparison between different tire models produced by this tire company. One of these comparisons is the latest battle between Goodyear UltraTerrain vs Duratrac.
Today, let's examine these two tire models and look closely at the performance, warranty, pros and cons, price, and features of each tire.
Comparison Chart
Below are some differences between Goodyear Wrangler UltraTerrain AT vs Duratrac in their tire attributes.
| | | |
| --- | --- | --- |
| Attributes | | |
| Tire family | Wrangler | Wrangler |
| Tire type | All-terrain | All-terrain for commercial vehicles |
| 3PMSFR | Yes | Yes |
| Diameter (in.) | 30.6-34.8 | 28.9-36.5 |
| Rim Width Range (in.) | 6.5"-12" | 5.5"-12" |
| Measured Rim (in.) | 7.5-10 | 6-11 |
| Tread Depth (in.) | 16/32 – 18/32 | 14/32-18/32 |
| Load Range | SL-E | C-F |
| Max Load (lbs) | 2469-3860/3525 | 1985-4080/3750 |
| Max Inflation Pressure (PSI) | 51-80 | 35-80 |
| Weight (lbs) | 40-68 | 35-68 |
| Revs Per Mile | 597-679 | 572-724 |
| Treadwear warranty | None | 50,000 miles |
What is It?
1. Goodyear UltraTerrain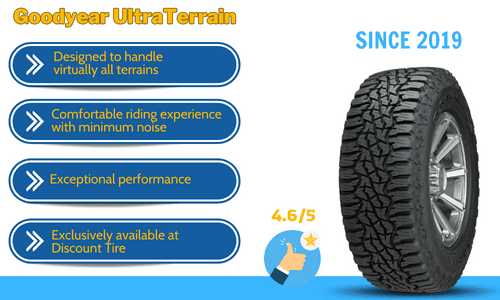 As indicated in the name, the UltraTerrain is designed to handle virtually all terrains, even heavy mud and snow. On paved roads, it ensures a comfortable riding experience with minimum noise.
Its exceptional performance is thanks to its aggressive traction, which stems from in-groove traction teeth, large upper sidewall blocks, and an optimized contact patch.
The UltraTerrain was released in 2019. Exclusively available at Discount Tire, the product received favorable reviews from customers, averaging around 4.6/5 stars ratings. Among the criteria reviewed, dry and wet traction received the highest scores.
2. Goodyear Duratrac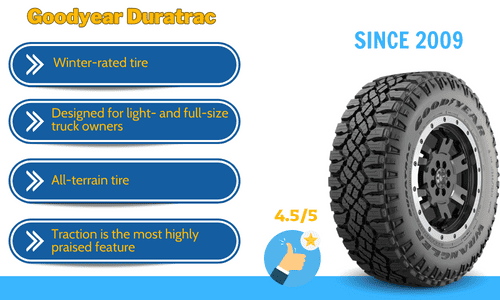 Similar to the UltraTerrain, Duratrac is a winter rated tire and a product line in the Wrangler family. Launched in 2009 to meet the need for tires suitable for recreational and work applications, the product is designed for light- and full-size truck owners.
As an all-terrain tire, the Duratrac can handle sand, mud, and snow thanks to the self-cleaning shoulder blocks, large sidewalls, and angled center tread blocks.
It has an average 4.5/5 stars rating from previous customers, with traction again being the most highly praised feature.
Differences Between Goodyear Ultraterrain Vs Duratrac
Let's examine how these tires perform and their warranty policies to better emphasize their distinction from one another.
1. Performance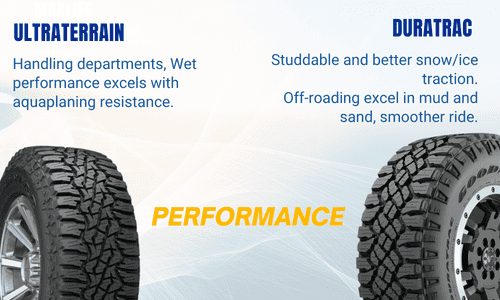 The battle between Duratrac vs UltraTerrain is pretty close in the category of performance, for each tire has useful features of its own.
In dry conditions, both UltraTerrain and Duratrac offer almost similar performance. Both of them have superb traction, even when driving at high speeds, particularly with their great cornering and short braking distances.
As for wet performance, the UltraTerrain has an edge over the Duratrac, since it's engineered with aquaplaning resistance for better stability.
For the category of winter driving, these two tires both have a 3PMSFR rating, indicating that they can handle severe snow.
However, the Duratrac is slightly better in this regard, not to mention that some tire sizes are studdable, meaning users can add metal studs to the tire for even better traction on snow and ice.
Next on the list is their off-roading performance. Both of them can withstand rocky areas, but overall, Duratracs in mud and sand have more exceptional performance. Plus, this product line provides a smoother ride.
However, in terms of handling departments, UltraTerrain wins over Duratrac. Still, both of them are good picks for daily drives for on-road terrains.
2. Warranty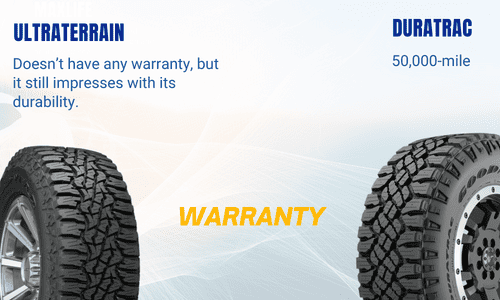 Both UltraTerrain and Duratrac have impressive features at tread life. However, only the latter has a treadwear warranty—a 50,000-mile guarantee, to be specific.
While the UltraTerrain doesn't have any warranty, it still impresses with its durability. Test driving showed that this tire could last 65,000 miles at mileage. It also comes with a Replacement Limited Warranty if you're not happy with how the tire performs.
3. Pros and Cons
Listed below are the positive features and drawbacks of Goodyear UltraTerrain and Duratrac tires.
Goodyear UltraTerrain
Exceptional traction during acceleration, short braking distances, and cornering
Suitable for daily drives
Able to withstand harsh winter road conditions
Superb handling performance
Comes at a more budget-friendly price
Without treadwear warranty
Goodyear Duratrac
Exceptional traction during acceleration, short braking distances, and cornering
Ideal for on-road driving
Has wet road stability with aquaplaning resistance
Better performance in mud and sand
Offers smoother ride
Decent mileage warranty
Comes at an expensive cost
4. Cost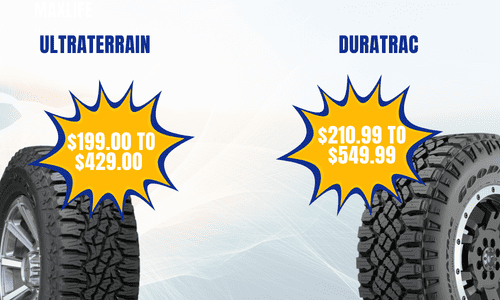 Goodyear UltraTerrain comes at a lower price, ranging from $199.00 to $429.00. Meanwhile, Duratrac tires sell for $210.99 to $549.99 apiece.
This price variation in each product line is mainly because of the tire sizes. For example, the Goodyear UltraTerrain 275/55r20 sells for $269.99, whereas you'll need to fork over $314.99 to get a Duratrac of the same size.
Try looking for these tires on the Tire Rack website to get a specific price depending on your chosen tire size.
Which is Better?
Determining which tire is better for you will prevent you from facing unwanted problems during your trip.
Both of these tires under the Goodyear Wrangler lineup are worth your penny. However, there are some scenarios where one has absolutely a better performance than the other.
If you want better control and aquaplaning resistance for your vehicle, then UltraTerrain suits you better. On the other hand, if you want to drive in areas with harsh off-road or icy conditions without compromising the pleasant ride experience, then Duratrac is your pick.
Tips for Choosing a Suitable Tire for Your Car
Below are the list of things you need to take into consideration to guarantee you select the perfect tire for your car. Let's get started!
1. Identify your tire size (wheel diameter in inches)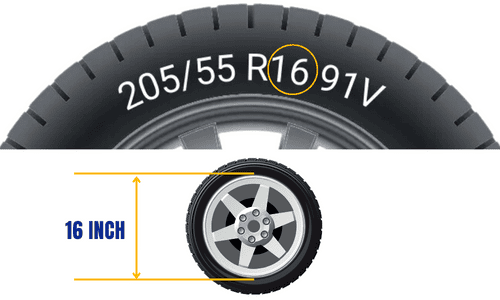 You can find it on the informational placard on the side door or just simply look at the code printed on the sidewall of your current tire (the last number of the code determines your tire size in inches).
2. Select the tire type that suits you well
Examine and compare every benefit and drawback of different tire types to easily figure out the perfect tire type for your driving needs.
3. Consider your current budget
There are lots of tires out there that share similar features, but they come at a different cost. By default, expensive tires are more durable than cheap tires. It's for you to decide what tire suits you without compromising its price value.
Conclusion
That's about it for today's comparison between Goodyear UltraTerrain vs Duratrac. Hope you learn a lot about their features, especially on their strengths and weaknesses.
The decision is still yours to make. So take your time to determine which of these two tires is capable of providing your current driving style and priorities. Make sure you end up with a more suitable tire for your vehicle. We hope you all the best!
Read more: