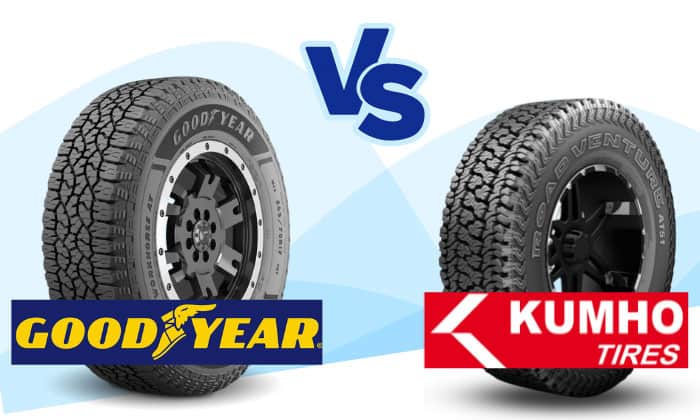 Goodyear vs Kumho Tires, which tire brand offers the most bang for your buck? Both have strengths and weaknesses that appeal to a specific demographic.
Goodyear boasts an extensive collection of tires with excellent high-performance and off-road capability. On the other hand, Kumho tires are known for their affordability and extended tread life warranties.
Before we start, here's a quick summary of the difference between Goodyear and Kumho tires.
| | | |
| --- | --- | --- |
| Factors | Goodyear | Kumho |
| History | Founded in 1898 in Akron, Ohio. Major early collaboration is with Ford. Synonymous with high-quality tires across 180 countries. | Founded in 1960 in Gwangju, South Korea, initially as Samyang Tire. Currently, the 2nd biggest tire maker in South Korea. Has weathered financial difficulties and changes in ownership. |
| Performance | Known for superior high-performance, off-road, and all-season tires. | Competitive performance with a balanced focus on tread life and high-speed performance. |
| Warranty | Offers an average of 50,000 to 80,000-mile warranties | Replacement for unserviceable tires with more than 2/32″ tread remaining |
| Technology | Utilizes durability-improving tech such as DuPont Kevlar and TredLife Technology for more extended service. They also use ActiveGrip and ActiveBraking technology for superior handling and braking performance. | Kumho is notable for its ECOTRON tires designed for electric cars, reducing rolling resistance up to 45% and lowering emissions. Has experience with rallying and circuit racing tires. |
| Price | Generally more expensive than Kumho tires, reflecting its long-standing reputation and high-quality offerings. | Offers more affordable tire options, providing good value for budget-conscious customers. |
Goodyear vs. Kumho Tires: Compare In Detail
1. History of Goodyear Tires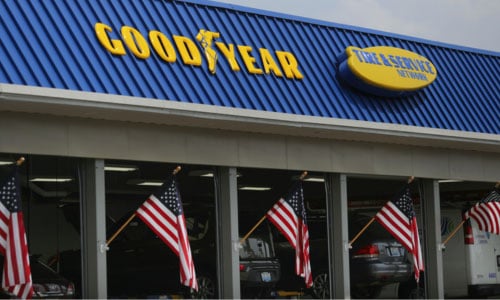 Goodyear Tire & Rubber Corporation, founded in 1898, was named after Charles Goodyear, the inventor of vulcanized rubber. The company initially manufactured bicycle tires until it caught the attention of industrialist Henry Ford, leading to a partnership to supply tires for Ford vehicles.
Over its long history, Goodyear has become synonymous with high-quality, durable tires, expanding its market presence to over 180 countries globally.
2. History of Kumho Tires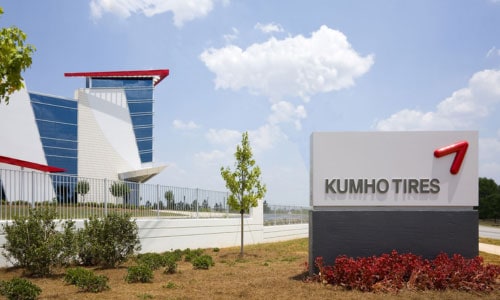 Kumho Tires Company was established in 1960 as Samyang Tire in Gwangju, South Korea.
In 1966, it acquired the US Department of Transportation (DOT) mark, allowing it to operate in the US. Following a financial crisis in 2008 that forced it to close its only US plant, Kumho returned in 2016 with a $500 million facility in Georgia. In 2018, Chinese tire manufacturer Doublestar acquired a majority stake in Kumho.
Differences between Kumho Tires vs. Goodyear
1. Performance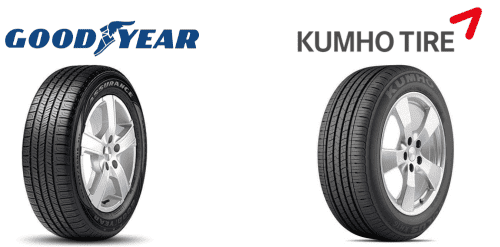 Goodyear and Kumho tires offer solid performance, but critical distinctions exist.
It's important to note that different tire models have varied performance, as both brands have a range of products for specific purposes and vehicle types. With that said, let's go over some of the key characteristics of Goodyear and Kumho tires.
Goodyear Tires:
Traction: Goodyear offers good traction on dry and wet surfaces. The company produces tires with advanced tread designs and rubber compounds to enhance grip.
Handling: Generally, Goodyear tires provide responsive handling and precise steering control, allowing for confident maneuvering.
Durability: Typically built to be durable and long-lasting, with good resistance to wear and tear.
Ride Comfort: Specially designed to facilitate a comfortable ride, minimizing road vibrations and providing a smooth driving experience.
Noise Levels: Many models of Goodyear tires come with noise reduction features, ensuring comfy and quiet operation on the road.
Kumho Tires:
Traction: Kumho tires are recognized for their great traction capabilities, especially in wet conditions. The company utilizes innovative tread patterns and compounds to enhance grip.
Handling: Kumho tires generally offer good handling, providing stability and responsiveness during cornering and maneuvering.
Durability: Kumho tires have solid sidewalls and tread compounds that resist wear and punctures.
Ride Comfort: Kumho tires deliver decent comfort with minimal road noise and a smooth riding experience.
Noise Levels: Kumho tires generally use noise-reducing technologies to limit noise levels. However, entry or budget tires from Kumho may not have said capabilities.
2. Warranty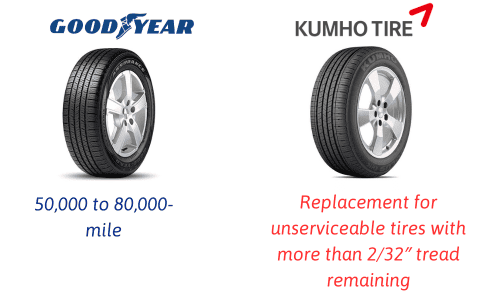 Goodyear tires come with Tread Life Limited warranty coverage that ranges from 45,000 miles to 85,000 miles. The highest possible tire mileage warranty coverage is the Assurance MaxLife with 85,000 miles. There is also a 30-Day pledge, during which you can return the tires.
Kumho Tire has a different system for its warranty coverage, where the remaining tread is used as the basis.
You qualify for a free replacement if the tire breaks due to material or workmanship condition and there is more than 2/32″ remaining tread. If the tire becomes unserviceable when there is less than 2/32″ tread, you can still get a credit percentage when buying a new Kumho tire.
3. Technology
Goodyear is one of the leading manufacturers in the tire industry thanks to its innovations. Technologies such as the ActiveCornerGrip and ActiveBraking functions provide superior handling. The brand also incorporates RunOnFlat technology that lets you keep driving when a Goodyear tire is punctured.
Kumho Tire also has various techs to counter Goodyears, such as its XRP Technology, allowing you to have control of your vehicle even if the tire is punctured.
The brand also made advancements in sustainable tire tech with its ECOTRON line for EVs. ECOTRON uses anti-impact materials with low rolling resistance of up to 45%.
4. Pros and Cons
Below are several advantages and disadvantages of Goodyear tires.
Goodyear
A rich selection of tires with unique features
30-Day Pledge replacement
High-end steering, braking, and traction performance
Expensive of the two brands
Different mileage coverage on its tires
Here are the reasons why Kumho Tires are ahead or behind Goodyear.
Kumho Tires
Affordable entry-level tires with excellent performance
Generous warranty coverage
EV specialized tires
A limited selection of tire line
Specialty tires fail to match Goodyear's performance
5. Costs

Goodyear tires cost around $90 – $250 at popular retail stores. One of the most expensive lines is the Goodyear Wrangler DuraTrac, an all-season AT tire for trucks and SUVs that costs around $250 to $290.
Kumho Tires has a price range of $65 – $400 in various stores. The most affordable line of this brand is the Kumho Solus tires, an all-season tire for cars, which costs around $65 to $195.
Popular Tires of Each Brand
1. Goodyear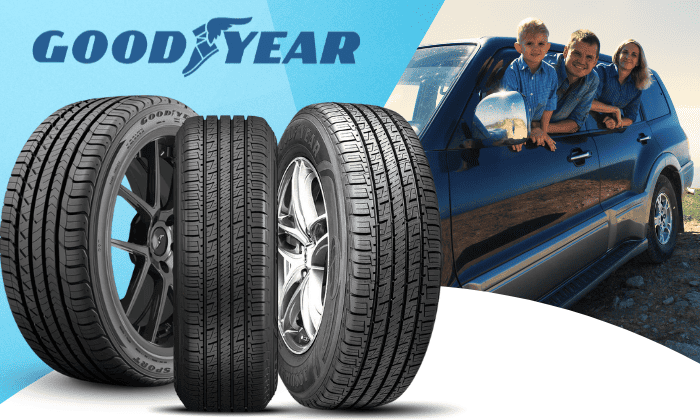 Below are the most notable tire lines from Goodyear:
The Eagle Sports All-Season offers the best performance for different vehicles, including braking, steering, and traction on various road conditions. This all-season tire also provides a smooth ride.
The Wrangler Workhorse AT ensures a stable performance off-road while providing incredible traction on gravel and muddy surfaces. This Goodyear all-terrain tire can even provide dependable traction in snow conditions.
The Assurance MaxLife offers better value than other Goodyear Assurance line thanks to its incredible tread life. This product is also the only Goodyear tire with an extensive mileage coverage of 85,000 miles.
2. Kumho Tires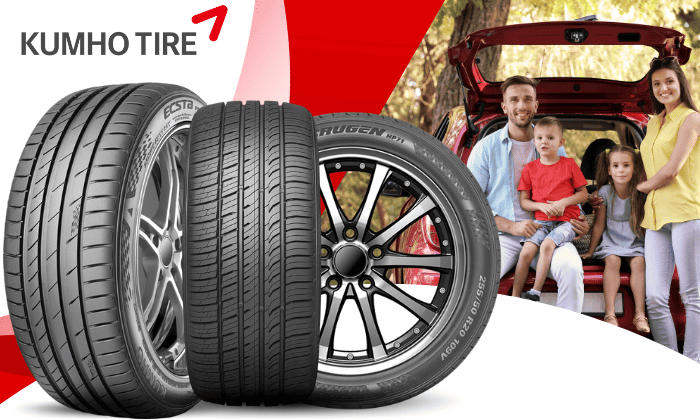 Below are the notable Kumho Tire lines:
Thanks to its tread compound, the Ecsta line is an all-season tire with excellent grip in dry and wet conditions. Its tread pattern even provides reliable traction on snowy roads.
The Crugen HP71 line are SUVs, crossovers, and truck tires that provide a smooth and quiet ride for most road conditions. The tread block of this Kumho tire can also achieve a steady grip in light winter conditions.
Kumho Road Venture MT KL71
The Road Venture MT KL71 is designed for the most challenging off-road areas. Its tread design gives you incredible traction on muddy surfaces and superior rock-climbing capabilities.
This is an all-season tire providing high performance, including dry and wet grip for passenger cars. This Kumho product is valued based on its comfort and support for good handling.
Which is Better? Goodyear or Kumho?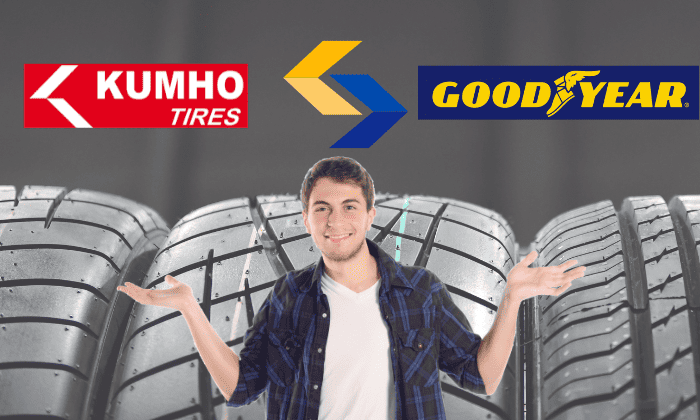 Goodyear is the better of the two brands in terms of all-around performance. Whether off-road, snow, or performance tires, Goodyear is likely to have a specific tire with standout features and qualities.
Regarding value, Kumho has an advantage with its pricing and the Ecsta line. Kumho Ecsta tires have incredible traction, smooth ride, low-noise generation, and impressive stability. Ecsta tires cost less than most Goodyear Assurances, making Kumho take the lead in all-season tires.
What Should I Choose?
Goodyear and Kumho offer great tires for a wide range of road conditions. You will want to choose Goodyear tires for the best road performance and tractions on challenging roads. However, Kumho Tires are also great for their low costs and dependable performance.
Things to Consider Before Choosing One of Them
Knowing what type of road conditions you are going through or the purpose of the tire will help you choose the correct Goodyear or Kumho tires. Going off-road would require either the Goodyear Wrangler or Kumhoa Road Venture tires to keep you safe. For casual drives, there are the Goodyear Assurance and Kumho Ecsta lines.
Frequently Asked Questions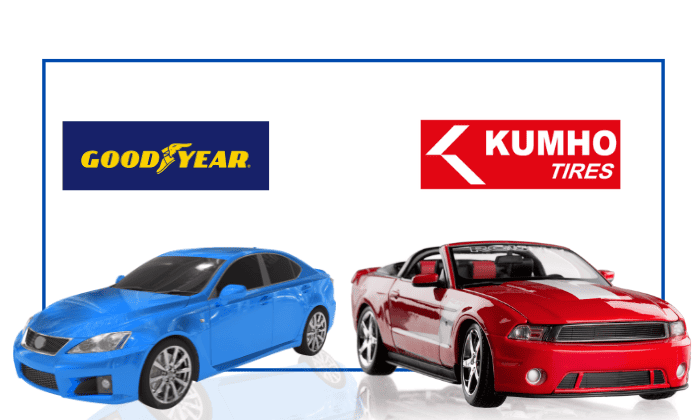 Are Kumho Tires made in Vietnam?
Kumho Tire factories can be found in Vietnam, South Korea, and China. Their Vietnam factory can be found in Binh Duong Province.
Are Kumho Tires long-lasting?
As one of the premium tire brands, Kumho products are expected to last for a long time. The average lifespan of Kumho tires averages around 60,000 to 90,000 miles.
Does Goodyear have better tires than Kumho tires?
Both brands offer exceptional tires for various road conditions or requirements. However, Goodyear is ahead with its numerous technologies that boost specific aspects of its tires, such as their EfficientGrip, for better fuel economy.
Are Kumho Tires good quality lines?
Kumho is ranked 19th among the largest tire manufacturers across the globe. Their innovative tires have made them a household name among numerous vehicle owners, as they rarely experience manfy tire problems with the products.
Conclusion
Both brands offer reliable products for most vehicles in the battle between Goodyear vs. Kumho Tires. However, Goodyear has the edge thanks to its wide range of tire lines. On the other hand, Kumho Tires offers reliable products at an affordable price.
For further comparisons regarding Goodyear, please refer to the following articles: