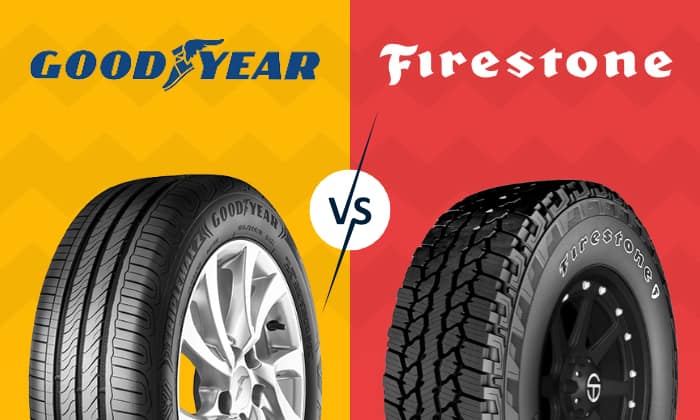 American tire brands are known for their excellent quality and performance, but which one should you buy? Luckily, we made this Goodyear vs Firestone Tires comparison to help narrow down your choice.
We'll be discussing the history of both brands and the things that make them stand out from the competition. We'll also talk about the difference in performance between Firestone vs Goodyear, their costs, and determine which tire is the best one for you.
Let's get to it!
Goodyear
Firestone
Country of Origin
The United States
The United States
Short description
America's leading tire company founded in 1898. Also owns Dunlop and Kelly tires.
American tire company founded in 1900. Known for affordable, quality products.
Tires Manufactured
● Trucks

● Trailer

● Crossover/SUV

● Passenger Cars/Minivans

● Off Road/All Terrain

● Sedan/Minivan

● Truck

● CUV/SUV

● Touring

● Performance

Parent
Stand-alone
Bridgestone
Tier and Price Range
● Premium (Tier 1)

● Expensive

● Mid-market (Tier 2)
History of Goodyear
Goodyear was established in 1898 by Charles and Frank Seiberling as a rubber company, which ultimately pivoted toward automobile tires in 1899. However, financial difficulties arose during World War I, leading to a restructuring and the Seiberling brothers losing control.
In the 1990s, the company successfully extended its manufacturing operations to Asia. By forging a strategic partnership with Sumitomo Rubbers valued at 1 billion dollars, Goodyear achieved a significant milestone by becoming the largest tire company worldwide by the close of the 20th century.
Most of Goodyear's operations are dedicated to producing passenger tires, although the company also manufactures tires for industrial equipment, aircraft, service and commercial tires, as well as agricultural machinery like tractor tires.
History of Firestone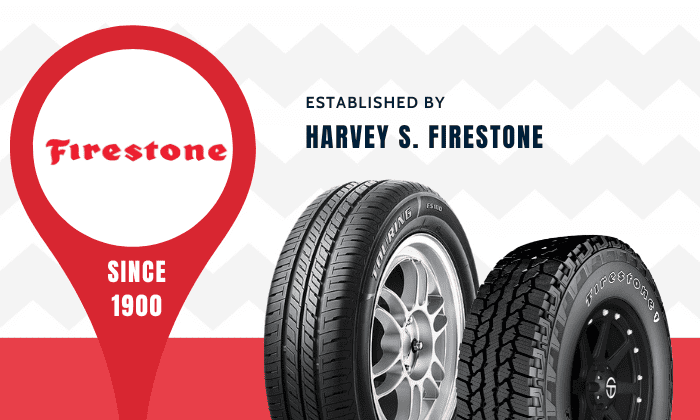 Established in 1900 by Harvey S. Firestone, an Ohio native, the Firestone Tire & Rubber Company already began producing its own tires in 1903, which quickly gained immense popularity.
In 1922, Firestone achieved a significant breakthrough with the invention of the first low-pressure balloon tire. As a result, Firestone's low-pressure models revolutionized the industry as they required less repair and lasted longer.
For a span of 80 years, Firestone maintained its dominance in the tire industry within the United States along with its rival Goodyear. And eventually, in 1988, Firestone was acquired by its current parent company, Bridgestone.
This strategic business move instantly propelled Bridgestone to become the largest tire company worldwide.
Today, Firestone remains actively involved in producing original equipment manufacturer (OEM) tires and rubber products, as well as proudly serving as the exclusive tire supplier for the renowned Indy race event.
Differences between Goodyear and Firestone Tires
When it comes to differences, both brands offer reliable tires in the market. However, to fully understand how these companies perform against one another, we'll make tire comparisons according to tire type and performance.
1. Dry Performance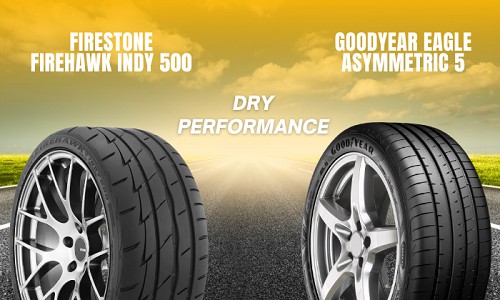 For dry performance, summer tires are definitely your best bet. So, for this one, we'll compare the Firestone Firehawk Indy 500 and the Goodyear Eagle F1 Asymmetric 5. And right off the bat, these tires proved to be excellent on dry roads.
However, the Goodyear Eagle Asymmetric 5 was slightly better in some aspects, such as cornering and steering response. Meanwhile, there was quite a significant gap when it came to traction, as the Eagle Asymmetric 5 felt tight and more confident.
2. Wet Performance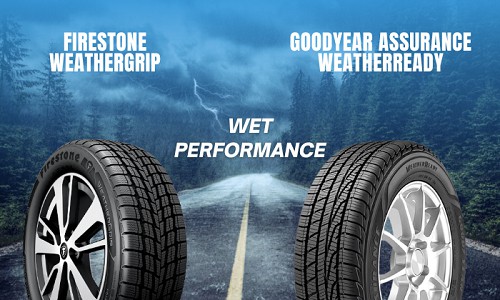 Nothing is better on wet roads than all-season tires, and both brands have an answer—the Goodyear Assurance Weatherready and the Firestone Weathergrip. However, unlike dry performance, Firestone takes the cake on this one.
Although the Goodyear Weatherready was great on wet roads, the Firestone Weathergrip had a slightly better edge, especially when it came to maneuverability and braking distance.
3. Snow Performance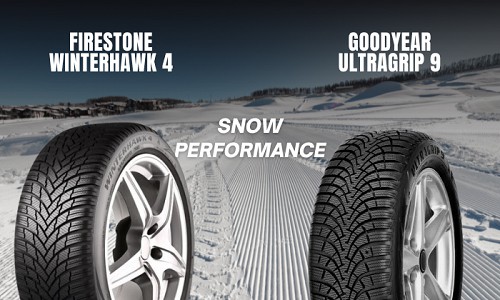 This goes without saying, but if you're looking for snow performance, winter tires are an absolute must-have when battling the extreme cold. So, we've pitted the Firestone Winterhawk 4 vs. Goodyear UltraGrip 9—and we were definitely surprised.
Goodyear's UltraGrip did better in braking and traction. However, the Winterhawk 4's maneuverability was great, while the Goodyear UltraGrip 9 left a lot to be desired in this aspect.
4. Treadwear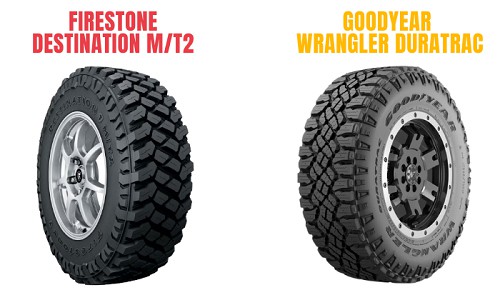 For treadwear, nothing speaks of bumps and bruises more than off-road tires. These tires need to endure lots of forces, so treadwear is a great comparison to start with. That being said, we'll go with the Firestone Destination M/T2 and the Goodyear Wrangler DuraTrac.
And it's safe to say that it's a tie on this one. The Goodyear Wrangler Duratrac has a rugged tread design that's able to mitigate chipping, while the Firestone Destination M/T2 features a tear-resistant rubber compound.
5. Comfort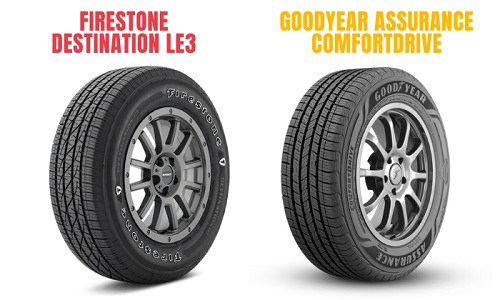 When it comes to comfort, touring tires are definitely king. That's because these tires are specifically built to provide maximum ride comfort and noise suppression during long drives.
As such, we decided on the Firestone Destination LE3 and the Goodyear Assurance ComfortDrive. And amazingly, both tires provided silky smooth rides and mitigated noise quite well. So, we also have a tie on this one.
6. Cost and Warranty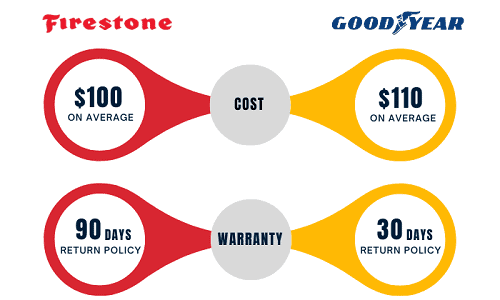 Costs can vary depending on the tire, so it's definitely tricky to compare both brands. However, if you're looking for ballpark numbers, Goodyear tires cost around $110 on average, while Firestone tires are cheaper at around $100.
As for warranty, both brands employ slightly different methods. Goodyear offers a 30-day return policy, allowing customers to get a refund or exchange within the first month. They also provide a limited tread life warranty that varies based on tire types and a two-year or 24,000-miles service package.
Meanwhile, Firestone provides a 90-day buy-and-try warranty that includes a full refund and exchange.
Firestone also includes a mileage warranty and a Gold Pledge replacement/exchange policy for passenger and light truck models, plus a tire exchange on a prorated basis for winter and temporary tires.
Pros and Cons
Firestone
Pros
Great wet performance
Better snow handling
Comfortable
Cheaper
Cons
Dry performance might need improvement.
Goodyear
Pros
Great dry performance
Great snow performance
Comfortable
Cons
Winter handling needs improvement
Slightly more expensive
Popular Tires for Each Brand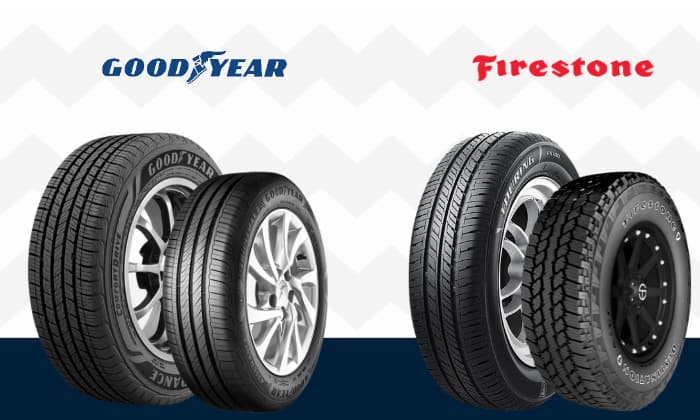 Firestone
Firehawk – Flagship summer tire
Destination – Flagship touring tire
Weathergrip – Flagship all-season tire
Winterforce – Flagship winter tire
Goodyear
Goodyear Assurance – Flagship passenger tires
Goodyear Wrangler – Flagship light truck tires
Goodyear Eagle – Flagship high-performance tires
Goodyear Fortera – Flagship for SUV tires
Which is Better?
Although Goodyear may have some advantages on paper, choosing the better tire might be a little subjective. You'll have to account for your area, weather conditions, and even costs.
What Should I Choose?
If you need better wet performance, the tires from Firestone listed above are great picks. However, if you're more into dry performance, especially racing, then Goodyear's F1 Asymmetric is an excellent choice.
If price is a factor, then Firestone tires are cheaper on average, albeit by only $10.
---
Read next:
FAQs
Where are Firestone destination tires made?
We don't know exactly where these tires are made, but Firestone generally has its products manufactured in Brazil, the US, Costa Rica, Canada, and Vietnam.
Is Firestone a good brand?
If you're in search of reasonably priced replacement tires, Firestone tires provide a solid balance between cost and quality. Moreover, as a subsidiary of Bridgestone, they're also very widely available.
Conclusion
When it comes to choosing between Goodyear vs Firestone tires, it can be kind of tricky. Although more specific tire comparisons lean towards Goodyear, we must consider a tire's overall attributes.
Regarded as one of the best tires in the market, Goodyear is an excellent premium brand to get behind on. However, if you're looking for more specific capabilities and affordability, Firestone is a good bet.