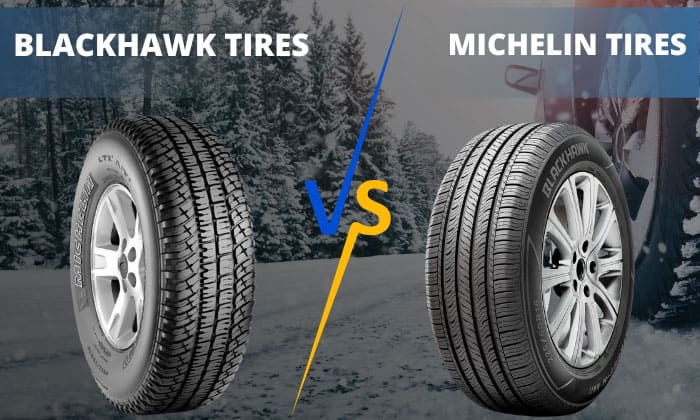 Spending money on low quality tires is the biggest nightmare of most tire shoppers. That is why we evaluated Blackhawk tires vs Michelin to find out if the tier 3 brand is worth trusting.
Right off the bat, Michelin takes the cake in every aspect except for cost. Blackhawk tires' main advantage is a lower price tag, and you can see how these two brands compare below.
| | | |
| --- | --- | --- |
| Factors | | |
| Dry | Capable | Winner |
| Wet | Capable | Winner |
| Snow and Ice | Has snow-certified tires (HA11,BDR28SP and BDW72 ) | Winner |
| Noise/Comfort/ Ride Quality | Observable noise, firm ride | Winner |
| UTQG Rating | Lower treadwear, comparable traction and temperature rating | Winner |
| Price | Winner | Expensive |
| Mileage Warranty | Average (max is 60,000) | Winner |
What Are Blackhawk Tires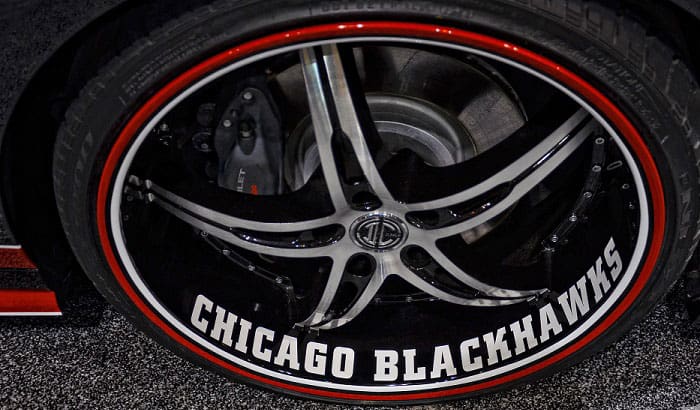 Blackhawk tires are low cost tires developed and sold worldwide by Sailun Tire Group. This global tire maker was established in 2002 and currently sells products in more than 150 countries. Its manufacturing facilities are located in China and Vietnam.
Its tire lineup is designed to fit passenger cars, light trucks, crossovers, sports utility vehicles, and commercial trucks.
Here are the tire models for each category.
Passenger – Blackhawk Street H HH11, HU01, HU02, HA11, and HT01. These models promise top dry and wet performance with above-average comfort. Of these:
HH11 is suitable for coupes, sedans, SUVs, minivans, and CUVs.
HU01 and HU02 go well with coupes and sedans.
HA11 is designed for off-road light trucks, SUVs, and Jeeps.
HT01 fits light trucks, CUVs, and SUVs.
Commercial trucks
BFL56 FST – Line haul and regional trucks
BFR55 FST, BFR65, BFR57 FST – Regional, dump, refuse, delivery, and interstate trucks
BTL66 FST – Trailers
BAM01, BAR02, BAR26/BAR26SP – All-position tires for trucks
BDR28, BDW72 – Winter tires
BDL71W FST, BDL71 FST – Closed shoulder tires for longer mileage
and more.
What Are Michelin Tires
Michelin has been producing endurance racing-inspired tires since 1923. It builds tires for passenger cars, light trucks, SUVs, aircraft, space shuttles and vehicle or equipment tires for agriculture, transport, and construction.
Michelin has 9 tire families, and here are some of the popular tire models for passenger cars, light trucks and trailers.
| | |
| --- | --- |
| Michelin | Category |
| Michelin Primacy All Season | Passenger All-season |
| Michelin Energy Saver All Season | Passenger All-season |
| Michelin Energy LX4 | Passenger All-season |
| Michelin Defender 2 | Standard Touring all-season |
| Michelin Defender T+ H | Standard Touring all-season |
| Michelin Crossclimate 2 | Grand Touring all-season |
| Michelin Primacy Tour A/S | Grand touring all-season |
| Michelin Primacy MXM4 | Grand touring all-season |
| Michelin X Ice Snow | Winter tire |
| | |
| --- | --- |
| Michelin tire | Category |
| Michelin LTX Trail | on/off road all-terrain |
| Michelin LTX A/T 2 | on/off road all terrain |
| Michelin Defender LTX M/S | Highway All-season |
| Michelin Primacy XC | Highway All-season |
| Michelin Agilis Crossclimate | Highway All-season |
| Michelin LTX M/S2 | Highway All-season |
| Michelin Latitude X Ice Xi2 | Winter tire |
Related: Michelin Latitude vs Defender
Michelin has an array of choices for trailer tires. Here are some examples.
Michelin X Multi Z – designed for line haul, urban, and regional transport
Michelin X line Energy – regroovable and retreadable tires created for line haul and regional transport
Differences: Blackhawk vs Michelin Tires
Let's compare some passenger and light truck tires of Blackhawk and Michelin and find out how entry series all season tires fare against Michelin's bestsellers.
Category
Blackhawk
Mileage

Warranty

UTQG
Michelin
UTQG Rating
Mileage
Warranty
All-
season touring tire
HH11
50,000
420AA
MichelinDefender 2
840 BB
80,000
Michelin Defender T + H
820
A B
80,000

UHP

HU01

50,000

480
AA A

Michelin Pilot Sport A/S 3+

500
AA A

45,000

Michelin Pilot Sport All Season 4

540 AA A

45,000
Performance
HU02
40,000
400
AA A
All-
Terrain light truck
HA11
40,ooo
500 AB
Michelin LTX Trail
480 BB
55,000
Michelin LTX A/T 2
500 AB
60,000
All-
Season light truck
HT01
60,000
700 AB
Michelin Defender LTX M/S
800 AA
70,000
If you compare Blackhawk Street-H HU01 and HU02 versus Michelin Pilot Sport All Season 4 and Pilot Sport A/S 3+, the Michelin tires are proven reliable in wet and dry conditions.
They both scored 9.1 and 9.3 on wet and dry roads in customer feedback.
On the other hand, the HUo2 owes its wet grip, braking ability, and lower rolling resistance to its silica compound, while the HU01 has good traction due to its gro0ves and tapered edges.
However, users generally rate both of these models 8/10, giving Michelin tires a slight edge.
Noise/Comfort/Ride Quality
When it comes to noiseless tires, Michelin never fails to show up in reviews and recommendations. Some of the brand's quiet designs are Michelin Premier LTX, Michelin Energy Saver A/S, and Michelin Defender T +H.
The Pilot Sport All Season 4 achieved excellent ratings in comfort and treadwear while the A/S 3 + received good marks.
Conversely, Blackhawk tires are not exceptionally quiet, but they can lower tread noise through their varying block sizes.
Among Blackhawk all terrain tires, Blackhawk's Hiscend-H HA11 is 3PMSF certified. However, there are too few reviews to conclude how well it performs in snowy conditions.
Meanwhile, reviews for Michelin's LTX A/T 2 show that its snow traction is good even though it is not rated for such a condition.
Another tire that performs well in light snow conditions even without the snowflake symbol is Michelin's Pilot Sport All Season 4. Its winter/snow traction is near excellent based on consumer feedback.
Of course, Michelin X Ice Snow is on top with the best ice braking ability.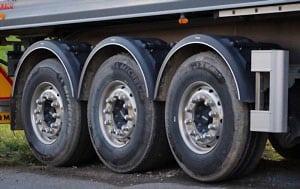 Michelin has a higher UTQG rating. As an illustration, its all-season touring tires Defender 2 and Defender T +H had almost double the treadwear rating of Blackhawk tires.
The AA traction and temperature ratings of the Blackhawk Street-H HH11 are slightly better than the BB ratings of Michelin's Defender 2, but the low tire wear rating of the former calls for an early replacement.
Interestingly, despite having lower treadwear ratings, the HU01 and HU02 got the same excellent traction rating (AA) as the Pilot Sport All Season 4 and Pilot Sport AS 3+. This mark proves their capability in handling asphalt and concrete roads. The four tires also obtained the highest temperature grade (A) in heat tolerance.
When it comes to light trucks, all terrain tires – Hiscend HA11 and Michelin LTX A T/2 – have similar UTQG ratings of 500 AB. The Michelin LTX Trail lagged behind the HA11 in treadwear and traction, but the two have the same heat endurance.
Finally, Michelin's Defender LTX M/S is slightly better in treadwear and temperature than the HT01, but both have A traction score, meaning they won't skid dramatically on wet roads.
Blackhawk promises 40,000-60,000 miles of warranty while Michelin offers a mileage coverage of 20,000 to 80,000 miles.
Without a doubt, Blackhawk broke into the North American market by offering cheaper tires. As you can see in some examples below, Michelin tires price can be triple the amount of the cheapest Blackhawk.
Blackhawk
Price
Michelin
Price
HH11
$58.97
Michelin Defender 2
$157.99
Michelin Defender T +H
$136.99
HU01
$80.98
Michelin Pilot Sport A/S 3+
$132.96

Michelin Pilot Sport All Season 4

$174.99

HU02
$88.96
HA11
$130.96
Michelin LTX A/ T 2
$227.96
HT01
$97.96
Michelin Defender LTX M/S
$151.99
Pros and cons
Strong Points of Michelin
Century-long expertise in producing versatile tires
Superior wet, dry, and snow performance
Tire warranty up to 80,000 miles
Quiet and comfortable rides
Strong Points of Blackhawk
Affordable cost
Excellent tire diversity for commercial trucks
FAQs
Who makes Blackhawk tire?
Blackhawk tires are manufactured by Sailun Tire Group and distributed in more than 150 countries.
The former name of Blackhawk was Blacklion. It was owned by Jinyu Industrial Co. Ltd., a Chinese tire company located in Shandong. It was acquired by Sailun in 2012, along with Shenyang Peace Radial Tyre Manufacturing Co. Ltd.
Who sells Blackhawk tires?
You can find various models from Blackhawk tires for your vehicle via their stores or at Walmart, Simpletire.com, and more.
Are there any good Chinese tire brands?
Yes. Some of the best Chinese tires are produced by Sailun, Triangle Tire Co., Ltd. and Maxxis.
Maxxis has at least one tire model that excels in all-season, summer, and winter conditions. Triangle creates dependable all-season and summer tires, while Sailun takes a spot in crossover and passenger winter tire categories.
What are the best tire brands for all-season?
The best brands of tires quality for all-season tires are Michelin, Bridgestone, Firestone, and Goodyear.
Top choices include the Michelin Crossclimate 2, Bridgestone Turanza Quiet Track, Firestone Weather Grip, Goodyear Weather Ready, and Continental TrueContact Tour. Also, the Blackhawk Hiscend-H HT01 is a good all-terrain all-season tire for SUVs.
Conclusion
Tire shoppers are cautious in choosing Chinese-made tires because of bad reviews. That is why comparing unpopular tires like Blackhawk tires vs Michelin is reasonable to avoid buying the worst tire brands.
If you are more concerned about price, Blackhawk is more attractive and practical. However, since the Chinese tire manufacturer is young in the industry, trusting the brand will take time.
Between the Blackhawk/ Sailun tires vs Michelin, the latter offers high-end value in performance, comfort and safety. If you would like to know more about Michelin and Blackhawk truck tires, stay tuned for more reviews.