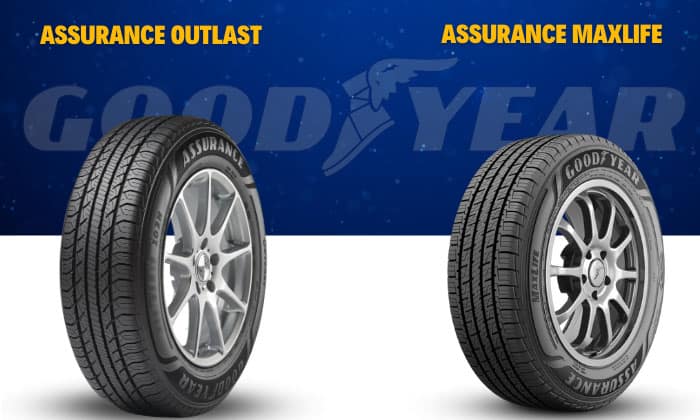 There are tons of all-season tires available in the market today, with each having better qualities in some areas than the others. So the design that we should get must be based on our driving needs.
Goodyear has produced a lot of dependable all-season models in their tire catalog. As a lot of drivers are interested in this kind of design, let us examine the Goodyear Assurance Outlast vs Maxlife and find out which one is better.
In this Goodyear tire comparison, the Maxlife offers superior all-season traction, while the Outlast excels in hydroplaning resistance. The difference in their grooves is one of the main reasons for this, as the narrower grooves of the Maxlife aid in traction while the wider grooves of the Outlast aid in removing water from the treads.
Goodyear Assurance Maxlife and Goodyear Assurance Outlast Specs
| | | |
| --- | --- | --- |
| Specifications | Assurance Outlast | Assurance Maxlife |
| Brand | Goodyear | Goodyear |
| Tire type | All-season Touring | All-season Touring |
| Usage | Highway | Highway |
| Country of Origin | USA | USA |
| 3PMSF | No | No |
| Tested Size | 215/55R17 | 215/55R17 |
| UTQG | 800 A B | 820 A B |
| Load Index | 94 | 94 |
| Speed Rating | V | V |
| Tread Depth | 11/32″ | 11/32″ |
| Tire Weight | 23.14 lbs | 25 lbs |
| Price | $117 | $184 |
Goodyear Assurance Outlast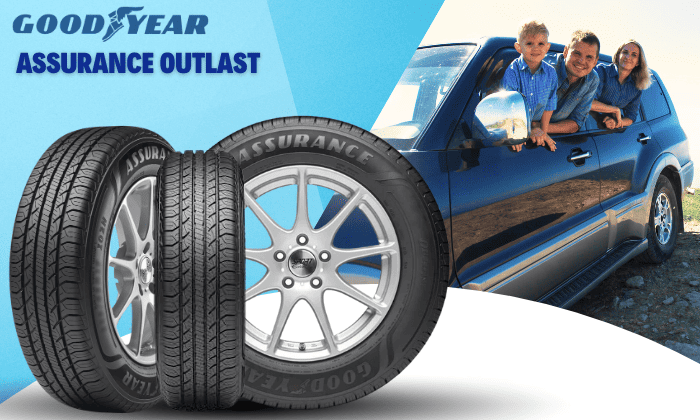 The Goodyear Assurance Outlast is an entry-level tire designed specifically for Walmart. Despite being slightly less expensive than the brand's other tire designs, Goodyear claims that the Assurance Outlast can still deliver premium-like performance.
It has a good combination of an all-season rubber compound and tread design, which allows it to greatly perform in different types of weather. Its wide circumferential and lateral grooves help greatly to disperse water, reducing the possibility of hydroplaning.
Goodyear Assurance Maxlife
The Goodyear Assurance Maxlife tire offers a solid package of fuel efficiency, long tread life, and all-season traction. This design covers the needs of drivers searching for dependable all-season touring tires.
This tire features a symmetric tread pattern and a continuous center rib that improve traction and allow for easy replacement. It is also equipped with sipes that work together with the all-season compound to improve stability in different weather conditions.
What Are the Main Differences Between Assurance Outlast and Assurance Maxlife?
1. Grip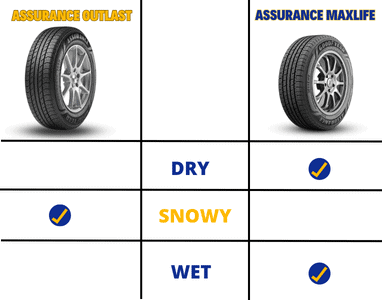 The Assurance Outlast and Assurance Maxlife are two excellent all-season tires that receive high ratings on different retail sites. However, which one can provide better grip on dry, wet, and snowy surfaces?
To find the answer, I tried running a Goodyear Assurance Outlast 215/55R17 and an Assurance Maxlife All-season 215/55R17 94V tire for a couple of miles.
The Assurance Outlast features wider grooves and higher void ratio, which slightly compromises its performance on dry and wet roads. The few shallow sipes on its center also doesn't help much for its grip, leading to a slight delay in braking response.
However, for an all-season tire, the Assurance Outlast gives exceptional grip on snow-covered roads. The block edges help to ensure the tread's road contact, improving its grip on snow.
On the contrary, the Assurance Maxlife is equipped with better features for a higher level of grip. The narrow grooves and asymmetrical tread pattern allow the tire to perform better on dry roads with excellent response.
In terms of wet traction, the tire is equipped with deep sipes that enhance its grip and braking distance. However, one of the tires problems is its snow performance, as its closed outer treads make it tough to expel ice.
2. Handling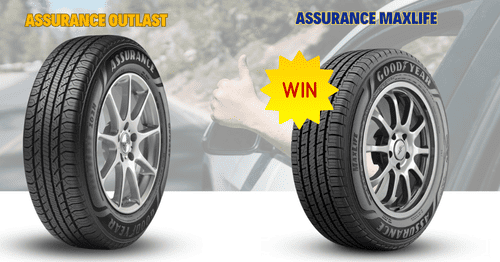 There are a lot of positives for the Goodyear Assurance Outlast All-season tire, but its handling needs to be worked on. Although it is on the average level, the lack of feedback prevents you from having a dynamic feel while driving.
This is due to this tire's open shoulder design, which helps it to provide biting edges in snow but compromises its performance on dry and wet surfaces.
For the Assurance Maxlife, it's the opposite. This tire has a superior level of handling, thanks to its closely packed shoulder lugs. The added deep sipes on its shoulder lugs also helped in terms of improving its handling on wet and icy tracks.
3. Rolling Resistance
One of the few features that I look at when selecting tires is their rolling resistance. Buying tires that would save you fuel in the long run is something that any driver would never regret.
The Assurance Outlast features a smaller contact patch, resulting in lower rolling resistance and therefore higher fuel savings.
On the other hand, the Assurance Maxlife has narrower grooves that make its contact patch larger. This results in a slightly higher rolling resistance and more fuel consumption than the Assurance Outlast, even when driving at moderate speeds.
4. Price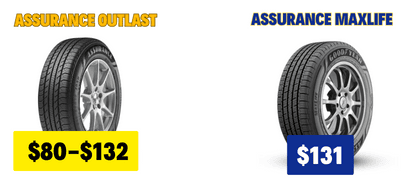 The Assurance tire line from Goodyear is made to be a budget-friendly option for consumers. Therefore, you can expect these tires to be cheaper than their rival brands in the market.
The average price of the Assurance Outlast ranges from about $80-$132, depending on the size and the shop. For instance, you can get a Goodyear Assurance Outlast 225/65R17 tire at Walmart for a price of $131.
For the Assurance Maxlife, it is a bit more expensive as it starts at about $136 on Tire Rack for the smallest size. This design's higher price can be due to its improved traction and ride quality.
Pros and Cons
Goodyear Assurance Outlast
Good all-season traction
Dependable grip on light snow
Low rolling resistance
Excellent quality for its price
Handling characteristics could be improved.
Goodyear Assurance Maxlife
Superb dry and wet traction
Remarkable handling characteristics
A comfortable and quiet tire
Short braking distance
Related:
Frequently Asked Questions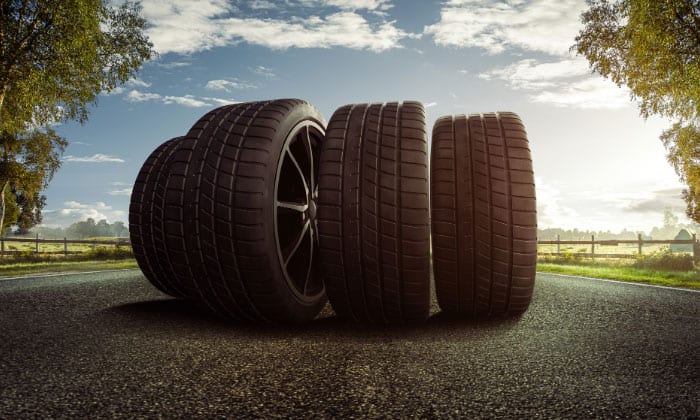 Is the Goodyear Assurance Maxlife a good tire?
The Assurance Maxlife tire has a lot of upsides to offer drivers that need dependable tires for the whole year. Goodyear designed this option to provide excellent dry and wet traction and an extended tread life.
Aside from its all-season grip, it also ensures that an ideal level of comfort will be felt in the cabin. The road noise and ride quality are both rated highly by consumers, scoring excellent numbers in both categories.
How long do Goodyear Assurance Maxlife tires last?
One of the advantages in having the Assurance Maxlife is its long tread life. It competes with the all-season tires from other leading brands like Michelin. By looking at Goodyear Assurance Maxlife vs All season Defender tires, the same level of durability could be noticed.
Based on its treadwear warranty, the Assurance Maxlife should last 85,000 miles. On the other hand, the Defender LTX M/S and Defender T+H can last up to 85,000 miles and 90,000 miles respectively based on Consumer Reports testing.
Conclusion
There are plenty of options when it comes to all-season tires. However, Goodyear made sure it offers low cost but high quality designs that will be available in the market.
That said, you can never go wrong in choosing between Goodyear Assurance Outlast vs Maxlife. The former offers better hydroplaning resistance and grip on snow, while the latter offers better dry and wet traction as well as superior handling characteristics.
I hope this tire comparison helped you determine which design is better for you. You can share this article with your family and friends so that they can be guided as well.