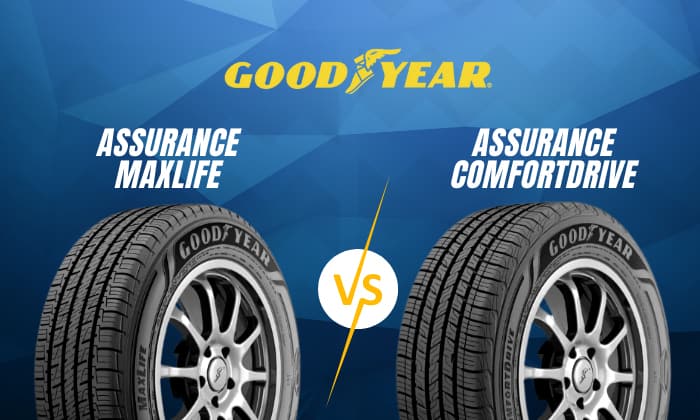 As one of the oldest tire brands in the industry, Goodyear never fails to deliver superb tire performance, raising the stakes in the tire market.
Although Goodyear tires are all exceptionally manufactured, its customers often compare different tire models under this brand to ensure the product they buy matches their specific driving needs.
And this leads us to Goodyear Assurance Maxlife vs ComfortDrive, as this battle is one of the intriguing Goodyear tire comparisons lately.
Let's differentiate their performance, warranty, price, and pros and cons in order to recognize which one is better at the end of this article.
Comparison Chart
Below are some respective highlights of ComfortDrive vs Maxlife technical differences.
Attributes
Goodyear Assurance Maxlife
Goodyear Assurance

ComfortDrive

Tire Type
All-season
All-season
Usage
Commuter
Commuter
3PMSFR
No
No
Load Range
SL
SL
Tested Size
235/55R20
235/55R20
Load Index
102
102
Speed Rating
V
V
UTQG
820/A/B
700/A/A
Measured Rim Width (in.)
7.5
7.5
Section Width (in.)
235
235
Outside Diameter (in.)
30.16
30.2
Tread Depth (in 32nds)
0.38
0.34
Max Inflation Pressure (PSI)
51
51
Approved Rim Width (in.)
6.5-8.5
6.5-8.5

Max Load (lbs)
1874
1874
Revs Per Mile
693
692
In this section below, let's compare tires side by side through looking into the type of performance they can achieve.
Goodyear Assurance Maxlife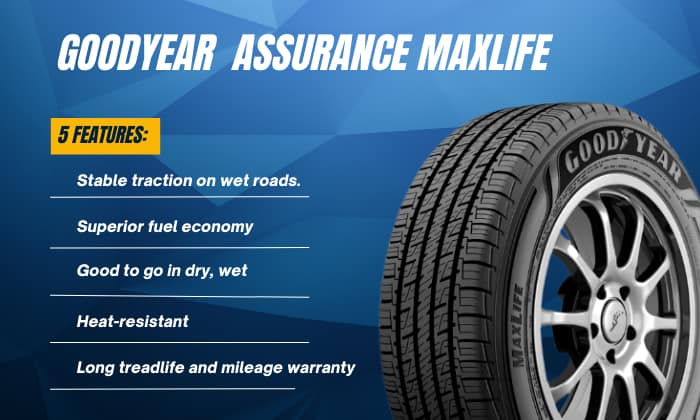 Goodyear Assurance Maxlife urance Maxlife is a sedan, CUV, and SUV tire with the longest mileage warranty—up to 85,000 miles. This product was introduced to the public in 2018 during the company's Customer Conference. It has a uniform tire quality grading of 820 and enjoys favorable customer reviews, with most stating they would buy it again.
Aside from its impressive durability, this touring tire has several advanced features, such as the wear gauge, symmetric tread design with an uninterrupted center rib for firm road contact and on-center sensation, and wide circumferential grooves with biting edges.
Plus, Goodyear Assurance Maxlife has two steel belts as part of its interior engineering, responsible for its sensitive steering and speed-driving performance. Also, its notched semi-closed shoulders and intermediate ribs with block edges ensure stable driving and superior traction performance on wet roads.
Overall, this trustworthy all-season tire promotes fuel economy, stable handling, and a comfortable ride. It also resists heat and maintains grip during high-speed driving, boasting superior traction and braking power in different road conditions and surfaces.
Hence, this tire basically offers optimal performance not just in dry road conditions but also in wet and snowy scenarios.
However, it does have some drawbacks, including slightly weak traction performance when on heavy snow and somewhat loud noises.
Goodyear Assurance ComfortDrive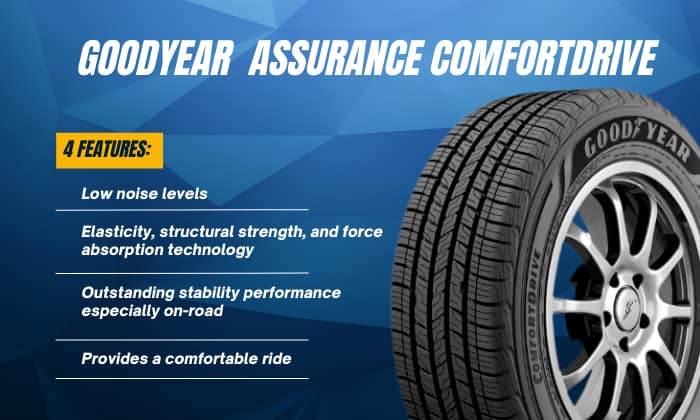 Another great tire model under Goodyear mainly produced for sedan, crossover, SUV, and sport coupe drivers is the famous Assurance ComfortDrive. It was launched on February 3rd, 2020, making it one of the newest addition to the Assurance line to date. In terms of uniform tire quality grading rating, the product scores 700.
The name of this grand touring all-season tire model speaks for itself, for comfort is its top priority, as shown in its elasticity, structural strength, low noise level, as well as resistance to road forces and impact.
Goodyear's ComfortFlex technology is behind all these refined-ride qualities. Its main framework consists of bi-steel belts that serve as a powerful base. Also, its symmetrical tread texture contributes to the smooth ride quality.
Traction and stability, along with sensitive steering, cornering, and braking power on dry, wet, and light snow roads are also considered part of this tire's strength.
Furthermore, this tire is perfectly engineered with grooves on its tires meant to maintain its outstanding wet performance and safety. It is perfect to use for driving long distances too.
Despite its numerous useful features, Goodyear Assurance Comfort Drive has its weakness in terms of durability and maneuverability during harsh winter seasons, despite its TreadLock technology.
Performance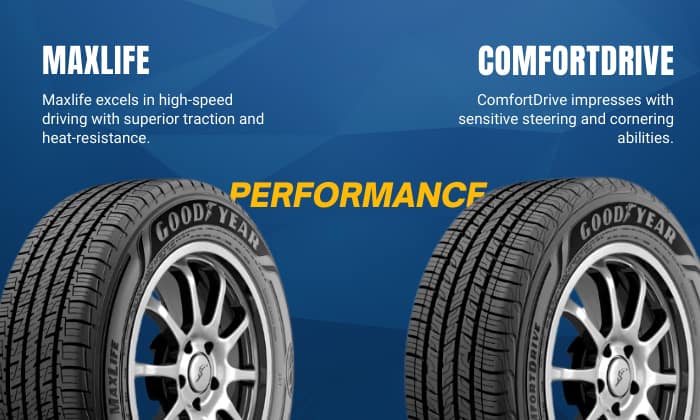 The Maxlife and ComfortDrive, as all-season tires, can both be used in dry, wet, and snowy road conditions. These two share similar capabilities, such as traction performance, stability, decent braking power, and some weakness when used in heavy snow.
Both also provide refined ride quality, but ComfortDrive raises the stakes as it also guarantees less impact, vibration, and lower noise levels. This is what the Maxlife is lacking since it's rather loud and fails to provide comfort over bumpy or wavelike roads.
Yet, Maxlife's edge is its high-speed driving performance. It can maintain superior traction and is equipped with heat-resistance technology. Meanwhile, ComfortDrive stands out with its impressive sensitive steering and cornering qualities.
And even if ComfortDrive can't provide optimal fuel mileage and durability, it compensates in terms of the elasticity and structural strength of its composition.
Warranty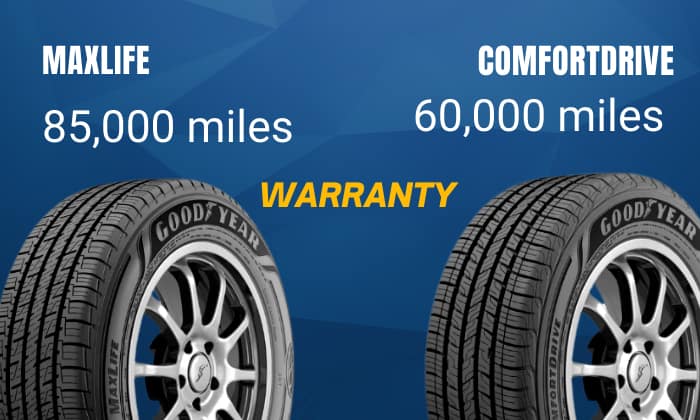 Since both Assurance Maxlife and ComfortDrive came from the same tire company, it's already expected that they are going to offer almost similar warranty policies.
First, both of them offer a treadlife warranty of up to 6 years. However, they differ when it comes to the mileage warranty. For Maxlife, it is 85,000 miles, while ComfortDrive enjoys a 60,000-mile coverage.
Second, both come with 1 year of Uniformity Warranty or the first 2/32″ of treadwear. Not only that, their Manufacturer Special Warranty allows a 30-day test drive. This warranty policy promotes customer satisfaction since it gives customers the option of exchanging their purchased tires for a new set.
Pros and Cons
Goodyear Assurance Maxlife
Pros
Comes at a slightly cheaper price
Long treadlife and mileage warranty
Good to go in dry, wet, and snowy road conditions
Superior fuel economy
Consistent traction and grip during high-speed driving
Able to resist high levels of heat during high-speed driving
Cons
Weak grip on heavy snow conditions
Uncomfortable over bumpy or wavelike road types
Produce high noise levels
Goodyear Assurance ComfortDrive
Pros
Provides a comfortable ride that is free from vibration and impact
Guarantees low noise levels
Equipped with elasticity, structural strength, and force absorption technology
Allows sensitive steering during cornering and braking on dry and wet roads
Secured traction in dry, wet, and light snow conditions
Outstanding stability performance especially on-road
Cons
Comes at a slightly higher price
Has a slightly shorter mileagty and tread lifespan
Uneasy control during the harsh winter season
Cost
Tire prices must be considered since they play a big role as a tire comparison tool when we are talking about practicality.
For Goodyear Assurance Maxlife, you can purchase this tire model for $135.99 to $241.99. Meanwhile, the cost of Goodyear Assurance ComfortDrive ranges from $151.99 to $260.99.
Which is Better?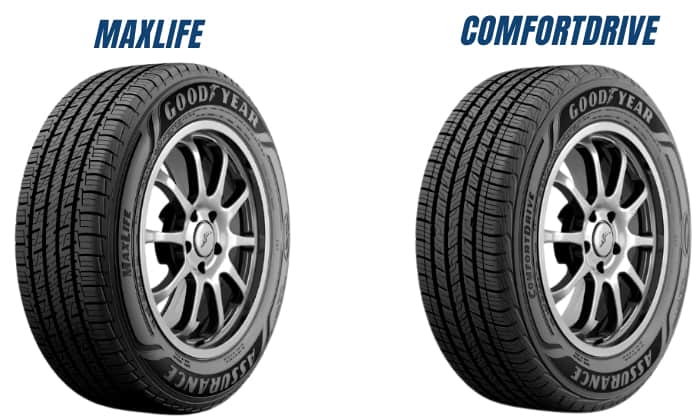 Goodyear Assurance Maxlife is better for those who look more into high-speed driving performance, durability, fuel economy, and heat-resistance capabilities. On the other hand, Goodyear Assurance ComfortDrive is better for those who prioritize affordability, comfort, sensitive steering, and cornering performance.
Tips for Choosing a Suitable Tire for Your Car
Here is the list of factors to consider for a suitable automobile tire:
Always select the right tire type. For instance, select winter tires for roads with heavy snow.
Choose tires that match your preferred driving style. Do you prefer high speeds, or do you value comfort and quietness above all?
Tires should match the travel conditions. For example, tires for highways should have good grip and braking distance, whereas tires for commuting in the city should be able to withstand large slippery pressures.
The tire size should match your car to ensure optimal performance.
Conclusion
To sum up this comparison between Goodyear Assurance Maxlife vs ComfortDrive, both tires are excellent options with unique benefits. Whereas the former wins in terms of durability and long-lasting performance, the latter excels at providing a comfortable and quiet ride.
In the end, the best tire to buy depends entirely on your driving habits, needs, and budget. Good luck with your decision!
Read next: