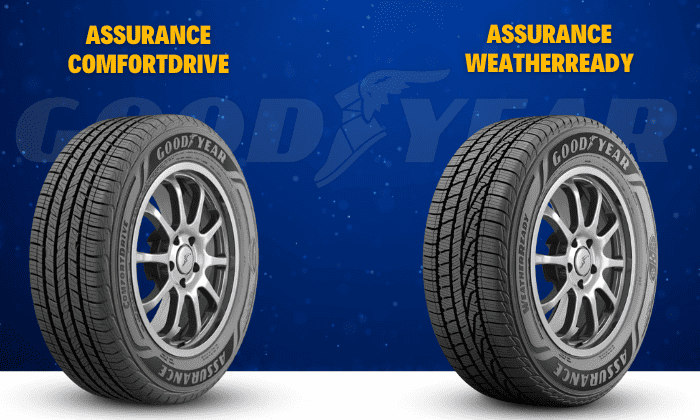 The Goodyear Assurance ComfortDrive vs. WeatherReady comparison is a difficult one to make. The ComfortDrive ensures a smooth driving experience, while the WeatherReady offers reliable traction for most road conditions.
Below is a tire comparison chart between the two Assurance lines to quickly examine their strength and shortcoming.
| | | |
| --- | --- | --- |
| | Goodyear Assurance ComfortDrive | Goodyear Assurance WeatherReady |
| Tire Category | Grand Touring All-Season | Grand Touring All-Season |
| Size Range | 205/55R16 to 255/55R20 | 195/65R15 to 255/55R20 |
| On-Road | Superior | Above Average |
| Off-Road | Below Average | Below Average |
| Wet Traction | Average | Superior |
| Snow Traction | Average | Above Average |
| Comfort | Superior | Average |
| Tread life | Above Average | Average |
To help you make an informed buying decision, below is the detailed review of both the Goodyear Assurance ComfortDrive and the Assurance WeatherReady.
Goodyear Assurance ComfortDrive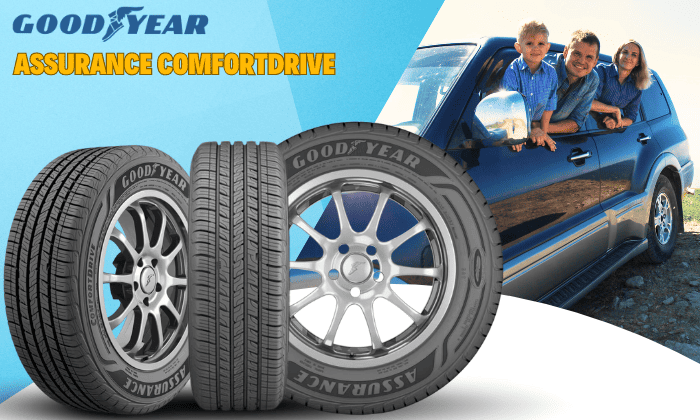 The Assurance line is an all-season tire designed for casual driving while improving specific aspects. The ComfortDrive offers better road comfort for this Assurance tire by absorbing vibrations efficiently.
Goodyear Assurance WeatherReady
Goodyear Assurance tires provide dependable traction for nearly any season. The WeatherReady further enhances the Assurance's wet and snow traction to ensure a safe driving experience in most weather conditions.
Differences
1. On-Road Performance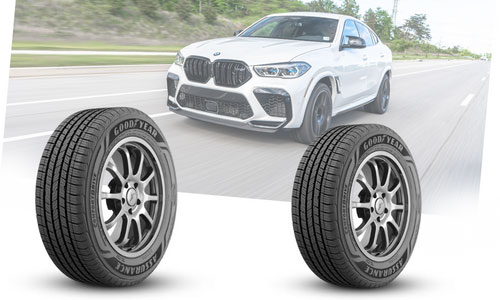 The ComfortDrive uses a TreadLock feature to achieve consistent road grip and steering response. The 3D tread design allows a large part of the tires to have optimum contact with the pavement. The twin steel belts supported by two-ply casings also allow the ComfortDrive to achieve a flat contact patch for better dry road stability.
The WeatherReady also utilizes the 3D TredLock design and its own Weather Reactive Technology feature to get better traction in dry conditions. This Assurance line has specific tread zones to ensure a reliable grip for nearly any road.
When you compare Goodyear tires on dry road conditions, the ComfortDrive and WeatherReady are capable of nearly the same performance. They have the same tread design and features that achieve a better grip on the pavement.
2. Off-Road Performance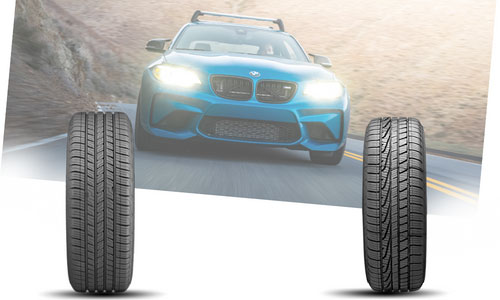 The ComfortDrive and WeatherReady tires do not have any features or tread features that can achieve reliable traction on joint off-road surfaces. They can provide traction on flat surfaces such as campgrounds or paved roads.
However, they cannot grip gravel or sandy surfaces.
3. Wet Conditions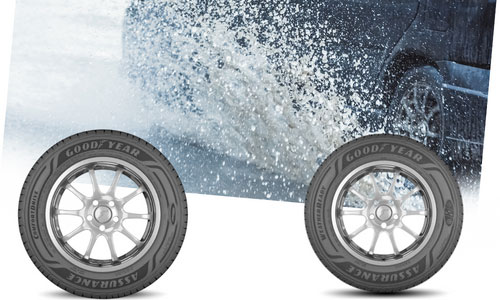 The Goodyear ComfortDrive uses an Evolving Traction Grooves feature to achieve good traction on wet roads for a long time. It also has an AquaChannel Groove design that creates an efficient vacuum to absorb water from the road and eject it to the side.
The overall tread design of the ComfortDrive gives it a better grip in wet conditions and high resistance against hydroplaning.
The WeatherReady also has an Evolving Traction Grooves design and Sweeping Tread Grooves. These grooves siphon the water from the road and remove it through its four void channels. Both WeatherReady features efficiently keep the tires in contact with the road to prevent hydroplaning.
The Wet conditions performance comes down to the efficiency of the AquaChannel Groove or Sweeping Tread Groove designs. In this case, the WeatherReady wins by a small margin since the four circumferential channels do a better job of providing superior traction in wet conditions.
4. Comfort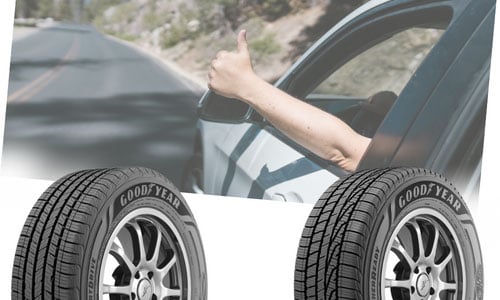 Out of all the Assurance lines, the ComfortDrive offers the smoothest drive possible thanks to its ComfortFlex technology. This feature allows the tire to absorb much of the road's imperfection and prevent unnecessary vibrations. In addition, the tread pattern prevents air from creating noise within its grooves for a quiet driving experience.
The ComfortDrive is the clear winner in this category since the WeatherReady has no feature that prevents vibration or noise.
Note that the WeatherReady still has the basic features of the Assurance line, which results in average drive comfort and noise rating.
5. Winter Performance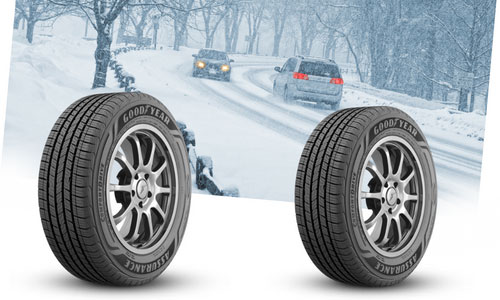 Choosing a tire for snow comes down to its efficiency in biting edges. The Assurance ComfortDrive has an efficient winter performance with its large sipes within the tread blocks. These sips can grab onto snow or icy roads for reliable winter traction.
The WeatherReady excels in providing traction on icy roads with its ZigZag Biting Edges, creating an aggressive grip on snow or frozen surfaces. Its strong winter-biting capabilities make this a 3PMSF M+S tire for longitudinal show traction.
Regarding tire comparisons for winter performance, the WeatherReady is the clear winner over the ComfortDrive.
Even so, remember that the WeatherReady only provides traction for common snow or icy conditions compared to other Goodyear winter tires that are specially designed for heavy snow or severe winter conditions.
6. Pros and Cons
Below are the advantages and disadvantages of ComfortDrive.
Goodyear Assurance ComfortDrive
Superior smooth driving experience
Reliable traction on dry and wet roads
Good wet traction
Not built for off-road conditions
Not 3PMSF rated for winter conditions
Here are the pros and cons of WeatherReady.
Goodyear Assurance WeatherReady
Dependable traction for dry conditions
Superior grip and response for wet conditions
Good winter traction
Lack of off-road traction
Not ideal for heavy winter conditions
7. Cost and Value for Money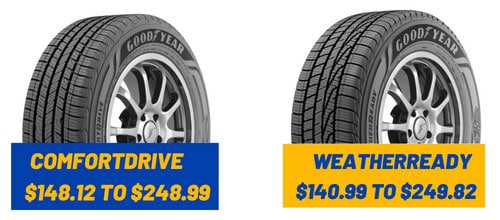 The Assurance ComfortDrive ranges from $148.12 to $248.99 in major retailers. Meanwhile, the WeatherReady costs around $140.99 to $249.82.
The price of Goodyear Assurance tires is based on their performance, durability, and reliability.
Which is Better?
The choice comes down to what type of driving experience you are after.
The ComfortDrive offers the smoothest ride possible due to its ComfortFlex feature. Meanwhile, WeatherReady's Zigzag Biting Edges, Sweeping Tread Grooves, and Evolving Traction Grooves ensure reliable traction for most road conditions.
Being Goodyear Assurance tire lines, ComfortFlex and WeatherReady offer other features of the brand's popular all-season tires. Even their mileage rating expectation can reach 60,000 miles.
Five Tips to Choose Between These Tires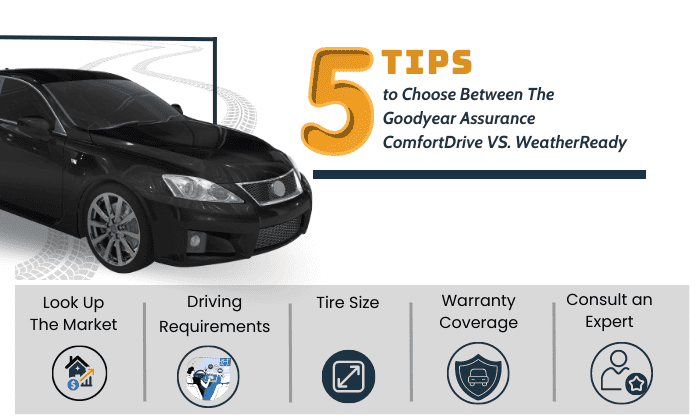 Here are five valuable tips for buying the right Goodyear Assurance tire.
1. Look Up The Market
It is worth knowing the average costs based on the Goodyear tire ratings for any of the Assurance lines. Doing your research will help you know if you can get a ComfortDrive or WeatherReady at a better price in specific stores or sellers.
2. Consider Your Driving Requirements
Do you need better traction for the usual road conditions you are experiencing? Are you looking to make your daily drive smoother and quieter? Asking these questions will let you know whether ComfortDrive or WeatherReady addresses your requirements.
3. Tire Size
A clear idea of your tire size can save you time, money, and effort. Your vehicle's manual shows you the tire size you need. In addition, your current tires will show their size on their sidewall.
4. Warranty Coverage
You want tires guaranteed to last for a certain period or distance. Nearly all new Goodyear tires have a tread life warranty protecting premature treadwear. Ensure the ComfortDrive or WeatherReady comes with the usual Goodyear warranty coverage from the seller.
5. Consult an Expert
Some experts have first-hand experience with the performance of most Goodyear Assurance tires. It pays to ask them whether the ComfortDrive or WeatherReady is the best for your vehicle.
Frequently Asked Questions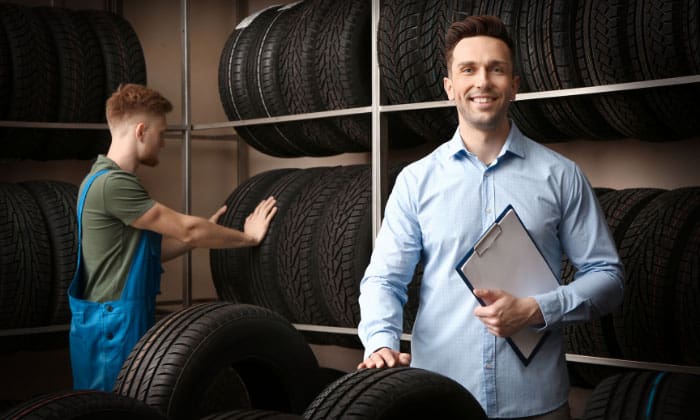 Can you use the ComfortDrive on gravel or mud terrains?
The Goodyear ComfortDrive is not designed to provide traction on loose off-road conditions. You can still drive safely on flat dirt, such as ones found on outdoor recreational grounds.
Is the Goodyear WeatherReady considered a winter tire?
The snow and ice traction of the WeatherReady is good enough to earn a 3PMSF M+S rating. However, there are better Goodyear winter tires that can achieve an aggressive grip on severe snow and ice conditions.
Can the WeatherReady provide a comfortable drive?
The Goodyear WeatherReady follows the Assurance line's tread voice and sipes design, which prevents vibration and noise to a certain degree. However, it does not offer the same level of comfort and noise-reduction performance as the ComfortDrive.
Conclusions
To conclude the comparison between the Goodyear Assurance ComfortDrive vs. WeatherReady, the tires are about smooth driving experience vs. superior traction for all seasons. The ComfortDrive offers a smooth, noise-free ride, while the WeatherReady ensures a reliable grip for wet and snow conditions.
---
Read next: