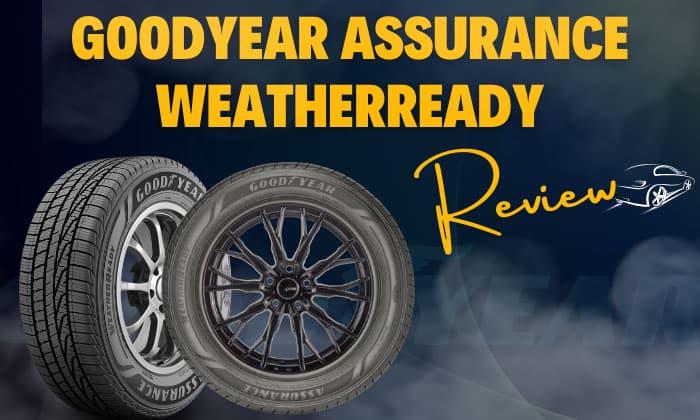 The Goodyear Assurance WeatherReady is an excellent product from the veterans over at Goodyear and a solid choice for a touring all-season tire. The company has over a century's worth of experience in making tires, and the Goodyear Assurance WeatherReady is a clear reflection of their experience.
What makes the tire such a great choice is the various technological innovations and features embedded into the design of the tire to make the driver's experience smoother and, most importantly, safer.
In this Goodyear Assurance Weatherready review, we've listed all the features below to better understand what makes this an excellent product for new and veteran drivers alike.
Overview of Goodyear Eagle Sport All Season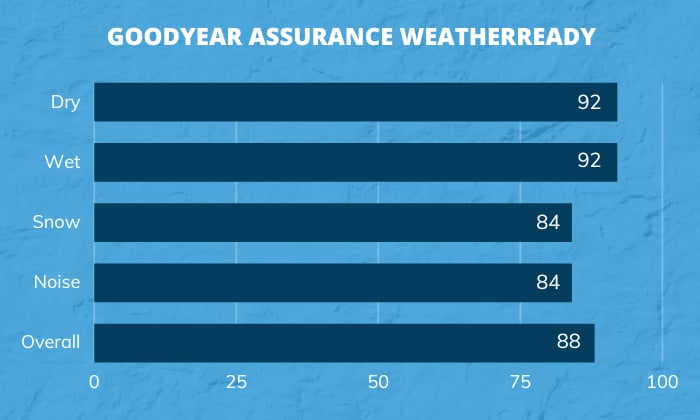 1. Tread Design And Compound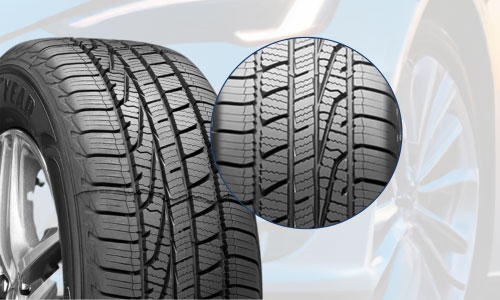 The Goodyear Assurance WeatherReady features an asymmetric tread design that allows for exceptional handling, improved stability on curves, reduced noises, and consistent grip on wet and dry roads. As an all-season tire, the Assurance WeatherReady also boasts a zig-zag biting edge to enhance its grip on slippery snow and ice.
In addition, Goodyear uses soybean oil instead of the more traditional petroleum in their rubber compound to make the tread more flexible for better grip, even in low temperatures.
The tire also has evolving traction grooves, allowing it to maintain its traction levels on any road surface, even when it starts to wear down. It is a durable tire and perfect for drivers fed up with constantly having to waste money on replacing tires.
Also noteworthy is the implemented Weather Reactive Technology™, which means the tire's treads will either lock together or open to improve traction, depending on whether it's traveling on dry or wet roads. As such, you don't have to worry about sudden weather changes.
2. Handling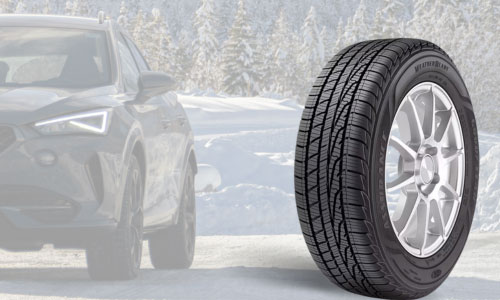 Consumer reports show that WeatherReady is consistent in providing optimal handling in any type of weather. Its braking distance is short, even when under harsh conditions like snow and ice, compared to other tires.
Alongside this, the tire also features 3D TredLock technology for maintaining stable traction while traversing slippery roads. The noise produced by the Goodyear WeatherReady is also minimal, even from outside the vehicle itself, making it ideal for long drives.
Specialized tread compounds in the tire have earned it a Severe Snow Certification, giving their customers the confidence to drive in snowy conditions. It's this ability to handle snow that sets it apart from debates regarding the Goodyear Assurance all season vs WeatherReady.
If you live in an area that frequently experiences mild snow, then all weather tires from Goodyear are an excellent choice. However, if you live in an area with severe snow, then it is still better to outfit your vehicle with a proper set of winter tires.
3. Wet and Dry performance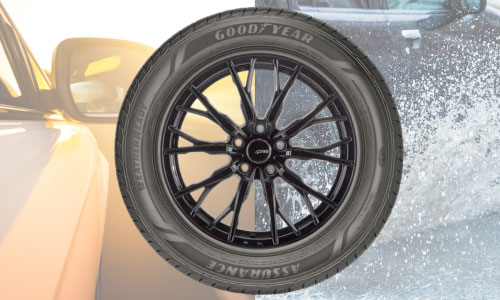 For dry terrains, the Goodyear Assurance WeatherReady tire handles well and offers short braking distances and an impressive cornering grip. Cornering feels balanced and stable even at high speeds, making it a great tire for everyday driving.
Wet roads also aren't a problem for Goodyear's allweather tires, as the company prioritizes safety for its customers. Thanks to its Sweeping Tread Grooves, the tire can efficiently move water. The deep circumferential grooves also improve its resistance to hydroplaning, so driving in light rain with this tire shouldn't be an issue.
However, the WeatherReady's traction in heavy rain isn't very impressive, particularly if you drive at high speeds. This drawback is especially apparent when you round sharp corners.
Pros and Cons
Excellent dry and snow performance
Short braking distance on all surfaces
Reliable even if the tread wears down
Impressive traction and hydroplaning resistance in light rain
Performance in heavy rain could be better
Cost and Warranty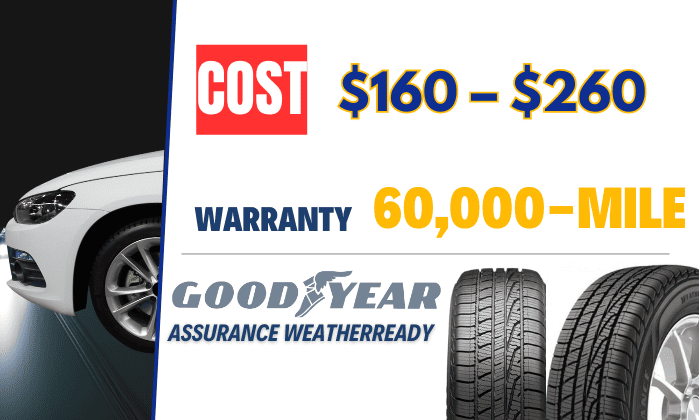 The WeatherReady is available in a lot of sizes, ranging from 215/55r17 and 225/60r18 to all the way to 255/5R20. Depending on what size you get, you'll need a budget of $160 – $260 a tire from this product line.
Goodyear offers a 30-day pledge for every customer should they not be satisfied with WeatherReady's performance; then they are free to exchange them for a different set of tires available. The tire itself has a 60,000-mile tread life warranty.
Are All-weather Tires Worth It? Is It Suitable for Me?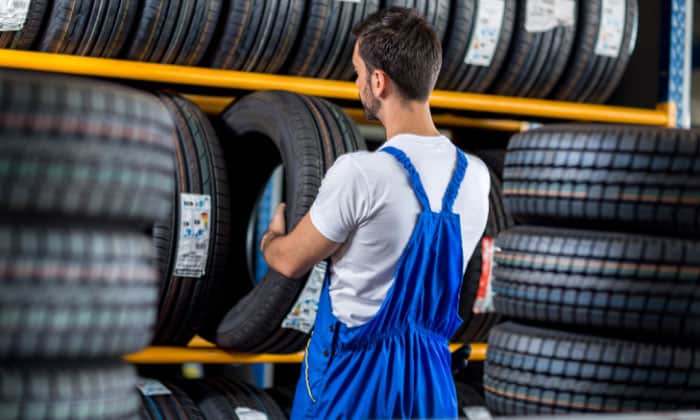 The answer is yes! Goodyear all weather tires are designed to be used similarly to all-season tires in the sense that they provide incredible traction and handling that can withstand any weather condition.
Although, there are factors to consider when purchasing an all-weather tire, as it is primarily designed for everyday driving for customers in areas with somewhat mild seasons, such as:
Do you experience severe snow in your area?
Does your area have extreme summers?
Do you value dry performance more than wet performance and vice versa?
Related comparisons:
FAQs
How long does Goodyear Assurance WeatherReady last?
This depends on a lot of things, such as usage and climate, so it is hard to measure exactly how long or how many miles the WeatherReady will last. It is still good practice to follow the tire's tread wear indicators and change tires at least once every three to five years.
At the very least, we can say for sure that the Goodyear Assurance WeatherReady can last for more than 60,000 miles.
What is the recommended tire pressure for the Goodyear Assurance WeatherReady?
The maximum tire inflation for the WeatherReady is at around 50-51 psi. It is important not to over-inflate the tires and always follow the carrying capacity and indicators imprinted on the sidewalls.
Can the Goodyear Assurance WeatherReady tires be used year-round?
Yes, but that depends on the severity of the weather. It is still advisable to use specialized winter tires for harsh snow conditions, but the WeatherReady can handle mild and light snow fairly easily.
Comparisons with competing tires
The WeatherReady can stand up to most of its competitors, even vs Michelin Crossclimate 2—a tire praised for its low rolling resistance and fuel economy.
The WeatherReady performs on par with the CrossClimate 2, differentiating only with its tread wear rating. The WeatherReady has a 700 treadwear rating, while the Crossclimate 2 only has 640.
Conclusion
The Goodyear Assurance WeatherReady is an incredible choice for drivers who don't have the time and budget to semi-annually change tires for the upcoming seasons. We hope we were able to share some of our insights with our Goodyear Assurance WeatherReady review.
All-weather tires from GoodYear are generally a great pick-up for anyone living in mild weather conditions, including light snow and rain.