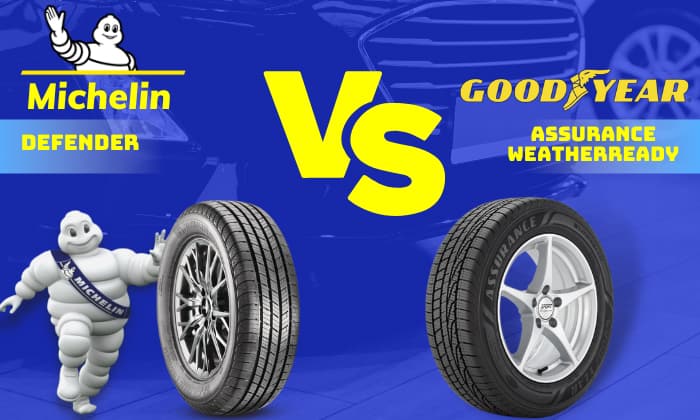 Tires are the essential parts of a vehicle. They provide safety, stability, and comfort when driving.
Ensuring those three factors starts with choosing the right tire for the job and your driving environment.
Take, for example, two tires from the two biggest manufacturers, the Goodyear Assurance Weatherready vs Michelin Defender.
Personally, what we recommend is the Michelin Defender, and we'll explain why. Let's try and narrow down your search by learning about them below. First up is the Goodyear Assurance.
What Are They?
Goodyear Assurance
The Assurance line consists of different types:
All-Season – Excellent for any season with long tread life.
Comfort Drive

Goodyear's most comfortable and quietest tire in production
The Goodyear Assurance Comfortdrive vs Michelin Primacy is a common argument when discussing comfort as both tires specialize in it.

Fuel Max

The most fuel-efficient Assurance tire.
Saves about 2,600 miles worth of fuel over its lifespan

Finesse

Has the combined practicality of the assurance All-season and Fuel Max – Traction no matter the season & low fuel consumption

CS Fuel max

Improved the Fuel Max design to perform better in different road conditions
It saves the same amount of gas per mile as the Assurance Fuel Max

Max Life

Goodyear's longest-lasting tire. You'll see debates between Goodyear Assurance Maxlife vs Michelin Defender T+H, as both are known for their longevity.

WeatherReady

It is best for harsh weather conditions
It provides excellent traction and control on slippery roads.

ElectricDrive – Designed for electric vehicles
The Goodyear Assurance Tripletred all season has been discontinued, so we did not include it above.
Each tire above is unique from the others and has certain advantages based on different road conditions. They do perform similarly well because they share the same technologies in design, such as:
Fuel-Saving Tread Compound – Allows you to save gas because of low rolling resistance.
Comfort Layer – Gives you more cushion, thereby making rides smoother.
Dual Aquachannel Grooves – For better traction on wet roads
Evolving traction grooves – Retains grip on roads even as the tire ages
Still, there are numerous debates on what Assurance tire is the best, like Maxlife vs Weatherready or Weatherready vs Comfortdrive.
The All season vs Weatherready debate is the most common, since both models are technically winter-ready tires, meaning they both perform well in changing road conditions.
Next up, let's talk about their competitor, Michelin Defender, with tires comparable to Goodyear's Assurance line and regarded in review and on Reddit to be an excellent product line.
Michelin Defender
There are 3 Michelin Defender types: the Defender LTX M/S for SUVs, the Defender T+H for passenger cars, and the Michelin Defender 2 for SUVs, minivans, and crossovers.
All three models perform exceptionally well and are similar to each other. Their main difference is the type of vehicle they can cater to.
The LTX M/S performs well in off-roading and dry traction, while the T+H is superior in terms of wet road performance.
Between the Defender 2 and the T+H, both have exceptional all-season performance with technology designed to keep you comfortable and safe.
The difference between the three is that the LTX M/S is better equipped to handle harsh weather conditions like heavy snow but has a lower warranty at 70,000 miles compared to its counterparts at 80,000 miles.
The Defender utilizes terrific technology for comfort and safety as they are for winter roads. These technologies are:
IntelliSipe Technology – Maximizes sipes for excellent braking in different road conditions
MaxTouch Construction – Longer tread life while improving its rigid tread blocks for better traction.
Polyester cord and Steel belts inside the tire – Provide sturdiness at any speed.
Considered some of the best standard all-season tires, the Defender has proven to be a reliable choice for new and old vehicle owners.
The Goodyear Assurance WeatherReady and Michelin Defender are very similar in terms of purpose. Some people even mistakenly refer to them as Michelin Assurance or Goodyear Defender.
However, they have their differences, so we'll go on to their advantages in different aspects.
Differences/Pros and Cons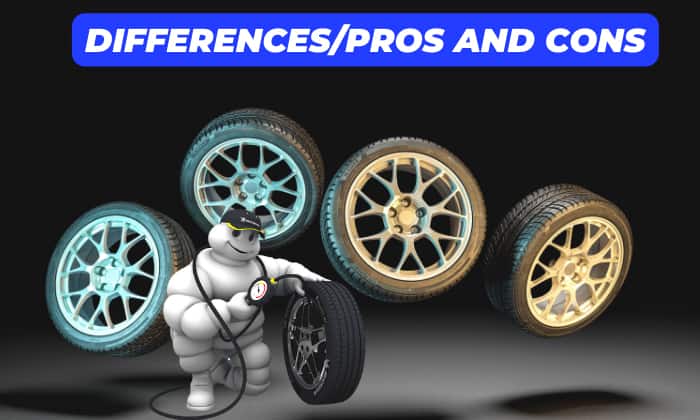 1. On-Road Performance
Goodyear Assurance vs Michelin Defender is tricky to compare when talking about on-road performance since they are both similar, especially on dry roads.
However, Goodyear's Assurance WeatherReady has a slight edge because of its higher reliability on wet roads.
If you compare the Michelin Defender vs Goodyear Assurance Comfortred, however, the Michelin has significantly better wet traction and aquaplaning capabilities.
2. Off-Road Performance
The Michelin Defender has protective features that make it a little bit better, but it is still not the ideal tire for off-roading.
3. Comfort
Michelin is known to prioritize comfort, and because of its design, the Defender only makes little noise, especially compared to the Goodyear Assurance line.
You can make another comparison to Michelin with tires comparable to the Goodyear WeatherReady, like the Goodyear Eagle LS2 vs Michelin Defender LTX. In this case, the winner is still the latter.
Even in the Goodyear Assurance MaxLife vs Michelin Defender comparison, the latter is a better performer in terms of comfort.
4. Winter Performance
In terms of grip on snow, The Goodyear WeatherReady is better. It can also handle low temperatures in contrast to the Defender, which prioritizes comfort in its sidewalls.
5. Cost
The Goodyear Assurance WeatherReady costs around $139.
The Michelin Defender has a price of about $183
Now that we've discussed how these tires match up, let's learn more about the companies themselves.
History
Goodyear History
The company was founded in 1898 by Frank Seiberling with a $3,500 loan from his brother-in-law Lucius Miles.
It was named after Charles Goodyear, the inventor of the vulcanization process, in honor of his contributions to the commercialization of tires.
Goodyear later rose to become the largest tire company in the world with unique innovations in the industry, such as the tubeless tire and the first airplane tires as planes in the past used bicycle tires.
Their breakthrough into the aviation world didn't stop there, as they also created the first Goodyear blimp as a unique take on advertising and marketing and patented the first bulletproof gas tank for planes.
Goodyear is still one of the most successful tire manufacturers in the world, with a net worth of around $4 billion as of August 2022, and has consistently made great efforts in tire innovation.
One of the best tire lineups they have is the Goodyear Assurance line.
Next up, let's talk about their French counterpart, Michelin.
Michelin History
Michelin is a veteran in the tire-making scene, founded on May 28, 1889, by Michelin brothers Andre and Edouard in Clermont-Ferrand, France.
They cemented themselves as innovators in the industry with the invention of the first removable pneumatic tire.
Michelin has risen to be one of the largest tire companies in the world alongside Goodyear, with over 125,000 employees and a net worth of $17 billion, and is regarded by review as a versatile and well-performing brand.
They have developed over 3,500 advanced and innovative tires, including tires for NASA space shuttles, cars, trucks, and even railways with their pneurail design that made travel on tracks more comfortable.
They diversified their repertoire in vehicle industries like agriculture, mines and quarries, and government defense.
FAQ
Is Goodyear Assurance WeatherReady a quiet tire?
Yes! Though the Defender is slightly better because of its narrower grooves.
Are Michelin Tires all-season or all-weather?
Michelin has all-season tires like the Defender and all-weather tires like the Crossclimate. You can check out this article to learn more about the differences.
A good comparison would be between the Assurance WeatherReady vs Michelin Crossclimate 2 in terms of all-weather performance on roads.
Is Goodyear WeatherReady directional?
No, the Goodyear WeatherReady has an asymmetrical tread, making it a better choice for all-season usage than directional tires.
Conclusion
In conclusion, when talking about Goodyear Assurance WeatherReady vs Michelin Defender, you must consider the driving conditions you frequently have.
The WeatherReady excels on winter and wet roads, while the Defender provides excellent comfort and responsiveness on dry surfaces.
Personally, comfort is vital for everyday drives, especially long ones, so we choose the Michelin Defender.
However, customers who want tires that last through all seasons without frequent changing should consider the WeatherReady.