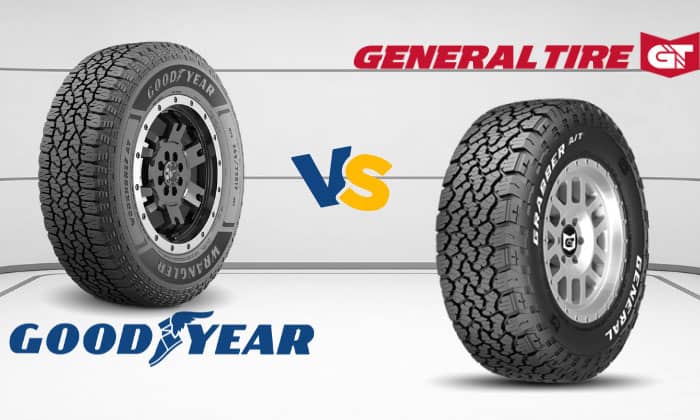 General Tire vs Goodyear —how do these two major brands compare? Goodyear tires are known for specialty lines that have unique technology and features. General Tires focuses on products with a good balance of affordability and quality.
Below is a comparison chart to quickly show you the difference between Goodyear vs General Tires.
| | | |
| --- | --- | --- |
| Factors | Goodyear | General Tires |
| History | Established in 1898 and named after Charles Goodyear, the inventor of vulcanized rubber. Have produced a rich selection of tires for passenger, racing, commercial, and aviation applications. | The General Tire & Rubber Company was formed in 1915 and initially focused on repair materials. |
| Performance | Wide range of tires designed for specific road conditions such as daily commutes, off-road navigation, and high-performance driving. | Large selection of performance, passenger, light truck/SUV, winter, and commercial tires that offer the best qualities for value. |
| Warranty | Tread life limited warranty that ranges from 45,000 to 85,000-mile warranties. | General Tire offers mileage warranty coverage for an average of 40,000 to 65,000 miles. |
| Price | Tire price ranges from $77.00 to $376.94. | Tire price ranges from $96.37 to $575.99. |
Below is a complete guide on Goodyear vs. General Tires to help you make your buying decisions.
About Goodyear
In 1989, Frank Seiberling bought an abandoned strawboard factory in Ohio to start producing carriage and bicycle tires. He will name his company the Goodyear Tire & Rubber Company as a homage to the inventor of vulcanized rubber. In 1900, the company's trademark Mercury's winged foot logo was created.
The Goodyear Tire & Rubber Company has been a major part of the tire industry history, such as being the first to invent detachable straight-side tires and detachable rims. This company became the world's largest tire maker by 1916, beating Firestone Tire & Rubber.
As of 2021, Goodyear was the fourth biggest name in the tire industry.
About General Tires
General Tire & Rubber Company was started by William Francis O'Neil, who once had a Firestone Tire franchise in Missouri. William partnered with four people to pool in their investment and established General Tire in 1915. The company started as Western Rubber & Supply Company, making tire repair solutions.
General Tire went into a restructuring plan, which resulted in its subsidiaries forming GenCorp, Inc in 1984. GenCorp would later sell its tire subsidiary to Continental AG in 1987.
General Tire became the North American production company of the German tire brand. The company has delved into various industries, such as radio broadcasting, film production, and beverages.
Differences Between General Tire and Goodyear Tires
1. Performance
Goodyear's performance tires are under its Eagle line that delivers optimized handling, steering response, and traction in dry and wet conditions. Twenty-six different Goodyear Eagle tires are built for sports or commuting.
Its most famous product is the Eagle Sport All-Season, which uses an asymmetric tread and full-depth sipes to achieve superior handling, braking, and traction.
General Tire only has three different G-Max and Grabber UHP performance tires, with three built for all-season conditions.
The G-Max UHP is the best performance tire to compare with the Eagle Sport due to its superior handling in dry and wet conditions and wet braking. However, General Tire's qualities are lacking if you compare them to Goodyear's performance line, especially if racing is your focus.
Goodyear products also offer better grip and higher temperature endurance overall.
2. Warranty
Many Goodyear tires, like the Eagle Exhilarate and Wrangler Duratrac, come with a six-year limited warranty. The warranty ensures Goodyear tires quality meets the standard and that there is no defect. Should any flaws break or ruin the tire's condition during the coverage period, Goodyear will replace them.
General Tires offers a mileage warranty coverage from 40,000 to 75,000 miles. As indicated in their Rotation Schedule, the company requires you to rotate the tires once every 6,000 to 8,000 miles. If the tire wears down within the warranty coverage period but you did not have it rotated, the brand will not replace it.
3. Variety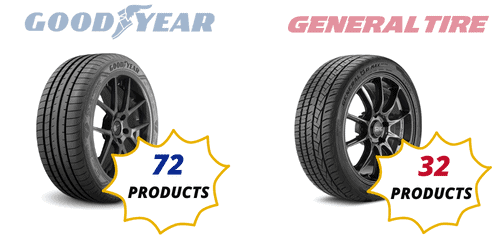 Goodyear has the broader range of tire variety between the two brands, since they have 72 products. Each Goodyear tire is designed to excel in specific aspects, such as the Wrangler series with its all-terrain traction and the Assurance line for road comfort.
On the other hand, General Tire's selection looks limited, with only 32 models available. The brand's product lines are premium built. They have numerous features and notable qualities, such as a 3-Peak Mountain Snowflake rating. The Goodyear tire comparison to General Tires shows the latter lacks selection.
4. Durability
Tire durability is measured by the uniform tire quality grade (UTQG), a rating set by the National Highway Traffic Safety Administration (NHTSA). The UTQG rating shows a tire's treadwear, traction, and temperature endurance.
A good way of comparing tire brands' durability is to find ones with the highest UTQG rating. The Assurance WeatherReady is one example as it has a rating of 700/A/A. General Tires' closest match to the WeatherReady's durability is the AltiMAX RT43, rated 700/A/A for certain sizes. General tires ratings, however, are generally lacking compared to Goodyear's UTQG scores.
5. Longevity
We can compare the two brands' longevity with tire treadwear ratings. The Goodyear Assurance Maxlife has a tread wear rate of 820 and a mileage warranty of 85,000 miles.
The AltiMAX RT43 is the only tire that can compete with a treadwear score of 700. However, it clearly still lags behind in a General AltiMAX vs Goodyear Assurance longevity comparison.
6. Pros and Cons
Below are the reasons to buy or reconsider Goodyear tires.
Goodyear5
Extensive selection of products
Better durability and longevity
Superior performance
Cheaper lines have low performance.
Here are the advantages and disadvantages of General Tire.
General Tire
Reliable everyday tires
Large selection of all-terrain and truck tires
Good value on tire quality and performance
Limited selection
Lacking in durability and longevity
7. Cost
Regarding price comparison, Goodyear and General Tires have nearly the exact samme costs. Goodyear tire prices range from $77 to $224.60 in most retail stores. Meanwhile, General Tire costs are around $92.96 to $575.99 at auto shops.
Popular Tires Lines of Each Brand
Goodyear
Wrangler – The Wrangler line is all-terrain tires for pick-up trucks going through off-road areas. Most Wranglers provide superior traction on wet, snow, and muddy roads.
Notable products – Wrangler All-terrain and Duratrac
Assurance – The Goodyear Assurance line is the brand's all-season touring tires for various road conditions. Some Assurance products have better comfort on the road, while others provide longer tread life.
Notable products – Assurance Comfortdrive and All-season
Eagle – The Eagle Line is a Goodyear performance line designed for optimized stability, cornering, and steering response at high speeds. Goodyear's diverse range of Eagle products includes tires for sporting and daily commuting.
Notable products – Eagle Exhilarate and Eagle Sport All-season
General Tire
Grabber – The Grabber line is General Tire's all-terrain offerings for light trucks/SUVs. These tires provide reliable traction on both off-road and on-road surfaces.
Notable products – Grabber A/T and HTS60
G-Max – The G-MAX line is built for touring passenger and performance vehicles. Expect superior handling and reliable traction with this General Tires product.
Notable product – G-Max AS
RELIATREK – The RELIATREK line is General tire's all-season touring models that offer a smooth ride thanks to its under-tread cushion and flat contour.
Notable product – General Reliatrek
Which is Better?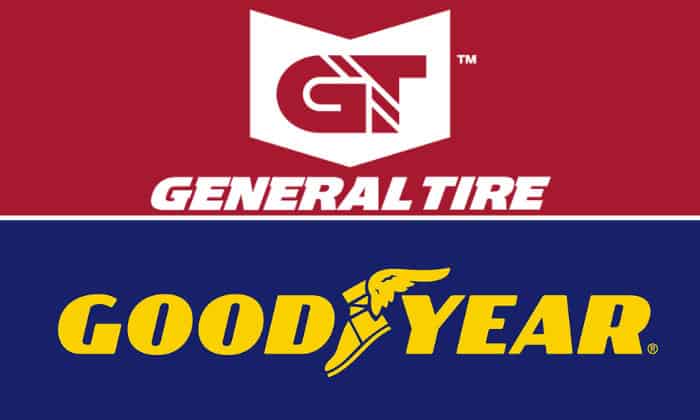 When comparing tires brands' qualities, Goodyear is the clear winner between the two manufacturers. Goodyear has a better selection of tires in terms of performance, vehicle types, and durability. Yet, General Tires is still a premium company.
The brand is always about giving you value for money. It offers quality all-weather performance with impressive tread life.
---
Read more:
Frequently Asked Questions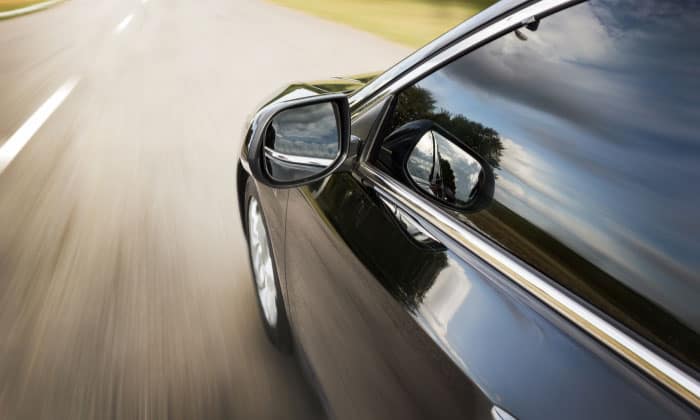 What factors should I consider when choosing between General Tire and Goodyear?
The price and road conditions where you are driving are the most important factors to consider when picking a tire from either brand.
Are General Tire and Goodyear suitable for all-season driving?
Goodyear's Assurance and General Tire's AltiMAX lines provide the best traction for various road conditions, thanks to numerous features such as the ComfortFlex technology for Goodyear and a V-shaped directional tread for General tire.
Are General Tires good for off-road conditions?
Are Goodyear good tires for rough terrains? The brand has the Grabber tire series, providing aggressive traction for off-road and winter conditions.
Is Goodyear a good tire brand for performance cars?
Among Goodyear's wide selection of tires is the Eagle line, known for its race track capabilities. The brand is a long-term partner of NASCAR, so it knows what a performance tire needs.
Who Owns General Tire?
Continental AG bought General Tire from GenCorp, Inc in 1987. Continental currently owns General Tire as their North American tire manufacturing division.
Conclusion
Comparing tire brands between General Tire vs Goodyear shows that the latter is the leading choice with its wide selection of products, impressive qualities, and prices. Despite their limited selection, General Tires offer premium products that are close to matching Goodyear's lineup.