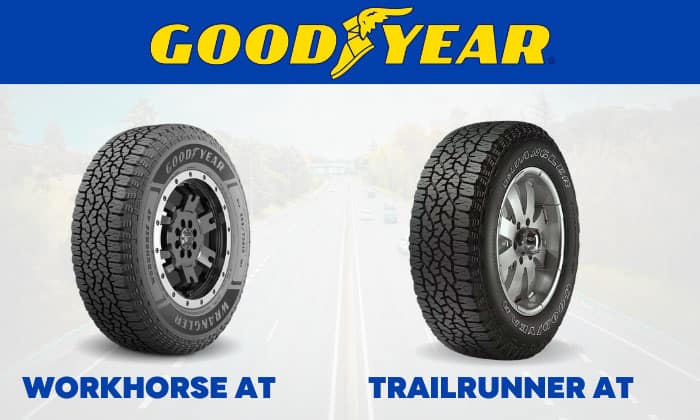 Many truck drivers seek a reliable tire that features both on and off-road toughness. Fortunately, Goodyear offers a Wrangler tires lineup that comes with tire models that are designed for off-road expeditions without compromising traction capabilities.
Two of the prominent tire models under this said lineup are the Workhorse AT and TrailRunner AT. Both tires are manufactured by a reputable tire brand, but which of these two is the better option for you?
Let's have a face-off between Goodyear Wrangler Workhorse AT vs TrailRunner AT, and let's all together see what they can offer us.
Attribute and Size Chart
| | | |
| --- | --- | --- |
| Attributes | Workhorse AT | TrailRunner AT |
| Tire Type | All terrain | All terrain |
| 3PMSFR | Yes | Yes |
| Width (in.) | 8.6 to 11.5 | 8.6 to 11.5 |
| Diameter (in.) | 28.3 to 33.1 | 28 to 33.2 |
| Rim Range (in.) | 5.5-7 to 9.5-10.5 | 5.5-7 to 9.5-10.5 |
| Measured Rim (in.) | 6 to 9.5 | 6 to 9.5 |
| Tread Depth (in.) | 11/32 to 16/32 | 11/32 to 15/32 |
| Load Range | SL-E | SL-E |
| Max Load (lbs) | 1874 to 3750/3415 | 1874 to 3750/3415 |
| Max Inflation Pressure (PSI) | 50 to 83 | 50 to 80 |
| Weight (lbs) | 29 to 53 | 27 to 53 |
| Revs Per Mile | 627 to 743 | 610 to 739 |
About Goodyear Workhorse AT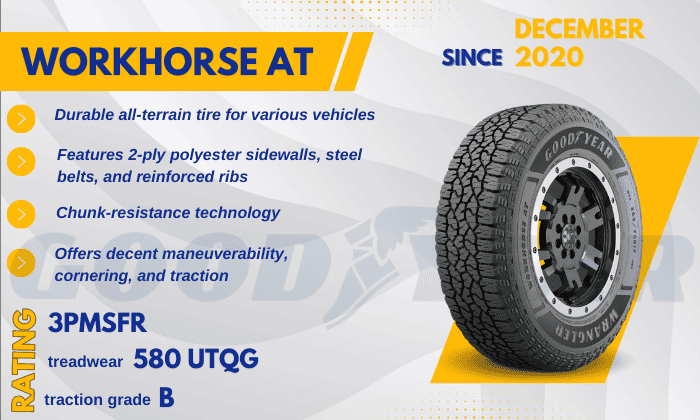 Launched in December 2020, Goodyear Wrangler Workhorse AT is one of the three products in the Wrangler Workhorse lineup. It's an all-terrain tire designed for jeepneys, pickup trucks, crossovers, and SUV drivers.
Equipped with 2-ply polyester sidewalls with 2 steel belts on top, along with reinforced ribs, the tire is known for its durability. The implemented chunk-resistance technology also means that it's protected from punctures. This earns it a 580 UTQG treadwear rating.
In addition, the tire's notched blocks and 3D sipes deliver decent maneuverability, cornering, and traction both on and off-road. And as it has a 3PMSFR rating, you can rest assured that this tire is suitable for all-season purposes. In terms of traction rating, the tire is graded a B.
About Goodyear TrailRunner AT
Compared to the Workhorse AT, the TrailRunner AT was introduced much earlier – way back in January 2016. This all-terrain, all-season tire makes a fantastic choice for pickup trucks and sport utility vehicles.
This product's interior composition contains two steel belts and a 2-ply polyester cord. It is also engineered with chip- and tear-resistant tread alongside its large blocks that guarantee tread life longevity.
Plus, the tire comes with saw-tooth block edges to deliver enhanced off-road grip performance to travel in snow. Finally, it features the 3PMSFR, along with a 580 treadwear and B-grade traction.
Differences Between These Tires
1. Performance
As an off-road tire, Goodyear Wrangler Workhorse AT amazes us with its superb handling, cornering, and traction capabilities. Driving this tire on dirt, sand, mud, and snow is not a problem since it has ideal traction on all road types. Meanwhile, driving the Goodyear Wrangler TrailRunner AT will struggle when driving on rocky terrains.
Good thing is: Goodyear Wrangler TrailRunner AT excels when it comes to stability and acceleration on wet roads and has an impressive light snow performance. Unlike the Goodyear Wrangler Workhorse AT, which has an overall lower wet-road and snow performance.
In the dry road category, Workhorse AT has high levels of steering response. In contrast, TrailRunner AT is mediocre in this respect, but comes with a decent cornering, traction, and braking distances.
Last but not least, both of these tires offer good ride quality. However, TrailRunner AT produces high noise levels.
2. Warranty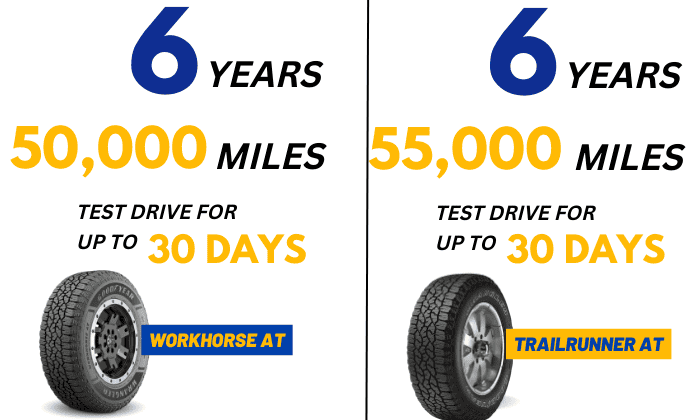 Goodyear Workhorse AT comes with a treadwear warranty for up to 6 years and 50,000 miles in terms of mileage. This tire also comes with 1-year uniformity warranty or by the time it reaches its first 2/32″ wear.
Moreover, you can also enjoy a test drive for up to 30 days to decide whether to exchange your purchased tire model or just keep it.
The TrailRunner AT also offers the same warranty policy. The only difference is that it has a 55,000 warranty mileage, meaning that it has a better lifespan and durability than the Workhorse.
3. Pros and Cons
Goodyear Workhorse AT
Designed with chunk-resistant technology to prevent punctures
Good steering response on dry roads
Decent handling and cornering properties
Enhanced traction
Comfortable and has low noise levels
Comes at a more expensive price
Shorter warranty mileage
Wet and snow performance should be improved
Goodyear TrailRunner AT
Cheaper cost
Longer warranty mileage
Designed with chip- and tear-resistant tread compound
Decent cornering, grip, and braking distances in dry roads
Can maintain stability and acceleration in wet roads
Good wet and light snow performance
Has mediocre steering response
Produces loud noises
Not suitable for rocky terrains
4. Cost

The price range of a Goodyear Wrangler Workhorse AT tire is between $174.99 to $340.99. On the other hand, a Goodyear Wrangler TrailRunner AT tire costs from $124.03 to $358.29.
You should bear in mind that a certain tire price varies according to your selected tire size. Take this as an example. Workhorse AT 265/75r16 costs $210.99, while its 265/70r17 variation costs $216.99.
Which is Better?
The criteria for considering a tire as a better one varies for each person. This is due to our differences in terms of our personal driving needs and priorities.
For example, the Goodyear Wrangler Workhorse AT is better for those drivers who prefer low noise levels, great steering responsiveness, and harsh off-road properties.
In contrast, the Goodyear Wrangler TrailRunner AT is better for those who are currently looking for longer warranty mileage, budget-friendly tires, and optimal wet roads and snow performance capabilities.
Tips in Choosing a Suitable Tire for Your Car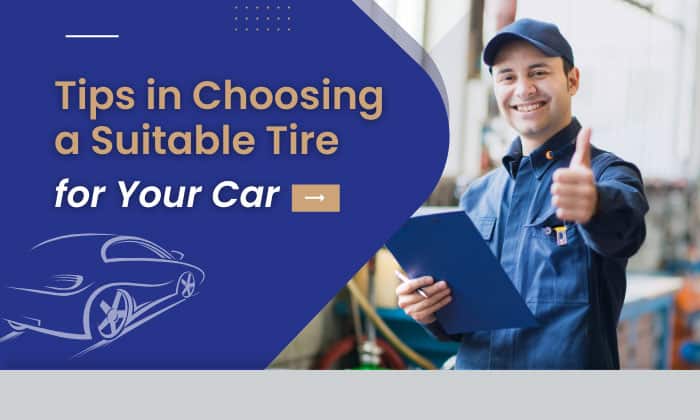 Here are the exclusive tips to get the most suitable all-terrain tire:
Determine the recommended tire size, load rating, and speed rating of your tire
Consider your preferred tread pattern (more open spaced vs tight blocks)
Identify the type/s of terrain and road conditions you'll be driving
Consider the weather conditions you'll likely to anticipate
Check the tread-life longevity
Consider the noise levels (low noise levels compromises the tire performance)
Consider your budget
Purchase from a decent tire brand
Are Goodyear Wrangler Tires Good?
Specifically, Goodyear Tire and Rubber Company is currently the one who makes Wrangler tires. Wrangler Goodyear tires are primarily produced to satisfy the driving needs of truck drivers who want enhanced traction, smooth ride, and steering capabilities when driven both on and off roads.
As of now, the overall Goodyear tire ratings resulted in this tire brand being ranked 5th place in the tire industry. This high ranking speaks volumes that Goodyear products are generally good.
So, is Goodyear Wrangler a good tire? The answer is a resounding YES!
Conclusion
Both the Workhorse AT and TrailRunner AT just prove that competition among different products can also exist within the same company. This is nice to know since this is a clear sign that a certain brand is producing competitive products.
We hope this post has been a great help as your main reference for an informative comparison between Goodyear Wrangler Workhorse AT vs TrailRunner AT.
Read more: