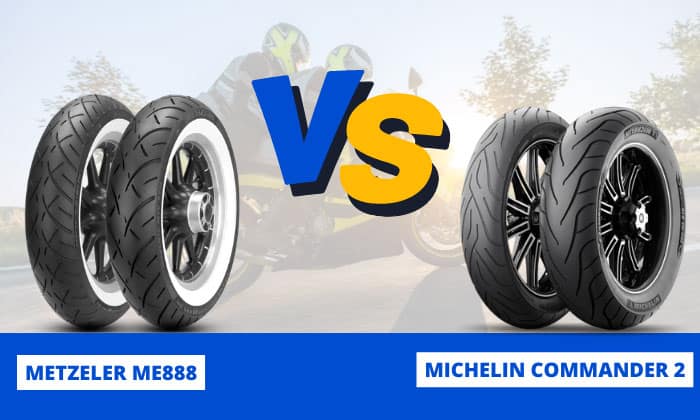 If you are browsing motorcycle tires for Harley, most likely you'll encounter a Metzeler Cruisetec, Michelin Scorcher, or Michelin Commander 2 review. Probably, you even looked for Metzler tire company.
In this case, we'll help you pick the right tire by comparing Metzeler ME888 vs Michelin Commander 2, and here's what we found.
Metzeler ME888 delivers excellent wet performance with impressive road silence and strong mileage promise while Michelin Commander 2 delivers sufficient wet and dry traction in various driving conditions with comparable comfort but superior durability.
| | | |
| --- | --- | --- |
| Factors | | |
| Dry | Average | Winner |
| Wet | Comparable | Winner |
| Noise/ Comfort/Ride Quality | Winner (stable and noiseless) | Firm but noisy |
| Price | Expensive | Cheaper |
| Warranty | Winner | Competitive |
What Are They?
1. Metzeler Me888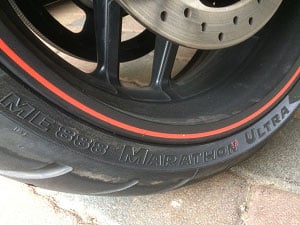 Metzeler Me888 Marathon Ultra Rear tire promises supreme mileage with exceptional wet performance through a tread design composed of longitudinal and crossing grooves.
Compared to its predecessor, the Metzeler ME880, this tubeless tire improved its wet grip by enhancing its compound with silica. It guarantees even wear through abrasion-resistant polymers in the tread compound.
It can also maintain stability better than the Me880 because its contact patch is 15% wider.
Overall, this bigger contact patch and change in profile and shape of the motorcycle tire made the ME888 perform better in cold weather.
This tire was produced in Germany and built for custom touring bikes.
2. Michelin Commander
Currently, there are three tire designs under the Michelin Commander line:
Michelin Commander 2
Michelin Commander III Touring
Michelin Commander III Cruiser
The Commander 2 motorcycle tire was launched in 2012 as the original equipment for Indian Chief Blackhawk motorcycle. This cruiser tire provides stability at high speeds through the aramid fiber and longitudinal grooves. Its water evacuation is also excellent, giving drivers the confidence to drive through rain.
On the other hand, the Michelin Commander 3 tires were introduced in 2020. These two tires offer V-twin motorcycles more stylish tread patterns and velvet sidewalls that can ensure outstanding durability and superb grip in wet conditions.
The Commander cruising and touring tires share the same tread construction made of 100 percent silica, but they differ in groove channels and profile features.
Most Michelin motorcycle tires are produced in Spain and Thailand.
Related: Here is a comparison between Michelin Commander 2 vs 3, click to know more!
Differences: Michelin Commander 2 vs Metzeler Me888
1. Specifications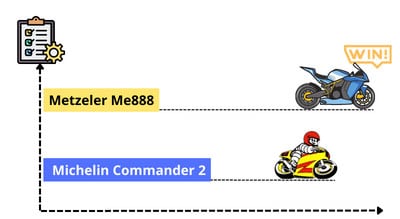 The rim sizes available for the ME888 range from 15-26 inches while Michelin Commander II offers rim sizes from 15-21 inches.
The Metzeler tire has 70 sizes and features whitewalls while the Commander 2 tire has no white wall and the sizes are down to 17.
Additionally, Metzeler offers four speed-rated Me888 tires (H,V,W,S) while the Commander 2 has two speed ratings (H, V) .
2. Durability and Warranties
When you compare the mileage warranty of the Metzeler Me888 vs Michelin Commander II, the latter can cover 25,000 miles based on third-party testing.
Some reviews reveal that the ME888 can last from 4,000 to 12,000 miles or one year. The good thing is Metzeler offers a lifetime warranty, while Michelin offers coverage based on the tire's tread life or six years from purchase.
3. Performance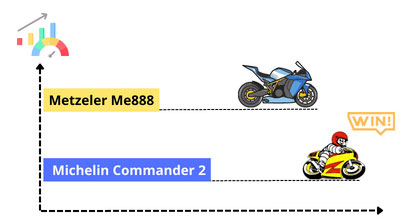 Me888 delivers good grip even under rain.
It was praised for its good mileage and smooth ride. It is steady in crosswinds, reliable in turn-in and corner exiting, and responsive in quick maneuvers. The tire is noiseless on bumpy tracks.
In terms of problems encountered with the Me888, some experienced feathering or cupping. There were a few cases of Commander 2 tires falling apart as well.
But in general, Michelin Commander 2 is more durable on wet and dry roads. The rain grooves are great in preventing slippage on slick surfaces. Whatever the riding condition is, the tire has no issues. It is easy to balance, stable, and reliable during long drives
Overall, Michelin's Commander 2 is better than Metzeler's Me888 in terms of usability on dry pavements and long trips.
However, when it comes to noise and road feedback, the Me888 has more favorable reviews.
4. Cost
Michelin Commander 2 is more affordable than the Metzeler Me888.
| | |
| --- | --- |
| Tires | Price |
| Metzeler Me888 | $144.76- $487.13 |
| Michelin Commander ii | $143.96-341.27 |
Pros and Cons
Michelin Power 5
Superior mileage
Stable and quiet rides
Has a higher price tag compared to the Michelin Commander 2
Michelin Commander
Balance in wet and dry performance
Excellent in long trips
FAQ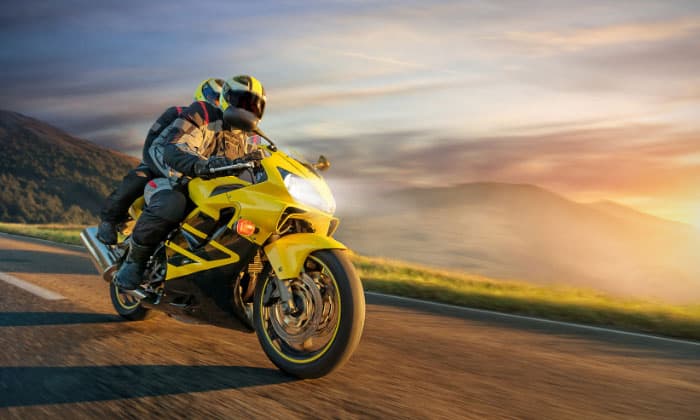 Which is better, Metzeler Me880 vs 888?
The Metzeler Me888 has better mileage and wet performance than its predecessor, 880. It has a better grip in front and neutral steering.
Conclusion
Motorcycle tires are often compared for their agility, stability, safety, and comfort. And this comparison between the Metzeler Me888 vs Michelin Commander 2 showed that both tires focused on delivering terrific wet performance and dependable longevity.
The main difference is that Michelin is known for balancing dry and wet performance, and this edge made the Commander tire more relevant and useful.
Both options have positive reviews, so comparing user experiences with your driving needs is something to consider.