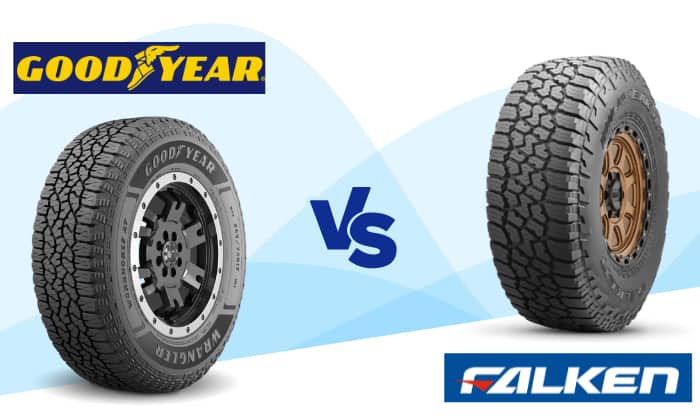 If you're in the market for reliable tires, you may end up with Goodyear. The premium tire brand produces high-quality products that cater to most drivers' needs.
But today, we'll show you why Falken, a mid-range brand, could hold up against the industry veterans that is Goodyear. We'll explain if Falken tires are good or bad, how they do against a Goodyear tire comparison, Goodyear or Falken tire problems, and their history.
Without further ado, let's jump right on to Falken vs Goodyear tires.
Falken vs. Goodyear Tires: An Overview
Falken
Goodyear
Country of Origin
Japan
United States of America
Date Founded
1983
1898
Parent Company
Sumitomo Rubber Industries
Stand-alone
Tires Sold

Passenger
Motorcycles
Buses
Trucks
Agricultural Machinery

Passenger/SUV
Buses
Trucks
Agricultural Machinery
Off-Road

Price Tier

Tier 1
Premium expensive tire
About the Brands
1. Falken
Falken was originally founded and launched in its native country of Japan in 1983 as a sub-brand of OHTSU Tire and Rubber Corporation, a subsidiary of Sumitomo Rubber Industries.
Sumitomo Rubber Industries are the ones who make Falken brand tires and have a solid reputation as the fifth-largest tire manufacturing company. Falken has made quite a stellar reputation in motorsports and has gained huge customer satisfaction because of its consistent maintenance and communication with its users.
Through the years, Falken has made significant leaps in innovation to continue to deliver high-performing tires for its consumers. Despite it being a relatively new company compared to Goodyear, it still managed to compete using great technology.
2. Goodyear
The company was founded in 1898 in Akron, Ohio. It originally started as a bicycle and horse-carriage tire manufacturer along with other rubber products but has since been able to transition to vehicles.
Their invention of the first tubeless tire was a significant breakthrough in the vehicle industry. It paved the way for Goodyear to become the world's largest tire manufacturer.
The company's constant innovation and marketing have made them a leader in the industry, even after 100 years since its founding. Today, the company focuses its efforts on creating sustainable and well-performing tires to suit its massive consumer audience.
Differences Between Goodyear vs Falken
1. Wet performance
For wet performance we chose to compare two all-season tires from both companies – the Goodyear Vector 4Seasons Gen 3 vs Falken's EuroALL Season AS210. When compared, both tires perform more or less the same on wet roads.
Both provide great aquaplaning resistance, wet braking, and wet handling – however, it is worth noting that Falken's all-season tire is slightly better in mileage and better priced for its value.
2. Dry Performance
Summer tires provide the best dry performance compared to any other type of tire. For this reason, we've decided to put their two summer performance tires to the test – the Falken Azenis FK10 vs the Goodyear Eagle f1 Asymmetric 6.
Admittedly the Goodyear Eagle outperforms Falken's summer tire in dry handling, dry braking, and rolling resistance. However, the Falken Azenis FK10 provides great value for money by providing great mileage and rolling resistance despite it being cheaper.
3. Snow Performance
Winter tires are a must-have for those living in harsh weather conditions. This time we'll compare Goodyear's UltraGrip 9+ vs Falken's EuroWinter HS01. For this one, Goodyear's tire comes out on top, performing better in terms of snow braking and snow traction.
This is mainly due to the compound they use to improve rubber elasticity even at low temperatures. Both tires, however, have nearly identical performance in snow handling.
4. Durability and lifespan
Both companies have the same lifespan for their tires, at around 6 years. It is, however, important to remember that tires should not be kept for 6 or more years even if the vehicle is not frequently used. Remember to check your tires for tread depth and the manufactured date.
5. Technology
Falken uses its "NEO-T01" method in producing tires.The company utilizes stronger materials, making their tires less susceptible to damage in the long run. Better rubber also means the tires can handle high speed comfortably.
Goodyear, however, uses a more traditional way of producing their tires. It mainly involves 4 processes: Blend, Mill, Build, and Cure.
Blend – 30 ingredients are used and blended together. The quantity and the ingredients themselves differ in what the future tire would be used for.
Mill – Once the rubber is cooled, the product is then sent to a special mill to cut the rubber into strips to be used for the next process.
Build – As the name suggests, the tire is essentially built in this process using a machine, ensuring the treads, ply, and beads are in the exact precise place.
Cure – The final process compresses everything together, giving the tire its shape.
6. Warranty
Warranty options also differ between the two brands. Falken, for example, does not offer any tread life warranties on their off-road roads, while Goodyear does.
On the other hand, Falken has a higher tread life warranty on most of their passenger and light truck tires.
7. Pros and Cons
Falken
Good Wet performance
Excellent quality for its price
Durable
Dry performance needs improvement
Slightly worse winter tires
Goodyear
Excellent dry performance
Great touring tires for wet roads
Durable
8. Pricing and Value for Money
The most glaring difference between the two brands is the price. Goodyear is a premium brand and is not particularly known for selling "discount tires". All their products are a bit costly compared to other brands ranging around $78 – $975.
When buying a mid-range tire like Falken, people usually ask themselves: Is Falken a good tire? Or "Are Falken tires any good?" and the answer is a resounding Yes! Falken is a solid choice for anyone looking for great quality on a strict budget at only $120 – $250
As for value for money, Falken being a mid-range brand could easily cater to consumers on a budget looking for a well-made tire for their daily driving needs. With the help of technology, the company gains competitive edges against one of the world's tire giants.
Notable Tires
1. Falken
Below are considered Falken's best tires according to consumers.
Falken Sincera – Works best in light snow and icy road conditions
Falken Ziex – Highly praised for its all-weather performance
Wildpeak – Excellent grip and durability even in off-road conditions
Eurowinter – Works best in even harsh winter conditions.
2. Goodyear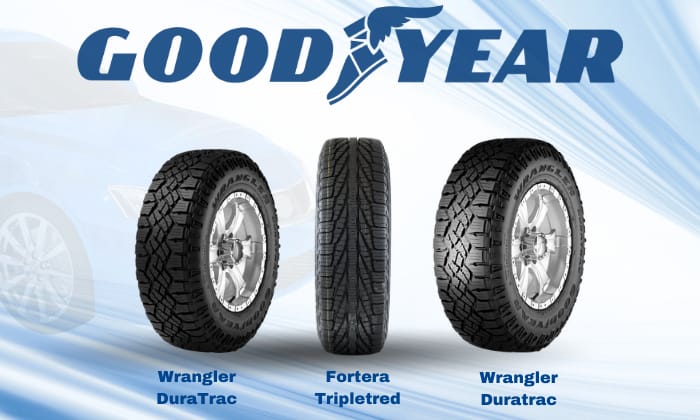 Below are considered Goodyear's best tires according to consumers.
Goodyear Wrangler DuraTrac – Overall great performance in any road condition but excels particularly well in dry roads.
Goodyear Fortera Tripletred – Excellent handling on both dry and wet roads.
Goodyear Wrangler SilentArmor – Quiet, comfortable, and reliable on dry roads
Which is Better?
Whether Falken or Goodyear is better depends on the driver's needs, preferences, and budget.
Consider the driving conditions you often encounter, what features of the tires you value, and how much you're willing to spend on a set of tires.
Generally speaking, Goodyear offers more proprietary technologies that greatly improve the performance of its tires. The brand is well-known but demands somewhat of a hefty price tag.
Are Falken Tires Good Quality?
Yes, but like most tires, they aren't a life hack of a cheap tire performing on par with a premium tire. They have had their own fair share of defects. Still, Falken is a more budget-friendly option for the average driver. The company boasts various product lines designed to cater to most demographics.
For example, their Pro tires perform great in touring, sport, and even high-speed. You sacrifice a bit of performance for a more approachable cost, compared to Goodyear.
Conclusion
To be fair, any tire would have a hard time in a Goodyear tire comparison, but in this Falken vs Goodyear tire article, Goodyear is an amazing choice for basically anyone. They have tires that can cater to any driving need and have better warranty options.
Falken may be a high-performing brand, but Goodyear has a solid reputation and a proven track record of more than 100 years of innovation alongside tested and proven performance in all their tires, making it an excellent choice for all drivers.
---
Other comparisons are made for you: