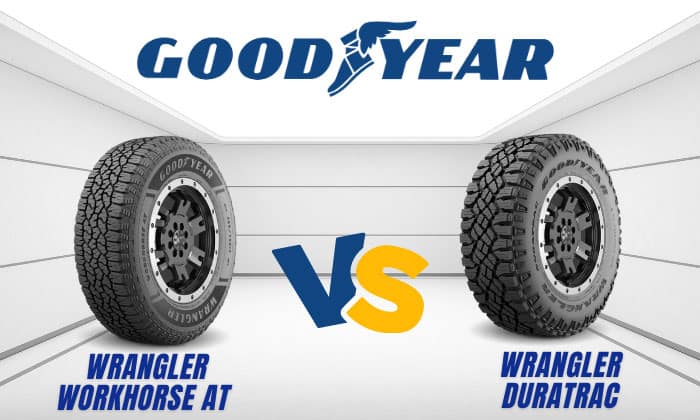 Which all-terrain tire should you choose between the Goodyear Wrangler Workhorse AT vs Duratrac? The Wrangler Workhorse AT is an excellent choice for being a versatile tire in various road conditions. On the other hand, the Wrangler Duratrac is built for superior traction on wet surfaces and incredibly muddy areas.
Here is a comparison chart to let you quickly see the difference between the two AT tires:
| | | |
| --- | --- | --- |
| | Goodyear Wrangler Workhorse AT | Goodyear Wrangler DuraTrac |
| Type | All-Terrain, All-Season | All-Terrain, All-Season |
| Tread Mileage Warranty | 50,000 miles | 50,000 miles |
| Rim Diameter | 16, 17, 18, 20, 22 | 15, 16, 17, 18, 19, 20, 22 |
| Load Range | D – E – SL – XL | C – D – E – F – SL – XL |
| Max Load | Up to 3750 pounds | Up to 4080 pounds |
| Off-Road Rating | Superior | Superior |
| Wet Conditions | Above Average | Superior |
| Dry Conditions | Superior | Above Average |
| Comfort and Noise | Superior | Average |
Below is a detailed comparison between the two Goodyear Wrangler tires to help you make the right choice.
About Goodyear Wrangler Workhorse AT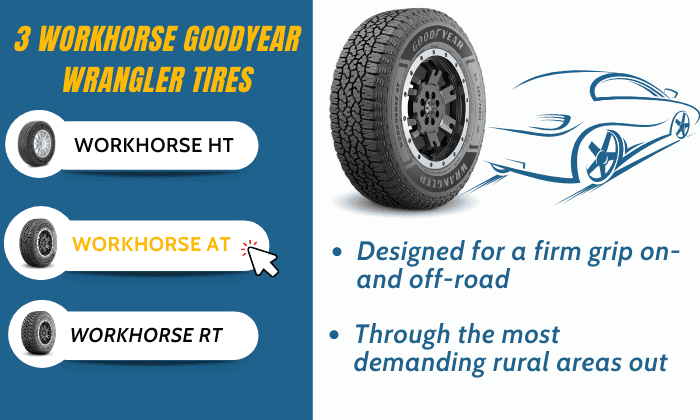 The Workhorse AT is one of three Workhorse Goodyear Wrangler tires: Workhorse HT, Workhorse AT, and Workhorse RT. The HT is designed to have an extended tread life while providing dependable traction in various road conditions, while the RT has a versatile design for city and off-road surfaces.
The Workhorse AT is designed for a firm grip on- and off-road. Wrangler AT tires of this type can get you through the most demanding rural areas out of the three Workhorse.
About Goodyear Wrangler Duratrac
The Duratrac is an all-terrain light truck tire for various off-road tracks such as gravel, sand, mud, and snow. It uses a TractiveGroove design to ensure grip and stability in harsh conditions.
Designed for versatility, Duratrac is one of the Goodyear Wrangler truck tires for dry and wet on-road conditions. Its flexible performance makes Duratrac suitable for commercial usage where vehicles must go through highways and rural areas.
Differences Between the Two Tire Brands
How do the two Goodyear Wrangler tires compare? Below is our evaluation.
1. Traction and Off-Road Performance
Off-road traction usually involves going through gravel or loose rocks. The Wrangler Workhorse AT has several biting edges on its tread's central blocks and deep sipes that go down to the tire's base, resulting in better traction.
For the Wrangler Duratrac, the tire has wide lateral-spaced serrated shoulder blocks and central rectangular blocks to grip the road and prevent swaying.
Though both options perform well, the Duratrac has an edge in driving over rocks without getting gravel stuck on it, which, if present, can be a hassle to remove.
2. On-Road Performance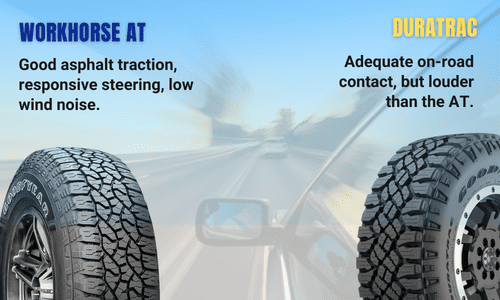 For traction on asphalt, Goodyear's Workhorse AT large tread blocks and low weight allow it to grip asphalt well and provide responsive steering. On dry regular roads, it has pretty good braking and low wind noise.
Similarly, the DuraTrac has adequate surface contact while driving on-road. The problem is it's a lot louder than the AT to the point that the noise may be distracting.
3. Wet Traction and Hydroplaning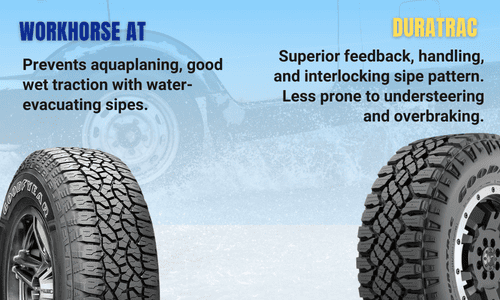 While the Workhorse AT provides wet traction and prevents aquaplaning with its water-evacuating sipes, the DuraTrac does better with its interlocking sipe pattern. This tire provides superior feedback and handling, so it's less prone to understeering and overbraking.
4. Snow Traction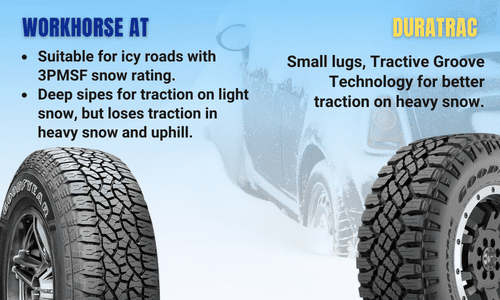 Duratrac and AT snow rating (3PMSF) makes them suitable for icy roads. The Wrangler Workhorse AT can grab onto snow surfaces with its deep sipes slits, allowing for better traction on light snow roads. The Workhorse AT loses traction when it goes through heavy snow conditions and uphill.
The DuraTrac features small lugs at the center separated by a broad groove. It also uses Tractive Groove Technology or the small blocks installed within the tread's void. The DuraTrac's design and Tractive Groove ensure better traction on heavy snow surfaces.
5. Road Comfort and Noise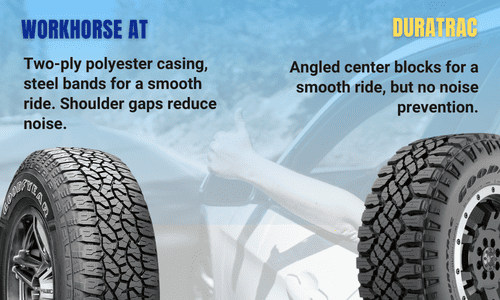 The Wrangler Workhorse AT has a two-ply polyester casing backed by steel bands for its foundation. Its interior construction allows the Goodyear Wrangler AT to absorb the uneven parts of the road to create a smooth ride. In addition, the shoulder gaps prevent air from creating noise within the treads.
The Wrangler DuraTrac can also handle the road's imperfections with its angled center blocks for a smooth ride. Unlike the Workhorse AT, the DuraTrac does not have any way of preventing air from hitting its tread and creating noise.
6. Mud Traction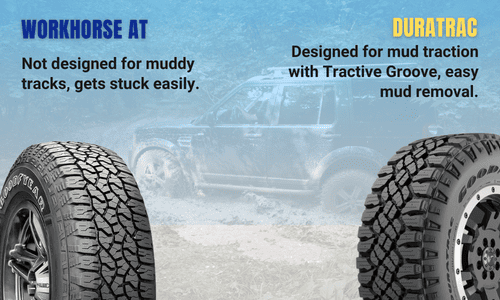 The Workhorse AT will get stuck if placed on a muddy track, since it is not designed to remove wet dirt within its groove. However, DuraTrac Goodyear Jeep Wrangler Tires are designed specifically for mud traction, thanks to their Tractive Groove.
The tiny grooves within the tread void allow for easy removal of mud through the shoulder block.
The real competition in mud traction is between the Goodyear Wrangler UltraTerrain AT vs DuraTrac. The UltraTerrain also has in-groove teeth within its tread void to grind mud down, similar to the DuraTrac's Tractive Groove.
7. Pros and Cons
Below are the advantages and disadvantages of this Wrangler tire:
Goodyear Wrangler Workhorse AT
Versatile on-road and off road tires
Smooth ride and low noise generation
3PMSF and M+S-rated for snow conditions
Not suitable for heavy snow
Unreliable mud traction
Below are the reasons to buy or skip this Wrangler tire:
Goodyear Wrangler Duratrac
Superior mud and snow traction
Reliable off-road performance
Excellent wet traction
Noticeable noise generation
8. Cost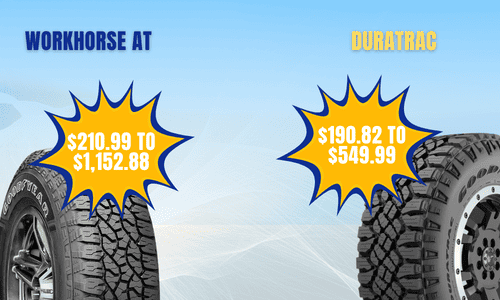 The price of Goodyear Wrangler tires usually reflects their features and qualities. The Goodyear Wrangler Workhorse AT tire prices in most retail stores average around $210.99 to $1,152.88. Meanwhile, Goodyear Wrangler DuraTrac tires have a price of $190.82 to $549.99.
Which is Better?
The Workhorse AT is the better choice if you are looking for a versatile Wrangler tire. This Goodyear tire does well on highways and in dry conditions. On the other hand, The DuraTract is the superior off-road tire for heavy mud and snow conditions, thanks to its Tractive Groove feature.
Things to Consider Before Choosing the Wrangler Workhorse AT or DuraTrac
Is Goodyear Wrangler a good tire for the road conditions you usually drive on? Both Workhorse and DuraTrac are great if you drive through the urban pavement and rural roads.
If you only drive on city roads, any Goodyear Assurance model would be a better choice for your money. The Assurance All-Season, for example, has reliable traction for most weather conditions at a reasonable price.
Frequently Asked Questions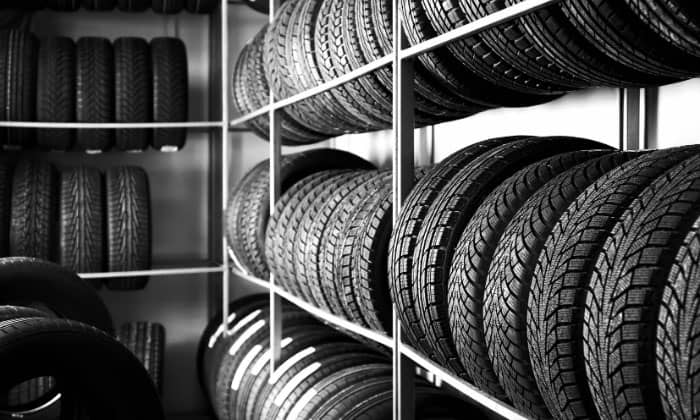 What is the expected tread life of the Workhorse AT and DuraTrac tires?
Both Goodyear Wrangler tires have a limited tread life warranty of 50,000 miles, so you can expect them to last for about three years with frequent driving.
What are the recommended tire maintenance and care tips for both models?
Always keep the tire pressure of the Wrangler Workhorse AT and Wrangler DuraTrac at the recommended levels, as indicated in their tire manual. In addition, have a tire dealer or auto repair man give your tires a thorough inspection once a month for possible cracks or bulges.
Are Goodyear Wrangler tires good for a comfortable ride?
The Workhorse AT and DuraTrac Wranglers are designed to handle rough off-road terrains while performing well on dry roads. For superior road comfort, there is the Goodyear Assurance ComfortTred that uses ANX technology to reduce vibrations while driving.
In a Goodyear TrailRunner vs DuraTrac comparison, which is the better-valued tire?
With its unique tread compound, the TrailRunner is designed to be durable for continuous use in any on-road and off-road conditions.
On the other hand, the DuraTrac offers better traction in wet, mud, and severe snow conditions than the TrailRunner. The Trailrunner offers the same value as the Workhorse AT in terms of versatile performance.
Read more: Goodyear Wrangler Workhorse AT vs TrailRunner AT: which is better?
Who makes Wrangler tires?
Goodyear Tire and Rubber Company makes Wrangler tires as its all-terrain line. Wrangler tires have existed since 1977, though the products have gone through numerous changes.
Conclusion
Between the Goodyear Wrangler Workhorse AT vs DuraTrac, the latter is the clear choice when it comes to challenging off-road conditions, including muddy surfaces and heavy snowfall. On the other hand, the Workhorse AT offers reliable traction on most on-road and off-road conditions while providing a smooth and quiet ride.