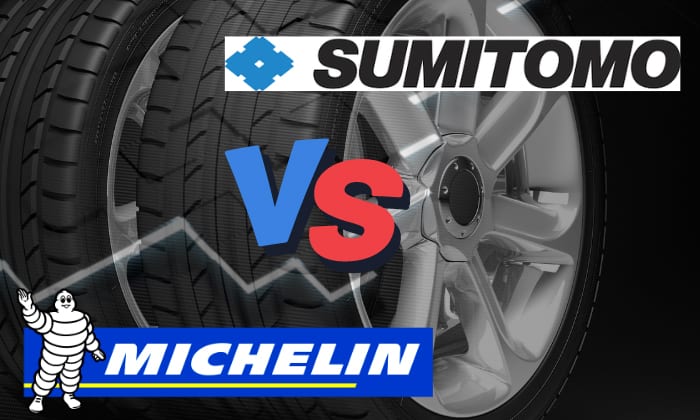 You may have seen Dunlop or Falken a dozen times in tire shops, but it may never occurred to you that these brands belong to the world's sixth largest tire maker, Sumitomo Rubber Industries Ltd.
Between Sumitomo vs Michelin tires, Michelin is an obvious choice if money is no object. Sumitomo is a cheaper option, but it performs closely to Michelin's tire lineup. You'll be surprised that Sumitomo wins in offroading, which has been Michelin's weakness for a long time.
Performance
Very good
Excellent in all weather and road conditions
Noise/Comfort/Ride Quality
Michelin is superior, but HTRZ3 has been a popular summer tire alternative
Warranty
Michelin Defender line and HTR Enhance tires are both warrantied up to 90,000 miles
Price
Cheaper by $9-72
Expensive
Tire Diversity
Limited selection, but the Encounter AT beats Michelin in off-roading
More tire choices
Sumitomo is an international tire and rubber company that produces car tires, sports goods, golf balls, tennis balls and other rubber-based products like gloves, water seals, and more. It is a subsidiary of one of Japan's largest conglomerates – the Sumitomo group.
On the other hand, Michelin is a French multinational company that has commercial presence in 170 countries. It produces tires for space shuttles, aircraft, and different types of vehicles and equipment.
Here is a quick overview of the two world-renowned tire makers.
What Are They?
Sumitomo
Michelin
Year Founded
1909
1889
Founder
Masatomo Sumitomo
Edouard Michelin

Andre Michelin

Headquarters
Kobe, Hyogo, Japan
Clermont-Ferrand, France
Number of employees
40, 055
125,000
Factories
Japan, China, Thailand, Indonesia, USA, Brazil, Turkey, and South Africa
123 manufacturing sites in 26 countries
Tire variety
Motorcycles, passenger cars, trucks, buses, vehicles for construction, agriculture, and motorsports
Bicycles, motorcycles, passenger vehicles, airplanes, space shuttles, farm equipment and construction vehicles
Brands owned

BFGoodrich
Kleber
Kormoran
Riken
Tigar
Uniroyal
Sumitomo Tires Vs Michelin: How Do They Work
Sumitomo
Sumitomo is committed to its SMART Tyre concept, where innovation focuses on an environment-friendly, sustainable and safe technology that are delivered through:
Sensing Core – technology that tracks tread rigidity, tire pressure, load capacity, and other data that can help drivers ascertain tire and road conditions to avoid potential hazards.
4D Nano Design technology – utilized in the rubber compound of its commercial tires and winter products, responsible for enhancing fuel efficiency and grip in wet weather and winter.
S-tech design – engineered to yield high mileage and better tread integrity
Michelin
Michelin caters to the same market needs identified by Sumitomo. In detail, Michelin tires are equipped with the following technological innovations:
Advanced Compound – Carbion technology and silica save fuel and increase mileage.
Michelin Acoustic Technology- responsible for reducing interior noise by 20%
Michelin Self Seal Technology – promotes longer tread life by having a sealant material that protects tires from punctures up to ¼ or (6mm)
Differences: Sumitomo Tires vs Michelin
Tire diversity
Aside from owning several tire brands, Michelin's tire selection is more diverse than Sumitomo.
Michelin has 9 tire families:
Defender – popular for unrivaled tread life and durability, suited for any type of vehicle. For instance, Consumer Reports valued Michelin Defender's wear potential up to 90,000
Primacy – designed for highways due to its excellent cornering abilities that can make any passenger car, coupe, or crossover achieve comfortable rides
Premier – succeeded Primacy with enhancement on braking, traction and ride quality
Pilot – promises sports cars a racing-inspired performance on street and track roads
CrossClimate – composed of all-seasons tires designed to withstand any weather or road condition, even under heavy loads
Energy – fuel-efficient tires that offer all-season traction for passenger and luxury performance vehicles
Latitude – has tires designed for touring, sport, and winter
X Ice – Michelin's winter lineup that provide smooth and safe rides in extreme weather
LTX – Mainly for off-road rides in trucks and SUVs.
Sumitomo has 5 tire families:
HTR – The HTR Z5 and HTR A/S P03 belong to this all-season high performance category. Both tires are commended for reliable braking and cornering on dry surfaces. However, the A/S P03 performs better in wet conditions due to its silica-enhanced compound and asymmetric tread pattern.
HTR Enhance – features three all-season grand touring tires: HTR Enhance LX2, HTR Enhance WX2, and HTR CX2. The LX2 supports coupes, family sedans and small CUVs with a limited warranty of 90,000 miles. Meanwhile, the CX2 and WX2 offer a 65,000-miles limited warranty.
Touring – Has one tire line named LS with three speed ratings (T, H, and V). Sumitomo touring tires provide all-season traction with terrific handling and braking on dry
Encounter – has three tires made for SUVs and light trucks. The Encounter HT and Encounter HT2 are engineered for highway use, while the Encounter AT is meant for on and off-road use.
Ice Edge – the only winter tire in Sumitomo's lineup. It is studdable and carries a 3PMSF symbol. It performs well on snow, slush, and ice with high hydroplaning resistance.
Performance
Here's how Sumitomo tire quality fares against Michelin.
Description
Sumitomo Tire Models
Michelin Counterparts
Verdict
UHP summer
HTR Z5

Michelin Pilot Sport 4s
Michelin Pilot Sport 3
Michelin Latitude Sport
Michelin Primacy 3
Michelin Primacy HP

Michelin wins, but some

drivers preferred the HTRZ5 for its affordability

UHP All season
HTR A/S P03

Michelin Pilot Sport All Season 4
Michelin has better ratings overall
Grand touring tires
Touring LS H

Touring LS V

Michelin CrossClimate 2

Michelin leads in all categories
Crossover/SUV all season touring
HTR Enhance LX2

Michelin Defender T+H
Michelin excels in all aspects with huge difference of 15%
On/off road all terrain
Encounter AT

Michelin LTX A/T2 All terrain tire

Sumitomo wins
Highway all season
Encounter HT

Encounter HT2

Michelin Defender LTX M/S

Michelin wins
Winter
Ice Edge
Michelin X Ice Snow

Michelin wins in braking
Aside from the above models, check out our brief comparisons of other tires from both brands.
Summer
In review, Sumitomo's HTR Z3 scored higher in comfort, wear and reduced noise than the Pilot Sport 3. However, it performed less well in wet and dry traction. No wonder drivers chose it as a cheaper alternative.
All Season
Michelin rules the all-season tire category. For instance, Michelin Defender T + H and Michelin Pilot Sport A/S 3+ won against Sumitomo's HTR A/S P02 in nearly all aspects. The Po2 does better than the A/S 3+ in snow and ice, but it falls behind the T+H in this category.
Highway
Ratings for the Sumitomo Encounter HT vs Michelin Agilis Crossclimate differ by about 1 point, with the Michelin performing better in most categories, such as performance on wet, dry surfaces, and comfort.
Cost
In general, Michelin is $9-72 more expensive than Sumitomo. Check out some Michelin Sumitomo tires prices.
| | | | |
| --- | --- | --- | --- |
| Sumitomo Tires | Discount Tire | Michelin Tires | Discount Tire |
| Sumitomo HTRZ5 | $128-332 | Michelin Pilot Sport 4S | $200-1,115 |
| HTR A/S P03 | $97-241 | Michelin Primacy MXM4 | $175-356 |
| HTR Enhance LX2 | $93-177 | Michelin Defender T + H | $102-231 |
| HTR Enhance CX2 | $163-267 | Michelin LTX M/S2 | $206-282 |
| Encounter AT | $161-594 | Michelin Defender LTX M/S | $151-467 |
| Encounter HT2 | $142-310 | Michelin Defender LTX M/S2 | $206-282 |
As for winter tires, Michelin and Sumitomo have the same price range. For instance, at Walmart, the Ice Edge costs $173.61 per tire while Michelin's X Ice Snow can be bought at $176.07 each.
Pros and cons – Sumitomo Tires vs Michelin
Sumitomo's Edge
Budget-friendly price tag
Has competitive quality and warranty
Michelin Advantages
More tire options
Superior performance in all weather and road conditions
Excellent noise reduction, comfort and ride quality
FAQs
Are Sumitomo tires good quality?
Certainly. Sumitomo tires manufacturer utilize top-grade technology. In fact, it has won the "Tire Technology of the Year Award" four times.
Are Sumitomo tires safe?
Absolutely! Sumitomo tires are designed with the SMART tyre concept. The tires are equipped with a wear-sensing technology and an active tread that reacts accordingly to changes in road and weather conditions.
Does Michelin own Sumitomo?
No. Sumitomo belongs to the Japanese conglomerate, the Sumitomo Group. It owns the brands Dunlop and Falken. On the other hand, Michelin's brand portfolio consists of tires from Kleber, Uniroyal-Goodrich, SASCAR, Camso and of course, Michelin.
Conclusion
Although comparisons between Sumitomo vs Michelin tires are common, I hope this post gives you lots of insights about their competitive qualities.
Michelin and Sumitomo are both top-tier tire brands that excel in dry and wet conditions, though Michelin has a slight edge in most cases. One area where Sumimoto defeats Michelin is offroading.
If you have questions we did not answer in this article, let us know so we can help you in our next post.