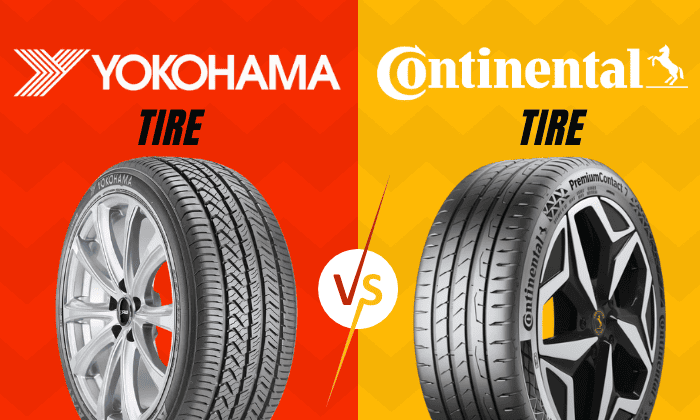 When talking about Yokohama vs Continental tires, you can't really fault one or the other, since both are some of the best tire brands out there. In fact, these companies are among the top 10 largest tire manufacturers in the world.
They offer a superb catalog of tires, offering a wide array of choices for any driving needs. However, let's take a closer look at Yokohama and Continental and test their offerings to see who has the better products.
From performance to price, this tire comparison is all you need. But first, let's see how these brands compare on the surface.
Tire
Yokohama
Continental
Country of Origin
Japan
Germany
Ranking (Largest Tire Manufacturer)
#8
#4
Year Founded
1917
1871
Short Description
A joint venture by BF Goodrich and Yokohama cables
Started as a rubber manufacturer, owned by Schaeffler Group
Focus
Affordable and sustainable tires
Luxurious and comfortable tires
Tire Compatibility
– Passenger
– Minivan
– SUV/Crossover
– Trucks
– Performance
– Competition
– Vans
– Motorcycle
– Bicycle
– Passenger
– SUV/Crossover
– Vans
– Truck
– Bus
– Material and Port
– Handling
– Earthmoving
– Agricultural
Performance
Continental is better in wet performance and comfort, but the two brands are somewhat even in winter and dry conditions.
Overview Of Yokohama Company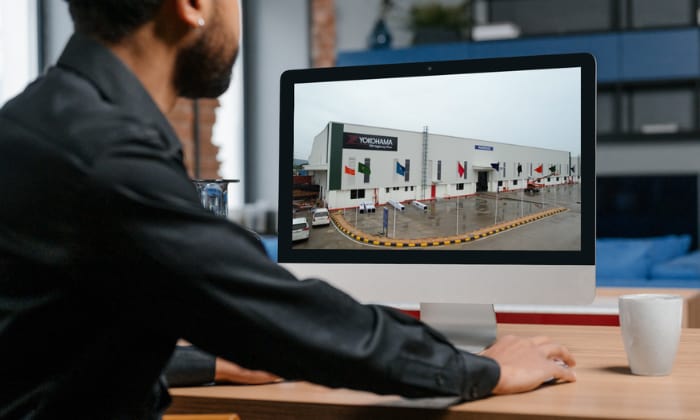 Yokohama Rubber Company Limited is a Japanese tire manufacturer founded in 1917. It's one of the oldest yet most successful Asian tire companies in the world, priding itself on being the first Japanese tire manufacturer to receive an ISO9001 certification.
The company's North American branch, Yokohama Tire Corporation, was established in 1969 and saw continual success with its tires, mainly due to a focus on tire technology innovation and sustainability practices.
In terms of tires, Yokohama offers a wide variety of products. From racetrack asphalt to rocky off-road surfaces, there's a Yokohama tire out there that's perfect for the occasion.
Yokohama Tire Families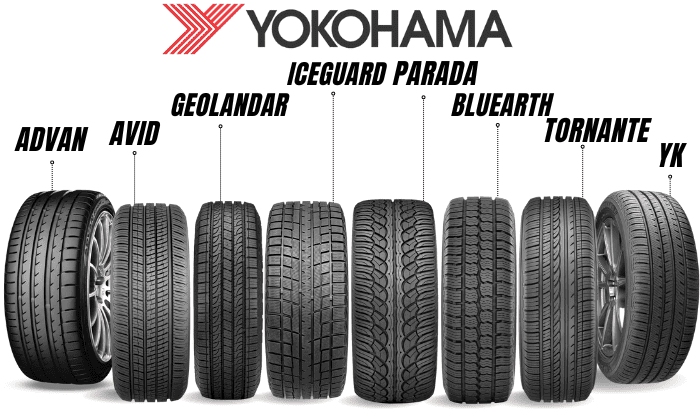 Advan – Ultra-high-performance tires
Avid – Standard/Grand all-season touring tires
Geolandar – All-terrain tires
Iceguard – Winter tires
Parada – Luxury performance tires
Bluearth – Eco-friendly tires
Tornante – Economic all-season tires
YK – Luxury all-season touring tires
Overview Of Continental Company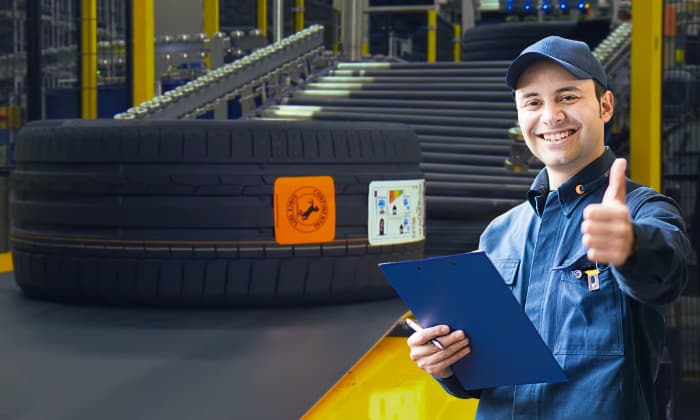 Founded in 1871, Continental Tires is one of the oldest tire brands in the world. The company has been pushing the boundaries of tire technology and innovation for a whopping 150 years now.
From its humble beginnings as a small factory in Hanover, Continental has become one of the major global tire brands, with innovations like digital tire monitoring and self-sealing technology to protect against punctures.
Unlike Yokohama, Continental has a broader range of tire selections aside from their passenger and performance market. They also offer motorcycle and bicycle tires, as well as products for heavy machinery and agriculture.
Continental Tire Families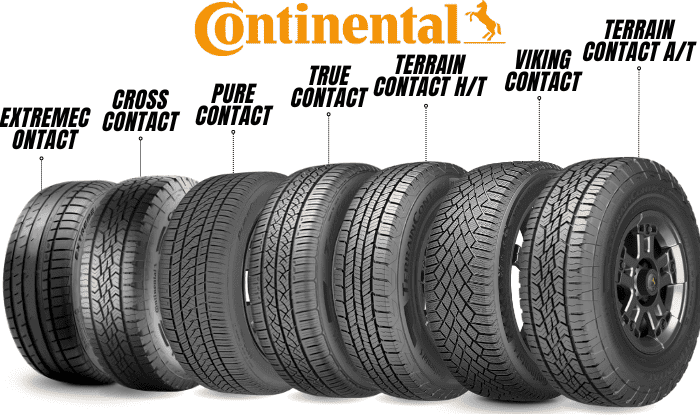 ExtremeContact – Ultra-high performance tires
CrossContact – SUV/Crossover all-season touring tires
PureContact, TrueContact, TerrainContact H/T – All-season touring tires
VikingContact – Winter tires
TerrainContact A/T – All-terrain tire
So, how do these brands compare? Let's find out.
Differences
We'll be comparing Continental vs Yokohama in terms of performance in various road conditions, comfort, and price.
1. Wet performance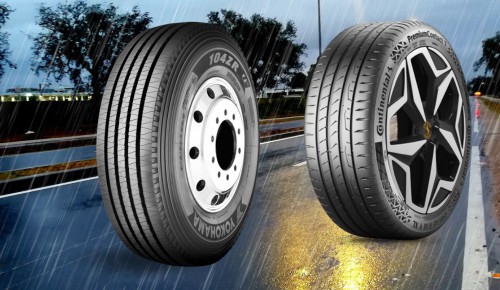 When it comes to wet performance, all season tires are simply king. So, let's compare the Yokohama AVID Ascend LX and the Continental TrueContact Tour. And right off the bat, there are some clear differences between the two.
The Continental TrueContact tour had nearly unbeatable grip on wet roads. It had much shorter braking distances and much tighter handling. On the other hand, the Yokohama AVID Ascend's performance was solid but not as impressive.
2. Dry performance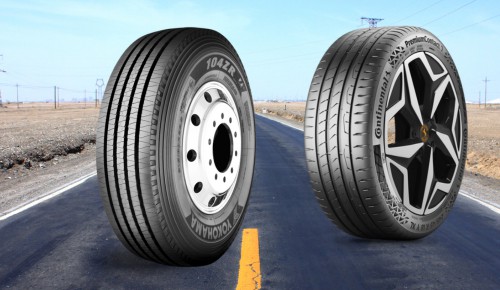 If you want optimal dry performance on asphalt, then look no further than performance racing tires. And for this one, we'll be going with the Yokohama ADVAN Sport A/S and the Continental ExtremeContact DWS06+.
Both performed superbly on dry tarmac, from braking to maneuverability. The Yokohama ADVAN Sport A/S dominated the track with its advanced rubber compound, while the Continental ExtremeContact DWS06+ leaned on its cutting-edge sipe technology.
And judging by our tests, it's safe to say it's a tie on this one.
3. Winter performance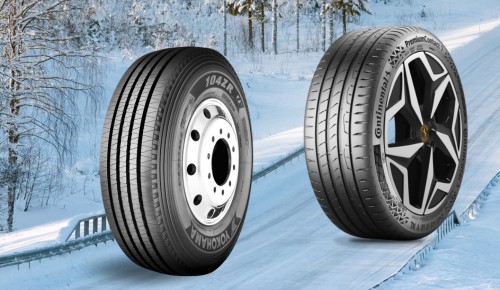 It's always best to have the right tools for the job—and winter calls for winter tires. Let's compare the Yokohama IceGUARD iG53 vs the Continental VikingContact 7. And unsurprisingly, both tires performed well.
There weren't any noticeable differences between the two in terms of braking distance and handling. Although the Continental Viking 7 had slightly better acceleration and noise levels, the differences were negligible.
4. Comfort and handling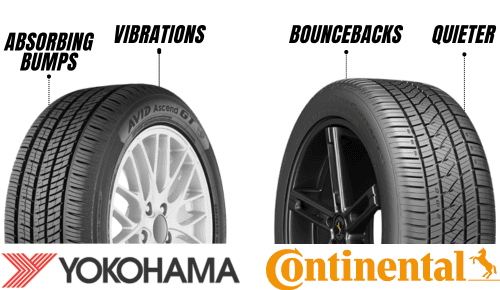 Performance isn't always everything, as some prefer comfort over pushing limits, especially daily commuters. And what better way to get the utmost comfort than with grand all-season touring tires? So, for this one, we'll pit the Yokohama AVID Ascend GT vs. the Continental PureContact LS.
Regarding ride comfort, both tires were great at absorbing bumps—aside from a few issues with vibrations from the AVID Ascend GT and bouncebacks from the PureContact LS. As for noise, the PureContact was slightly quieter.
We consider both brands to be equal in terms of handling, though.
5. Price and durability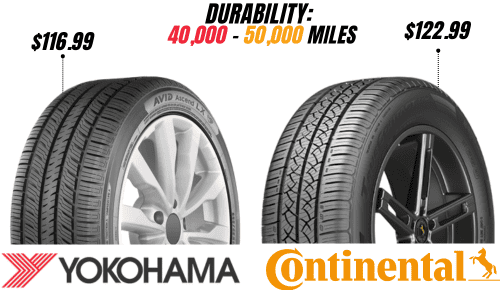 It's definitely apparent that Continental has more premium prices. For example, Continental's standard touring tire, the TrueContact Tour, size 185/65R15, costs $122.99, while Yokohama Tyres' very own AVID Ascend LX is lighter on the pockets at $116.99.
However, both have the same tires mileage rating, around 40,000 to 50,000 miles on average.
6. Pros and Cons
1. Yokohama
Pros
Great dry and winter performance
Comfortable
Cheaper
Cons
Less impressive wet performance
Slightly more noisy
2. Continental
Pros
Better wet performance
Great winter and dry performance
Comfortable
Which Tire Brand is Better?
Judging by our comprehensive tests, you can't really say that one is better than the other. Continental offers better performance on wet surfaces and are a little quieter, while Yokohama offers more affordable tires. As such, it essentially boils down to what you prefer most in a tire.
If you're more concerned with performance, Continental is the way to go. However, Yokohama tires ain't bad, either. And if you ask tire experts "Are Yokohama tires good?" you'll be met with a resounding yes.
They're low-cost, reliable, and don't trail too far from Continental's performance. But if you really need an answer, we'll go with Yokohama.
Conclusion
At the end of the day, when it comes to Yokohama vs Continental tires, the choice is up to you. For drivers who don't really mind the price, Continental tires have objectively better performance.
However, if you prefer a bang-for-your-buck option, then Yokohama is still an excellent brand to get behind. So, the better option ultimately falls on what you want out of your tires. Tires are an investment, after all, so invest in what you'll be needing the most.