Continental, or Conti for short, is a German brand that's considered one of the oldest tire companies in the world. Founded in 1871 in Hanover, Germany, Continental has since then established itself as the 4th largest tire company in the world.
But are Continental tires good? Yes. Backed by a century and a half's worth of experience, Continental tires are among the best in the business, offering superb performance and luxurious comfort across its wide range of divisions.
So, let's find out what makes Continental tires so special.
Notable Features of Continental Tires
1. Performance and design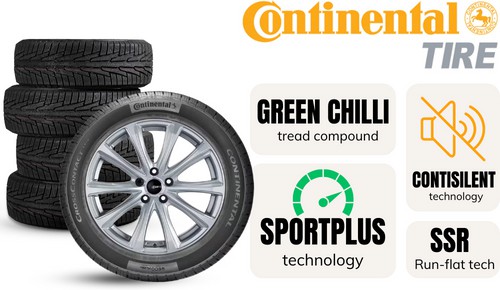 How good are Continental tires, really? Well, like many premium brands, Continental prides itself on a whole host of proprietary technologies. Whether it's performance, safety, efficiency, or sustainability, you can't go wrong when it comes to this brand.
For instance, one of their premier innovations, SportPlus technology, which comes with their Ultra-High-Performance tire, the Continental ExtremeContact Sport, has impressed race car drivers with its tremendous grip, maneuverability, and longevity.
But it doesn't stop there, Continental has offerings for the more casual drivers as well, who want the utmost comfort rather than pushing limits. Their ContiSilent technology definitely fits the bill by reducing road noise by as much as 9 decibels through special foam layers.
And that's just a fraction of the wide range of innovative technologies the engineers at Continental are able to come up with.
From run-flat SSR technology, high-load capacities, to a superior mileage rating through its Green Chilli tread compound, Continental definitely has a lot of tech focused on performance and design under its belt.
2. Specifications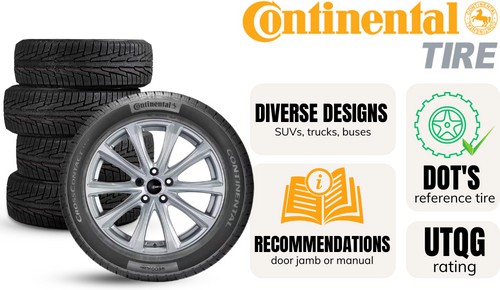 As you know, tires are special in a way that each product belongs to a family that caters to a variety of needs. This also means they'll have different specifications, such as tire size, weight capacity, tread depth, and more.
For instance, SUV tires would normally have higher weight capacities than passenger tires, while off-road models may have increased tread depth.
The good thing about Continental is it makes designs for a variety of vehicles, such as passenger cars, SUVs, light trucks, and even buses.
While knowing all of these is important, it's vital to follow your vehicle's recommendations regarding tire size, such as by looking at your car's door jamb or manual before selecting a model.
Additionally, if you value a more objective method of determining tires quality and how long they would theoretically last, then looking at the UTQG rating or Uniform Tire Quality Grading specification might prove useful.
This system allows Continental tires manufacturer to grade their products based on durability, grip, and ability to withstand high temperatures.
The initial number shows tread wear compared to DOT's reference tire. The first letter is for traction, while the last one is for temperature tolerance.
3. Popular Continental tires
Let's look at the UTQG of Continental's most popular sets of tires.
| | | | | | |
| --- | --- | --- | --- | --- | --- |
| Continental Tire Model | Tire Type | Treadwear Score | Traction Score | Temperature Resistance | Price |
| TrueContact Tour (205/55R16) | Standard All-Season Touring | 800 | A | A | $141.99 |
| ExtremeContact Sport (205/55ZR16) | Max Performance Summer | 340 | AA | A | $139.66 |
| PureContact LS (205/55R16) | Grand All-Season Touring | 700 | A | A | $150.99 |
| ExtremeContact DWS06 Plus (205/55R16) | Ultra-High Performance All Weather | 560 | A | A | $150.99 |
| CrossContact LX25 (215/70R16) | Crossover/SUV All-Season Touring | 740 | A | B | $179.99 |
Looking at these numbers may be confusing at first glance, especially for more casual drivers. But for reference, the higher the treadwear score, the better. As for traction and temperature, AA or A is the highest respective rating for each category, with C being the lowest.
And now you have an idea of why Continental tires are so expensive, which we'll talk more about below.
4. Price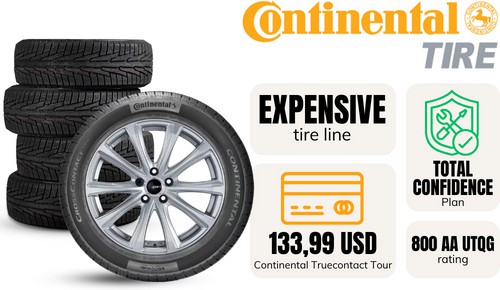 It's no secret that Continental tires are expensive. In fact, one of their standard touring all-season tires, the Continental TrueContact Tour, with a relatively small size of 175/65R15, can set you back $133.99.
However, it does come with an amazing 800 A A UTQG rating, which means that you'll be buying quality tires that won't break down when you need them the most, ensuring safety and performance for years to come.
Moreover, a tire's quality isn't the only thing you're buying, you're also buying the tires warranty. And Continental's Total Confidence Plan is one of the most comprehensive and consumer-friendly warranties out there.
From mileage warranties to even roadside assistance, the Continental Total Confidence Plan is a lifesaver for the brand's tire buyers.
5. Pros and Cons
Pros
Innovative technologies
Excellent performance and durability
Excellent warranty
Is Continental Tires Worth It?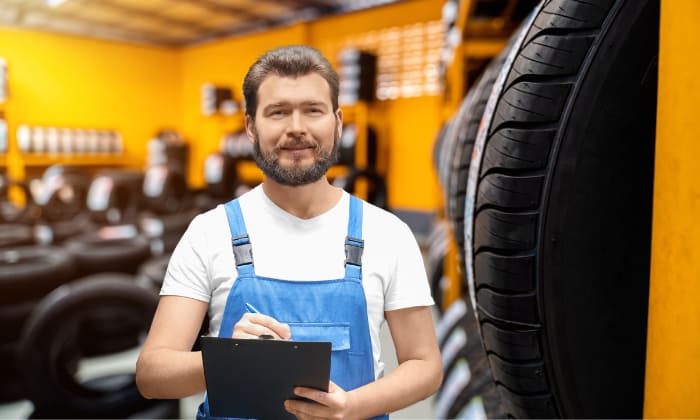 Continental tire reviews and tires ratings are consistently stellar for a reason, and that's because they're products that perform as advertised, ensuring you'll get your money's worth in the long run.
Whether you're asking tire experts or reading consumer reports, you'll definitely get positive assessments when it comes to the worth of the tires Continental provides. Just their proprietary technologies alone sets them above many other good brand tires.
Moreover, they're also very safe and durable, and offer one of the best warranties out there, effectively justifying their high price points.
Conclusion
Circling back to our main question, "Are Continental tires good?" it's definitely a solid yes. Continental engineers are experts in their craft and among the best and most experienced manufacturers worldwide.
And although you'll hear many complaints about their tires' high price points, they make up for it by offering excellent performance, comfort, and durability. Tires are definitely an investment, so invest in something safe and reliable, like Continental.